IOTA (MIOTA) is an innovative distributed ledger protocol that enables machines and physical devices within the Internet of Things (IoT) ecosystem to securely and reliably transact with one another. The IOTA token, MIOTA, is a cryptocurrency which facilitates payments between network participants.
As such, it's essential for users to secure their MIOTA holdings in a safe and trustworthy IOTA wallet. With such a wide range of wallets on the market, it can be tricky to discern which are the best options for your needs. We've taken the hassle out of finding the perfect IOTA wallet for you with our top five picks: these wallets have been thoroughly assessed for their usability, safety features, ease-of-use, convenience, and overall performance.
Key Takeaways:
For a safe and secure crypto experience, Exodus Wallet is a powerful, secure, and easy-to-use platform that offers up to 250+ digital asset support with built-in partnerships with top hardware wallet providers such as Trezor.
TanglePay IOTA wallet mobile app is the perfect choice for anyone looking to store MIOTA safely and securely. It is open-source, encrypted, and supports the Chrysalis network with powerful NFT and DeFi features.
When creating an IOTA wallet, it is important to back up the unique seed phrase immediately through a paper or digital Stronghold file stored in multiple independent locations for optimum security.
The best IOTA wallet for you will depend on your needs and preferences, but some of the best options include Ledger, SafePal, and the TanglePay IOTA mobile wallet app.
Although IOTA is a relatively new cryptocurrency, it has faced various phishing, scamming, and hacking attempts leading to user tokens theft and extended periods of downtime.
IOTA was created in 2015 by Sergey Ivancheglo, Dominik Schiener, David Sønstebø, and Serguei Popov as a token sale in a Bitcoin forum. IOTA is the overall platform and MIOTA as the cryptocurrency token that fuels the system. Trading under the ticker MIOTA, it is accessible on several cryptocurrency exchanges.
What Should You Look For When Choosing IOTA Wallets?
IOTA's pre-mined coin network is maintained using a Directed Acyclic Graph called "Tangle." This approach verifies transactions by forcing the sender to conduct PoW on two separate transactions. The Tangle architecture of complete nodes in IOTA verifies transactions with impressive speed. According to IOTA, Tangle uses less energy and operates quicker than standard blockchain technology in other cryptocurrencies.
Choosing the best IOTA wallet may make or break your digital asset portfolio's security and management. So, when choosing an IOTA wallet, security is the most crucial consideration. For that to avoid hacking and theft, ensure the wallet has encrypted private keys, two-factor authentication, and other security measures.
Also , a user-friendly and intuitive UI makes managing your IOTA wallet convenient and straightforward. Look for a wallet that has an easy-to-use platform. Moreover, ensure that your device is compatible with the wallet, whether a desktop computer or a mobile device. Some wallets use web-based versions that allow you to access your cash from anywhere as long as you have an internet connection.
As an IOTA user, you want your wallet to work seamlessly with the Tangle system. Check that the wallet address you're considering using works nicely with IOTA's Tangle. And If your wallet is lost or destroyed, you must have a backup and recovery solution to save your funds.
What Are The Best IOTA Wallets?
Since we discussed the main info about IOTA itself and the main features in which we have to look at, let's discuss 5 best IOTA wallets to secure MIOTA and not only it.
1. Ledger
Ledger is a world-renowned hardware wallet manufacturer providing customers with optimal security for their cryptocurrency holdings. With intuitive and easy-to-use wallets, Ledger offers both the Nano X and the Nano S, two sister models that differ in weight, screen resolution, and design. Both offer large storage capabilities along with support for IoS, Windows, Linux, and Mac operating systems.
Utilising two-factor authentication (2FA) along with a PIN code and seed phrase, users can securely store their private keys offline in cold storage to ensure optimal protection against malicious intent.
Additionally, the wallets feature both mobile apps and desktop versions for convenient access on multiple devices. Offering an intuitive interface, simple navigation, and multi-currency support, Ledger also allows users to stake their cryptocurrencies, furthering user accessibility and encouraging a safe and secure storage solution. With its broad range of features, it's clear why Ledger is a leading hardware wallet provider in the crypto world.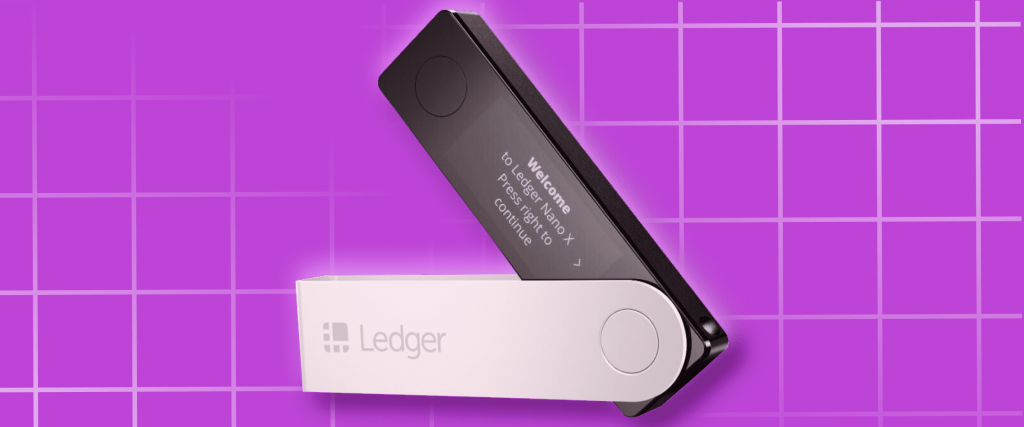 What Makes The Nano X Different From Its Sister Model:
The Nano X offers several additional features compared to its sister model, the Nano S. Aside from a more lightweight design and larger screen resolution, the Nano X also allows users to store up to 100 applications on their device, increasing storage potential for multiple currencies. It also has Bluetooth functionality, allowing users to connect the wallet to their phone or computer with ease. This makes it even easier for users to access their funds quickly and securely. With its improved design and increased storage capacity, the Nano X is a great choice for tech-savvy crypto holders who need extra features in their hardware wallet.
The Nano S on The Other Hand:
The Ledger Nano S is a great option for those new to cryptocurrencies or hardware wallets, as it offers an easy user interface with simple navigation to access your funds. With its small and lightweight design, users can easily carry this model in their pocket or purse for convenient on-the-go access. Despite the Nano S's smaller size relative to other hardware wallets, it still offers a solid storage solution with up to 18 applications supported on the device at one time. It also has a USB interface so that users can connect it to their computer for added convenience. Although the Nano S lacks Bluetooth and larger storage capacity, it still offers a great user experience with excellent security features in a compact package.
Overall, both Ledger wallets offer an array of features designed to meet the needs of different types of crypto holders ranging from beginners to experienced traders. With easy-to-use interfaces, reliable security measures, and a variety of features, these wallets are designed to keep your digital assets safe. No matter which model you choose, Ledger provides an excellent hardware wallet solution for all your crypto needs.
Features:
Large storage
IoS, Windows, Linux, and Mac support
2FA, PIN code, seed phrase
Mobile app and desktop wallet
simple navigation
Multi-currency
Staking
Pros and Cons:
Pros
Resourceful content and bots
Mobile and desktop wallet
private keys storage offline
Ledger is versatile
User-friendly interface and sleek design
Cons
More expensive than other hardware offerings
The setup process is time-consuming
Ledger experienced a significant backlash in May 2023 with the launch of its controversial "Recovery" feature
2. Firefly Wallet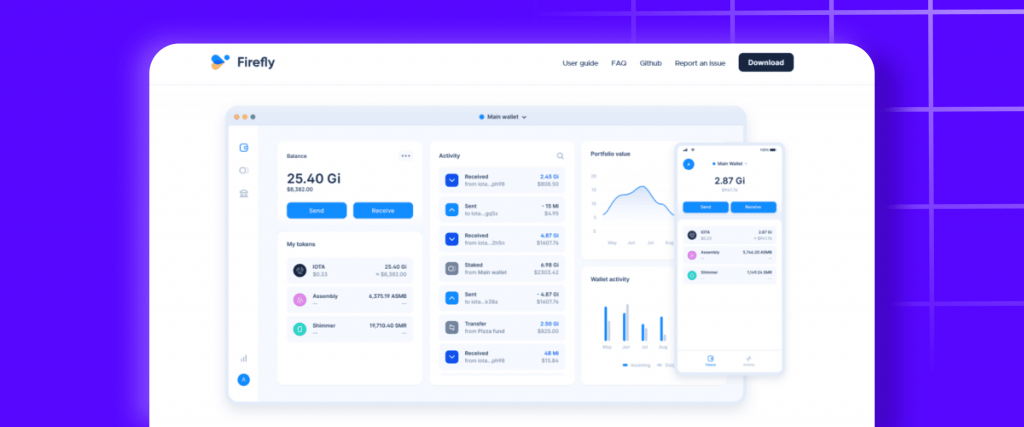 Firefly Wallet is a powerful and intuitive open-source wallet that was released to replace the Trinity wallet. It is available for Windows, Mac, and Linux systems, and its support for Ledger Nano S/X hardware wallets means it provides high-level security measures for users' funds.
The wallet also offers several features such as staking and unstaking support, direct trading, and multiple currency support. In addition to its technical advantages, the wallet's user-friendly interface makes it an ideal choice for beginners. To assist users in getting started with Firefly Wallet, there is also a range of helpful and informative learning resources available. This combination of advanced features and intuitive usability make Firefly Wallet one of the leading options for IOTA token holders.
Features
Open-source
Windows, Mac, Linux.
Staking and unstaking support
Pros
Compatible with Ledger hardware wallets
Mobile and desktop wallet
Direct trading
Multiple currency support
Its user-friendly interface favours beginners
Resourceful learning content
Cons
No two-factor authentication or multi-signature support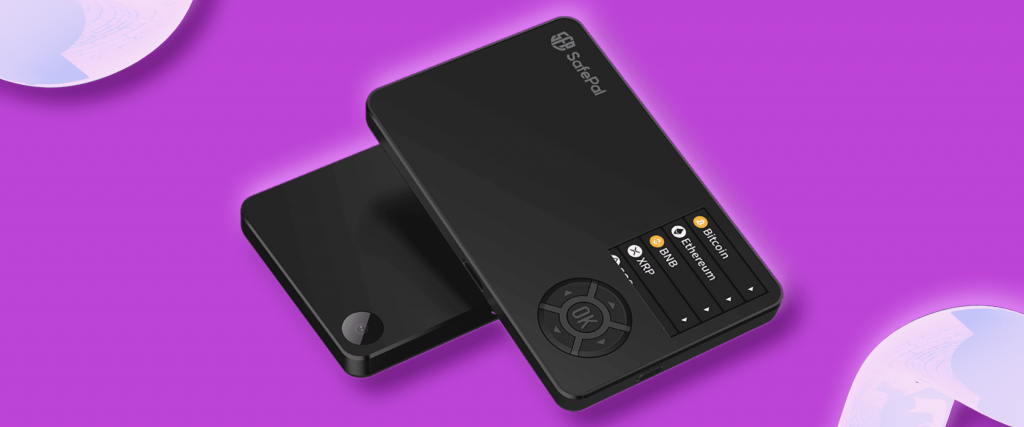 3. SafePal Wallet
SafePal Wallet is an all-in-one cryptocurrency storage solution for managing digital assets. With its combination of a mobile app and hardware wallet, it offers unparalleled security and convenience and can be also named as one of the best IOTA wallets. The non-custodial web3 gateway ensures that your funds are secure while also giving you access to decentralised applications (DApps) and Non-Fungible Tokens (NFTs). The support of crypto wallet, staking feature, and multi-signature capabilities provide a layer of protection for users who wish to keep their funds safe.
Additionally, the wallet supports over 10000 cryptocurrencies and digital assets, including all ERC-20 tokens, BEP2, BEP20, NFTs and TRON coins. Furthermore, SafePal Wallet integrates with various browser extensions, such as Brave and Chrome. All these features make the SafePal Wallet a great choice for anyone looking to buy, store IOTA and not only this currency, manage or trade any different digital assets.
Features
Hardware wallets support
Staking feature
Integrates browser extensions, including Brave, Chrome, etc.
Multiple currency support, including all ERC-20 tokens, BEP2, BEP20, NFTs, TRON, etc
NFT support
Multi-signature
Pros
Two-factor authentication
Support multiple currencies (10000+)
Purchases and swaps
Ease of use
NFTs integration
mobile wallet
Cons
Plastic device
Limited software wallet integration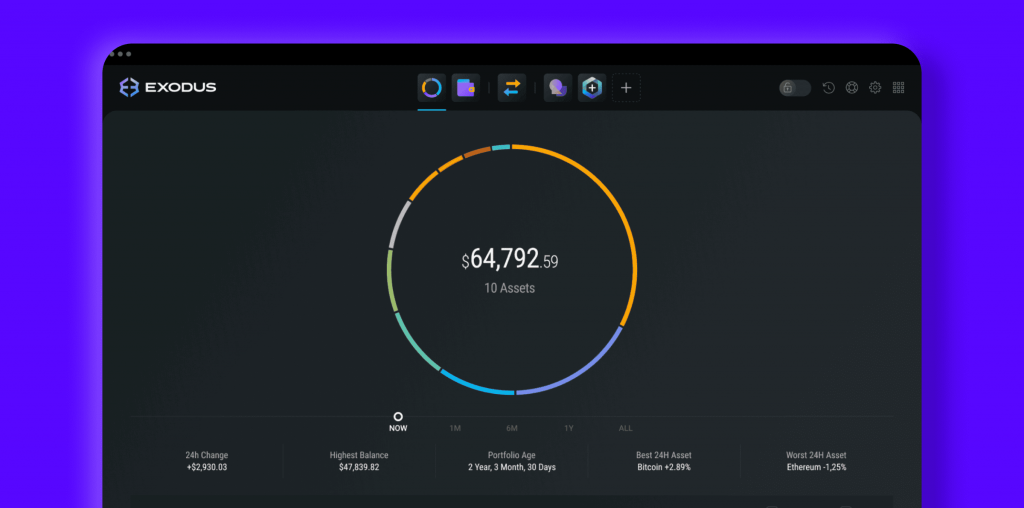 4. Exodus
Exodus Wallet is a powerful, secure, and easy-to-use online wallet and crypto platform that allows users to store, manage, swap, and stake their digital assets with ease. Its non-custodial hot wallet offers up to 250+ digital asset support so you can easily access multiple cryptos in one place. The desktop wallet also has a built-in partnership with Trezor, the leading hardware wallet provider, allowing users to store their crypto offline and swap assets seamlessly.
Exodus also provides a simple and intuitive user interface that makes it easier to access all its features, including support for Trezor, Ledger Nano S and X hardware wallets. With this great range of features, Exodus makes managing multiple digital assets an effortless experience. Whether you are a crypto newbie or experienced trader, Exodus online wallet provides the perfect solution for your digital asset needs. For a safe and secure crypto experience, look no further than Exodus Wallet.
Features
Mobile wallet
Desktop wallet
Swap
Staking
Simple interface
Hardware wallets support (Trezor, Ledger Nano S, and X)
Pros
A mobile app
Convenient and instant trading anytime, anywhere
Easy to use
Staking pools
Educational resources
Multi-language
Cons
Not open source
No multi-signature support
No two-factor authentication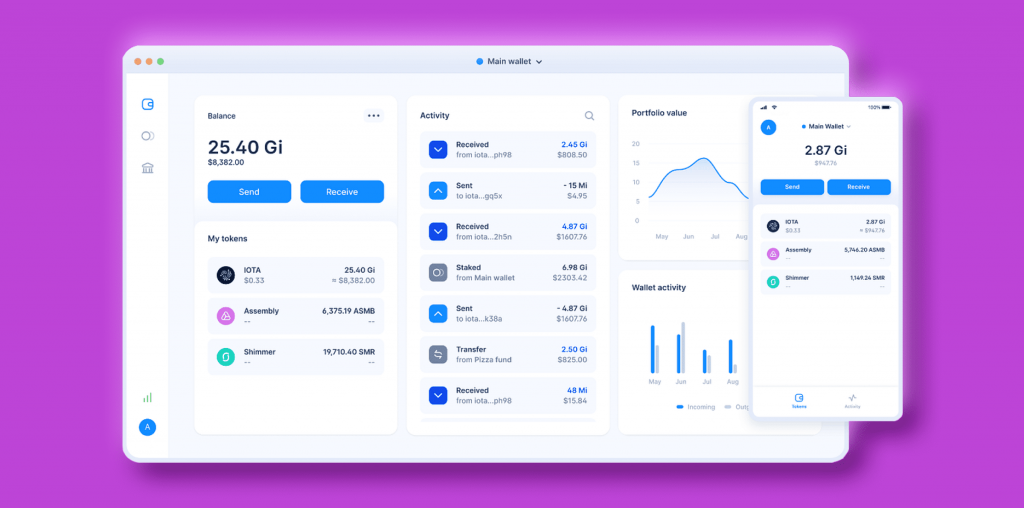 5. TanglePay IOTA Wallet Mobile App
TanglePay IOTA wallet is the perfect mobile wallet for anyone looking to store MIOTA safely and securely. Its open-source design, encrypted private keys, and support for the Chrysalis network provide users with an extra layer of security while also allowing them to access their funds from anywhere in the world through its hot wallets.
What's more, its powerful NFT and DeFi features make it easy to trade in the digital asset market. With its intuitive user-interface, users can start trading instantly with just a few clicks. It's also perfect for those who are new to crypto and need some extra guidance as TanglePay IOTA wallet offers a comprehensive educational overview on how to use the platform. All these features come together to make TanglePay IOTA wallet one of the top mobile wallets available. Its convenience and accessibility make it the ideal choice for any crypto enthusiast.
Features
Open-source
Encrypted private keys
Very secure and accessible anywhere
NFT, DeFi support
Pros
A mobile app
Convenient and instant trading anytime, anywhere
Easy to use
Cons
Only available for iPhone.
Final Verdict
The best IOTA wallet for you will depend on your expertise, specific requirements, and preferences. The Firefly Wallet is a reliable option tailored specifically for managing MIOTA, while Ledger and Safepal are solid cold wallet choices. Regardless of the wallet you choose, always make sure to follow crypto wallet security best practices.
FAQs
1. What makes the Firefly Wallet one of the leading options for IOTA token holders?
Answer: The Firefly Wallet offers advanced features and an intuitive usability that sets it apart from other wallets available to IOTA token holders. It is compatible with Ledger hardware wallets, has a mobile and desktop wallet, supports direct trading and multiple currencies, as well as having a built-in exchange and staking support.
2. How does the SafePal Wallet offer unparalleled security?
Answer: The SafePal Wallet uses a non-custodial web3 gateway to ensure that funds are kept safe and secure. It also offers two-factor authentication, multi-signature support, hardware wallets, staking feature, as well as integrating with various browser extensions.
3. What makes Exodus Wallet stand out?
Answer: Exodus Wallet provides users with a powerful yet easy-to-use online wallet and crypto platform that allows them to store, manage, swap, and stake their digital assets effortlessly. It has a built-in partnership with Trezor hardware wallets, up to 250+ digital asset support, and a simple and intuitive user interface.
4. What are the advantages of using the TanglePay IOTA Wallet?
Answer: The TanglePay IOTA Wallet has an open-source design, encrypted private keys, supports the Chrysalis network for extra security, is accessible anywhere through its hot wallets, and offers powerful NFT and DeFi features. It also has a comprehensive educational overview and an intuitive user-interface that makes trading incredibly easy.
5. How can I make sure that my funds are kept safe when using a crypto wallet?
Answer: Always follow crypto wallet security best practices such as setting up two-factor authentication, using strong passwords, verifying the authenticity of the wallet, and never sharing your private keys with anyone. It is also important to store funds in cold wallets when possible and backup any online accounts regularly.
6. What should I consider when choosing an IOTA wallet?
Answer: When choosing a wallet for IOTA tokens, it is important to take into account your own level of expertise, specific requirements, and preferences. Consider factors like security, convenience of use, fees, customer support, and whether the wallet is open-source or not. You should also ensure that your chosen wallet is compatible with IOTA tokens.