This dramatic multi-day rise on Monday brought digital assets back to heights not seen since the collapse of cryptocurrency exchange FTX caused a major selloff two months ago.
Over the previous 24 hours, Bitcoin's price increased by less than 1% to reach above $20,800. The largest cryptocurrency has increased significantly recently, climbing from below $17,500 less than a week ago to recent trading heights exceeding $21,000. In the aftermath of FTX's bankruptcy, there had been two months of tepid activity, with Bitcoin falling to a two-year low of roughly $15,500 in the depths of market selloff. But this new jump in price represents a crypto market recovery.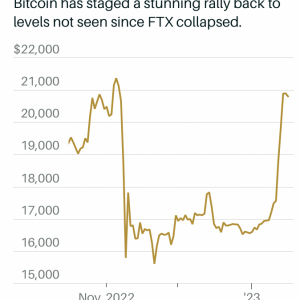 Investors in cryptocurrencies are hopeful that the worst of the bear market is over, which has driven Bitcoin down from its record high of over $69,000 in November 2021.
A portion of that could be outside crypto's control as the link between digital assets and equities is still quite strong. During the last year, Bitcoin has closely tracked the Dow Jones Industrial Average and the S&P 500 despite the challenging macroeconomic environment of high inflation, rising interest rates, and potential for recession. That connection seems to be sticking around for a while.
Technical study of the cryptocurrency market reveals that Bitcoin has some support in the near term, even though chasing the rise may not be worthwhile at this moment.
Fairlead Strategies managing partner Katie Stockton stated in a note on Friday that very overbought short-term readings contradict bullish momentum. Therefore they would not pursue the rally at present levels.
The next barrier will be $21,500 if Bitcoin is able to hold above its 200-day moving average at $20,000, according to Stockton, who also noted that Bitcoin's current major support is around the 50-day moving average of $17,000.
When it comes to other cryptos, Ether, the second-largest cryptocurrency behind Bitcoin, increased by 1% to $1,550. Smaller tokens, or altcoins, had similar behavior, with Cardano rising 1% and Polygon rising 3%. Memecoins had a more varied performance, with Shiba Inu gaining 4% while Dogecoin was down less than 1%.