OpenAI has created a big splash by releasing the official version of their AI-powered chatbot, ChatGPT, to Apple's App Store.That had its effect on AI crypto.
Excitement is brewing in the world of cryptocurrency as rumors about a new Android ChatGPT version circulate. But that's not all: the ChatGPT app has just made a major announcement that will make waves. Starting May 18, users can seamlessly sync their chat history between the app and web version – with the bonus of voice input facilitated by OpenAI's Whisper.
Currently available to iPhone and iPad users in the USA, the app plans to launch globally in the coming weeks. With OpenAI potentially tapping into Apple's billions of active devices, the AI adoption race is heating up, and the stakes are sky-high. Stay tuned for more exciting developments!
The Effect on AI Crypto.
The crypto community has not been a bystander to these trends. It has given rise to new AI crypto tokens that leverage these advancements, resulting in exciting intersections between AI and cryptocurrencies. Notably, token values have risen sharply following the news.
Consider SingularityNET (AGIX), an AI crypto token that powers an AI-related goods marketplace. The introduction of the ChatGPT has already increased demand for such AI tokens, potentially boosting prices. As of May 19, AGIX was trading at around $0.2415, with a market worth of around $321 million.
Injective (INJ), a decentralized exchange (DEX) platform token, is presently trading at about $6.28 and has a market valuation of $500 million. As AI use grows, the decentralized technology that powers INJ may gain popularity, potentially strengthening its market position.
Market Response and Ramifications for The Future.
The announcement caused a little uptick in the market. The most visible impact was on Render Token (RNDR), which increased by 41.91% in a week.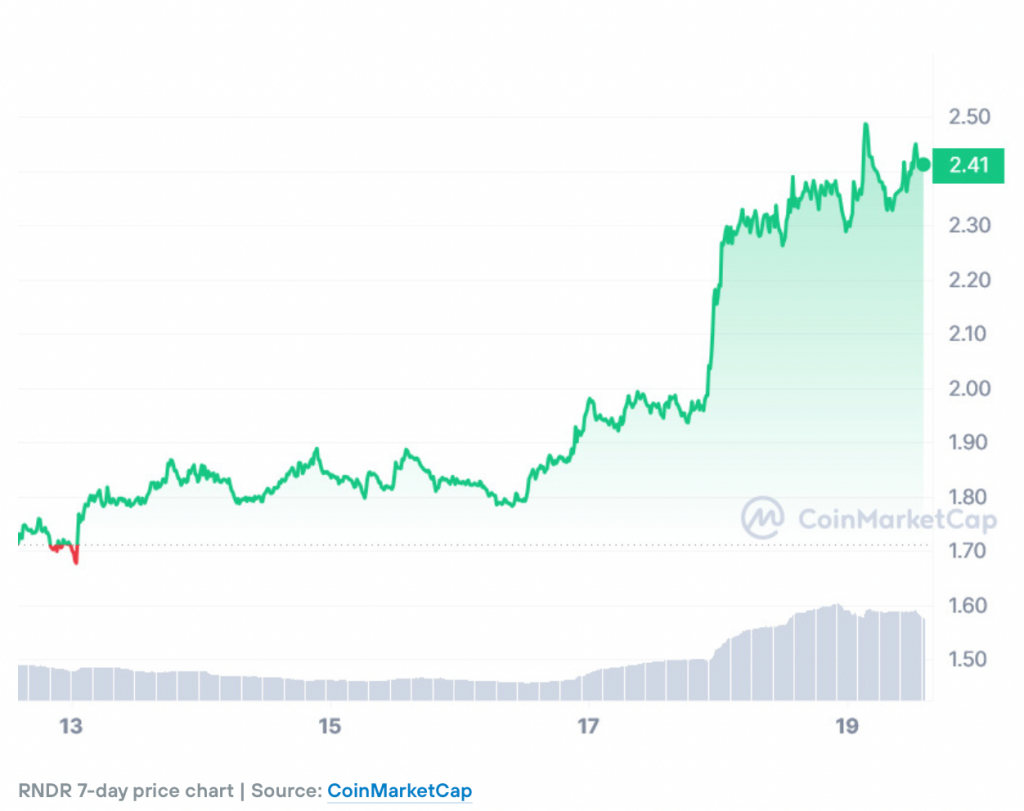 RNDR's success, as a token built on the Ethereum (ETH) blockchain and concentrating on decentralized apps (dApps), may indicate the market's reaction to AI's growing significance in technology.
Beyond the immediate market reaction, this launch has the potential to determine the future of AI-backed cryptocurrencies. AI tokens may see growing acceptability as AI becomes more integrated into everyday tech use, potentially contributing to larger market capitalization and trade volumes.
It Is Not The Full Story Yet.
As the story of AI-backed tokens develops, it becomes clear that we are only scratching the surface of what AI and blockchain can accomplish together.
While market volatility is to be expected, investors and enthusiasts should prepare for a vibrant crypto world brimming with potential.
Remember that the cryptocurrency industry may be turbulent and unexpected. Before investing, do your research and investigate properly.