Cryptocurrency investors are experiencing widespread doubt due to the most recent round of bank failures in the US. This led to a sharp decline in the price of Bitcoin and other cryptocurrencies.
Although the market value of the cryptocurrency industry as a whole quickly recovered, the leading digital currency especially did.
According to our statistics, Bitcoin has increased by more than 9% over the last day and is currently trading above $24,300. With a 43.7% market share, BTC's total market worth surpassed the $471 billion milestone once more.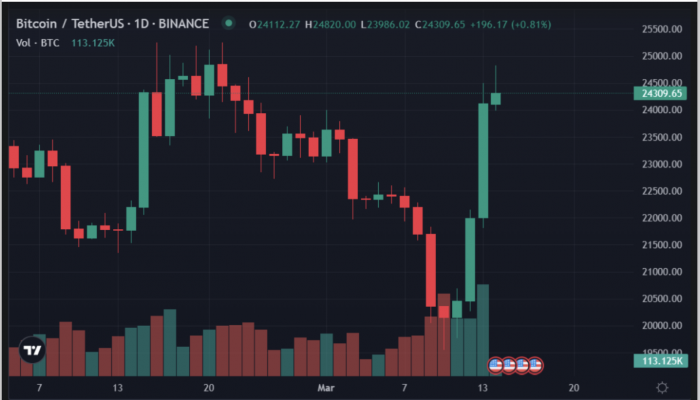 The global cryptocurrency market cap fell from $1 trillion to around $912 billion in less than 24 hours on March 10, and Bitcoin fell to about $19,500.
Moreover, Jake Chervinsky, CPO of the Blockchain Association, claimed that the cryptocurrency business did not cause the recent failures of US banks. He described the situation as dangerous in light of the recent failure of three prominent financial organizations in the US.
The daily exchange inflow for the top two cryptocurrencies increased as BTC gained bullish momentum. About $1.9 billion worth of Bitcoin has entered exchanges, while $1.5 billion worth of the commodity has left the platforms, suggesting a positive almost $548 million flow, according to on-chain data source Glassnode.
In terms of other well-known cryptocoins, Tether had a negative flow from the exchanges of roughly $227 million. The largest stablecoin, worth over $1.7 billion, was taken off of the exchanges while $1.5 billion in USDT was added to the platforms, while Ethereum, the second-largest cryptocurrency, also had a positive $50.7 million flow to exchanges, with an influx of around $1 billion.