If you ask yourself: "Is Bitcoin a good investment?" Here is some good news for you. On Wednesday, Bitcoin and other cryptocurrencies rose as the focus returned to potential banking system vulnerability.
Bitcoin's price has gained 4.9% in the previous 24 hours to roughly $28,668. This ends a losing skid that saw the cryptocurrency fall from above $30,000 to lows under $27,000 in recent days.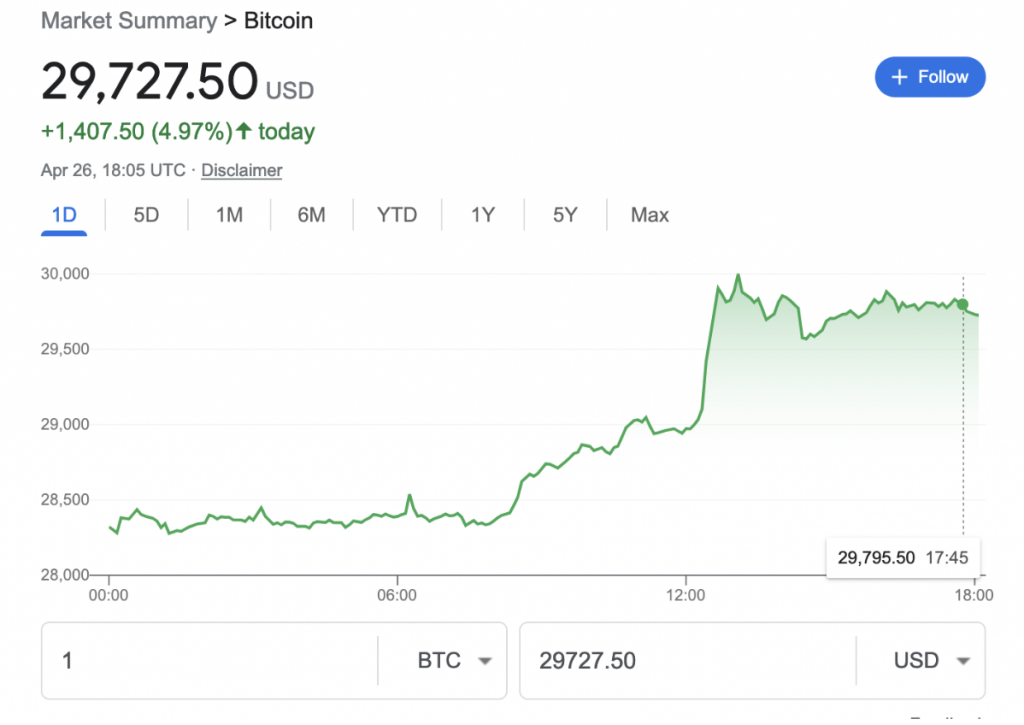 The rise in Bitcoin comes after First Republic Bank (FRC) shares fell 49% on Tuesday after the bank announced a massive exodus in deposits.
Bitcoin was repeating earlier this year's actions when it surged strongly after the banking upheaval triggered by the failure of Silicon Valley Bank. Money fleeing the traditional banking system can support crypto, as might anticipation that banking stress would prompt the Federal Reserve to loosen its monetary policies, benefiting riskier assets.
In a research note published Wednesday, Yuya Hasegawa, an analyst at Bitbank, stated that Bitcoin might extend Tuesday's recovery in the short term, but it is too early to declare that it has bottomed out. Its previous resistance between $28,800-$29,000 might be a difficult barrier to overcome until Friday's U.S. PCE (Personal Consumption Expenditures) announcement. So if you ask yourself: "Is Bitcoin a good investment?" It is when you know the right time to invest in it.
Beyond Bitcoin, Ether — the second-largest crypto — gained about 3% to around $1,877. Smaller cryptos also rose, with Cardano up 5.7% and Polygon gaining 4%. Dogecoin was up 2.6%.