The US Securities and Exchange Commission has taken legal action against Binance, the world's largest cryptocurrency exchange, as well as its CEO Changpeng Zhao, filing a lawsuit and alleging 13 counts of violations.
The SEC has accused Binance of engaging in unregistered securities offerings, not blocking American investors from using the platform, and running an unlicensed financial services company.
A court document was submitted by the Securities and Exchange Commission in the District of Columbia on Monday. It claims that Binance and its CEO willfully ignored federal securities laws and profited in the billions of US dollars while endangering investors' assets.
According to SEC Chairman Gary Gensler, Binance made false claims about their controls and ignored them in secret in an effort to retain large American investors on their platform, thereby trying to bypass US regulations on security trading.
In response to the lawsuit, Zhao tweeted that he had yet to see it and posted the number 4 – which he has previously used as a reference to his January tweet alluding to ignoring "FUD, fake news, attacks, etc."
"Haven't seen it yet," Binance CEO wrote in a tweet. "Media gets the info before we do."
The request for comment made to Binance's press team has not yet been answered.
The price of Binance's native token, BNB, has dropped drastically following the news; crypto rating websites currently list the token as being traded at $284.68, representing a 7.2% decrease in the last 24 hours.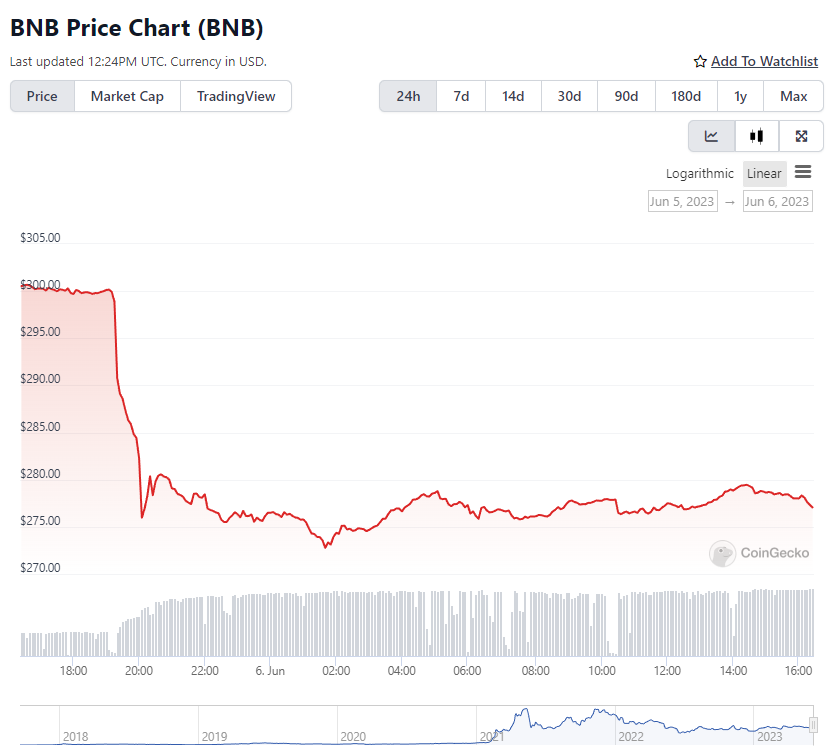 The SEC alleges that the digital asset company and its CEO manipulated investors' funds, diverting them to Sigma Chain — a trading company Zhao controls.
In addition, the agency accused Changpeng Zhao of creating an extensive web of deception to carry out their scheme.
Recently, American regulators have stepped up their scrutiny of Binance, initiating an array of investigations into the digital asset exchange, which has led to much controversy concerning the firm.
The Commodity Futures Trading Commission (CFTC), Internal Revenue Service (IRS) and SEC have all launched investigations regarding the exchange. In December, Department of Justice prosecutors reportedly considered whether to take immediate action against Binance or research the matter further.
In April, a 1 billion dollar civil lawsuit against Binance CEO and the firm itself was filed for selling unregistered assets and paying celebrities to advertise them.