A significant sum of over $1 billion, equivalent to 49,000 Bitcoins, was successfully seized from the hacker in March. Today, with BTC surpassing the $30,000 mark, the total value of these assets exceeds $1.5 billion.
Here is also some Coinbase news: The US government has transferred 9,825 Bitcoins, valued at $298.7 million, to various addresses. Out of this total, 1,625 coins were moved to two new addresses, while the remaining 8,200 coins were placed in eight large wallets through 101 transactions, with most containing 79.2 Bitcoins each.
Data from the blockchain indicates that the whale addresses had not been active for the past two years. It is worth mentioning that 9,825 coins were stored in Coinbase, while the other 39,175 Bitcoins were sent to new addresses. Here are not the most pleasant Coinbase news.
In a significant decision, the US government takes action as the price of BTC experiences a slight decline of 1.3% over the past 24 hours, reaching a peak of $30,959. At the time of writing, Bitcoin is being traded at approximately $30,400. Despite this, the trading volume for this asset has surged by 22%, reaching an impressive $14.5 billion within the same 24-hour period.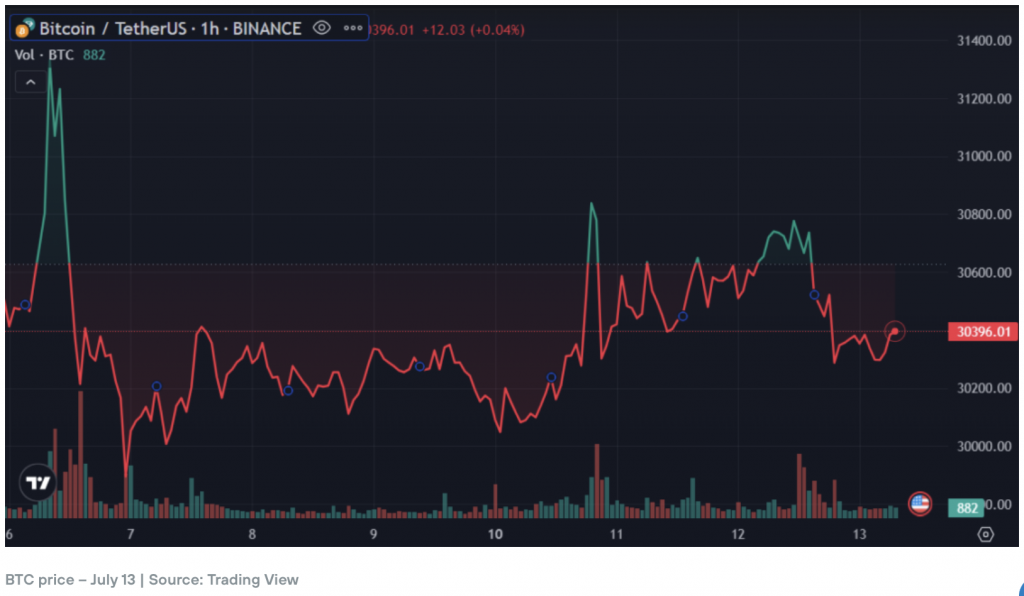 According to a July 12 study, Bitcoin investors are flocking to self-custodial wallets as the overall quantity of BTC on exchanges reaches a five-year low.