Aside from investing or trading, cryptocurrencies provide many intriguing ways to earn additional income. This can involve mining, staking, yield farming, airdropping, and other methods. Some are simple enough for novices to try, while others call for more advanced training or costly tools.
In general, crypto mining has always appealed to people looking for a passive income stream. Its importance to the safety of blockchain networks extends far beyond its monetary value. However, the cost of conventional mining equipment and the quantity of energy required to operate it may add up quickly.
Because of this, cloud mining has emerged as a more convenient option. What exactly is cloud mining? Let's talk about the top ten best cloud mining sites and how they may rapidly increase your earnings.
Key Takeaways
With cryptocurrency cloud mining, customers rent mining power from distant data centers, eliminating the need for costly equipment and ongoing maintenance.
Scams are possible in the cloud mining industry; however, they may be avoided by doing due diligence on service providers, checking out their facilities, and learning about the community's reputation.
Those interested in mining cryptocurrencies like Bitcoin, Litecoin, and Dash may do so on legitimate cloud mining sites like Kucoin, Nicehash, and Genesis Mining.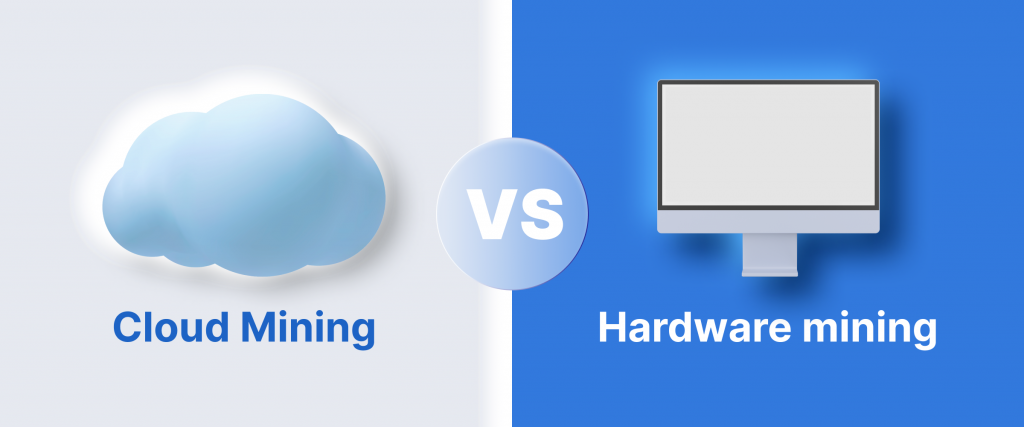 Cloud Mining 101: How Does It Work?
Compared to conventional cryptocurrency mining, cloud mining is more cost-effective since it eliminates the need for expensive mining hardware. Instead, for a bit of cost, you may simply "rent" the service from a third party.
Simply said, this kind of mining allows you to harness the processing power of server farms remotely. You just pay for the hash power you use, while the distant data center's owner handles everything else, including hardware upkeep and electricity costs.
Blockchain technology underpins the whole crypto sector, connecting millions of computers across the globe. The computer includes cryptographic hashing in creating each new block to assure the safety and validity of each subsequent transaction block.
In cloud mining, you use someone else's computer to process a transaction block in exchange for Bitcoins or other cryptocurrencies. These virtual currency tokens may then be spent as desired.
Because of its simplicity, cloud mining has become a popular alternative to traditional mining setups, which require specialized equipment and a high level of technical expertise.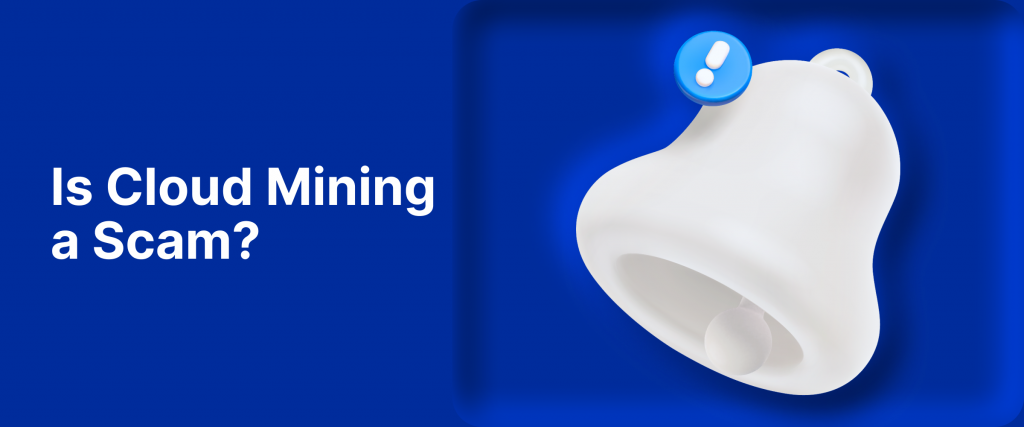 Can You Get Scammed, Though?
Regrettably, yes. As attractive and lucrative as cloud mining looks, it has become famous for scammers. Sadly, many even consider the whole cloud mining concept a scam. Of course, that's not 100% true. While fraud is common, many legit cloud mining sites still exist, so first, it's essential to learn how to identify scammers from the real ones.
Numerous online services employ deceptive practices. Many of these scams operate like Ponzi schemes, where new investors' funds are used to pay returns to earlier investors. Eventually, the scheme collapses, the providers run out of money, and the cloud mining website shuts down. Those who pay with cryptocurrency have no recourse to recover their investments.
Here are some general tips that will help you spot the 'criminals:'
If a mining service doesn't provide photos or videos of its actual mining facility, this could be a red flag indicating that it's a scam.
Avoid mining sites that haven't been operational for at least a year. A more extended history usually signals a more trustworthy provider.
Consider Community Trust And Pricing
Stick with the cloud mining service provider that has earned the trust of the cryptocurrency community and offer reasonable pricing. For example, Genesis Mining is a well-regarded provider with transparent pricing structures.
If the service lacks an "About Us," "Team," or "Customer Service" page, exercise caution. Legitimate companies should be open about their operations and provide ways to contact them.
Be Cautious With Payment Methods
Avoid paying with cryptocurrency when possible, as it can be challenging to recover your investment if something goes wrong.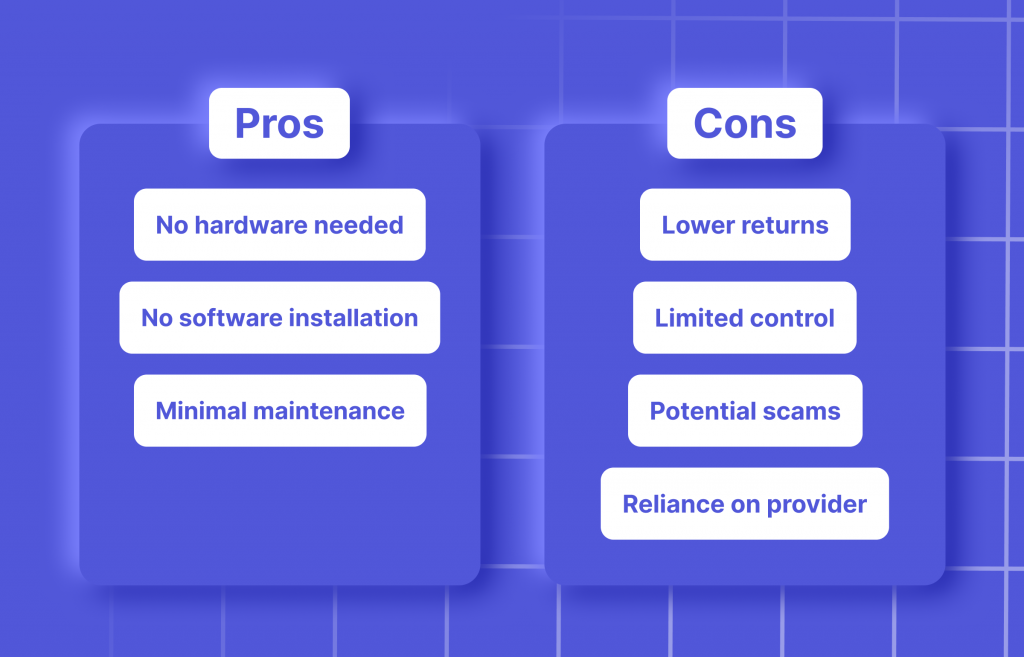 Considering all the basics we covered, these are the general pros and cons that characterize cloud mining.
Cloud Mining Pros:
No hardware needed: Cloud mining is entirely virtual, meaning you don't need to purchase the mining rig. This lets you start earning immediately without worrying about maintenance or electricity costs.
No software installation: Unlike traditional mining, which requires specific mining equipment, cloud mining requires no installation. Simply purchase hash power from a provider, connect it to their platform via API key, and everything else runs automatically behind the scenes.
Minimal maintenance: Most cloud mining providers offer contracts with monthly fees, making them easier to manage than daily fees. This means there's no need for frequent check-ins or upkeep like some other platforms might require.
Cloud Mining Cons:
Reliance on the provider: With cloud mining, you depend on the provider's reliability and trustworthiness. If the company goes under or faces technical issues, your investment could be at risk.
Lower ROI: Since you're sharing the mining power with others and paying fees to the provider, cloud mining typically yields lower returns than traditional mining.
Limited control: Cloud mining gives you less control over your mining operations, as the provider manages the hardware and software. This could be a downside for those who prefer a hands-on approach.
Potential scams: Unfortunately, the cloud mining industry has seen its share of scams and fraudulent operators. It's crucial to research and choose trusted cloud mining sites to minimize risks.
Top 10 Cloud Mining Sites In 2023
Let's take a closer look at the top cloud mining sites, each offering unique features and benefits to users:
Kucoin
One of the best cloud mining platforms is Kucoin. Featuring lending, staking, P2P trading, futures, spot trading, and mining, Kucoin mining pool aims to become one of the largest mining pools supporting Bitcoin. With no fees on revenue, Kucoin is a solid choice for passive income generation.
Pros
Merged mining and FPPS settlement
Accurate Hashrate Data
One-on-One Customer Service
Cons
Unable to withdraw fiat
Limited features for the US users
Only mines BTC
Nicehash
This cloud mining site combines mining hosting services and a marketplace, allowing miners to customize their mining terms and sell hash rates to others. Supporting over 30 cryptocurrencies and fiat withdrawals, Nicehash is a versatile and convenient choice.
Pros
Enables fiat withdrawals
Remote mining management
Peer-to-peer hash rate trading
Cons
More expensive than the other options
Slow payout rate
HashShiny
Established in 2017, HashShiny is a reliable and fast mining company for Bitcoin and other major cryptocurrencies like Zcash, Litecoin, Dash, and Decred. The developers pride themselves on creating a top-notch cloud mining platform with cutting-edge deployment technology.
Pros
Real-time mining hash rate
Low minimum investment
Daily payout
Low maintenance fees
Mobile app
Cons
It can be expensive compared to other platforms
Hashing24
As a well-established and legal cloud mining service, Hashing24 has been operating since 2016. With a research team focused on cryptocurrencies since 2012, the company offers users unlimited contracts and supports only Bitcoin cloud mining.
Pros
Stable hash power
24/7 customer support
Daily payout
Weekly promotions and auctions
Free demo to simulate profits
Cons
The maintenance fee is not transparent
Only supports Bitcoin mining
Crypto Universe
Operating since 2018, Crypto Universe provides users with profitable plans and cloud mining contracts through "Cloud Miners" and "BTC Mining." Users can also buy and resell mining equipment.
Pros
Daily payments
Low minimum withdrawal
Cons
The platform mainly provides its services in the Russian Federation.
ECOS
More than just cloud mining, ECOS is a comprehensive cryptocurrency investment platform supporting Bitcoin mining with various contract options. Contracts start at $149 and can last from twelve to fifty months.
Pros
Customized contract purchasing
Daily payments
Low minimum withdrawal
Low fraud risk
Cons
Only supports Bitcoin mining
BeMine
Launched in 2018, BeMine serves users in Russia and CIS countries, pioneering cloud sharing of ASIC miners instead of selling mining contracts. It is one of the largest cloud mining platforms and often a popular choice for its convenient services.
Pros
Provides simple and easy access for investors to mine cryptocurrency
Minimal learning curve: suitable for beginner miners
Users can purchase part of ASIC miners
Minimizes electricity usage in mining
Profitability calculator
No deposit fees
Offers analytics and support via Telegram
Cons
Other mining services rank higher for customer service
Genesis Mining
As one of the largest cloud mining companies, Genesis Mining has been offering Bitcoin and altcoin mining projects since 2013. With over 2 million customers worldwide, it's a reliable and popular option in the market.
Pros
Real-time mining hash rate within the application
Daily payout
Mobile app
Cons
It can be expensive compared to other platforms
Temporarily limited to existing customers
BitDeer
In addition to providing cloud mining, BitDeer serves as a multi-brand hash rate market, allowing users to buy and sell hash rates. The platform supports Bitcoin, Filecoin, and several other cryptocurrencies.
Pros
Hashrate market
Cloud hosting of miners
iOS and Android app integration
Charts of cryptocurrencies in real-time
Cons
HappyMiner
Founded in the US in 2018, HappyMiner is a legitimate cloud mining business with a large tech park of specialized Bitcoin mining equipment. With data centers in Iceland, Canada, and Norway, HappyMiner currently pays out cryptocurrencies to over 2.8 million users globally.
Pros
Automated daily payouts.
No overhead or electricity fees.
An affiliate program with 4.5% lifetime rewards.
Different Crypto contracts to choose from.
Cons
The maintenance fee is not transparent
Best Cryptos For Cloud Mining
After choosing the best cloud mining site, it's time to settle down on the cryptocurrency you wish to mine. Here are a few popular cryptocurrency examples you can start with.
Bitcoin (BTC)
As the pioneer and most widely recognized cryptocurrency, Bitcoin remains the primary choice for miners globally. At the time of writing, its price is around $28,000/BTC, and it reached an all-time high of $69,000 in January 2021.
Although Bitcoin mining is more resource-intensive and challenging than other cryptocurrencies, it offers unparalleled rewards. The current mining reward for Bitcoin is 6.25 BTC per block, which is expected to halve to 3.125 BTC in May 2024.
Bitcoin mining is considerably more complex and resource-consuming than newer cryptos in the market. However, as the leader in the market, it offers the highest revenues.
If you wish to start mining Bitcoin, here is a quick breakdown of the top 5 Bitcoin cloud mining sites and their rates: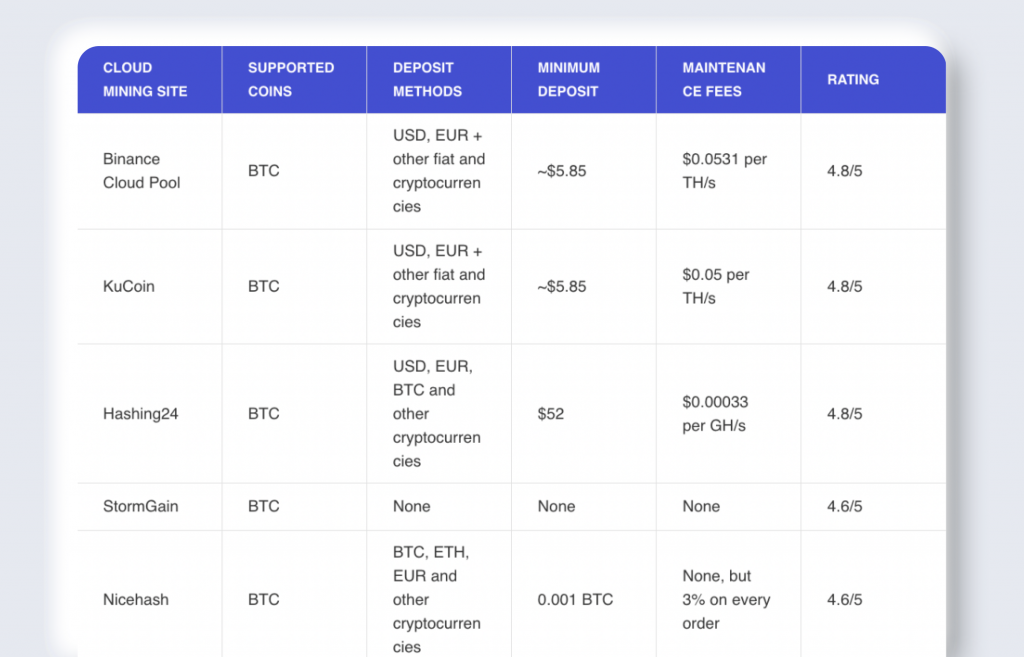 Litecoin (LTC)
As a highly regarded Bitcoin hard fork, Litecoin provides broad appeal and robust functionality. It consistently ranks among the top 10 profitable cryptocurrencies, making it an attractive choice for users.
The Litecoin network was launched in 2011, and since then, block rewards have been reduced several times, from an initial 50 LTC to 25 LTC in 2015 and 12.5 LTC in 2019. Another halving event is anticipated this year, which will decrease the block reward to 6.25 LTC.
Despite these reductions, Litecoin's strong market presence and technological stability make it an appealing option for cloud mining.
Dash (DASH)
Originating as a hard fork of Litecoin, Dash has carved out its niche in the cryptocurrency market since its inception in January 2014. With a market cap of approximately $1.07 billion, Dash is renowned for facilitating secure and rapid transactions through its unique features, PrivateSend and InstantSend.
The cryptocurrency utilizes the X11 hashing algorithm, an innovation by Dash founder Evan Duffield. There are around 9.96 million DASH in circulation, with a mining reward of approximately 3.34 DASH per block.
FAQs
Can you still profit from cloud mining in 2023?
The profitability of cloud mining is determined by the cryptocurrency you pick, the mining difficulty, and the contract conditions. The profit-making likelihood may be improved by diligent study and selecting a trustworthy service provider.
How are earnings paid out in cloud mining?
Users can withdraw their earnings to their wallets in the mined cryptocurrency, depending on the provider's policies.
Can I mine multiple cryptocurrencies with one cloud mining contract?
Users can mine numerous cryptocurrencies with a single contract from some service providers, while others may insist on individual contracts for each coin.
How long does a cloud mining contract last?
Different service providers may offer shorter or longer contract terms. Before making any financial commitments, it is crucial to review the contract's terms and conditions.
Are there any upfront costs for cloud mining?
Most cloud mining services require an advance payment for a mining contract, which includes the rental of mining capacity for a predetermined period.
Final Takeaway
Cloud mining has become trendy in the crypto world thanks to its simplicity and convenience. It removes the headache of dealing with hardware and lets you mine at your own pace, making it more appealing and potentially profitable. While there are some downsides, cloud mining does make cryptocurrencies like Bitcoin more accessible to the general public. It has a bright future, but there's still the question of whether it's legit.
Sadly, quite a few cloud mining services are scams or use ineffective business models. This means you might risk your investment or get lower returns than you should. So, always do your homework and pick a reliable provider before diving into cloud mining.