Crypto launchpads are a great place for startups to achieve their fundraising goals and kickstart their operations. Providing crucial tools to efficiently run IDOs, ICOs, and IEOs, these platforms help young projects access a wide network of investors and necessary guidance through the complexities of the crypto industry.
In this guide, we will explore the best crypto launchpads in 2023. We will delve into their unique features and advantages, assisting you in selecting the perfect launchpad crypto to invest or raise funds in.
*All the data on market capitalization, number of launched projects and supported features are as of the publication date.
Key Takeaways:
Launchpads exist in different forms in the crypto market, with some offering IEOs, and others offering decentralized options like IDOs.
Some of the best crypto IDO launchpads are DAO Maker, Polkastarter, and Seedify.
Best launchpads for IEOs include Binance, Gate.io Startup and KuCoin Spotlight.
DAO Maker
DAO Maker stands out as a leading crypto presale launchpad, offering a unique approach to token sales through Strong Holder Offerings (SHOs). Unlike traditional ICOs or IDOs, DAO Maker's SHOs prioritize community involvement and support, selecting participants based on their activities and contributions within the ecosystem.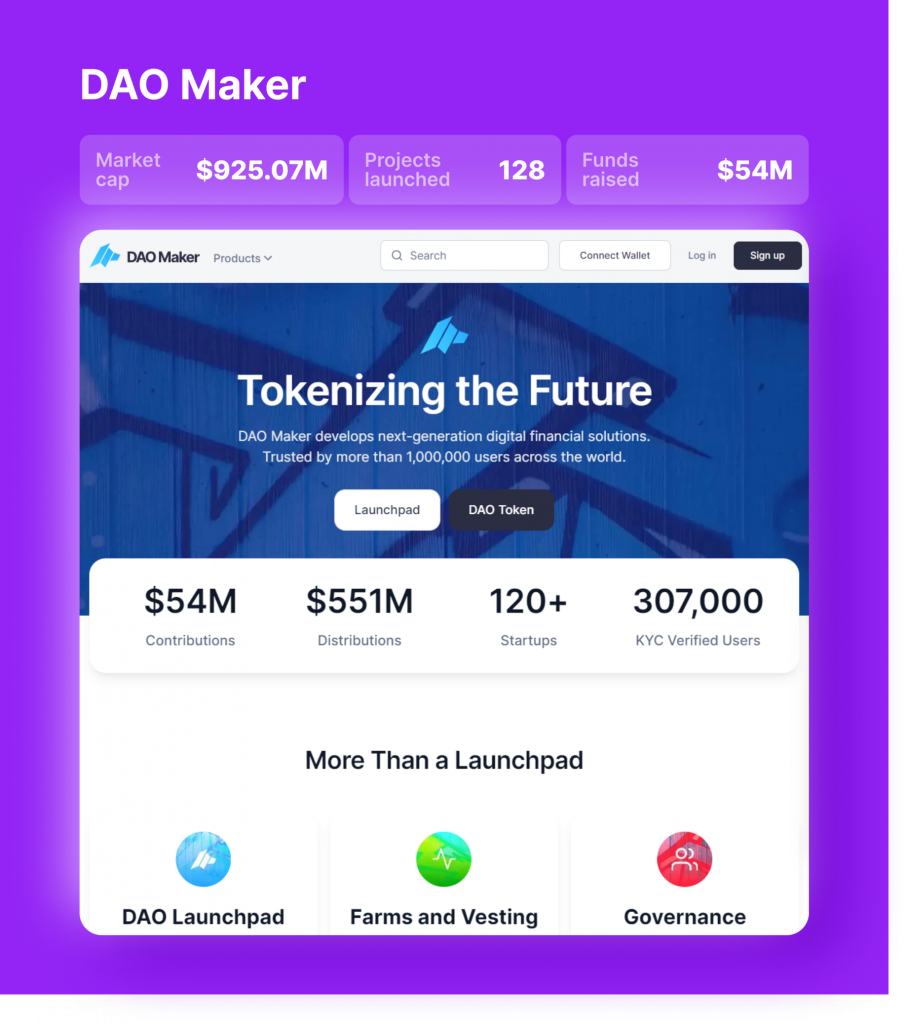 With a strong reputation and a focus on community-driven projects, DAO Maker has facilitated the launch and growth of multiple successful blockchain ventures. The platform supports multiple blockchains, including Ethereum, BNB Chain, and Solana.
However, there are some drawbacks associated with DAO Maker. The platform has a mandatory requirement of holding 2000 DAO tokens to participate in SHOs, which may be a barrier to entry for some investors.
Market cap – $925.07M
Projects launched – 128
Funds raised – $54M
Binance Launchpad
Binance Launchpad is the token-launch platform of the renowned Binance exchange. The launchpad offers early access to promising projects, ensuring a fair and secure token distribution process through reliable Initial Exchange Offerings (IEOs), meaning each project is thoroughly vetted and evaluated.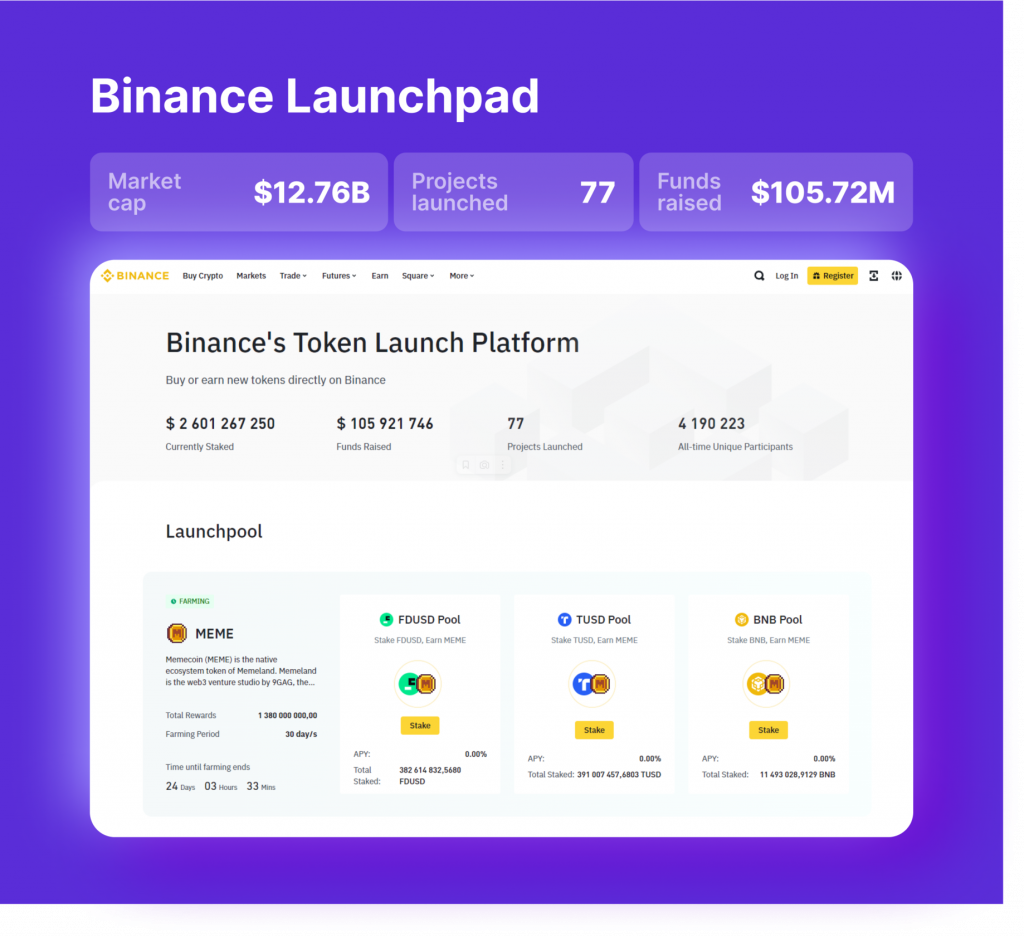 Supported by the BNB token, Binance Launchpad has facilitated the successful launch of numerous promising crypto projects. Its rigorous vetting process and strong community support have contributed to an impressive ATH ROI of 185.81x.
Fast Fact
ATH ROI (All Time High ROI) is the highest return on investment generated by an asset or project.
This success also brings some drawbacks. The limited availability of launchpad projects due to the lottery system and dependence on BNB for participation can be barriers for potential investors. Moreover, with the increasing popularity of Binance Launchpad, the competition for participation has also significantly increased.
Market cap – $12.76B
Projects launched – 77
Funds raised – $105.72M
Polkastarter
Polkastarter is a unique launchpad that operates on the Polkadot network, enabling decentralized open sales for blockchain projects. The platform has gained significant recognition for its cross-chain capabilities and commitment to fair token distribution.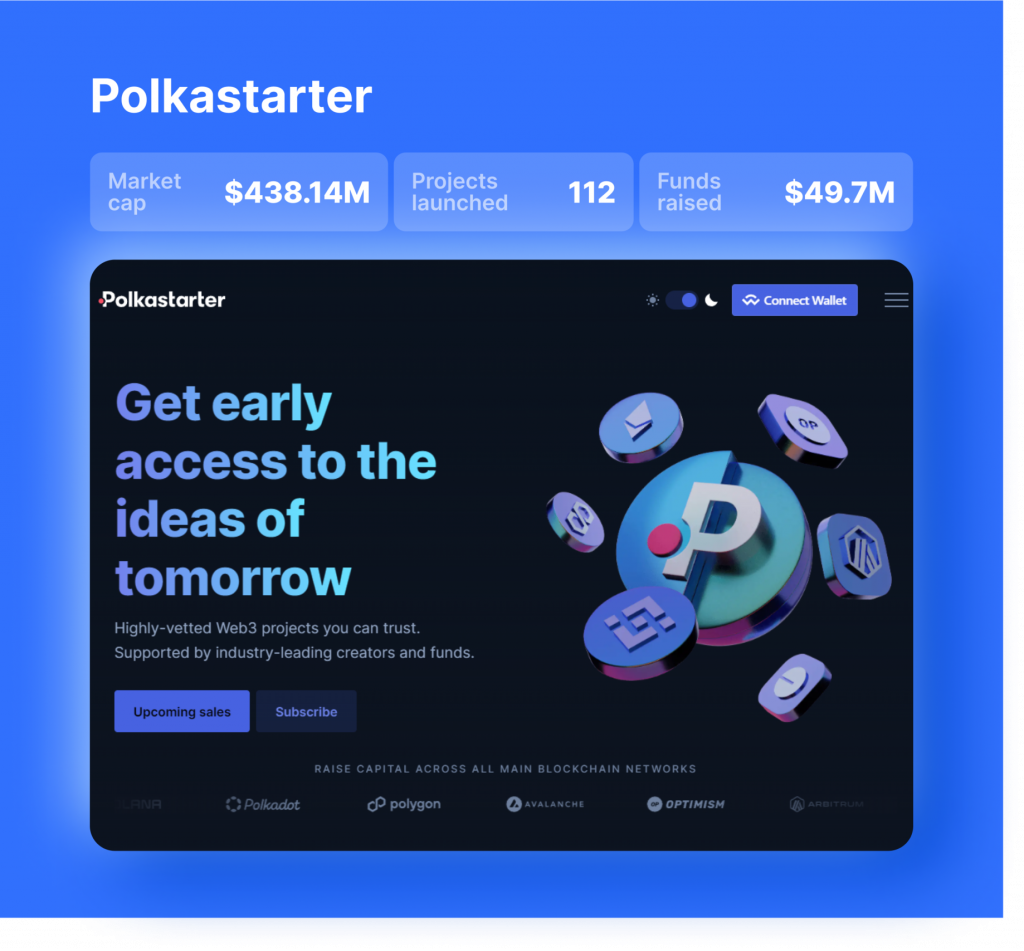 One of the standout features of Polkastarter is its tier system for whitelisting. This allows users to have increased chances of participating in Initial DEX Offerings based on their POLS.
However, some users have expressed concerns about the complexity of the system and limited access to IDOs based on their POLS holdings. This can be seen as a disadvantage for smaller investors who may not have a significant amount of POLS.
Market cap – $438.14M
Projects launched – 112
Funds raised – $49.7M
BSCPad
BSCPad is a dedicated launchpad built on the BNB Chain. BSCPad has become a popular choice for those seeking opportunities in the Binance ecosystem. The platform's lottery-based allocation system ensures fair distribution, giving everyone a chance to participate.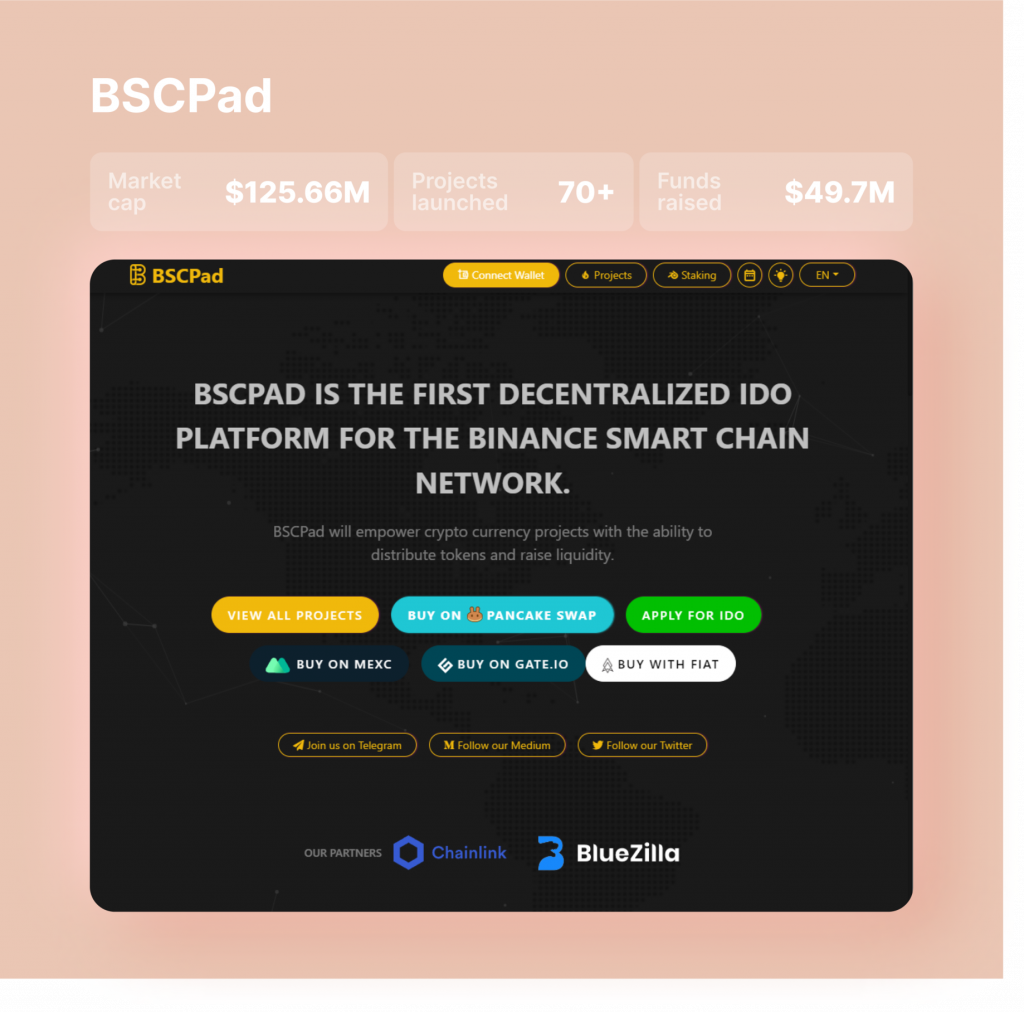 BSCPad's minimal entry threshold makes it highly accessible for both new and experienced investors. Unlike traditional investment opportunities that often require a significant amount of capital, BSCPad allows investors to enter the market with a relatively small amount. This not only makes it easier for new investors to get started but also increases the investor base for early-stage projects.
BSCPad also boasts a strong security track record. To date, there have been no recorded instances of security breaches on the platform, giving investors peace of mind in their investments.
Market cap – $125.66M
Projects launched – 70+
Funds raised – $49.7M
PAID Network Ignition
PAID Network Ignition is an IDO launchpad dedicated to blockchain-based gaming projects. Its easy-to-use interface and tiered access system, based on PAID token ownership, provide investors with a fair and transparent participation process.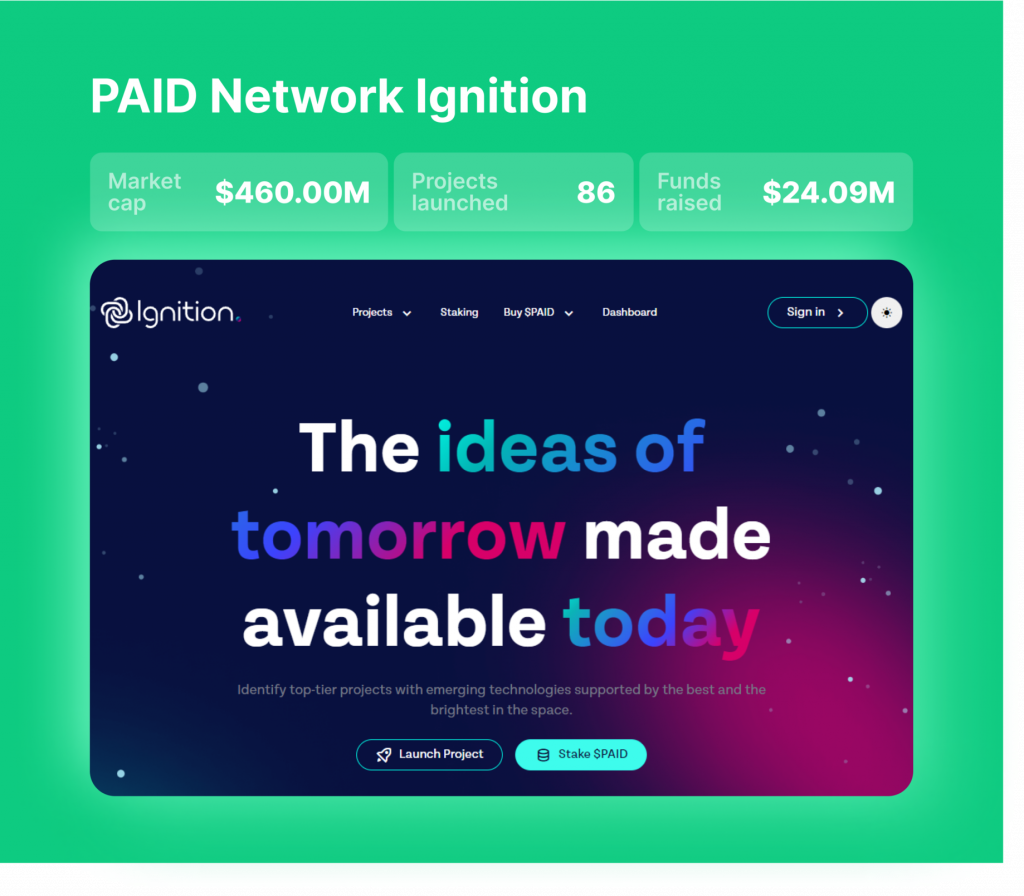 Backed by industry leaders and boasting an average ROI of 31.13x, PAID Network Ignition has gained a reputation for successfully launching innovative gaming projects. The platform's lottery, KYC, and token redemption process all ensure a streamlined and secure investment experience.
However, one limitation of PAID Network Ignition is that it is currently unavailable to U.S. investors due to regulatory reasons. This may be seen as a con for those looking to invest in the United States.
Market cap – $460.00M
Projects launched – 86
Funds raised – $24.09M
Seedify
Seedify is not just a game-focused launchpad but also an investment fund and an incubator for seed-stage companies. Seedify aims to support projects that can bring about significant changes to the industry.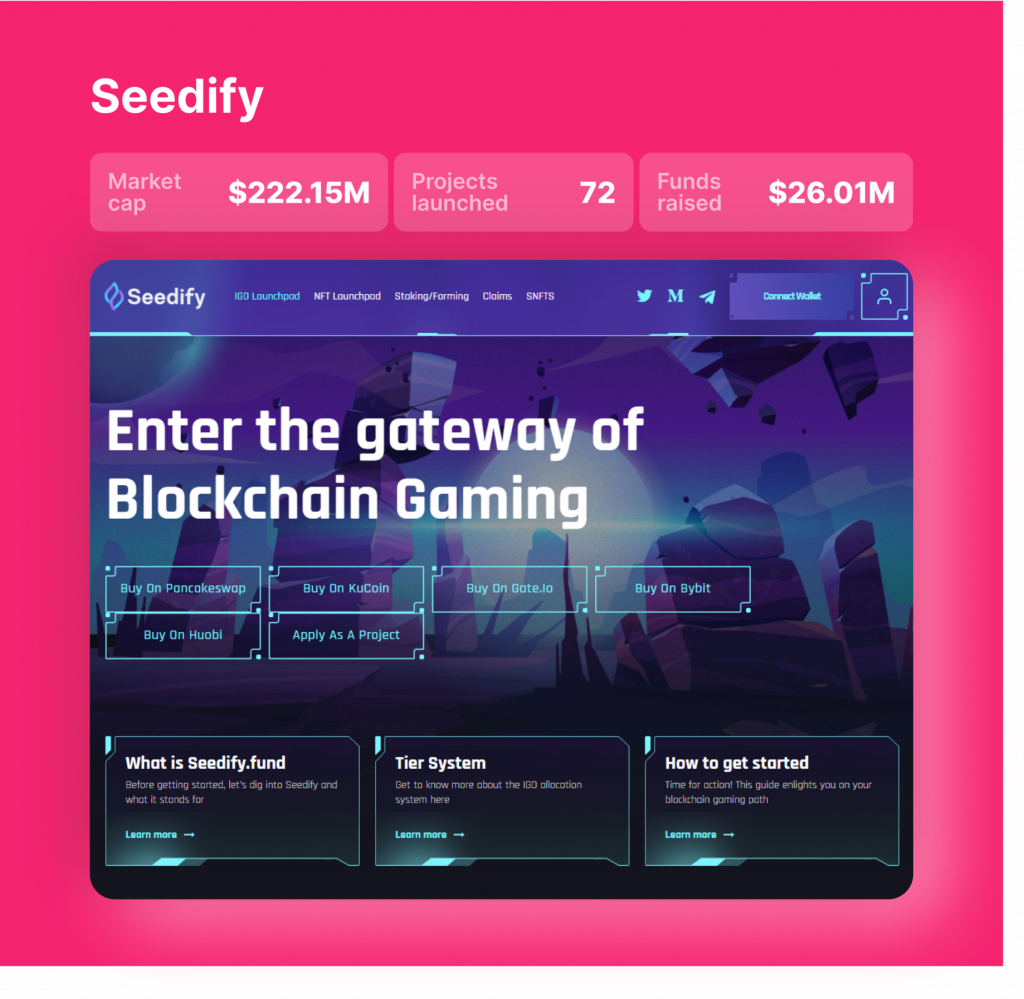 Through Initial Game Offerings (IGOs) and Initial NFT Offerings (INOs), investors obtain early access to unreleased games and receive exclusive bonuses upon project release. The use of SFUND tokens as the primary voting currency allows investors to have a say in the projects they want to succeed.
As with any investment, there are potential risks involved in participating in IGOs and INOs. These include the possibility of projects failing or underperforming, resulting in a loss of investment. Additionally, the secondary token (SNFTS) offered through Seedify has limited utility and may not have the same value as other cryptocurrencies. It is also important to consider the uncertain regulatory landscape for crypto-related ventures, which can impact the success of Seedify's projects.
Market cap – $222.15M
Projects launched – 72
Funds raised – $26.01M
BullStarter
BullStarter is a versatile IDO launchpad that supports projects on multiple blockchains, including Binance Smart Chain, Polygon, Solana, Ethereum, Tezos and Avalanche C-Chain. BullStarter provides a variety of opportunities:
an incubator platform,
a metaverse,
swap token functionality,
and more.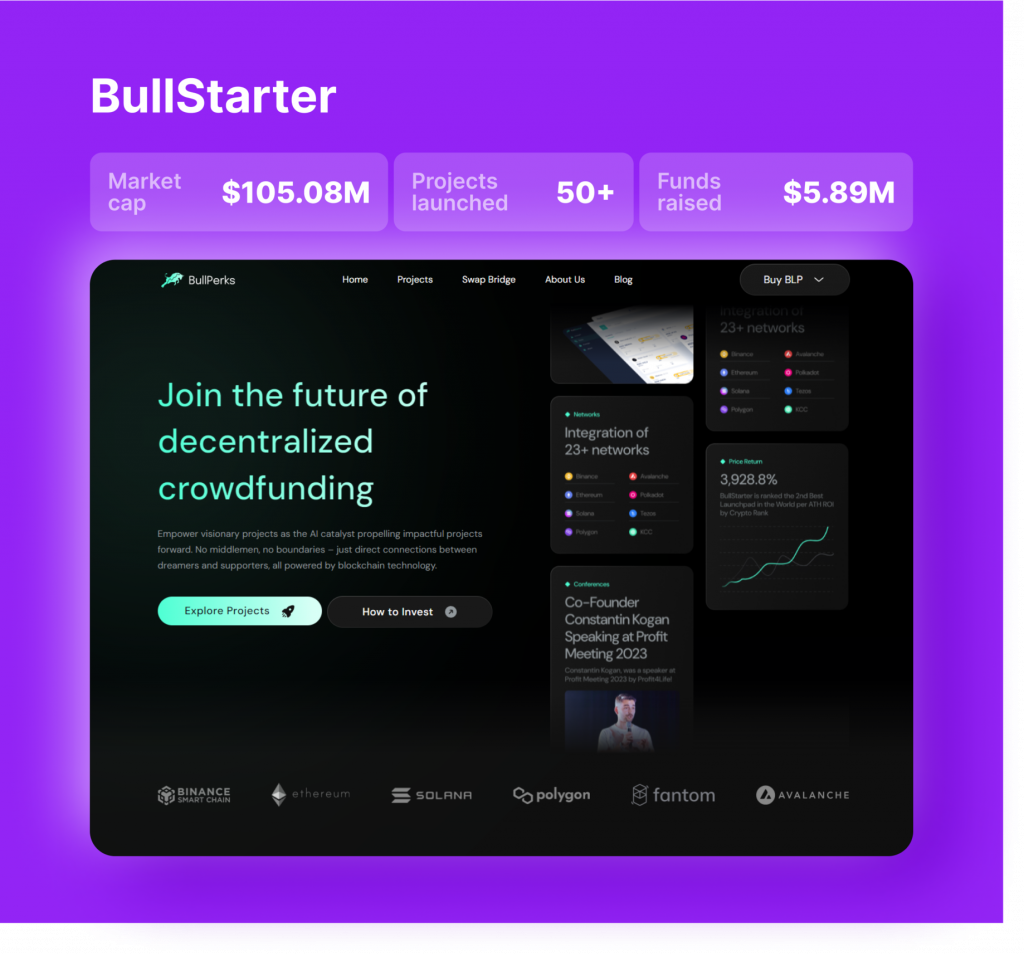 BullStarter's community-driven approach and commitment to quality have enabled it to become one of the best launchpads in the world per ATH ROI, according to CryptoRank.
Market cap – $105.08M
Projects launched – 50+
Funds raised – $5.89M
TrustSwap
TrustSwap is a popular IDO launchpad that operates on multiple blockchains, including Ethereum, BNB Chain, Polygon, and Avalanche C-Chain. The platform is backed by TrustSwap's SmartLocks technology, which ensures secure lock-up of tokens and prevents rug pulls.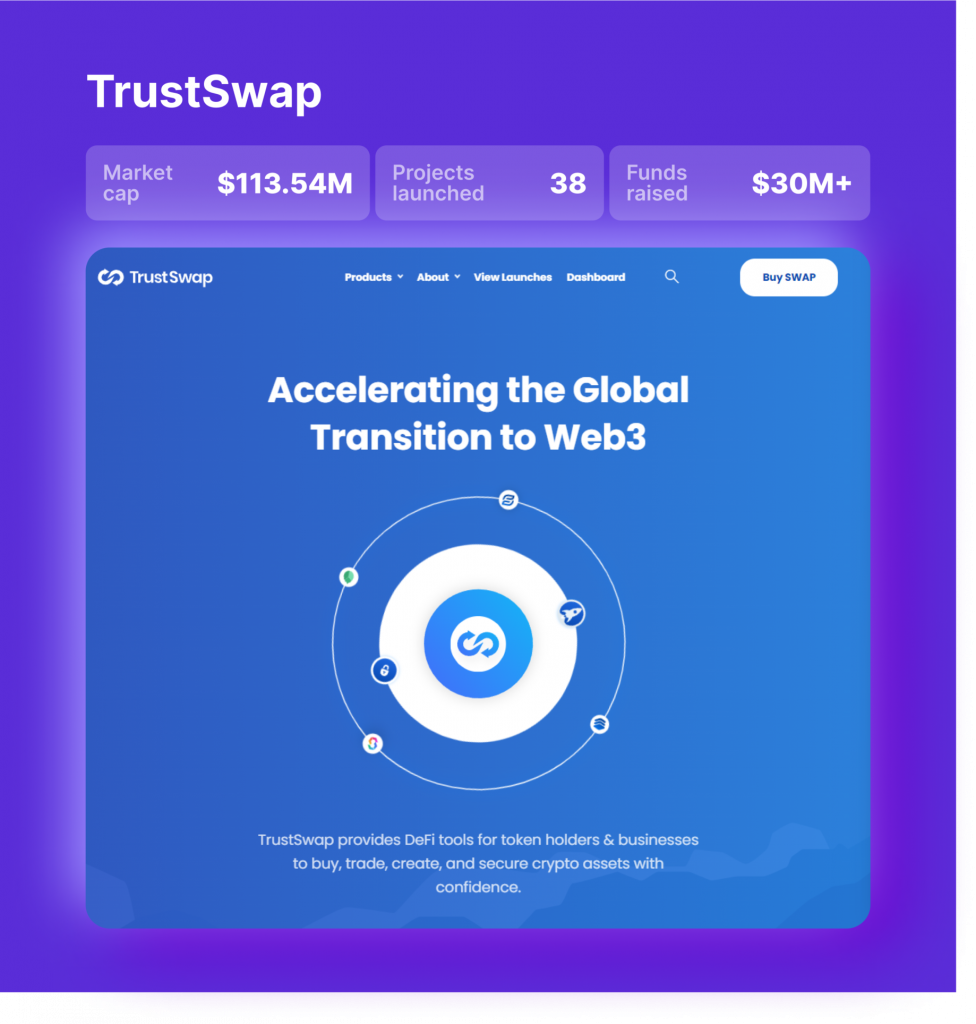 In addition to token launch services, TrustSwap provides asset management features, including real-time portfolio tracking, alerts, and integration with various crypto exchanges. Its TrustPad feature allows investors to pool resources together and buy tokens at a discount, enhancing visibility for projects.
However, one potential downside of TrustSwap is that stakers are required to own a compatible wallet and stake SWAP tokens to participate in launchpad projects. In addition, the platform has a relatively complex process for staking and participating in projects listed on its launchpad.
Market cap – $113.54M
Projects launched – 38
Funds raised – $30M+
Poolz Finance
Poolz Finance is a crypto launchpad that supports Ethereum, BNB Chain, Polygon, Avalanche, Near Protocol and Fuze Network, offering investors a diverse array of investment options. Poolz Finance focuses on providing a decentralized platform for investing in early-stage projects.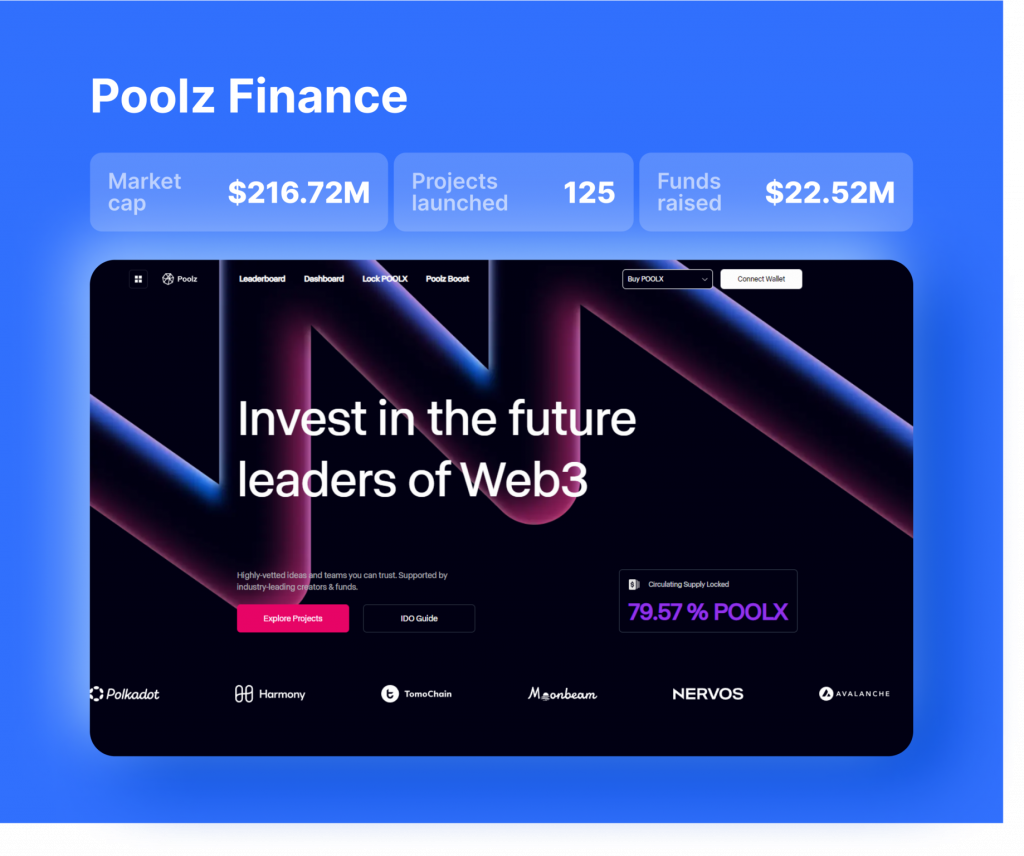 The launchpad's tiered access system, based on the POOLX token ownership, ensures fair participation and allocation of tokens. Poolz Finance also offers features like vesting schedules and token locking, providing additional security for investors.
Market cap – $216.72M
Projects launched – 125
Funds raised – $22.52M
OKX Jumpstart
OKX Jumpstart is the token launch platform provided by OKX, a prominent centralized cryptocurrency exchange. OKX Jumpstart focuses on NFT assets, providing a platform for users to invest in high-quality blockchain projects at an early stage.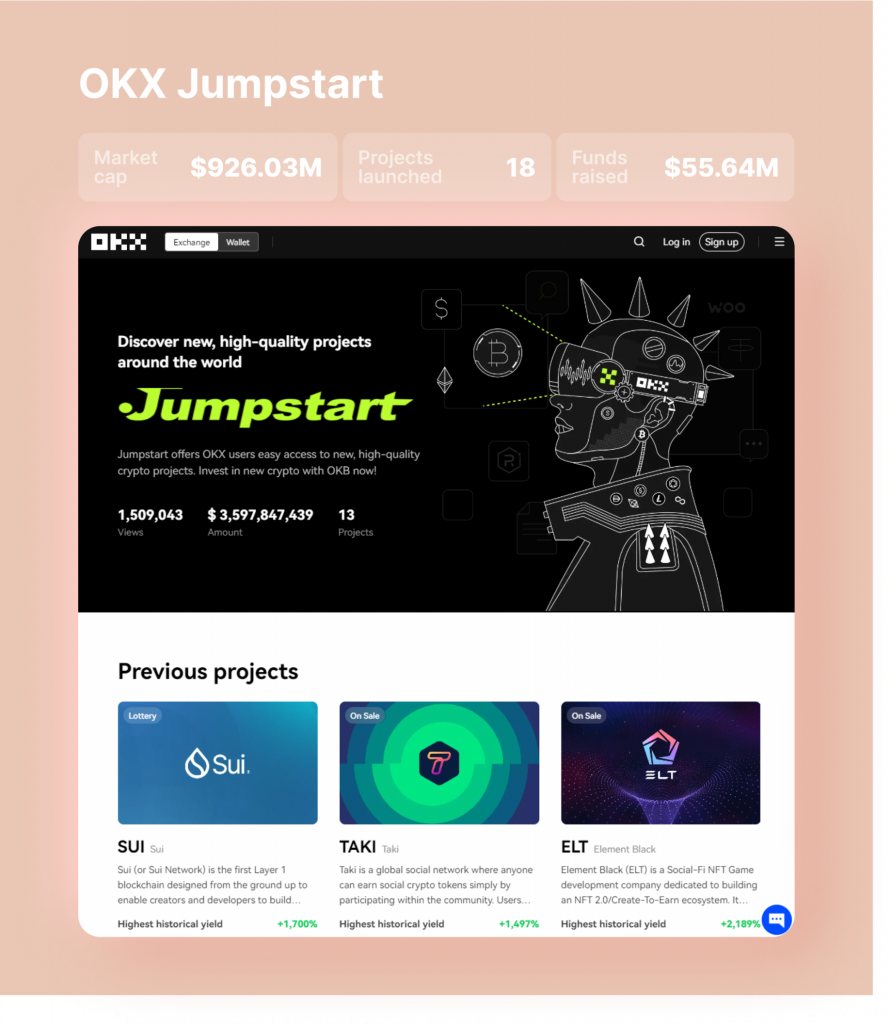 OKX Jumpstart ensures transparency by conducting warm-ups and announcing rules in advance, allowing investors to be well-prepared for token sales. While participation in OKX Launchpad programs requires Level 2 KYC verification and ownership of OKB tokens, the platform offers a variety of cryptocurrencies and trading options.
However, there are a few drawbacks to consider. Firstly, OKX Jumpstart is not available for U.S. citizens due to regulatory restrictions. Additionally, with strict regulatory compliance measures in place, some participants may find it challenging to meet the requirements to join.
Market cap – $926.03M
Projects launched – 18
Funds raised – $55.64M
Red Kite
Red Kite is an IDO launchpad managed by Icetea Labs, offering immediate access to thoroughly vetted blockchain startups. The platform has launched a number of successful projects, such as Tribe, Bunicorn, and Step Hero, ensuring that only high-quality startups are listed.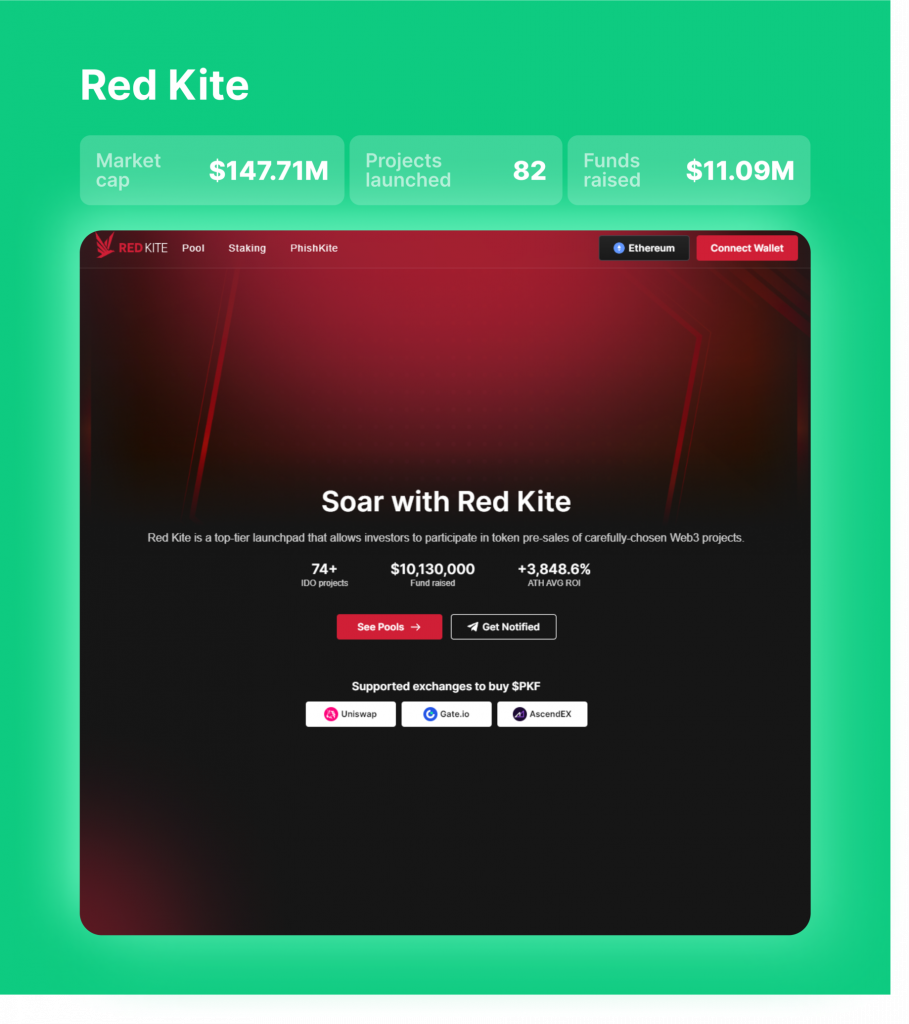 Additionally, Red Kite offers a user-friendly interface and an easy registration process, which makes it accessible to both seasoned and novice crypto investors. Its PKF token is also available on major exchanges, providing liquidity and convenience for investors.
Despite its success, Red Kite does have a few drawbacks. One major issue is the significant investment required to participate in IDOs on the platform. With a minimum requirement of 40,000 PKF tokens, beginners may find it challenging to get started. Additionally, newcomers to the crypto space may find it difficult to purchase and stake PKF tokens, get whitelisted, and participate in IDOs on the platform.
Market cap – $147.71M
Projects launched – 82
Funds raised – $11.09M
Mexc
Mexc Launchpad has gained recognition for successfully launching a wide range of crypto and DeFi projects. Mexc provides users with immediate access to thoroughly vetted projects, each of which is evaluated according to the experience of its team, its market potential, and its potential value.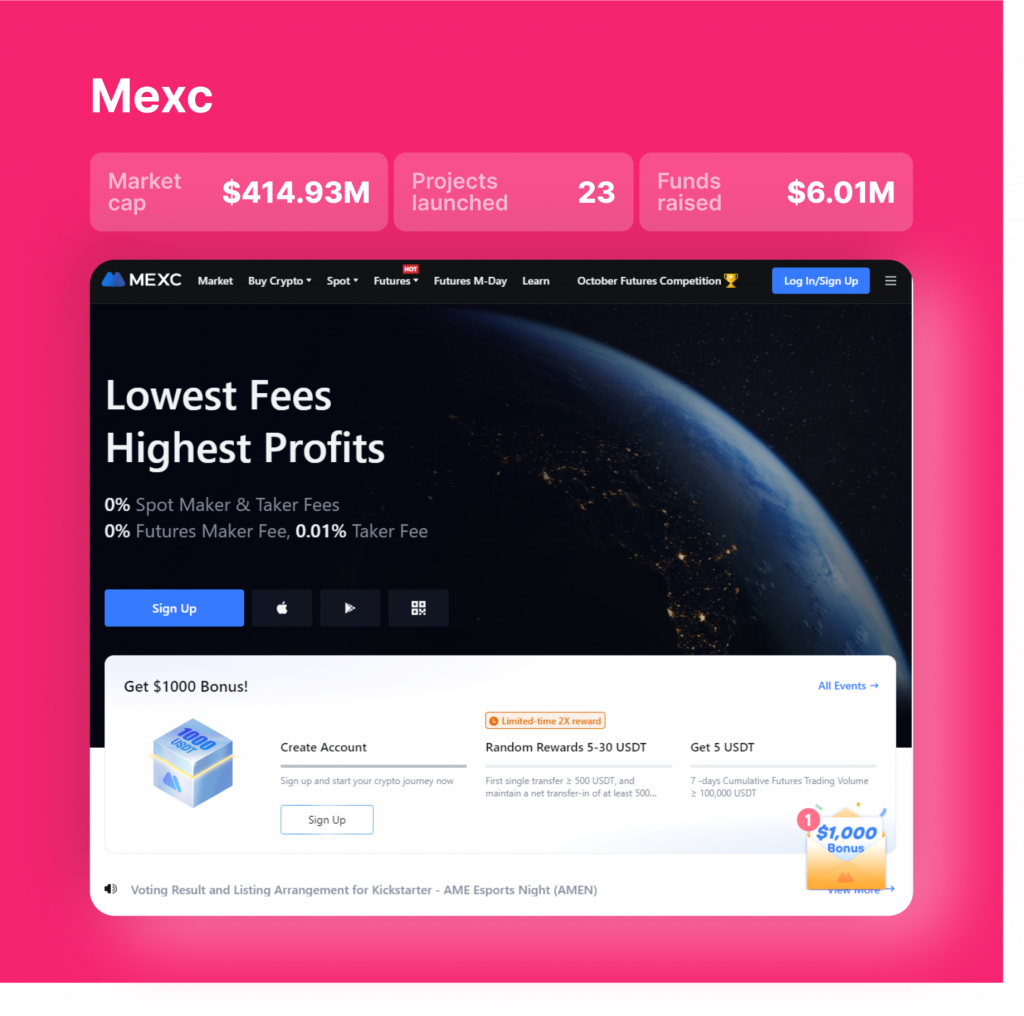 Mexc offers unique pools where users can commit MX tokens and receive token airdrops, allowing for early-stage investment and potentially high returns. With exceptional liquidity for futures trading and support for multiple payment methods, as well as access to more than 1,600 cryptocurrencies, Mexc has established itself as a profitable platform for new projects, with top performers boasting impressive returns.
Market cap – $414.93M
Projects launched – 23
Funds raised – $6.01M
TrustPad
TrustPad is a launchpad that focuses on multichain investments, supporting projects on Ethereum, BNB Chain, Solana, Polygon and Fantom. TrustPad allows investors to take part in IDOs and supports the growth of the blockchain ecosystem, providing features like token locking and cross-chain compatibility.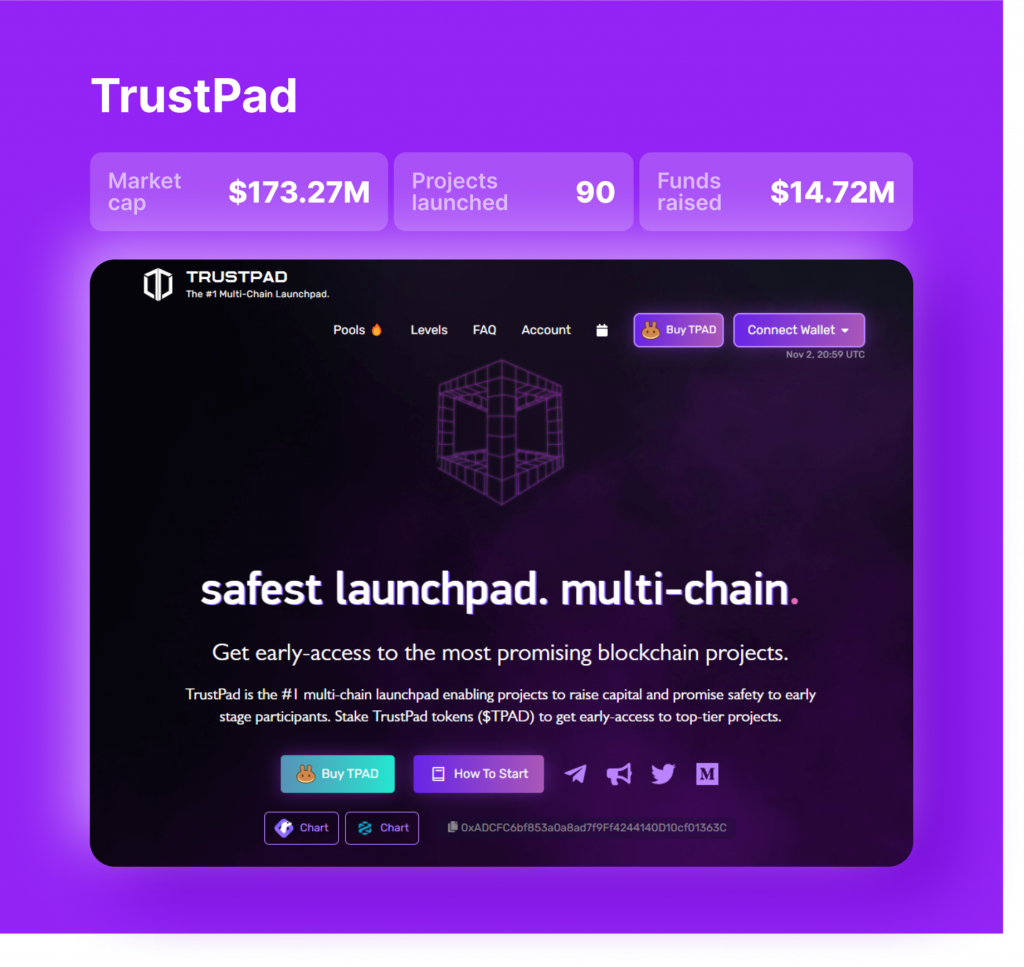 Additionally, TrustPad offers a unique feature called "TrustPad Pools", where investors can pool their resources to purchase tokens at a discounted price. This greatly benefits projects to gain visibility and reach a broader audience. With real-time portfolio tracking, alerts, and integration with various crypto exchanges, TrustPad makes managing project investments more convenient and efficient for users.
Market cap – $173.27M
Projects launched – 90
Funds raised – $14.72M
Coinlist
Coinlist is an ICO crypto launchpad that has gained a reputation for being one of the most trusted platforms for discovering promising new crypto projects. With its focus on high-quality projects and strict screening processes, Coinlist offers investors an opportunity to get in on the ground floor of potentially lucrative ventures. Its successful track record speaks for itself, with previous launches of successful crypto launchpad projects such as Solana, Algorand, Casper, and Flow seeing impressive ROIs.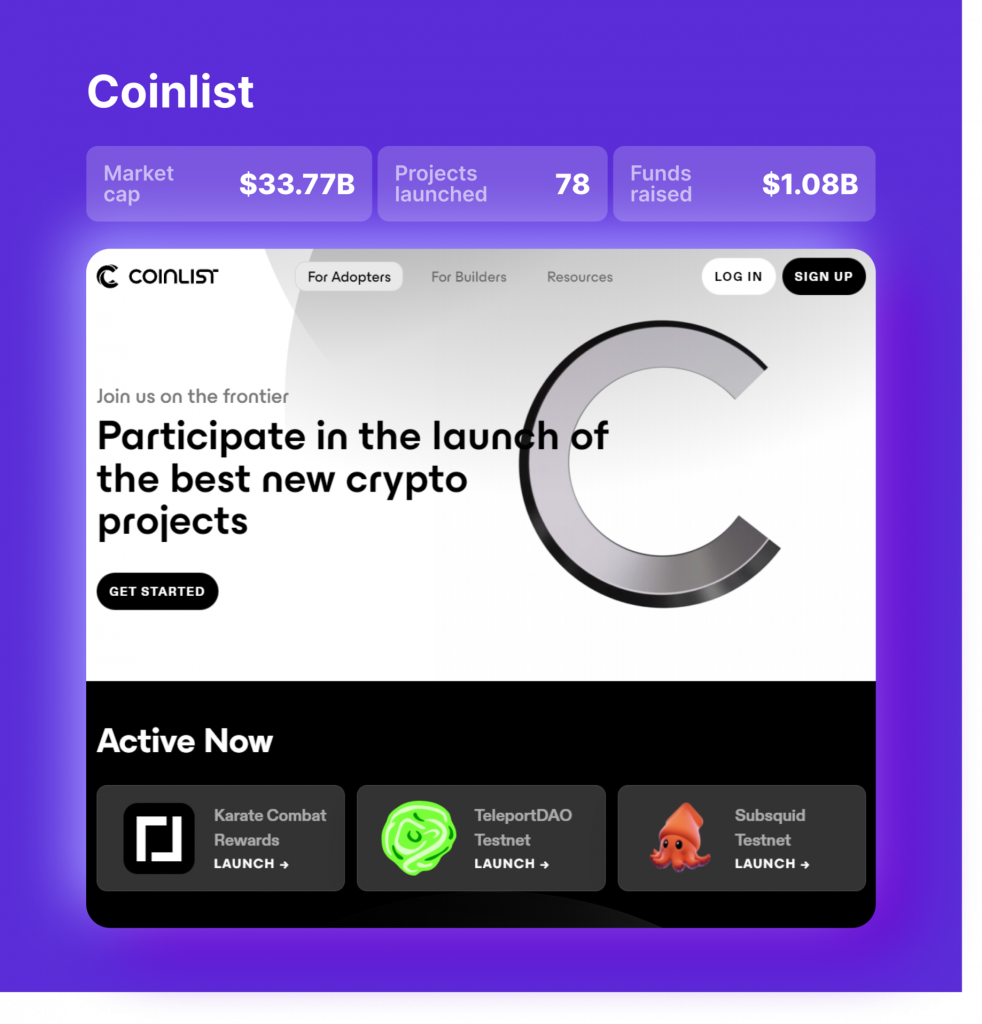 One of the key factors that set Coinlist apart from other launchpads is its commitment to maintaining a secure investing environment. This includes thorough malware detection and strict action against users found using malicious software. In addition, Coinlist implements various sale tiers with purchase limits and lockups to discourage selling, ensuring the long-term success of projects by preventing large selloffs that can harm the token's value.
However, like any platform, Coinlist does have its drawbacks. Liquidity can often be an issue on Coinlist, making it difficult for investors to buy and sell tokens quickly. And while Coinlist supports fiat currency deposits, it does not currently offer the ability to withdraw fiat, only allowing for cryptocurrency withdrawals, which can come with high fees.
Market cap – $33.77B
Projects launched – 78
Funds raised – $1.08B
ChainGPT Launchpad
ChainGPT is a unique AI-powered platform that offers 0% fee IDOs and generous giveaways for the community. The platform is committed to maximizing investor profits and provides opportunities to earn through airdrops and NFTs. ChainGPT ensures inclusiveness by implementing a fair tier system and strict project vetting for quality assurance.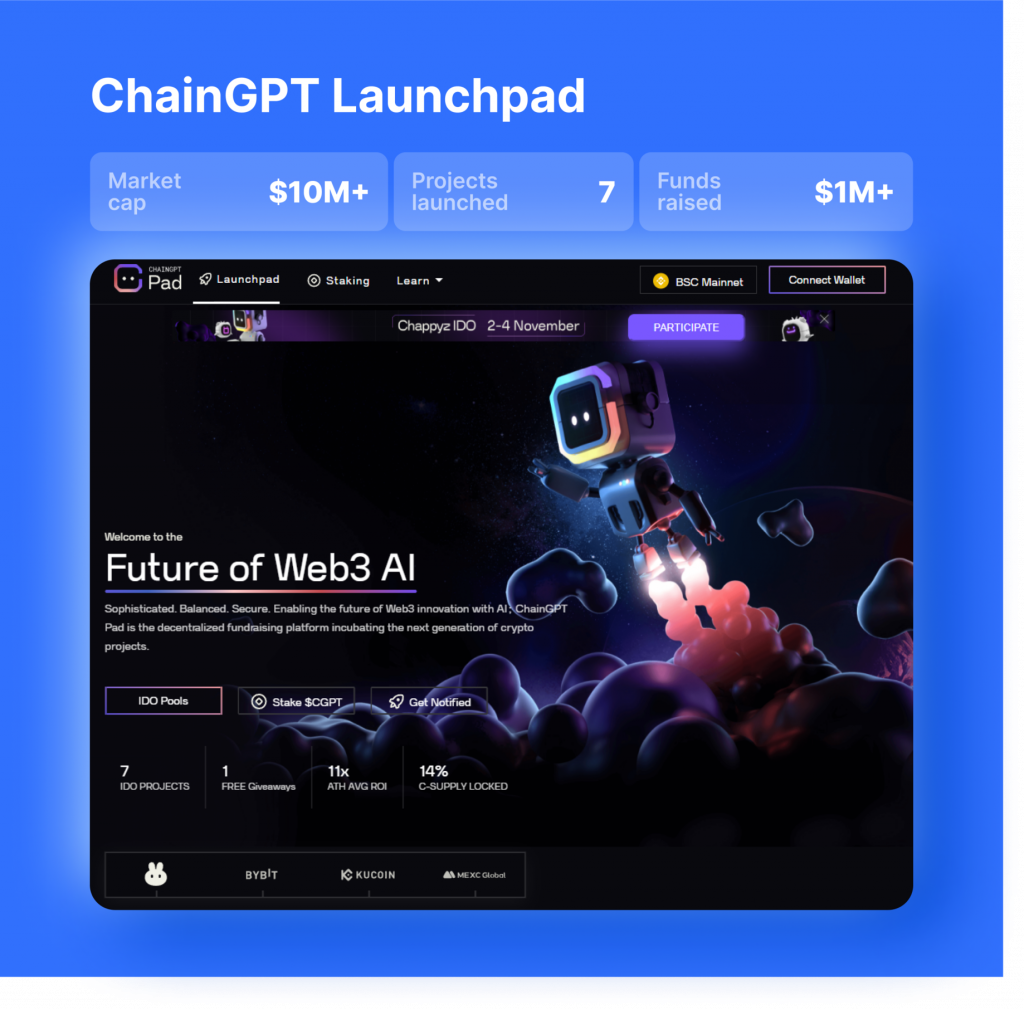 One of the highlights of ChainGPT Launchpad is its refund policy. It provides users with a sense of security and flexibility, as they can claim their tokens or opt for a refund of their initial contributions during the refund grace period post-IDO completion. This feature sets ChainGPT apart from other launchpads, as it puts the interests of investors first.
Market cap – $10M+
Projects launched – 7
Funds raised – $1M+
Gate.IO Startup
Gate.io's startup launchpad has quickly gained recognition as a top choice for crypto investors. This is due to its solid reputation within the community, with only Binance ranking higher in terms of trustworthiness.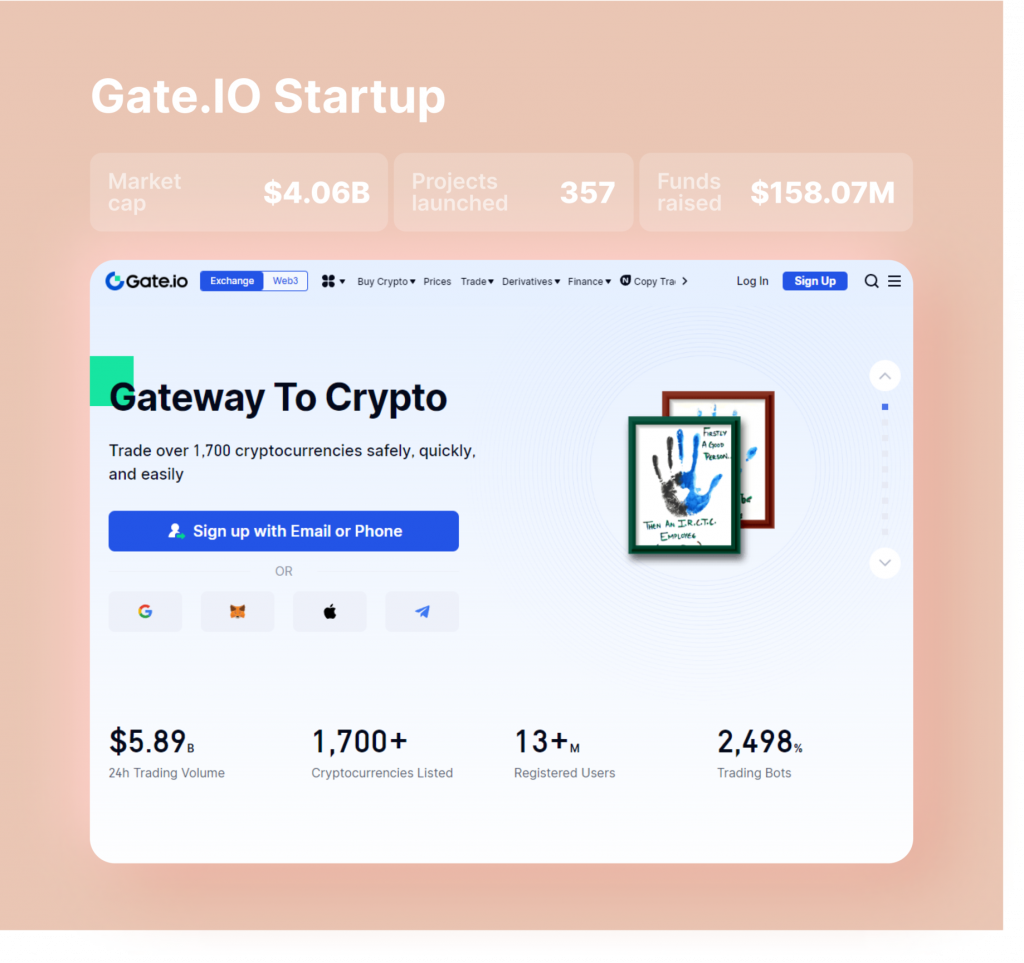 One of the main draws of Gate.io's startup launchpad is its unique IEO model. Unlike traditional exchange platforms, Gate.io thoroughly evaluates all projects before listing them on its platform. This includes a rigorous review of the project's background, financing, use cases, goals, objectives, and operational structure.
In addition, Gate.io's reputation as a reliable and high-quality exchange platform further adds to its appeal. The platform's commitment to providing top-notch services is evident. This further solidifies Gate.io as a trustworthy and reputable option for users looking to enter the world of cryptocurrency startups.
Market cap – $4.06B
Projects launched – 357
Funds raised – $158.07M
KuCoin Spotlight
KuCoin Spotlight is a token launchpad that has been gaining popularity in the crypto world. The platform allows users to participate in new token launches by holding KuCoin Shares (KCS).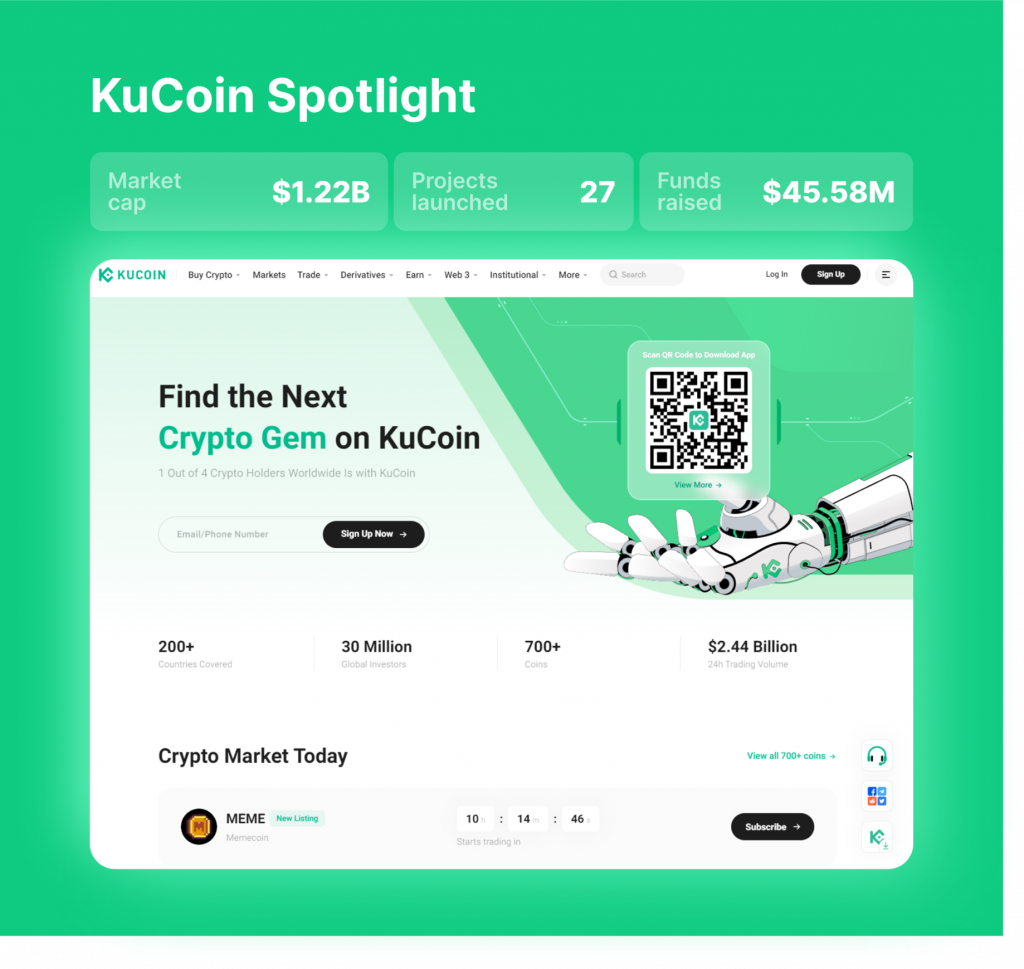 One of the main benefits of KuCoin Spotlight is the potential for high returns. By investing in new tokens at the issue price, users have the opportunity to see substantial growth post-launch. Additionally, KuCoin also offers IGOs for finding early projects, giving users even more chances to invest in promising projects.
One of the main drawbacks of KuCoin Spotlight is the limited information available on early projects. The lack of comprehensive information about early-stage projects can make it difficult for investors to fully assess the potential risks and rewards involved.
Market cap – $1.22B
Projects launched – 27
Funds raised – $45.58M
Solster Finance Launchpad
Solster Finance Launchpad allows investors to get involved with upcoming token projects with ease and fairness. Unlike traditional launchpads, this platform does not rely on first-come-first-served participation or high financial barriers to entry. Instead, it uses a three-round system, also known as the "trilogy," to distribute funds fairly among its users.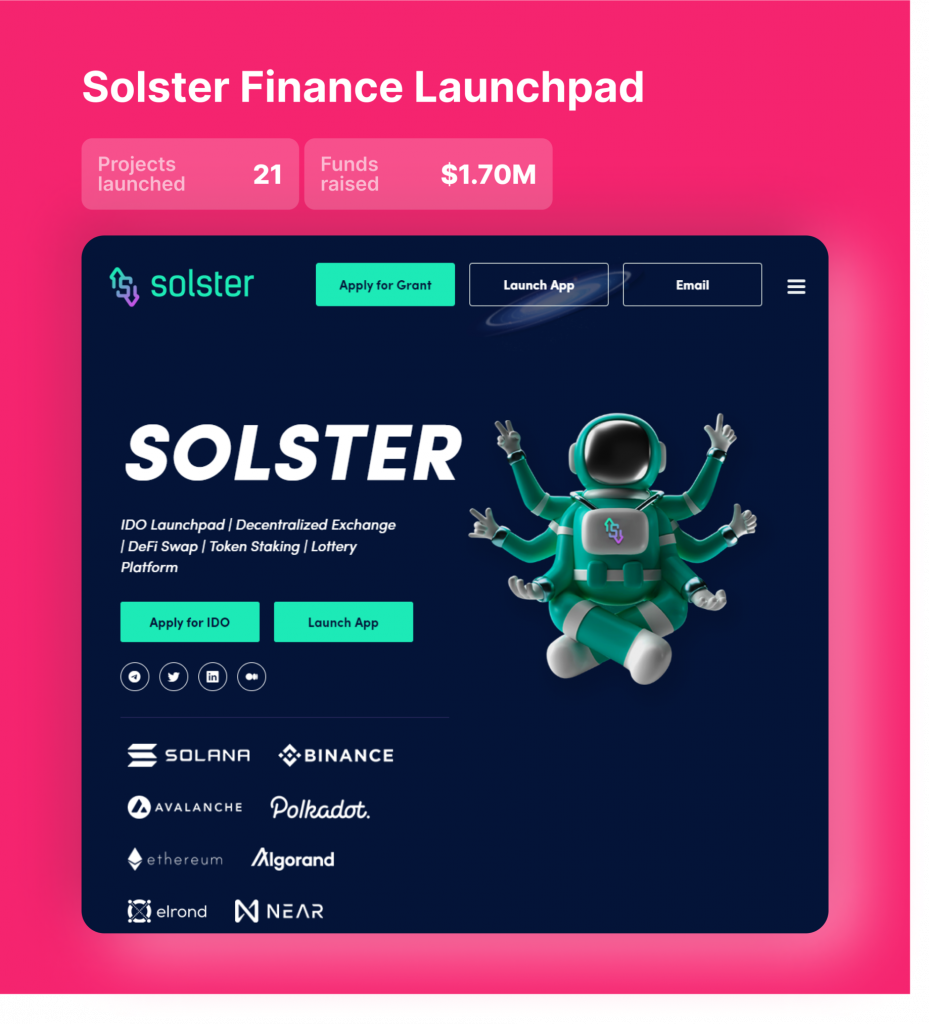 Its fair system rewards token holders and ensures a guaranteed fund allocation based on their stake in STR tokens. This eliminates any advantage for early participants or those with larger financial resources, creating a level playing field for all investors.
Still, the three-round system may seem complex for new users who are unfamiliar with this type of distribution method. Additionally, regulatory restrictions in certain countries may limit participation, creating barriers for potential investors.
Projects launched – 21
Funds raised – $1.70M
CoinxPad
CoinxPad is an IDO launchpad that takes pride in its rigorous vetting process, which ensures that only high-quality tokens make it onto the launchpad.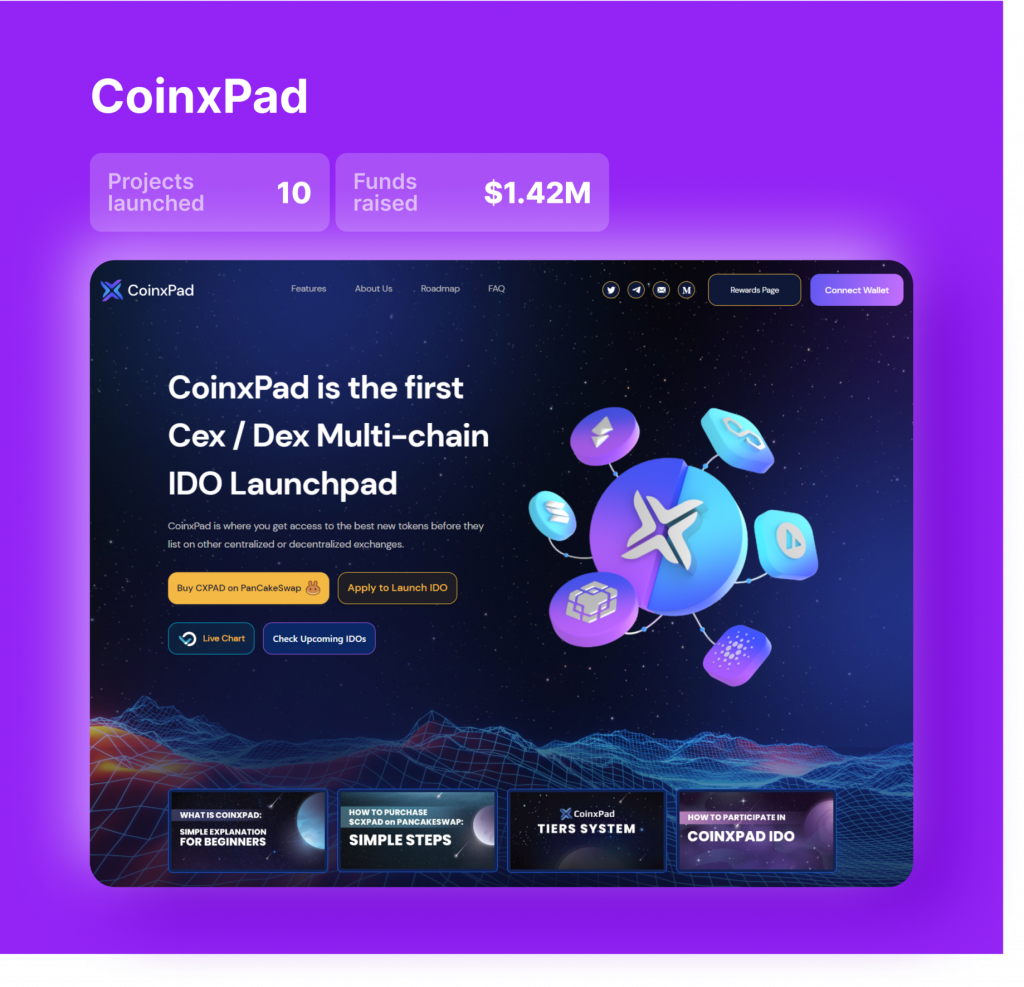 One of the main benefits of using CoinxPad is its reward system for CXPAD holders. These rewards come in the form of automatic USDT payouts every 60 minutes as long as the holder has a minimum balance of 200,000 CXPAD tokens. This incentivizes investors to hold on to their CXPAD assets, which contributes to the growth of the platform and its projects.
However, there are some potential drawbacks to using CoinxPad. One is the limited liquidity of CXPAD, which may make it difficult for some investors to take advantage of the rewards system. Additionally, as a relatively new platform in the crypto space, there may be some uncertainty surrounding the long-term success of CoinxPad.
Projects launched – 10
Funds raised – $1.42M
Bounce
Bounce is a fundraising platform for projects in the world of decentralized finance. It offers a diverse range of auction methods for both tokens and NFTs. It operates on several blockchains, allowing users to participate in auctions on their preferred blockchain network.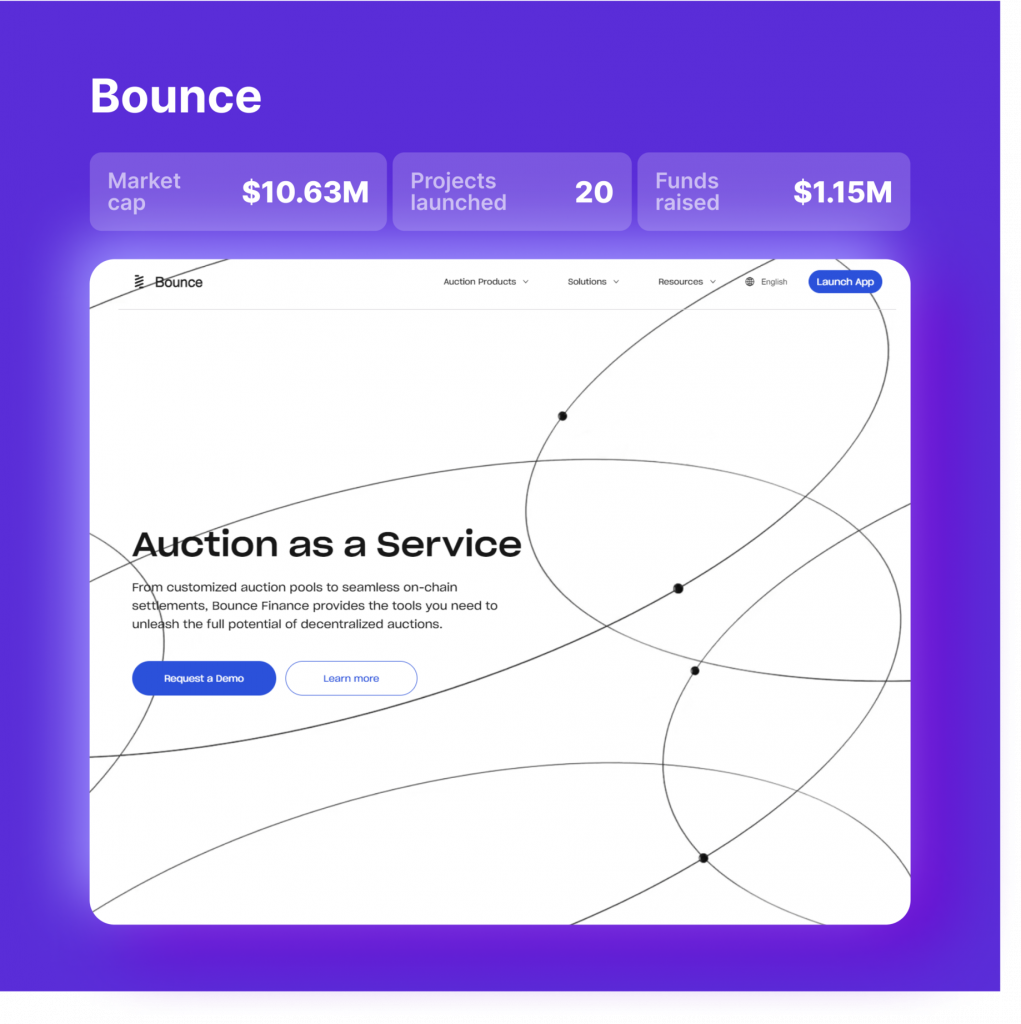 Moreover, Bounce Finance prioritizes security in all its operations. With the utilization of smart contracts, transactions are automated and secure for both auctioneers and buyers. The platform also offers a Locked Liquidity Pool feature, mitigating the risk of 'rug pulls' and ensuring a safer investment environment.
However, as with any type of auction, there is always an inherent risk involved. Also, the platform's complexity and various auction types may be overwhelming for some users, and there may be a lack of control over agreed auction terms. Additionally, the reliance on external wallets for transactions can sometimes pose challenges for users.
Market cap – $10.63M
Projects launched – 20
Funds raised – $1.15M
How to Find the Best Crypto Launchpad
Choosing the ideal crypto launchpad requires careful consideration of several factors. Here are a few things to keep in mind:
Research the reputation and track record of the launchpad. Make sure the platform you choose has a proven history of successful project launches and positive feedback from the community.
Take into consideration the networks that a launchpad supports. Ensure that the platform is compatible with the blockchain on which your project is built.
Check the security measures put in place by the launchpad. Look for a platform that prioritizes the security of user funds and has robust security protocols in place.
Consider the community and support provided by the launchpad. It will be great if a launchpad has an active and supportive community and offers resources and guidance for project founders and investors.
Ensure that the launchpad operates with transparency and fairness. Clear token allocation mechanisms and rigorous due diligence on listed projects are must-have options.
Evaluate the user experience of the launchpad. User-friendly UI and easy registration and token purchase processes, as well as comprehensive support, are essential for a reliable launchpad.
Check the regulatory compliance of the launchpad. Ensure that your platform complies with relevant regulations and adheres to Know Your Customer and Anti-Money Laundering requirements.
FAQs
What is a launchpad crypto?
A launchpad in crypto is a platform that helps emerging crypto projects launch their fundraising through IEOs and IDOs. It gives startups the tools they need to market and distribute their tokens. Launchpads also provide a secure and compliant environment for investors to purchase tokens.
What is an IDO?
An Initial DEX Offering is a type of crowdfunding that enables startups to raise capital for their projects by issuing tokens on a decentralized exchange. IDOs are similar to Initial Coin Offerings in that they both allow startups to raise funds from the public, but the main difference is that IDOs are launched on DEXs, while ICOs are launched on a project's website.
What is an IEO?
An Initial Exchange Offering is a type of crypto crowdfunding event in which a project is launched on a centralized cryptocurrency exchange. It is similar to an ICO, but with IEOs, the exchange acts as an intermediary between the project and the investors. This helps to ensure that the project is legitimate and that the investors' funds are secure.