While the Solana blockchain tries to distance itself from FTX's ex-CEO Sam Bankman-Fried, two of Solana's most popular NFT projects are moving to competing blockchain ecosystems.
Within the next few months, DeGods will make it possible for holders to transfer their non-fungibles to Ethereum, and y00ts will offer the same on Polygon, the teams said on their Twitter.
With an impressive $18 million in total volume over the past month, DeGods and y00ts have become two of the most widely-traded NFT collections within Solana. As of Tuesday, DeGods had a minimum purchase price set at 695 SOL (equivalent to $7,824), while that number was 215 SOL ($2,400) for y00ts.
These two collections have both been created by Dust Labs, a startup that recently raised $7 million with the help of Solana Ventures. The company's utility token DUST, which is used to represent NFT staking yields and other incentives, will be moved to Ethereum as well as Polygon networks with accompanying rewards points.
Through the video posted on Twitter, Rohun Vora – a creator associated with both NFT projects – expressed his deep appreciation to Solana's community. "We are extremely grateful for your invaluable support and could not have achieved any of this without you," the video states.
"We've come to the realization that in order to grow, we need to explore new opportunities. We believe that now is the time to take a calculated risk to embark on a new journey. After all, the biggest risk is not taking one," the developers state.
At this stage, the transfer of these NFTs is optional, and it remains to be seen what effect the NFT markets will have with collections present on both blockchain networks. Dust also tweeted that "the future is multi-chain."
The two projects announced on Twitter that the specifics of the bridge would be released when it is completed and tested, claiming that this feat has never been done at such a vast scale. According to Nansen's data, DeGods' daily transactions skyrocketed by nearly 190% following the news announcement.
While conversing in a Twitter Spaces session, Vora admitted that DeGods is not expanding at the desired rate on Solana; hence it has to switch over to Ethereum if they wish to continue its growth.
In October 2021, the DeGods project proclaimed on Twitter that Solana is unquestionably better than Ethereum due to its highly decentralized nature.
How the NFT Blockchain Switch Impact Solana
A move such as this is bad news for Solana, which has already been hurt by the FTX exchange controversy. Although Bankman-Fried, the former CEO of the exchange, did not have any direct connection to the network development, he was among blockchain's biggest supporters, generously investing in it.
Since November, Solana's total value locked has been dramatically reduced by 75% and is now at $214 million. The markets have heavily penalized SOL, the network's native token, with a 70% decrease in its price after news first emerged last month regarding FTX's bankruptcy; Bitcoin and Ethereum only declined 25% at the time.
The MATIC of Polygon initially gained more than 50% as the empire of Bankman-Fried collapsed, though the token lost these gains later on.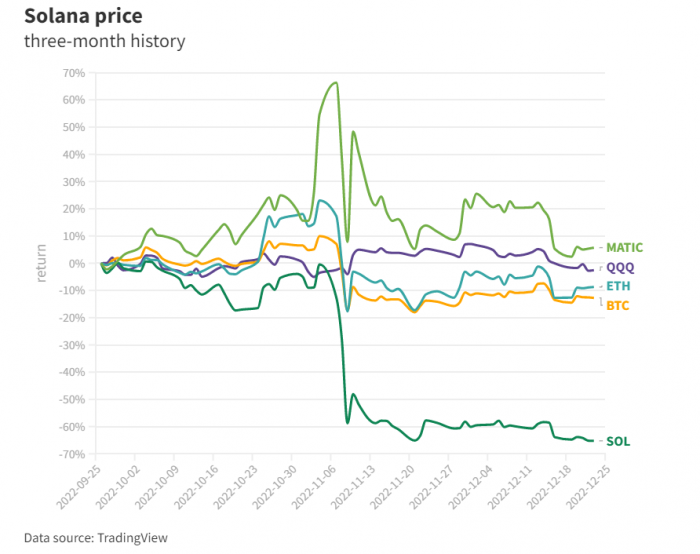 Not so long ago, the rumors that DeGods and y00ts would be transitioning to another ecosystem came out. Reports mentioned that DeGods asked for $5 million from Solana so they could remain on the blockchain; however, Vora denies this ever occurred.
According to a DeGods representative, Polygon recently shelled out money for y00ts to make the switch – although no numbers were revealed. Furthermore, as Vora told CoinDesk, this grant is only valid for a two-year period and relies on several unstated objectives being met.
At the same time, Anatoly Yakovenko, Solana's co-founder, confessed that he had a "bittersweet" sentiment about the biggest NFT projects moving to other blockchains yet acknowledged the projects' ambitions to expand.