The concept of blockchain technology first emerged in 2008 as a response to the need for secure and transparent record-keeping in the financial industry. Its original goal was to provide a decentralized and tamper-proof transaction ledger, removing the need for intermediaries like banks or other financial institutions.
Since then, blockchain has evolved and expanded its reach, benefiting various industries, from healthcare to logistics. Today, the blockchain industry is thriving, and new platforms continue to emerge, each with unique capabilities and purposes.
One such platform is VeChain, an advanced layer one blockchain-based smart contracts platform designed to revolutionize supply chain management.
With its innovative approach, VeChain has quickly gained popularity, providing businesses an efficient and transparent way to manage their supply chains. So, what is VeChain (VET) exactly?
Key Takeaways:
VeChain is a cutting-edge blockchain platform that gives companies a transparent and reliable tool for managing their supply chains.
Proof of Authority (PoA) consensus is used to validate transactions on the VeChainThor blockchain, which is more energy-efficient than Proof of Work (PoW) and Proof of Stake (PoS).
VeChain's primary tokens are VET, used for voting on protocol modifications, and VTHOR, used for carrying out transactions.
Crypto staking is supported on VeChain, giving holders a passive revenue opportunity.
What is VeChain (VET) Blockchain?
VeChain is a platform that harnesses the power of blockchain technology and the Internet of Things to streamline business processes and improve supply chain management.
With its origins in the Ethereum blockchain in 2018, VeChain has since launched its own smart contract platform called VeChainThor, expanding its scope to address a wide range of real-world applications.
This open-source network allows users to build DApps that solve real-world problems, making it an attractive option for industries seeking innovative solutions.
By leveraging the transparency and security of blockchain technology, the VeChain network has quickly gained popularity in industries such as logistics, food chain service, tourism, health, and food safety, offering unparalleled efficiency and data management.
How Does VeChain Work?
VeChain's functioning is similar to other blockchain platforms designed for business purposes. VeChain offers a complete Blockchain-as-a-Service (BaaS) product called VeChain ToolChain, which allows businesses to create blockchain-based solutions that monitor their products using smart tags.
These tags can utilize near-field communication (NFC), radio frequency identification (RFID), or QR codes.
Throughout the entire product lifecycle, the smart tags continuously transmit data to VeChain's blockchain network, which ensures the immutability of the information recorded. Both businesses and consumers can review the product's information on the VeChain platform.
The VeChainThor blockchain uses Proof of Authority (PoA) consensus to validate transactions, which delegates power to specific nodes in the network for transaction confirmation. Authority Masternodes are the fixed number of known validators responsible for confirming transactions.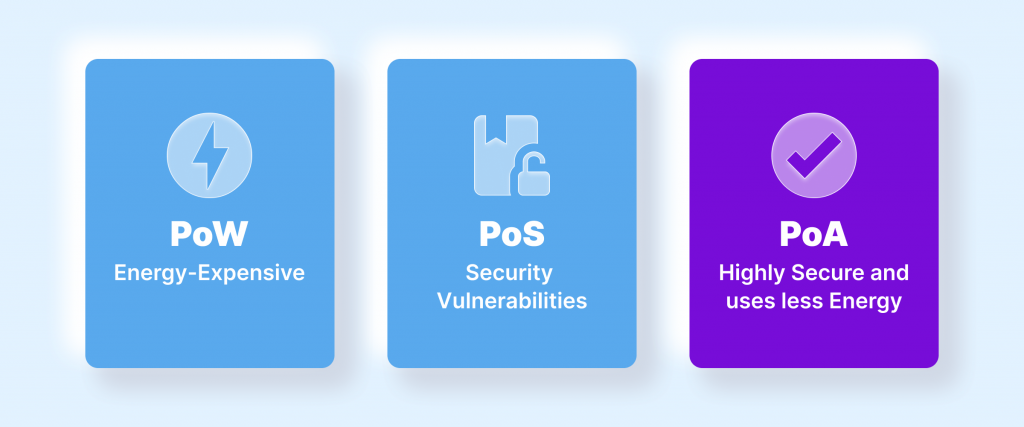 To become an Authority Masternode, one must hold at least 25,000,000 VET, disclose their identity, undergo a KYC procedure, and meet any other minimum requirements set by the VeChain Foundation.
What Makes Vechain Unique?
As it's already clear, VeChain is a blockchain platform that stands out with its unparalleled package of services. Unlike many other general-purpose platforms that can be programmed to perform a wide range of functions, VeChain is more specialized. Its unique ID and sensor technology are specifically designed to track the movement of physical products through the supply chain.
This innovative approach allows businesses to record crucial information about their products at each step, enabling greater transparency and efficiency.
The possibilities are endless: from luxury fashion designers using VeChain chips to verify the authenticity of their products to grocery stores using tracking data to prevent disease outbreaks by quickly recalling specific products.
The automotive industry is another sector that can benefit from VeChain technology. Manufacturers can use the platform to store data related to specific cars, enabling future buyers to confirm that nothing has been tampered with, such as mileage.
VeChain's commitment to innovation has also expanded its capabilities beyond supply chain management, such as adding support for a fiat-backed stablecoin, VeUSD, to support DeFi and Web3 projects.
In summary, VeChain's unique technology and diverse ecosystem make it a leader in the blockchain industry, offering businesses and consumers greater security, transparency, and efficiency in the global supply chain.
VeChain Features
Besides its unique use case, the VeChain ecosystem boasts several unique features and capabilities, so let's discuss them in detail.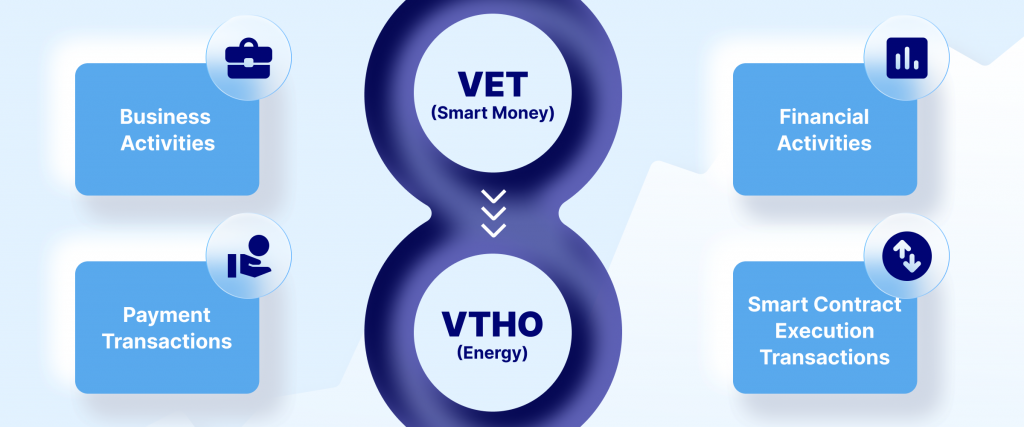 VeChain blockchain operates on a unique dual-token economy that consists of two native tokens: VeChain Token (VET) and VeChainThor Energy, known as VeThor (VTHO).
VET serves as the primary token and is utilized for all platform operations. Essentially, it carries the value of "smart money" from smart contracts and is available for investment to the general public. Meanwhile, VTHO is responsible for ensuring the optimal functionality of the entire blockchain infrastructure.
This token represents the energy consumed in running payment transactions and is used to deploy smart contracts on the network. Its primary goal is to facilitate transactions on the blockchain.
The idea behind this concept is similar to Ethereum's Ether and NEO's "gas," whereby developers need to budget for a certain amount of tokens to conduct transactions for their decentralized applications. 
The two-token system on VeChain was designed for effective governance and to provide a predictable economic model for developers of decentralized applications, as outlined in VeChain's whitepaper.
Overall, VeChain's dual-token economy provides a unique and efficient approach to facilitating transactions on the platform while also ensuring the smooth functioning of the entire blockchain infrastructure.
VeChain's meta-transaction features have made the platform an attractive option for enterprises. These features have been designed to simplify the development process and make it more user-friendly.
For example, VeChain's flexible transaction fee delegation schemes have enabled the implementation of a freemium model for decentralized applications. With the platform's innovative fee delegation protocol, enterprises can use smart contracts and designated gas accounts to manage the gas fees required to use the network. This makes onboarding easier for new users without worrying about transaction fees.
In addition, VeChain blockchain provides users with greater control over the transaction lifecycle. Users can set when a transaction will be executed or expires if not included in a block using the Expiration and BlockRef transaction fields.
Developers can also batch payments and include multiple calls to various contract functions in a single transaction. They can also control the order of the calls using multi-function atomic transactions. This feature helps users to streamline the payment process, making it more efficient and faster.
Finally, VeChain's meta-transaction features also include transaction dependency, which allows users to set dependencies to stop transactions from being executed until the relevant transaction has been processed. This ensures that the execution order satisfies the business needs of the enterprise.
With these features, VeChain's blockchain platform has made significant progress toward achieving enterprise adoption. The platform provides a comprehensive suite of tools and features that enable enterprises to create user-friendly decentralized applications that meet their business needs.
VeChain Staking: Generate Passive Income
Notably, Vechain is not only for the businesses, but for the average investors too. VeChain's crypto staking feature allows users to earn passive income. Though rewards rates are minimal in comparison to other cryptocurrencies, it's still a valuable service for the investors.
How To Stake VET And VTHO?
VeChain's blockchain wallets, Sync for advanced desktop users and VeChainThor for all users are the standard staking interfaces. Just move your VET tokens from one wallet to the other. As soon as you do, you'll be rewarded with VTHO points automatically.
Many levels of incentives are available on VeChain. However, the rates are low for the average investor. More rewards are available if your VeChain wallet contains enough VET tokens to distinguish it as an economic node on the network.
Staking VeChain on a cryptocurrency exchange is another choice. VeChain staking is currently supported on Crypto.com and Binance.US. However, staking on these exchanges results is possible for VET tokens only, while wallet staking includes VTHO tokens too.
Vechain Tokenomics: Should You Invest?
When considering cryptocurrency as a valuable investment asset, it's crucial to get the idea of its tokenomics and observe its price performance. It helps analyze whether or not the project has the perspective to raise in value. On that note, let's discuss the basic tokenomics of VeChain, and whether you should invest or not.
VeChain Foundation distributed approximately 133 million ERC20 tokens to the community during the early stages of the project, accounting for over 70% of VET, including burned tokens, via various methods such as private sales, public sales, and marketing promotions.
Officially, VET token was launched in mid-2017 at $0.26, and the price fluctuated before surging in October 2017. During the crypto bull run in late 2017 through early 2018, VET experienced an over 2800% increase from $0.240301 to $7.03.
The introduction of VeChainThor and more partnerships contributed to the price increase. However, the price experienced major fluctuations in the latest bear run, and is currently trading at $0.023.
Currently, VeChain ranks 35th in the global cryptocurrency rating, with an average daily trading volume of $55 million and over 70 billion VET tokens in circulation.
VeChain boasts over 1.6 million known addresses, approximately 16000 contracts known, 101 Authority Nodes, and 2,580 X-Node Tokens.
Therefore, if you are considering investing in VET, it has shown growth in recent years and exhibits the potential for further expansion. However, as with any investment, doing your own research and analyzing market conditions is essential to assess potential risks and rewards.
Technical analysis, such as identifying support and resistance levels, can be beneficial in reducing the risk of investment.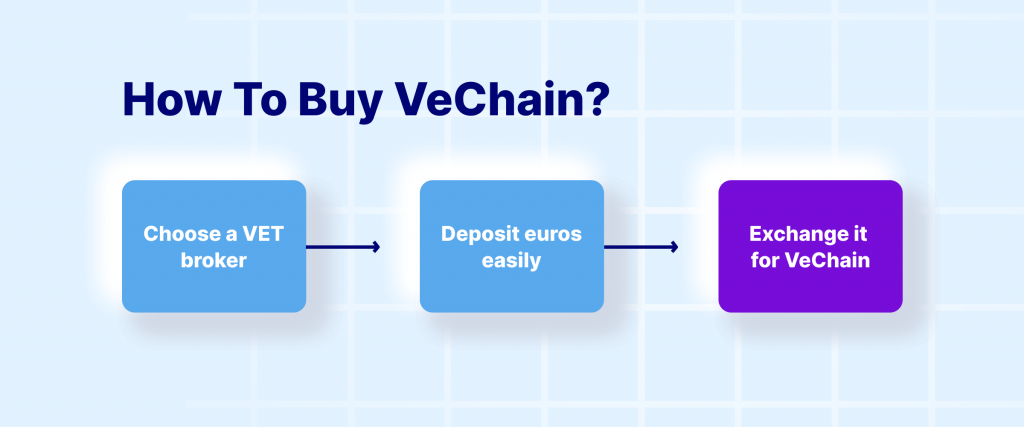 How To Buy VeChain Token
Not that we've discussed VeChain as an investment asset, let's talk about where you can actually purchase the token.
You can use major cryptocurrency exchanges to purchase VeChain Token (VET). Kucoin is the premier marketplace to purchase VET at the present time, with 24 hour trading volume of $1.3 million. Besides Kucoin, Binance, KuCoin, Huobi Global, gate.io, and Binance Futures are also options for trading VET. Once you choose the exchange, register and fund your account.
Once you've completed the deposit, you must select your preferred VET coin pair, such as VET/USDT, and enter the desired amount of VET to buy. You can enter the amount in either VET or BTC, then choose the best available market price or set your limit before clicking "Buy."
You can then transfer this coin directly into your crypto wallet. You can store your VET tokens in the built-in wallets that most of the major exchanges provide. Yet, it is common sense to put money that won't be used for trading into a cold storage wallet.
As always, it is essential to conduct thorough research and only use reputable exchanges to ensure the safety and security of your investments.
FAQs
What does VeChain actually do?
VeChain was launched in 2015 as a blockchain platform to improve supply chain management efficiency through distributed ledger technology (DIT).
Is VeChain a good investment?
VeChain VET is a worthwhile investment because of the rising value of blockchain technology and VET tokens. Around five corporations have invested in the blockchain, and another forty or more are using it in their business processes.
Is VeChain like Ethereum?
VeChain (VET) was once a technology built on Ethereum blockchain. However, it has since been migrated to its own blockchain. Formerly known as VEN, the project is now known as the VeChain Thor blockchain.
Bottom Line
VeChain's enterprise-blockchain solutions have contributed to mass business adoption of blockchain, initiating a whole new level of efficient data transfer and transparency.
Many leading businesses already incorporate VeChain's blockchain capabilities, signing contracts on the platform.
The platform has also unveiled an interesting new project called VeCarbon, which will aid governments and businesses in becoming more carbon-neutral.
Overall, the future of VeChain seems bright, promising major shifts in traditional business models.