XRP price surged by an impressive 70% last week, reaching $0.81.
This surge occurred amidst an overall market decline, notably affecting major cryptocurrencies such as Bitcoin (BTC) and Ethereum (ETH).
Bitcoin experienced a 2% decrease during the same seven-day period but found support at the $30,000 mark.
Ethereum, on the other hand, is encountering difficulties in sustaining a bullish outlook above $1,900.
XRP Sees Increased Investor Interest Following Lawsuit Ruling
Experiencing a remarkable surge, XRP broke free from a prolonged consolidation phase, ranging between $0.45 and $0.55, to reach highs last seen in December 2021, soaring to $0.9368. Despite a slight retracement and finding support at $0.7, investors seeking to capitalize on the upward trend successfully drove the XRP price to $0.8 on Tuesday.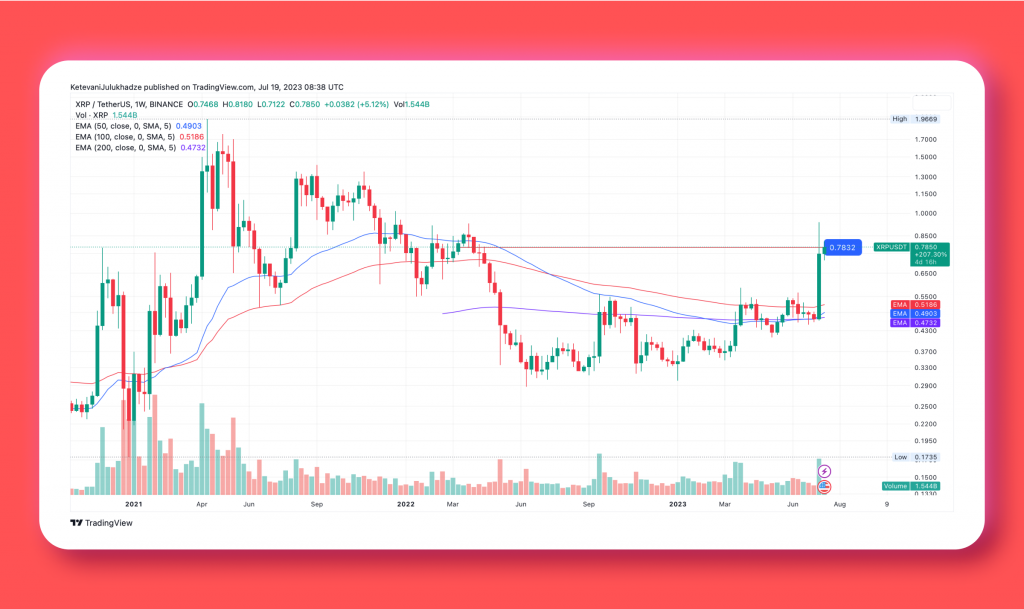 One noteworthy aspect is XRP's market cap, which surpasses that of Cardano (ADA) and Solana (SOL) by 3.5 times, making it a significant constituent of index funds with a weight slightly above 1% when excluding BTC and ETH.
With a market capitalization of $42 billion and a robust 24-hour trading volume of $3.3 billion, the fourth-largest cryptocurrency has resumed its uptrend after confirming support at $0.7.
A crucial milestone for long traders is a daily close above $0.8, which would validate a potential move toward $1. The Money Flow Index (MFI) indicates a substantial inflow of funds into XRP markets, outweighing the outflow volume, signaling the potential for a rally beyond $1.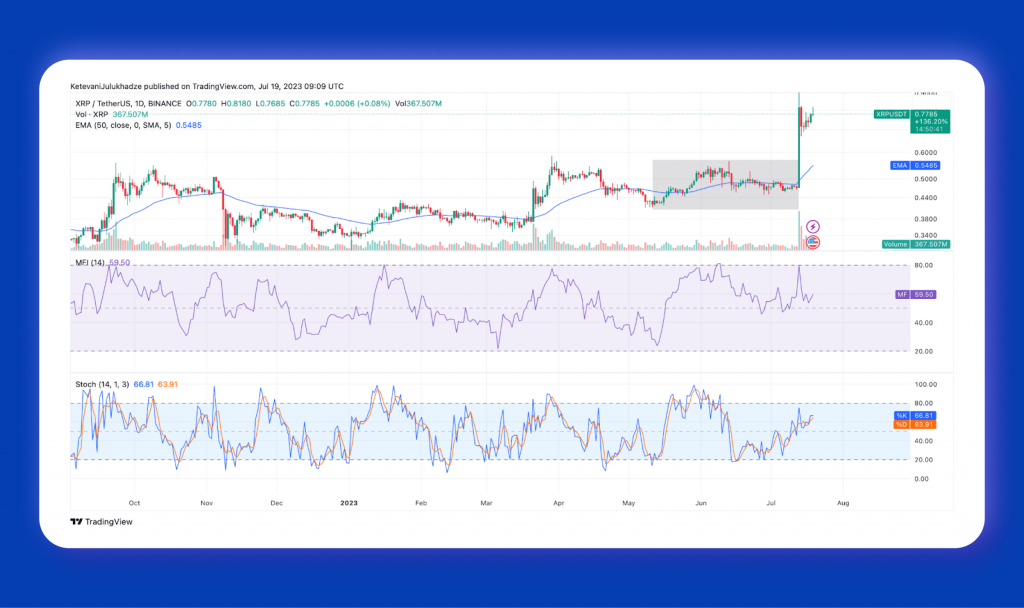 XRP/USD daily chart | Tradingview
On the same daily chart, the Stochastic oscillator suggests that buyers maintain control, with momentum continuing to support the ongoing uptrend. The trend strength indicator further reinforces the bullish sentiment as it broke above a descending trendline, indicating a stronger grip on the market.
In case of a reversal, short positions below $0.8 could become profitable, with traders eyeing $0.7 and $0.6 as potential exit points or new entry opportunities for long bets on XRP.
Prediction
Egrag Crypto, a prominent analyst with a substantial Twitter following, predicts that XRP's price could reach remarkable heights of $27. The Bermuda Triangle chart pattern suggests a potential extension of the ongoing rally, targeting a range between $1.6 and $1.8 on the weekly chart. While cautioning about the potential for a fierce battle between bulls and bears, the analyst believes XRP may enter a "Stratosphere," either soaring to new heights or stabilizing for some time.
The positive charts in the article indicate growing interest from banks, hedge funds, and financial institutions, along with the enthusiastic XRPArmy in the 'Blue Ocean,' paving the way for a parabolic climb towards the $27 target.