The market for crypto wallets is huge and quite varied. Options range from hardware wallets that provide robust security for your digital assets to software wallets designed for simple access and convenience.
Variety, though, may be both a boon and a bane. Choosing the correct one can be difficult, as each wallet boasts superior features and benefits. Therefore, it is essential to conduct extensive research and carefully consider your specific requirements.
In this light, we focus on the Blockchain.com wallet, a major product from a company widely regarded as a pioneer in the cryptocurrency industry.
Key Takeaways
Blockchain.com is a leading crypto platform, facilitating transactions in nearly 200 countries with over 71 million wallets.
The Blockchain.com wallet is a non-custodial tool for storing and transacting cryptocurrencies.
The wallet provides security, low fees, and potential earnings through various rewards accounts and an annual interest of up to 13.5%.
Some users report concerns over customer support and security breaches, and the platform supports a limited range of assets.
What Is Blockchain.com?
Blockchain.com, formerly Blockchain.info, is a well-known platform within the cryptocurrency world. This platform was initially created in 2011 as a tool for tracking Bitcoin transactions, serving as a repository for blockchain data.
In its early years, Blockchain.com was merely a data service that allowed users to explore Bitcoin's public blockchain. However, the company's ambitions expanded, leading to its rebranding in 2012. The platform has since become a crucial player in the cryptocurrency economy.
As of its last report, it has created over 71 million wallet addresses through its app, boasting over $620 billion in transactions across approximately 200 countries.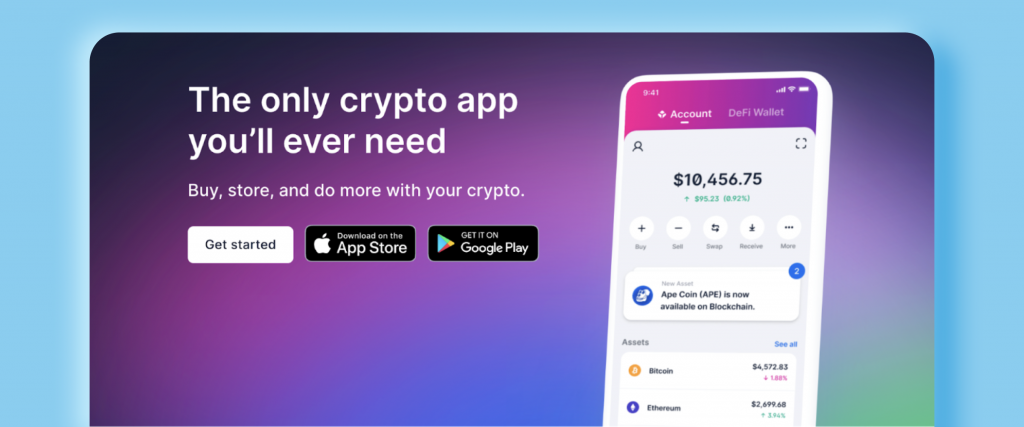 Blockchain.com Features
Blockchain.com offers many features to ensure a user-friendly and secure environment for trading and storing digital assets. One of its key features is the commitment to safety. Blockchain.com implements multiple layers of security to protect funds and transactions.
This is accomplished by deploying advanced encryption algorithms and providing a two-factor authentication system. Despite the robustness of these security measures, user opinions vary, which is a common scenario in the digital world.
Another noteworthy feature of Blockchain.com is its live feed for cryptocurrency prices. It provides real-time data about various cryptocurrencies' value, helping traders make informed decisions. This feature is especially important in a highly volatile market where prices fluctuate significantly within short time frames.
Moreover, Blockchain.com offers an extensive customer service system to resolve user issues 24/7. The support team is well-trained to handle a variety of concerns, ranging from technical glitches to transaction inquiries.
Blockchain.com Services
Alongside its core features and an exchange, Blockchain.com offers various services to facilitate its users' cryptocurrency needs. It features competitive trading fees, thereby reducing the financial burden on traders and incentivizing frequent transactions. This is a crucial element for traders, particularly those dealing with large volumes or operating on thin margins.
Apart from trading, Blockchain.com also offers services related to lending and storing cryptocurrencies. It provides low-interest rates on lending cryptocurrency, making it an attractive option for those looking to maximize the return on their holdings. In contrast, the platform offers high-interest rates for users who store their digital assets in Blockchain.com's web wallet, turning the wallet into a yield-generating tool.
Moreover, the platform supports various methods for funding digital wallets and purchasing cryptocurrencies, including debit and credit cards and bank transfers. This flexibility in payment options caters to users' preferences and financial circumstances.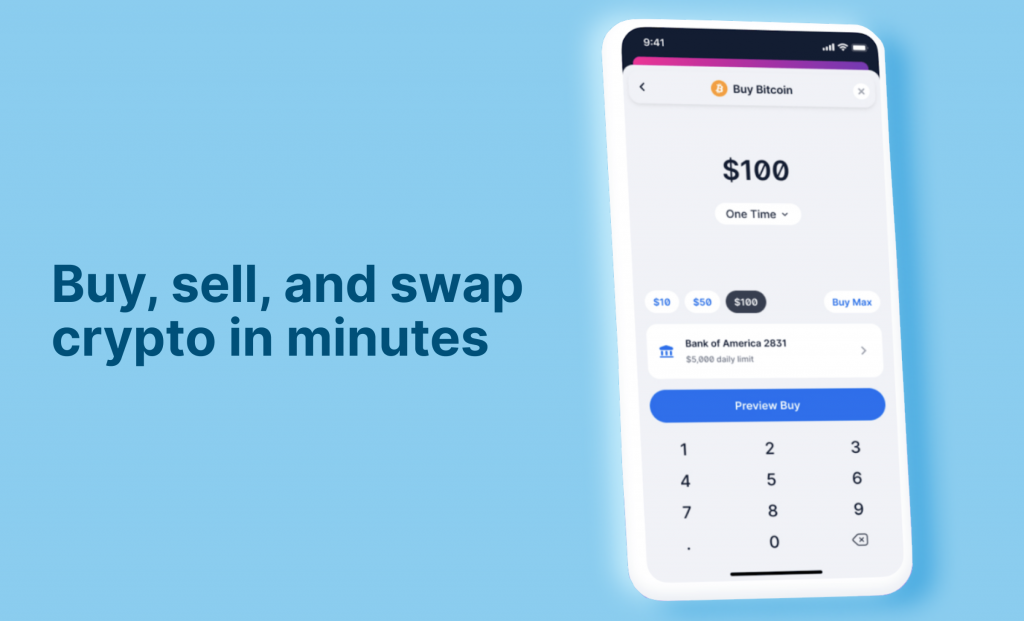 Blockchain.com Wallet Overview
Blockchain.com's wallet service is a vital part of its offering. This web and app-based cryptocurrency wallet enables users worldwide to store and transact with cryptocurrencies at no cost. In essence, the Blockchain.com wallet is akin to a digital bank account where users can store their digital assets securely and transact with them seamlessly.
Like any platform, Blockchain.com has its strengths and weaknesses.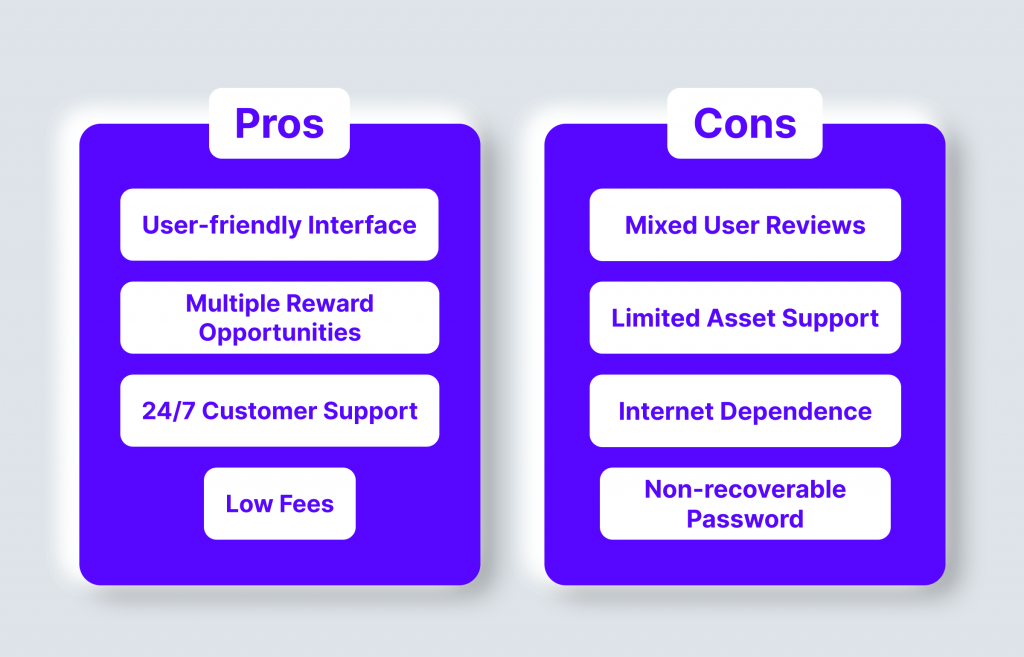 The Blockchain.com wallet is packed with useful tools. First, it's a wallet that doesn't have to be kept in a safe. The user, not the firm, is in charge of keeping track of their private keys and, by extension, their money. This is an essential feature for those who care deeply about their personal data's safety.
Blockchain.com customers generate an encrypted file upon registration to gain access to their funds. This file contains the user's encrypted seed (Secret Private Key Recovery Phrase), private keys, and crypto addresses.
One of the most useful aspects of the Blockchain.com wallet is the ability to view one's complete asset balance in any of the supported currencies. This facilitates effective asset management by giving users a transparent view of their holdings. Wallet's compatibility with several cryptocurrencies gives its customers access to numerous blockchain networks.
Users may also earn interest on their funds within the wallet. The Blockchain.com wallet is a yield-generating asset since it gives an annual interest rate of 13.5% on any monies deposited there.
Finally, the platform occasionally airdrops new tokens into the wallets of its users. This is a bonus feature that provides users with an opportunity to explore and potentially profit from new blockchain projects.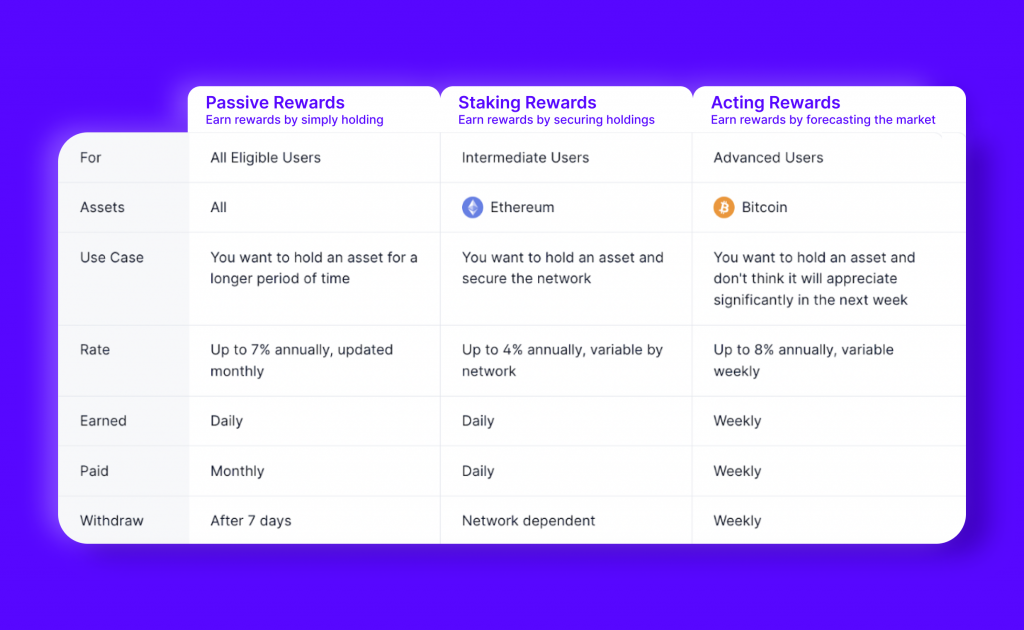 Blockchain.com wallet offers users a variety of ways to earn rewards based on their level of experience and preference for involvement in the platform. The platform presents three main earning paths:
Passive Rewards are suitable for all eligible users, including beginners and those who plan to hold their assets for an extended period. It operates on the principle of earning through holding. Users earn up to 7% annual interest on all held assets, calculated daily and paid monthly.
The interest rates are updated monthly, and rewards can be withdrawn after seven days of earning. This mechanism promotes a hold-and-earn strategy, which is especially beneficial for those anticipating long-term appreciation of their held assets.
Staking Rewards are designed for intermediate users. These rewards are generated by holding and securing the network, typically involving the cryptocurrencies Ethereum and Bitcoin. The mechanism here relies on the Proof of Stake model, whereby users validate transactions and secure the network in return for staking rewards.
These rewards can be as high as 4% annually, variable by the network, earned daily, and paid daily. The withdrawal rules are network-dependent and might vary between different cryptocurrencies.
Lastly, Active Rewards target advanced users comfortable with forecasting market movements. If a user believes that a particular asset, like Bitcoin or Ethereum, won't appreciate significantly within the next week, they can earn up to 8% annual interest. The interest rates are variable and updated weekly.
Similar to Passive Rewards, the earnings are calculated daily, but unlike Passive Rewards, the payouts occur weekly. Users can withdraw their rewards weekly, giving them faster access to their profits than the other two reward models.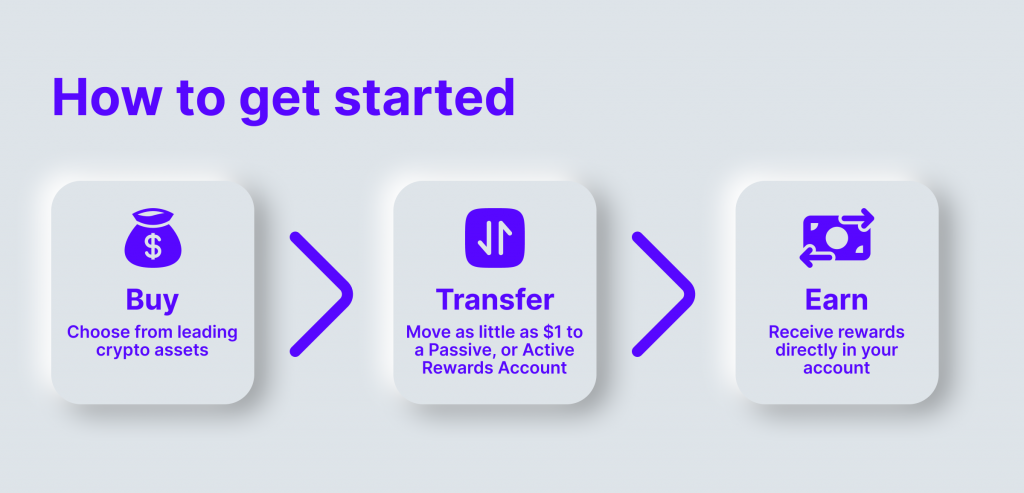 to start earning with your crypto holdings in your wallet, firstly, you must purchase from an assortment of leading crypto assets available on the platform. This selection includes some of the most well-known and popular cryptocurrencies, thereby providing an opportunity to invest in a diverse portfolio.
Next, you initiate a transfer. This could be as little as $1 moved into a Passive, Staking, or Active Rewards Account. It's worth noting that the type of account you choose should align with your risk tolerance and investment strategy.
Finally, once you've set up your account and made your transfer, you can start earning rewards. These rewards are deposited directly into your account, with the frequency depending on the type of account you've chosen – Passive, Staking, or Active.
Thus, through this simple and efficient process, Blockchain.com allows you to start earning rewards on your cryptocurrency investments easily.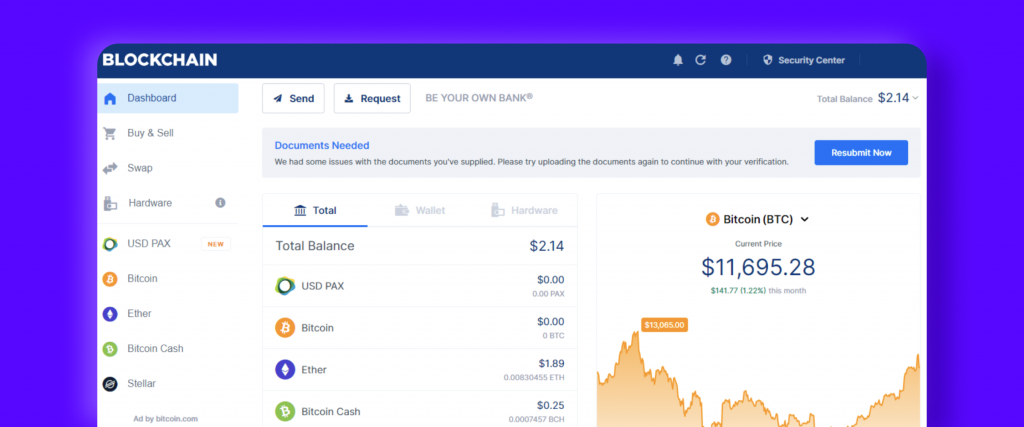 The UI of Blockchain.com's wallet is designed with simplicity and ease of use in mind. The layout is clean and intuitive, allowing users to navigate the wallet easily, whether checking their portfolio balance, sending transactions, or swapping cryptocurrencies.
The interface displays the total wallet balance and the value available for different supported currencies. This clear representation of data is beneficial for users to keep track of their holdings and manage their portfolios effectively.
Furthermore, the UI design of the trading feature is also user-friendly. Even novice traders can comfortably navigate through the trading process. The wallet's interface caters to users of all demographics, reflecting the inclusive nature of blockchain technology and the broader digital economy.
Blockchain.com prides itself on offering low trading fees, making it an attractive option for users who trade frequently or in large volumes. Users can use their debit or credit cards or link their bank accounts directly to fund their digital wallets and purchase cryptocurrencies.
Although the fee structure may vary depending on the transaction type and payment method, the platform's commitment to competitive pricing is a key part of its value proposition.
In addition to trading fees, users who lend their cryptocurrencies through Blockchain.com can enjoy low-interest rates. Conversely, users who store their digital assets in a Blockchain.com wallet can earn high interest on their funds, with an annual return rate of 13.5%.
Blockchain.com supports cryptocurrencies, allowing users to trade and store digital assets. However, while the platform offers many popular cryptocurrencies, it might not support as many assets as other wallets and exchanges.
Therefore, potential users are advised to check whether the specific cryptocurrencies they are interested in are supported on Blockchain.com.
Security is a paramount concern for any digital wallet, and Blockchain.com is no exception. The platform employs advanced security measures, including two-factor authentication and encryption, to safeguard users' funds.
Also, as mentioned, the Blockchain.com wallet is primarily non-custodial, meaning that each user has a unique secret key that only they know.
This secret key is the sole means of accessing the wallet, adding an extra layer of security. Moreover, because users' funds are stored in their wallets rather than on the platform, they are less vulnerable to potential platform-wide security breaches.
However, some users have reported security-related issues despite these robust security measures. Users must keep their private keys and recovery phrases secure and not share them with anyone, as losing these details can permanently lose access to their funds.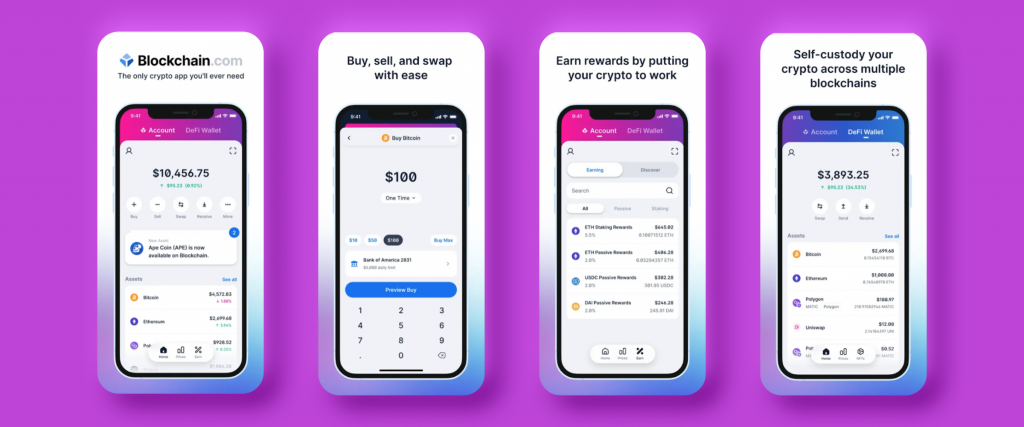 The Blockchain.com wallet is a mobile app that allows users to manage their cryptocurrencies on the go. The app provides all the features available on the web platform, including trading, fund transfers, and portfolio management.
The app's user interface is designed with the same commitment to simplicity and usability, ensuring that even users new to digital currencies can easily navigate the platform. Users can also set up push notifications to stay updated on market trends and wallet activities.
The mobile app's availability on major platforms, such as iOS and Android, allows users to access their wallets and conduct transactions anytime, anywhere, making cryptocurrency management convenient and accessible.
Setting up a Blockchain.com wallet is a straightforward process. New users must sign up and create an account using their email address. They will then be asked to set a password and verify their email address. Once these steps are completed, the wallet is ready to use.
Existing users can use their email address and password to access their wallets. Users' accounts and crypto wallets are automatically linked up, allowing a seamless transition between trading and wallet features.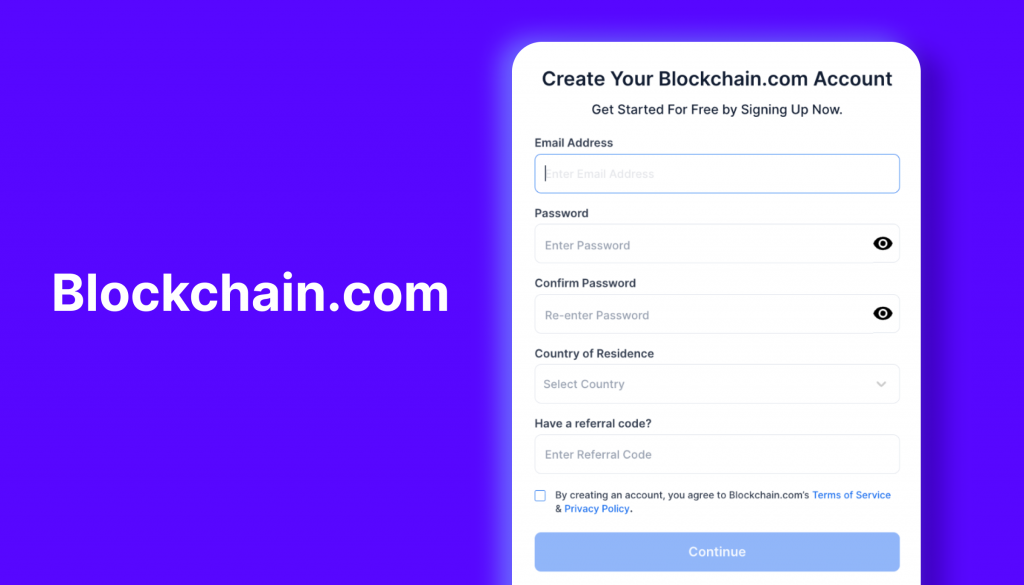 Users who want to buy or sell through the platform will need to create a 'gold account.' This requires them to submit their ID proof and some personal information for verification. Once the data is verified, users will receive a confirmation email, after which they can start trading.

Blockchain.com takes customer service seriously, providing users with round-the-clock support and specialized channels for addressing distinct concerns. The platform maintains separate customer support systems for issues related to its exchange service and digital wallet, ensuring that experts in each area deal with queries.
If a user encounters a problem, they can simply submit a request detailing their issue. Upon receiving the request, a customer support executive will promptly contact them to assist. This swift response system ensures that users' concerns are addressed quickly, minimizing disruption to their activities on the platform.
Moreover, Blockchain.com extends its customer support beyond its platform, making it accessible through various social media platforms, including Twitter, Instagram, and Medium. This approach ensures that support is readily available on platforms where customers are active, facilitating convenient and easy access to help.
As such, whether a user trades on the exchange or manages funds in their digital wallet, they can rely on Blockchain.com's customer support to resolve any issues they might encounter.
FAQs
What is a blockchain.com wallet?
Blockchain.com wallet is a web-based, non-custodial platform that allows users to securely store, send, and receive cryptocurrencies.
Is blockchain.com wallet safe?
Yes, the Blockchain.com wallet implements advanced security measures like two-factor authentication and encryption to safeguard user funds. However, users are encouraged to do their part in maintaining security, such as keeping private keys confidential.
How do I create a blockchain.com wallet account?
To create a Blockchain.com wallet account, visit their website or app, enter your country of residence, and provide your email address. Create a password and complete the verification process. For full trading capabilities, users are required to create a 'gold account' by submitting additional personal information and identification.
How do I use a blockchain.com wallet?
Using the Blockchain.com wallet involves transferring funds into the wallet to purchase cryptocurrencies. Once the wallet is funded, users can buy, sell, or exchange cryptocurrencies. They can also track their funds, view real-time crypto prices, and earn rewards by holding assets.
Final Verdict
The Blockchain.com wallet is a commendable cryptocurrency administration platform. It may not outperform every competitor in the market, but its safety and dependability have earned it the trust of numerous investors around the globe.
The wallet's user-friendly interface is suitable for both beginner and seasoned crypto fans, and the wallet's varied reward systems lend a distinct charm to the user experience.