Bitcoin (BTC) is currently at $30,564. However, recent research warns that a "market correction" may occur if BTC's price exceeds $33,000.
Drawing attention to this potential risk, analytics firm Glassnode has highlighted speculative selling as a concern in its latest publication, The Week On-Chain. Stay informed on BTC's market performance to make informed investment decisions.
Profits from Bitcoin speculation average 10%
As of late June, Bitcoin's short-term holders (STHs) have regained the spotlight as more speculative investors. Their aggregate cost basis has appeared to provide significant support to the BTC price, particularly around the $30,000 level. However, it is important to note that this support could potentially reverse shortly.
One key metric to consider is the market value to realized value (MVRV) ratio, which compares the spot value of coins to their last transaction price. Historically, when the STH-MVRV indicator surpasses 1.2, there has been an increased risk of profit-taking and subsequent market corrections. This typically occurs when the BTC price reaches approximately $33,200 to $38,700 as investors realize substantial profits.
Researchers have observed a strong reaction in the Short-Term Holder MVRV indicator, with it showing a significant response when the MVRV ratio breaches the level of one.
If Bitcoin's price continues to rise, the STH-MVRV ratio is expected to increase. This could indicate a heightened risk of profit-taking by short-term holders, potentially leading to market corrections.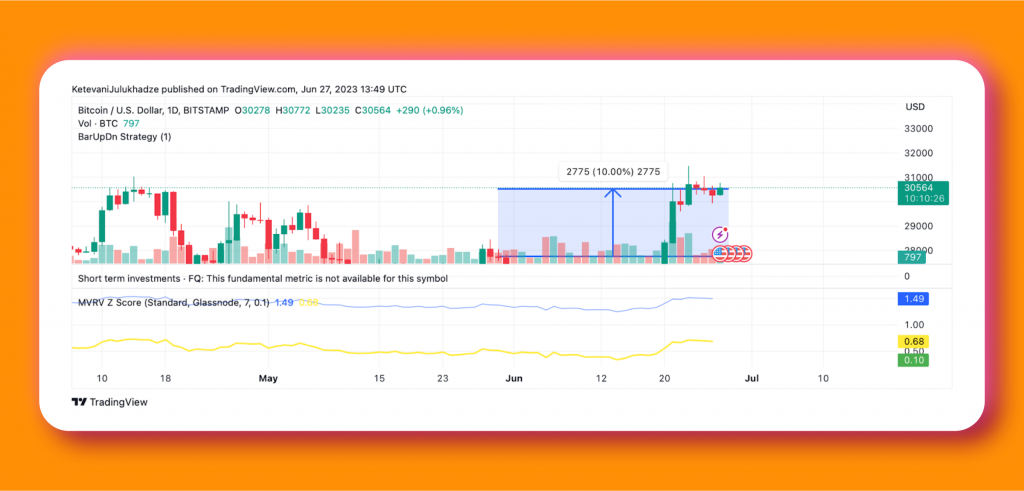 Based on the analysis of recent weeks, caution should be exercised as the BTC price appreciates. The STH-MVRV ratio reaching and surpassing 1.2 becomes a critical threshold that signals the increased potential for profit-taking. As a result, market corrections may become more likely. Investors and market participants should closely monitor the levels around $33,200 to $38,700, representing significant milestones where profit realization may occur.
BTC Seller Exhaustion at $25,000 Indicates Potential Market Recover
In the recent week (June 21-27), notable data suggests that sellers in the Bitcoin market have shown signs of exhaustion around the $25,000 price level.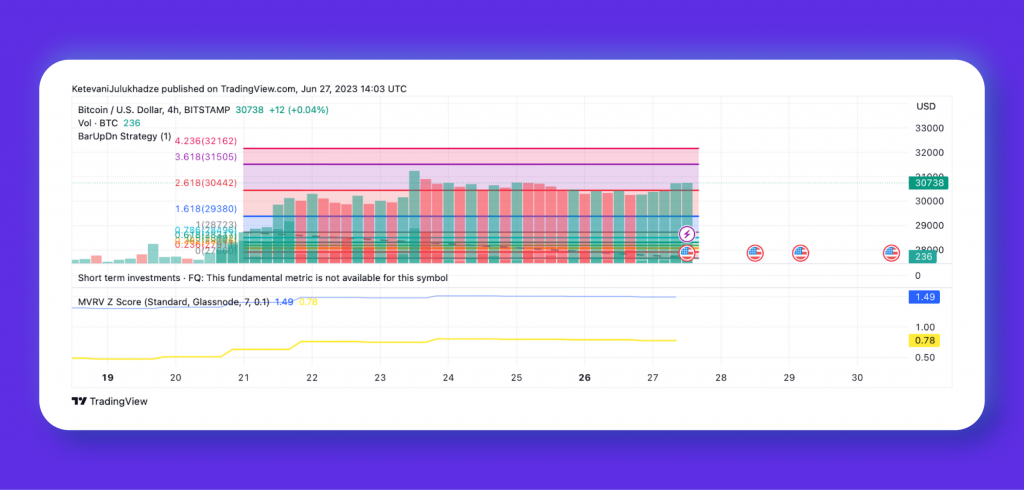 This observation is supported by the spent output profit ratio (SOPR), which measures the relative profitability of BTC transactions on-chain. Seller exhaustion has been steadily increasing since the end of 2022, with multiple instances of exhaustion observed below the lower band, including the final low at $25.1k before a subsequent recovery above $30,000.
This exhaustion indicates a diminishing willingness to sell at lower prices and potentially points to a shift in market sentiment, implying a possible market recovery in Bitcoin's price.
Bottom Line
It is important to note that these predictions are based on historical patterns and indicators. The cryptocurrency market is highly volatile and subject to various factors, so outcomes may differ from past trends. Monitoring and analyzing market dynamics are essential for making informed decisions regarding Bitcoin investments.