Bitcoin is the most popular and one of the most expensive cryptocurrencies in the world. When someone says cryptocurrency, the first thing to come to mind is Bitcoin. There are many ways to buy BTC, and choosing a suitable one can make you dizzy, especially if you are a beginner trader.
Fortunately, novice traders were cared for, and social trading features were developed. In this article, we will dive into what Bitcoin is, tell more about the eToro exchange, what it offers to beginners traders and how to buy Bitcoin on eToro.
Key Takeaways
Bitcoin is the most popular digital currency.
Bitcoin's value is not subjected to inflation rates or economic growth, but it can be affected by market demand, news in the media, or even investors' emotions.
The forecasts for the future of BTC range from its global dominion to a complete ban and abandonment.
There are multiple methods to purchase Bitcoin, but the eToro platform offers a quick and easy way, along with an informative and easy-to-use interface.
What is Bitcoin?
Bitcoin is a decentralized digital currency. Though it has no physical realization and is subjected to significant rate fluctuations, it remains the most popular cryptocurrency globally.
It works via blockchain technology that can be compared to a shared database that stores data.
Bitcoin is created by people who validate each transaction on the blockchain with the help of complex mathematical algorithms. These validators are called miners.
When a transaction occurs on the blockchain, data from the previous block is copied to a new block with the new data. Then the transaction is verified in the network by miners. After the verification, a new block is created. A Bitcoin that was also created in this process is given to the miner (or miners) as a reward. They can dispose of it at their own will — either hold or sell it.
Encryption methods secure all data within the blockchain.
A Brief Introduction to The History of Bitcoin
Let's take a quick look at the history of Bitcoin: how it was created and who is behind this outstanding technology.
The Bitcoin biography started in 2008 when a paper titled Bitcoin: A Peer-to-Peer Electronic Cash System describing the work of the soon-to-be cryptocurrency was published. Satoshi Nakamoto was stated as the paper's author, but it is a pseudonym. The real name of the person (or a group of persons) who created BTC still needs to be discovered.
Anyway, in 2009, Bitcoin mining started. However, back then, there was no such thing as cryptocurrency exchanges, so there was no way to sell the coin; its actual price was $0.
From 2010 till 2017, Bitcoin went through ups and downs and various price movements, showing its value growth from $1 to $19000. At that time, various factors impacted the price of BTC: its first mentions in mass media caused the rise of the coin rates, while the hacking of the MT.Gox crypto exchange tanked the Bitcoin price to $0.01.
Fun Fact about Bitcoin: at the dawn of the Bitcoin era, in 2010, an American bought two pizzas for 10,000 BTC. Back then, the BTC price was about $0.0025, but if the guy had given up on pizza and had waited for ten years, he would have had $450 million by 2021.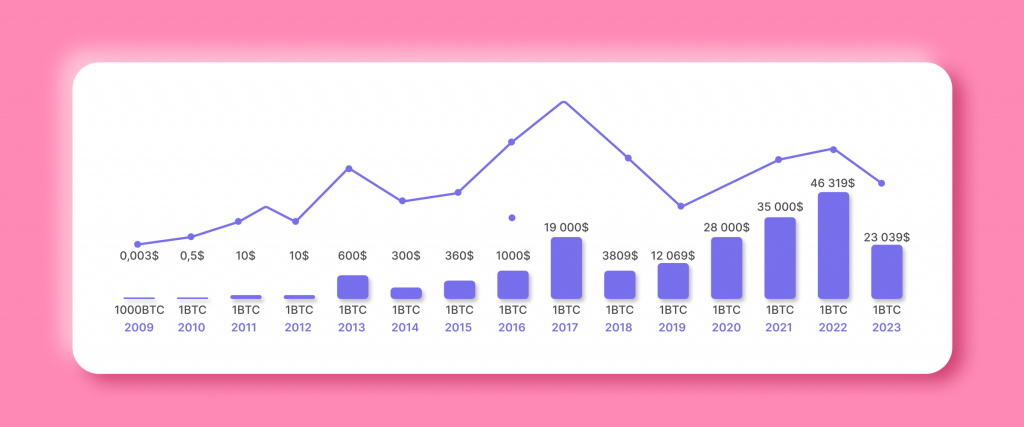 Starting from 2017, Bitcoin started to gradually enter people's lives, investors started to invest more money in the first cryptocurrency, and prominent media started to cover the crypto topic in the press.
Since then, Bitcoin gained its foothold in cryptocurrency exchanges and is now the most famous and the most traded cryptocurrency in the world, with its market capitalization reaching $590 billion.
What Gives Bitcoin Its Value
Bitcoin is a decentralized cryptocurrency, meaning it is not issued by a central bank and is not backed by any government like other ordinary currencies. So such factors as inflation rates, monetary policies, or economic growth and shrinking can greatly influence national currencies but not crypto coins. However, Bitcoin is considered to be a highly volatile asset.
Bitcoin is used to store value; it is more of a commodity than a currency in its ordinary meaning. That is why Bitcoin's price is primarily affected by the following factors:
The supply of Bitcoin. Rare assets are expected to have high prices, while available in plenty have low prices. It might not be evident due to the widespread popularity of Bitcoin, but it is considered a rare asset. The total supply of Bitcoins is limited to 21 million coins. This number cannot be altered and it will no longer be possible to mine bitcoins once the last block is mined, which will happen approximately by the year 2140. Shrinkage of the future BTC supply contributes to the higher price of the cryptocurrency.
The market demand. Thanks to the expanded coverage in the media, Bitcoin drew the attention of both retail and institutional investors. It also became extremely popular in countries with high inflation and devalued national currencies, such as Venezuela. All these, as well as the popularity of BTC among those who transfer large sums of money (mainly for illicit activity, though), create a high level of BTC demand in the market.
The cost of Bitcoin production. The process of Bitcoin mining is not only very complicated, it is also very costly. Solving the hash requires considerable processing power; for example, a miner must buy many expensive machines to start mining. The mining process also consumes an enormous amount of electricity, which leads to costly electricity bills. Thus, according to research made by The Cambridge Center for Alternative Finance, electricity consumption for the bitcoin-mining network equals more than that of some small countries. These expenses inevitably lead to a higher market price of the asset.
The number of competing cryptocurrencies. Though Bitcoin is the most popular cryptocurrency, it still can lose its dominant position. Thousands of new cryptocurrencies are introduced to the market daily, creating serious competition for Bitcoin in the market. Thus, Ethereum, the second most popular decentralized blockchain platform, and its cryptocurrency, Ether (ETH), have become a severe rival to Bitcoin.
Regulations. Like any other cryptocurrency, Bitcoin is not regulated by any authority. The advantage of such a status is that it can be used freely across borders and is not subjected to governmental control like national currencies. However, the regulation status of Bitcoin is a matter of time, and a change in the coin status can definitely impact Bitcoin's price.
Media and news. As we mentioned before, Bitcoin very often hits the news. This works both for and against BTC's price. Any changes in any factor of the Bitcoin's component, as well as political and economic news, can move the coin's prices up or down.
Investor sentiments. Investors also influence the current market price of BTC. If they become overly excited over the asset, the coin's price goes up, even causing it to be overvalued. On the other hand, they can drop the price if they panic about possible losses.
The Future of Bitcoin
Experts in the field make various forecasts for Bitcoin's future, ranging between total dominance and total disappearance.
Thus, the best-case scenario expects BTC to become globally adopted and approved by governments worldwide. According to this forecast, Bitcoin will replace ordinary national currencies.
Analysts at JPMorgan think that BTC's price will reach up to $146,000 in the future.
However, there is also the worst-case scenario: governments worldwide will unite against Bitcoin and all cryptocurrencies and ban them. According to the scenario, another reason for Bitcoin banning could be its security flaw that may be discovered over time. Also, BTC can be forbidden due to its negative environmental impact.
Though these are two extremes of cryptocurrency development, and there are a lot of less dramatic scenarios in between, all we can say for sure now is that Bitcoin most probably will not lose its dominant position in the crypto world in the upcoming decade. Nevertheless, its distant future in the global economy still remains uncertain.
How to Buy Bitcoin
Cryptocurrency market can be overwhelming and investing in Bitcoin might seem very complicated, but it isn't. All you need is to create an account at the selected service or a cryptocurrency exchange and decide on a safe way to store your coins.
You can buy less than 1 BTC. However, some platforms, like Coinbase, require a minimum investment amount in your local currency (for example, $1 or €1).
Before you buy Bitcoin, it is obligatory to check the legal, tax and regulatory requirements for cryptocurrency purchasing in your jurisdiction. After this, you have to consider the following core aspects:
Where you want to hold your crypto.
How you want to pay for the coin.
Where you want to buy Bitcoin.
Let's discuss these three points in more detail.
Where to hold BTC
Before purchasing Bitcoins, decide on where you want to store them. Bitcoin can be stored on a Bitcoin wallet — a specialized software that allows you to store, sell, and buy bitcoins.
There are many crypto wallet options: online wallets, desktop wallets, or wallets that can be installed on your smartphone. Explore all of them and choose the most suitable for you.
How to pay for BTC
Various payment methods can be used to pay for Bitcoin. The most common method is to pay with fiat currencies using a credit card or a bank transfer, but you can also use other payment methods, for example, a bank app, such as Apple Pay or Google Pay, a PayPal account, or even cash.
Where to buy BTC
Because Bitcoin is so popular worldwide, there are various platforms where you can buy the coin. You can use centralized spot exchanges, payment apps like PayPal, or buy Bitcoin from your friend.
But the safest and most popular way to purchase crypto is using crypto exchange platforms like Binance, Kraken, or eToro.
When buying crypto online, it is crucial to always stick to the safety rules:
Use a strong password for your wallet, keep your password in a secure place, and never tell it to any other person.
Use 2-factor authentication to access your account.
Use a secure browser to access your wallet as well as crypto exchanges to make your Bitcoin transactions safe.
What is eToro
eToro is a market-leading social trading network. It was founded by brothers Ronen and Yoni Assia in Tel Aviv in 2007.
The company launched its visual FX trading platform in September of that year. In 2010, it launched its social trading feature that allows traders to copy the trades of other investors, share their own strategies, and receive rewards for sharing their own trading strategies.
eToro has been among the leading online trading platforms since 2008. It added support for Bitcoin (BTC) in 2013, and in 2017, it added support for Litecoin (LTC), Ripple (XRP), and other digital assets.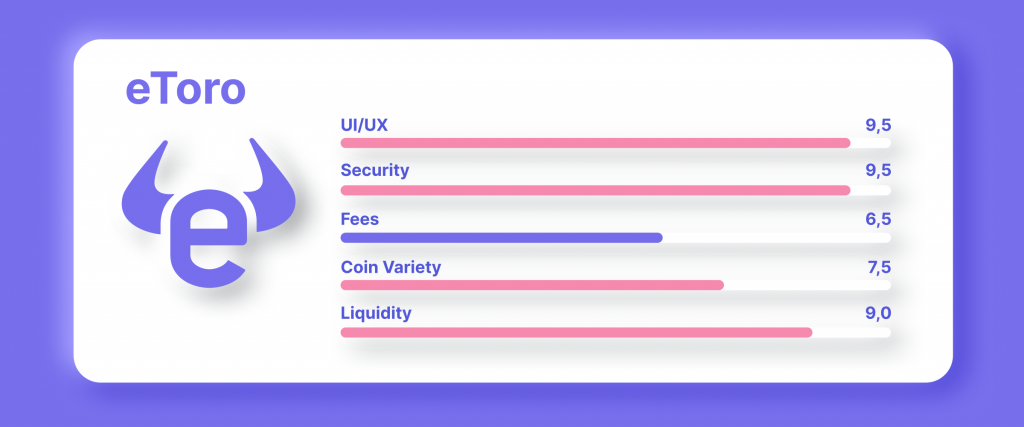 eToro Advantages Over Other Exchanges
When selecting a trading platform you have to take into account many factors. So, is eToro good for buying Bitcoin? The answer is: yes. eToro can top the list of the trading platforms and here is why:
eToro supports a wide range of crypto assets. It is clear that you can buy Bitcoin on eToro, but besides it you can trade more than 80 cryptocurrencies, such as Cardano (ADA), Dogecoin (DOGE), Ethereum (ETH), Polygon (MATIC), Solana (SOL), and many others.
eToro is a secure regulated trading platform. User funds are held in cold wallets and as an added layer of protection, the platform encourages users to set up two-factor authentication.
Opening an eToro account is quick and easy. Signing up to the eToro profile takes only a few minutes.
Crypto trading fees are relatively low on the platform. Thus, eToro does not charge any fees for withdrawing crypto currency to and and from the platform.
Having over 20 million users, the platform offers customer support via phone number and assistance via support tickets.
From A to Z: How to Buy BTC on eToro?
eToro is marked by its users as a very secure and liquid exchange. Moreover, it has a clear and understandable interface and generally is very user-friendly. So, buying Bitcoin on eToro can be not only gainful but also an enjoyable task from the viewpoint of a user experience.
Here is a Step-by-Step Guide on How to Buy Bitcoin on eToro:
1. Create an eToro account.
It is free and easy and takes only a few minutes. After signing up for the account, you will receive a confirmation email, and as soon as you follow the link on it, your eToro account will be verified.
2. Link your credit card and transfer funds to your eToro account.
To do this, navigate to your account and click the Deposit Funds button in the left corner of your screen. Note that the minimum deposit amount is $50 or equivalent in another currency. After this step, you must proceed with a mandatory verification procedure.
3. As soon as you have made a deposit, you can start trading.
Find the trade market (for example, from the My Watchlist tab), and select BTC. Alternatively, use the Search bar to find the asset.
4. Clicking the BTC's icon will take you to its dedicated page, where you can see the information about the asset:
its current price and rate change in real-time, historical data, its traded volume for the last day, and more. Click Trade to start trading. You must deposit a minimum amount of $10 to start the trade. You can also decide whether to trade USD or BTC units directly — choose whatever is more convenient for you.
5. Enter how much Bitcoin you want to buy and click Open Trade.
6. In the right corner, you can also see the Trade drop-down.
Click it to place an order and conveniently determine your entry and exit points.
As soon as you get your crypto, you can transfer your bought Bitcoin to the crypto wallet in eToro Money app or withdraw your funds to the account that you used when depositing. eToro also offers an option of transferring your crypto into fiat currency.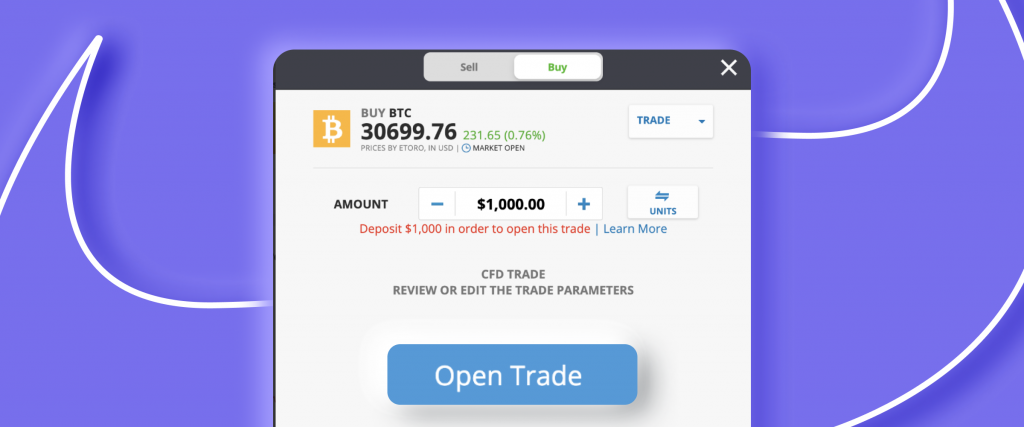 If you are a beginner trader and need more experience in trading, your option is Social trading, which is the core feature of the eToro platform.
To start social trading, click Copy People on the right side of the menu.
As soon as you do this, a list of traders will appear, along with their 12-month returns. eToro shows the most successful traders first. With this copy trading, you can copy trades of more experienced traders quickly and easily and start gaining profit immediately.
Conclusion
Bitcoin has a relatively long and intricate history. Its way from an unknown and exotic currency to one of the most liquid and traded assets is remarkable. Today, buying Bitcoin can be easy due to a plenty of ways to do it, but if you are new to trading, choosing the one that will work best for you can be a headache.
eToro is a highly-rated exchange and investment platform that offers more than 80 crypto assets and can help beginner traders start their journey by using a social trading feature that allows you to copy trades of more experienced investors and start gaining profit. You can then manage your assets at your own will — you can send Bitcoin to your account, sell it or withdraw Bitcoin.