In the not-so-distant past of 2014, Kevin McCoy introduced the very first non-fungible token (NFT) on the Namecoin blockchain, called Quantum. Pixelated to seem like an octopus, this digital masterpiece was finally auctioned off at Sotheby's for $1.47 million.
Today, NFTs stand as one of the most groundbreaking innovations of our era, introducing artists, musicians, and collectors as an unprecedented means to assert ownership of their digital creations.
The burgeoning popularity of NFTs has spurred the emergence of NFT marketplaces, specialized platforms where these exquisite assets are birthed and traded. Opensea currently enjoys the title of the most popular NFT marketplace, yet as the appeal of NFTs expands, the need for greater diversity and avenues to acquire these assets grows concurrently.
Recognizing this trend, GameStop, the undisputed leader in the video games and consumer electronics retail industries, decided to join the NFT extravaganza, launching its marketplace last year.
This comprehensive guide will overview GameStop NFT marketplace and teach you how to use it.
Key Takeaways
GameStop is a globally recognized gaming merchandise retailer that has expanded into a unique NFT marketplace alongside its traditional gaming products.
The GameStop NFT Marketplace is a dynamic platform allowing users to buy, sell, mint, and trade NFTs, digital collectibles, and web3 games.
Unlike competitors like OpenSea, GameStop's NFT Marketplace offers an ecosystem-specific experience, particularly tailored to the gaming world.
What Is GameStop NFT Marketplace?
GameStop NFT marketplace is an ever-changing hub where users may buy, sell, create (mint), and trade a wide variety of virtual goods, including but not limited to NFTs, digital collectibles, and Web3 games.
The unique selling proposition of this exchange is that all digital assets purchased there are held in the user's self-custodial wallet. In July 2022, the beta version opened GameStop's NFT market to the public.
This launch quickly gained media attention, with trading volume exceeding 1,831 ETH (about $2.7 million) and transaction costs of $45,500.
GameStop, confident in its continued success, has later partnered with ImmutableX, a Sydney-based Ethereum layer-two solution. This partnership introduced Web3 games and gaming NFTs to the platform, offering an exciting opportunity to revolutionize Web3 gaming for GameStop's customers.
What Is GameStop? History and Origin
Born in the quiet suburbs of Dallas, Texas, in 1984, GameStop has grown into a renowned gaming merchandise retailer, with its global headquarters remaining in its city of origin. The company achieved its zenith in 2015, commanding over 6000 stores worldwide and raking in an impressive $9 billion annual sales.
Its retail footprint has shrunk significantly over the years, but it still has stores in the US, Canada, Australia, NZ, and Europe.
Beyond its physical stores, GameStop extends its retail capabilities online, peddling a diverse range of products, including toys, collectibles, clothing, and accessories, all while maintaining its core offerings of game consoles and video game titles.
The company's business model facilitates trade-ins, allowing customers to exchange their old consoles or games, and supports selling pre-owned merchandise.
From 2016 onward, GameStop has grappled with competitive pressures from the proliferation of digital distribution services. However, in 2021, the company made headlines with the launch of its long-anticipated Ethereum NFT marketplace, which went live in its beta version on July 11.
This move sparked speculation that GameStop, once a staple source for video games and consoles and later a meme investment, was undergoing a transformation, taking on a third avatar as an NFT Marketplace.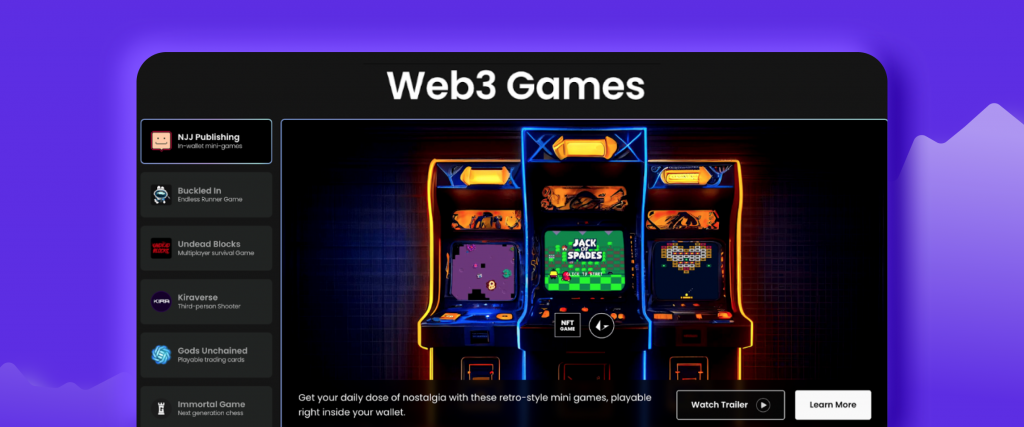 How Does The GameStop NFT Marketplace Work?
In essence, GameStop's NFT Market is a vibrant digital showroom where users can display their NFTs to a global audience. If you are in the market to acquire distinctive NFTs and collectibles, the process is straightforward: you simply reach out to the seller and put forward your offer.
A key feature of this marketplace is that it enables creators to earn royalties on their sold or traded pieces. Therefore, each time an NFT changes hands, not only does the buyer add a novel piece to their collection, but the creator also receives a share of the transaction in ETH, a testament to their valuable contribution.
Purchasing an NFT on this platform is swiftly transferred to your digital crypto wallet once the payment confirmation is received. The pace at which the confirmation is processed is contingent on the prevailing transaction volume of the blockchain. It's important to note that once a transaction is ratified, it becomes final unless there is mutual consent from both the buyer and seller to terminate the process.
GameStop's NFT Marketplace is designed to facilitate direct purchases from artists, brands, and secondhand sellers. This approach aims to enhance the user experience by cutting out middlemen and fostering a direct line of communication between buyers and sellers.
How To Use GameStop NFT Marketplace
The GameStop NFT Marketplace's homepage showcases a variety of NFT creators, games, and NFT collections. For dedicated users, connecting an Ethereum wallet and generating an ImmutableX key is possible. Users can explore the platform using the provided menu options, which open up a world teeming with games and NFT collections.
The platform offers detailed statistics about the most frequently traded assets and their trading volumes. These insights can be further refined to view data specific to each collection or creator, allowing users to identify the most applauded creators on the platform.
In addition, the platform equips users with a treasure trove of information on NFTs, wallets, layer-2 solutions, and, notably, how to emerge as a creator within the GameStop ecosystem. Instructional videos that provide step-by-step guidance are also available to assist users.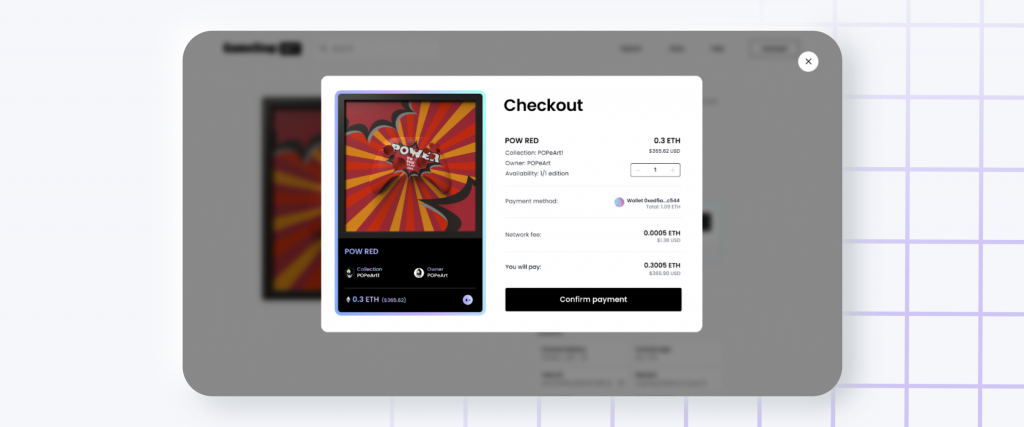 How To Buy An NFT On The GameStop
Purchasing NFTs at Gamestop is very easy. Here are the steps you will need to take:
Setting up Your Wallet
You can either establish a connection with an existing Web3 Wallet, like MetaMask or any other compatible wallet, or you can opt to install the proprietary GameStop Wallet as an extension on Google Chrome.
Personalizing Your Wallet
Once you connect a wallet, you can add your personal touch by entering all the required details, including a unique display name and adjusting profile settings according to your preference.
Funding Your Wallet with Cryptocurrency
You have two ways to achieve this. The first is to purchase ETH directly through your linked wallet with GameStop, depositing the ETH in your Layer 2 wallet. The other way is to transfer ETH from your pre-existing wallet (Layer 1) into your Layer 2 account or wallet linked to the GameStop NFT platform.
Activating Your Layer 2 Wallet
You can activate your Layer 2 account at GameStop directly. After depositing ETH into your GameStop-linked Layer 2 wallet, select the "Profile" menu and click on the "Activate Layer 2" option. This will prompt a dialog box confirming a one-time fee to activate your Loopring Layer 2 account. You can then approve this transaction in your wallet.
Transitioning Funds Between Layers
With GameStop, transferring funds between Layer 1 and 2 is straightforward. After depositing your funds and activating Layer 2 (per Steps 3 and 4), you can bridge your funds between the layers. Upon connecting your wallet, click the "Profile" icon, select the "Deposit ETH" option, and input the amount you intend to bridge. The transaction will be executed automatically, leaving you free to explore the marketplace!
Hunting For The Ideal NFT
Click on the Marketplace "Explore" tab and browse the NFTs/Collections section to find your desired NFT. If a particular collection appeals to you, you can simply hit the 'Buy Now' button on the NFT's detail page.
Finalizing Your NFT Purchase
Depending on the NFT collection or edition, you may need to specify the quantity you wish to buy. If necessary, select the quantity, and click "Confirm Payment" to wrap up your transaction.
Steps To Create NFTs on the GameStop NFT Marketplace
Step 1: Apply to Become a Creator
At the time of writing, only a select group of creators can mint NFTs on GameStop's marketplace. To become one, you can apply by filling out the form on the official GameStop creator page.
Step 2: Prepare Your NFT Collection
When minting an NFT on GameStop's marketplace, having your NFT be part of a collection is essential. Creating a collection is a breeze – just locate and click on the "+" icon, and you're good to go! Now you can start inputting the title, thumbnail, and other necessary details for your collection.
Step 3: Upload Your NFT Media
After you've arranged your collection, you can upload the NFT media and select the 'Save' option. You also have the opportunity to add metadata to provide a further description of the NFT.
Step 4: Submit for Review
GameStop NFT will take your NFT media under review once you've saved your details. A designated moderator will review your content, and if it aligns with their criteria, they will approve it. After a successful review, you're all set to mint your NFT.
Step 5: Mint Your NFT Collection
You can mint your NFT collection by clicking the "Mint" button after you've drafted it. You'll be shown the transaction fees associated with minting the collection. Once you confirm the transaction, stay on the page until the minting process is finalized.
Step 6: Access and Manage Your NFT Collection
After your NFT collection is successfully minted, you can view it via your wallet, where it will also show up on your profile page under the "Collections" tab. To set a price for the collection, click on the specific NFT, which will take you to its detailed page. You can list the NFT for sale from this page or even transfer ownership to another user. If you want to withdraw the NFT to Layer 1, select the "Manage NFT" option on the detail page.
Step 7: Finalize Your Collection
You can tweak the banner and thumbnails and click the "Save changes" button to list your NFT on the marketplace officially. And there you have it – your NFT is now available on the GameStop marketplace!
Gamestop NFT Marketplace Fees
The subject of fees is integral to any discussion regarding the GameStop NFT Marketplace. It's crucial to understand that marketplaces require some form of compensation for the services they render. Here's a rundown of the various fees you may encounter on the GameStop NFT Marketplace.
GameStop NFT operates on the Ethereum Network, meaning every transaction within this network necessitates transaction fees, also known as gas fees. These fees are necessary to cover the infrastructural costs of the network. However, a common challenge with the Ethereum network is that these gas fees can often skyrocket due to network congestion. GameStop NFT has adopted the Loopring Layer 2 solution to mitigate this issue, significantly decreasing these network fees while maintaining fast transaction speeds.
While gas fees are paid to the network facilitating the transactions, marketplace fees are collected by the marketplace itself. In this case, GameStop NFT applies a fee of 2.25% for each transaction on the platform. This fee is deducted from the sale price, thus relieving buyers from any additional charges upon purchase. It's worth noting that this rate is slightly lower than the 2.5% charged by the market leader, OpenSea.
The final fee type to consider is a creator royalty fee. These fees are designed to financially support the artists and creators who invest their effort and creativity into crafting these art pieces. The percentage charged as a creator fee is at the creator's discretion and can be up to 10%.
GameStop VS. OpenSea
When comparing OpenSea to GameStop's platform, it's important to remember that the two platforms are at different developmental phases.
While GameStop's NFT platform shows promise, it is still in development and subject to change. OpenSea, on the other hand, has established itself as a frontrunner in the NFT industry, cornering more than a third of the market by May 2023. So, it's clear that GameStop has some distance to make up.
OpenSea provides access to various NFTs backed by asset contracts across the Ethereum blockchain. Given its longer existence and larger scale, OpenSea hosts a significantly higher quantity of listed NFTs than GameStop.
In contrast, The GameStop mission is to power up the players and provide access to a wide variety of Web3 games, gaming NFT assets, and other digital collectibles.
Overall, users should consider several critical criteria when deciding which platform best fits their needs. Liquidity, real ownership, and transaction costs are all platform aspects to consider.
In the end, it is up to the user's requirements and tastes to choose whether OpenSea or GameStop is the better option.
What Does The GameStop NFT Marketplace Future Hold?
The NFT market has seen a general fall in volume and market value during the bear market. This deteriorating tendency has affected all platforms equally. However, as the market recovers, GameStop's novel business model and strategy may help it reclaim a leadership position in the industry.
GameStop has forged its route in the NFT sector, setting itself apart from the competition through its improved user experience rather than offering a different royalty scheme, token incentives, or commission structure. They have created a market that caters to gamers' needs and provides an ecosystem designed especially for them.
This deconstruction of conventional marketplace models may soon become the norm, as marketplaces tailored to specific ecosystems or industries may claim a portion of the NFT market share currently held by more generic platforms like OpenSea.
Thus, Despite its late debut, GameStop is well-positioned to become a powerful competitor, especially if it continues to bring innovation to the industry.