The price of Litecoin remains stable at $104 as whales increase their exposure to LTC ahead of the halving event on August 2.
Leading up to the highly anticipated halving event on August 20, the price of Litecoin is displaying favorable performance. Within a span of just one week, LTC's market value has witnessed a notable increase of 20.5%, reaching $105. This positive development has allowed investors to recover the losses they incurred during the market downturn experienced in June.
In contrast to the prevailing trend observed among various digital assets, including Bitcoin, Litecoin stands out with its consistent surge in trading volume over the past week. Litecoin's trading volume currently surpasses $1 billion, showcasing robust market activity. With a market capitalization of $7.7 billion, Litecoin proudly holds its position as the tenth-largest cryptocurrency, basking in its current commendable position.
This introductory analysis sets the stage for a closer examination of Litecoin's price movements and market dynamics, providing valuable insights for investors and enthusiasts alike.
Whales Strategically Position Themselves Ahead of the Litecoin Halving
The upcoming halving event in the Litecoin ecosystem, expected on August 2, holds paramount importance for the cryptocurrency this year, as it will effectively reduce miner rewards by half. Similar to Bitcoin, Litecoin undergoes these halving cycles to ensure inflation remains at a minimum level.
As the halving event approaches, investor sentiment typically becomes more positive. Historical trends reveal that Bitcoin and Litecoin have experienced significant price rallies due to changes in supply and demand associated with the halving.
Recent on-chain analytics indicate that despite Litecoin's price dropping to $70 in early June, whales have continued their accumulation spree. Notably, whale addresses holding between 10,000 and 100,000 LTC and those with holdings between 1 million and 10 million LTC demonstrated a substantial increase in risk appetite during the final ten days of June.
The impressive performance of Litecoin in late June and early July can be attributed to the increased supply held by these prominent whale cohorts, which has exerted a positive influence on the price.
With the halving event just a few weeks away, it is plausible to anticipate Litecoin extending its bullish momentum, potentially reaching milestones of $120 and even $200. However, the question remains whether the bulls can successfully maintain LTC's value above its short-term support level of $100.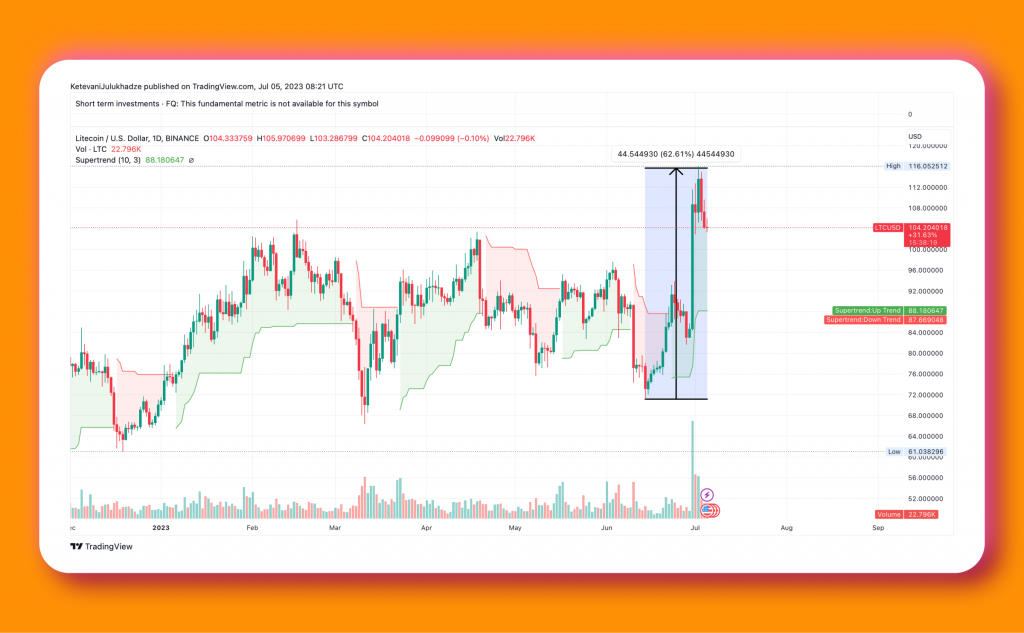 LTC/USD daily chart | Tradingview
Following its surge from $70, the Litecoin price encountered resistance at $115, causing a slowdown and subsequent correction to its current market value of $105. Should the short-term support at $104 falter, profit-booking moves could push selling pressure toward $100.
To mitigate potential declines, Litecoin Bulls must maintain support at $100, as a breach could lead to retesting support levels at $96 and $88.5.
The bullish outlook remains supported by the Moving Average Convergence Divergence (MACD), which currently resides above the mean line (0.00). Sustaining the MACD line above the signal line indicates that the path of least resistance for Litecoin remains to the upside.
Traders should closely monitor the immediate support at $104 and buyer congestion at $100. A break above $115 would confirm another bullish trend, potentially paving the way for further gains above $120 and bringing the $200 target within reach.
In Conclusion
While the Litecoin price faced resistance at $115 and experienced a correction, the bullish outlook remains intact. The bulls should defend the $100 support level to avoid significant declines. Traders should remain attentive to key price levels and monitor the MACD for confirmation of bullish momentum. As always, exercising caution and using appropriate risk management strategies when trading Litecoin is important.