Solana (SOL) snapped a three-day losing streak on Wednesday, reclaiming the $26.00 level.
Prior to the decline, SOL had surged above $32.00, reaching an eight-month high on the previous Friday.
XRP also experienced a rebound on the same day and appears to be aiming for its recent high above $0.9400.
Solana
On Wednesday, Solana (SOL) stood out as one of the noteworthy movers in the crypto market, putting an end to its three-day losing streak.
After hitting a low of $25.12 on Tuesday, SOL/USD swiftly climbed to an intraday high of $26.86 during the current trading session. This upswing marks the first time Solana has shown an upward trend since consolidating its recent eight-month high.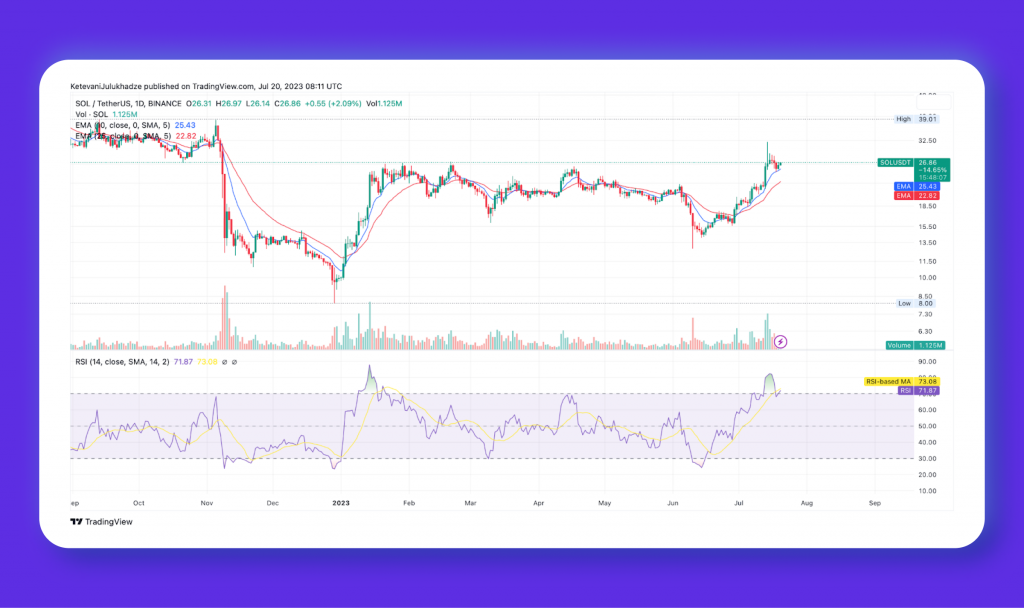 According to the chart, today's recovery appears to be influenced by the relative strength index (RSI) rebounding from a low point of 66.00.
As of now, the index stands at 71.40 and has reached a resistance level of 71.00, which is seen as a bullish target.
If this upper limit is breached, there is a strong possibility that Solana could approach the $30.00 mark once again.
XRP
XRP's market sentiment remained overwhelmingly bullish as traders persisted in their efforts to drive prices above the crucial $0.8200 threshold.
Notably, the recent price had already surpassed this mark, reaching $0.8234, further reinforcing the prevailing optimistic outlook among traders. The market saw a strong push from buyers and an active presence of profit takers, leading to increased volatility during this period of price discovery.
Last week, the token reached as high as $0.9479, leading to increased volatility in the market, with new buyers and profit takers engaging in a fierce battle for positions.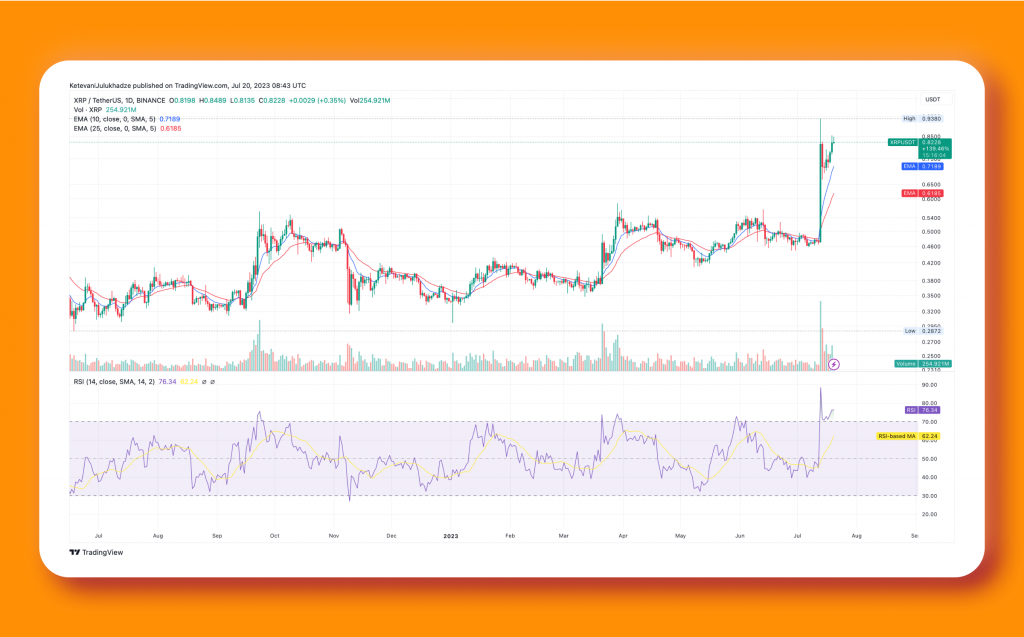 The market's uncertainty has eased somewhat due to the RSI breaking out of its previous ceiling at 73.00 and now registering at 76.37.
However, despite the next notable resistance point being 89.00, the price is already considered overbought, potentially leading to an extended sell-off.
As of the current update, XRP remains relatively stable, trading around the $0.8000 mark.
In Conclusion
The crypto industry is rapidly evolving, and dynamic market movements in tokens like SOL and XRP highlight the ever-changing nature of the market. Staying informed is key to capitalise on opportunities in this fast-paced landscape, where technology continues to transform the future of finance.