Imagine a world where artificial intelligence permeates every aspect of our daily lives, simplifying complex tasks, sparking creativity, and streamlining decision-making. This once-distant dream has become a reality in recent years, as AI technology has made tremendous strides, mainly due to the groundbreaking work of OpenAI and its innovative products.
Today, AI is a powerful ally, adopted by many leading companies, capable of tackling challenges from explaining complex subjects to planning your dream vacation or even generating stunning works of art based on your wildest imaginings.
In this article, we'll explore the top ten mobile AI art generators you can try out on Android and iOS to have fun or even use professionally.
Key Takeaways
AI art generators enable users to create stunning visual art by simply inputting text prompts.
The top ten AI art generator apps for iOS and Android offer various options, some free and others requiring a subscription.
To find the best AI art generator app, consider output quality, flexibility, user interface, speed, and cost factors.
Crafting effective prompts is crucial for obtaining accurate and visually appealing AI-generated artwork.
What is An AI Art Generator App?
What exactly is an AI art generator app, and how does it work? At its core, an AI art generator app is a software application that leverages artificial intelligence to transform user-provided text inputs into visually stunning images in seconds. These apps offer various art styles, such as 3D, 2D, cinematic, modern, Renaissance, and many more.
The magic behind AI art generator apps lies in the data they're trained on. These AI models are typically fed vast images, which they meticulously analyze to identify various characteristics and patterns.
Drawing on these insights, the AI model can then generate entirely new images based on the text prompts provided by users and turn the ideas into stunning visuals in mere moments.
Ten Best AI Art Generators
1. Lensa
Platforms: Android and iOS
Cost: $7.99 for 50 avatars
Lensa is a popular AI-driven tool for creating AI avatars from user-supplied images. This innovative app employs the Stable Diffusion deep-learning model to accomplish its task. To begin, users simply need to provide a few selfies, which the app then analyzes using the Diffusion model in combination with the CLIP image database, ultimately generating photos in various artistic styles.
Lensa AI operates primarily through its dedicated app, where users upload a selection of clear selfies that adhere to the app's guidelines. After a one-time payment for the image set, the app begins intensive processing, which may take around 30 minutes to complete.
The resulting images are exceptionally detailed and true-to-life, with the app considering the context of the image to create diverse variations and styles. The company also assures users that all uploaded images are promptly deleted to maintain data privacy.
2. Wonder
Platforms: iOS and Android
Cost: Free to use; Premium Tier starts at $4.99
Wonder AI is an easy-to-use AI image generator app on Android and iOS platforms. Like similar apps, users are asked to input a text prompt and select their preferred art style, such as Pen and Ink, Novelistic, Magic, Cinematic, and more. After inputting the text and choosing the style, simply tap the Create button and wait for the artwork to appear on the screen.
One notable advantage of Wonder AI is that it does not operate on a credit system, allowing users to create unlimited artwork. However, a drawback is a requirement to watch a 30-second advertisement before generating each artwork, which can become tedious.
Despite this, the app offers unlimited, free text-to-image outputs. Users also have the option to purchase the Wonder AI Pro membership for a week or a lifetime to remove ads and enjoy faster processing times, although the free tier may suffice for most users.
3. DeepArt
Platforms: iOS and Android
Cost: Free
DeepArt is an excellent choice for effortlessly converting photos into breathtaking works of art with just a few clicks. Powered by advanced machine learning technology, this innovative app can transform any image into a visually striking masterpiece. DeepArt can replicate various techniques, from traditional oil paintings and impressionism to modern and abstract designs.
To use DeepArt, simply upload high quality images, select the desired artistic style, and let the app's AI algorithms work their magic. Within moments, the app generates a unique and eye-catching rendition of your photo, imbued with the chosen style's distinctive characteristics.
4. Craiyon
Platforms: iOS and Android
Cost: Free to use
Craiyon may not be a familiar name, but a few months ago, the internet buzzed about the DALL-E Mini website, which has since been rebranded as Craiyon. This AI-powered art generator is now accessible through mobile apps and a dedicated website. However, it's important to note that the app is a Progressive Web App (PWA), meaning it essentially loads the website upon opening.
To generate images with Craiyon, simply input a text prompt on the website and wait for the artwork to be generated. Unlike other AI art generator tools, users don't have the option to select a specific art style, and image generation can take more than two minutes.
On the bright side, Craiyon imposes no credit or usage limits, and the ads are generally unintrusive, making it a user-friendly, free AI art generator tool.
5. StarryAI
Platforms: iOS and Android
Cost: First five credits free; paid plan starts at 40 credits for $15.99
StarryAI, available as an app for both Android and iOS, is a text-to-art AI image generator.
The app initially provides five free credits, after which users can purchase additional credits, starting at $15.99 for 40 credits. StarryAI is not only easy to use but also allows for the storage and sharing of created images within the app. The accuracy of the artwork is generally impressive, although occasional errors can occur. Notably, you can even use StarryAI to create NFTs.
StarryAI can efficiently process a mix of prompts. However, complex keywords may sometimes result in confusing images. Users can enhance image output by uploading a photo or providing a foundation for the AI to build upon — a feature that has proven effective in testing.
6. TikTok
Platforms: iOS and Android
Cost: Free
Social media is continuously developing new ways to keep us engaged, and TikTok is no exception. One of the app's coolest features is its ability to transform your photos into AI-generated art. Users can simply apply filters to their pictures, and TikTok will create amazing videos with cool animation effects based on the chosen images. Just pick a photo, select a filter, and watch your image come alive.
This feature is not only fun, but it also highlights the power of artificial intelligence in a way that everyone can appreciate. By giving users a chance to create their own AI-generated art, TikTok makes this technology enjoyable and accessible for all.
7. Bing
Cost: Free
Platforms: iOS and Android
Microsoft is going all-in on AI, using it in their Bing search engine to compete with Google. They've recently added an AI-powered image creator to Bing, fueled by an "advanced version" of OpenAI's DALL-E model. This feature allows Bing image creator users to generate AI images just by telling the chatbot what the image should be about.
The AI image generator is already live on the Bing search engine and the Bing Android app. To try it out:
Simply install the Microsoft Bing app on your smartphone and sign up with your Microsoft account.
Using the bottom navigation bar, click on Apps, and you'll see the new "Bing image generator feature" in the Explore section.
Click on it to access the Bing AI image generator page.
Microsoft currently offers ten boosts per day, which you can use to create images more quickly. According to Microsoft, if you run out of boosts, you can still generate images, but they might take a bit longer to create.
8. AI Picasso
Platforms: iOS and Android
Cost: Free; Premium tier starts at $3.99
AI Picasso is another AI art generator that utilizes the Stable Diffusion model. Although the app design is rather generic, it does offer users a choice of different art styles, albeit limited. The app operates on an ad-based model, requiring users to watch a 30-second advertisement each time an image is generated. On the bright side, image generation is almost instantaneous and free of charge. The resulting images are decent but may not quite match the quality experienced with the original Stable Diffusion model.
This AI image generator tends to falter when entering longer text prompts, which could explain why the random prompt generator only provides short suggestions. AI Picasso does not offer image upscaling or customization options; the Pro Tier is needed to access additional art styles. The app is suitable for casual use, but users should not set too high expectations.
9. Dream
Platforms: iOS and Android
Cost: Free to use; Premium Tier starts at $4.99
The app Dream by Wombo sports a stylish layout that highlights its creations while still being user-friendly. There's a premium tier available, starting at $4.99, but the app offers a good variety of art styles for creating free artwork from scratch.
Just type in a text prompt, choose an art style, and you're good to go. With dozens of styles to pick from, and even more, if you opt for the premium tier, you'll have plenty to explore. You can also select an input image as a reference to give the AI a little nudge.
One of the great things about this AI art generator is the wide range of art styles it offers. They even have a Ghibli art style, although the output might not be perfect.
Another cool feature is the real-time transformation, which lets you watch the AI image creation on your phone.
10. Make AI Art
Platform: iOS and Android
Cost: 5 free daily credits, offers Pro version
Make AI Art is next on our list, and it's a pretty cool app that generates images using Stable Diffusion, Runway Diffusions, DALL E Mini, and more. This app is popular for creating top-notch AI images, and in a recent update, it added Karlo Diffusion, a text-to-speech image model that utilizes techniques from DALL E 2.
The app's interface is simple and easy to navigate, and you can download it for free. Once installed, you'll be guided through a few prompts before landing on the home screen, where you'll find a list of text-to-picture models available for free use. Just tap on any model, enter the prompt, and you'll have your free AI image in no time.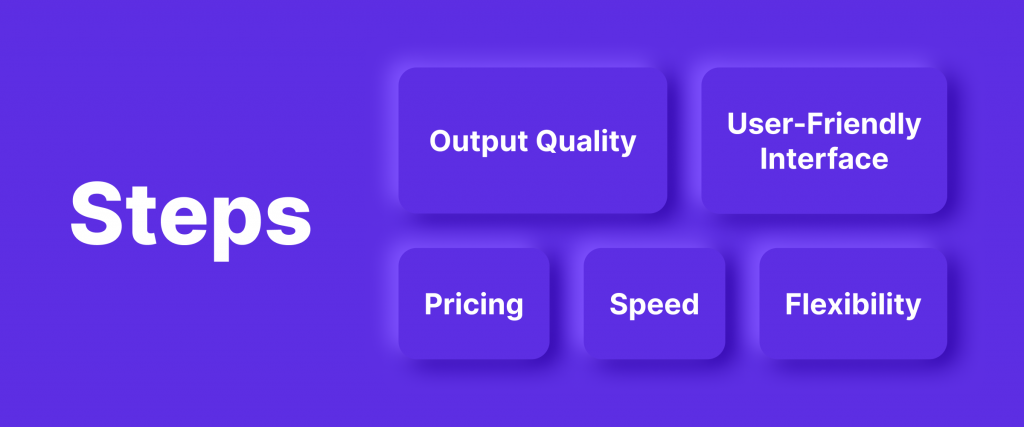 How To Choose The Best AI Art Generator App
Given the numerous options available, selecting the perfect AI Art Generator App can be challenging. However, considering the following factors can assist you in making a well-informed decision:
The most crucial aspect when choosing an AI image generator app is the quality of the artwork produced. Check for samples or demos of the tool's output to determine if it aligns with your desired quality level and the model you're using.
The app should feature an intuitive and user-friendly interface, making it simple, even for those not well-versed in AI or art.
A top-notch AI image generator app should be versatile enough to accommodate various input formats like images, videos, or audio. It should also present a range of styles or genres, enabling you to create artwork that matches your taste.
The AI art generator's speed is also essential, particularly if you intend to create numerous images or videos. Some apps generate images within seconds, while others might take just a few seconds.
Lastly, keep in mind the app's cost. While some tools are free, others require a subscription or pay-per-use model. Opt for the AI art generators that provide a reasonable price considering their results' quality and features.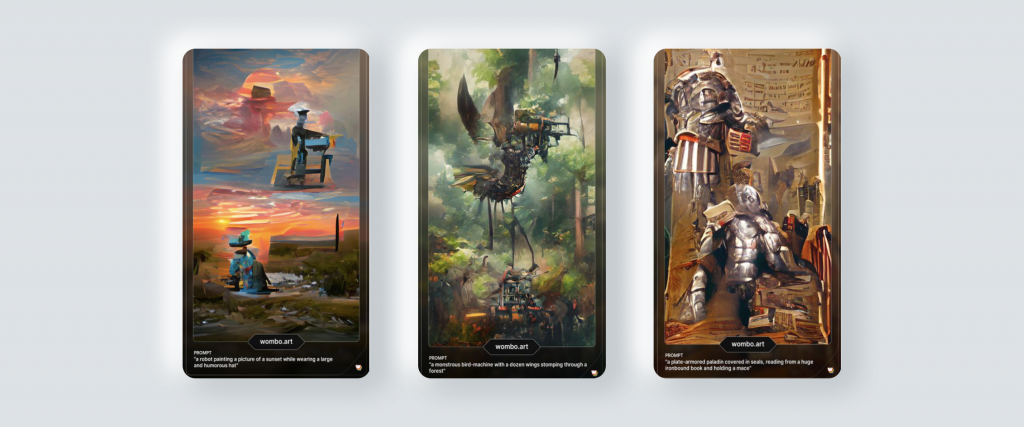 How To Create Effective Prompts For AI Art
Creating effective outputs from any AI art tool relies heavily on your prompts. Crafting well-thought-out prompts can help the AI model generate accurate and realistic images. A prompt serves as a set of instructions for a machine learning algorithm, guiding it to produce a specific output. It can create art based on those prompts by giving the AI cues such as color or subject.
To create persuasive prompts for text-to-image machine learning models, consider the following tips:
Prompt Basics: A good prompt should include a noun, adjective, and verb to form an engaging subject. For example, "a playful dog running on the beach" provides a clear context for the AI art generators.
Descriptive language: Use 3 to 7 words to give the AI image generator more context, and employ multiple adjectives to evoke various emotions in the artwork, such as "beautiful," "realistic," "colorful," or "massive."
Artist reference: If you'd like the AI generator to emulate a specific artist's style, mention their name in the prompt, e.g., Picasso, Vincent Van Gogh, or Paul Gauguin.
Art style: To achieve a particular style, add terms like surrealism, symmetry, contemporary, or minimalism into your prompt.
Computer graphics: Enhance the effectiveness and meaning of your artwork by mentioning computer graphics tools, such as Octane Render, Cycles, Unreal Engine, or Ray tracing.
Quality: Specify the desired quality of the artwork, e.g., low, medium, high, 4k, or 8k.
Avoid banned words: Avoid any words banned by AI art generators to prevent being blocked.
When crafting a prompt, consider the following: Does the prompt clearly identify the subject? Have you provided an adequate description of the surroundings and details? Did you specify the desired style for the AI art? If all these elements are well-addressed in your prompt, you will likely receive artwork closely aligned with your vision.
Finishing Thoughts
To summarize, AI art generators are great for personal enjoyment and practical use in businesses. You can save tons of money and use AI tools to create banners, posters, and designs that fit your brand's style. Or, you can use it to generate your very own NFT collection. With the right prompts, the outcomes can be impressive and serve your needs well. So, don't hesitate to give these apps a go and discover the artistic potential they offer.