As the Web3 and DeFi industry gathers fresh momentum, with the so-called "crypto winter of 2022" fading away, a wave of new promising projects is set to flood the market. If you are thinking of creating your own crypto startup or an NFT project, effective marketing and promotion of it will be a must in an increasingly competitive environment.
Instead of handling marketing manually, many founders and teams prefer to turn to professionals – crypto marketing agencies. These specialized companies offer a range of services designed to help businesses boost brand awareness and drive project growth.
In this article, we will explore the 15 best crypto marketing agencies in 2023 that will help your startup thrive.
Key Takeaways:
Marketing your business is an essential part of building a successful project.
Many prominent marketing agencies on the market are fully dedicated to promoting crypto brands and businesses.
When selecting an agency to collaborate with, consider its reputation, connection, costs, industry knowledge, and other factors.
1. Market Across
Market Across has been one of the leading crypto marketing agencies in business since 2014. Their expertise, experience and impressive track record make them a top choice for businesses looking to boost their brand presence and reach out to their target audience.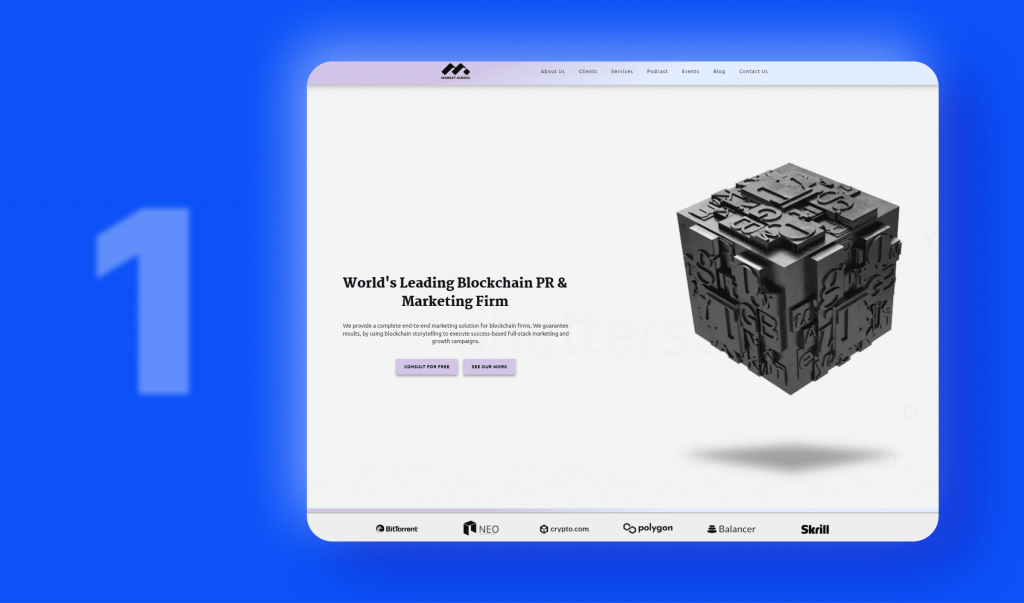 With an emphasis on content marketing, Market Across provides end-to-end solutions that include everything from strategizing, creating and distributing tailored blockchain content across appropriate channels. Their extensive range of services also includes branding, influencer marketing and reputation management, ensuring that businesses have access to a comprehensive marketing solution under one roof.
Market Across boasts an impressive clientele portfolio. Having worked with 150 clients globally, with 32% of clients being from the top 100 crypto projects by market cap, including companies such as Simplex, Polygon and MultiversX, Market Across has established itself as a trusted partner in the field of crypto marketing.
Their reach is not limited to specific regions either, with a distribution network spanning over 31% of countries and partnerships with 25,000+ premium publishers and sites.
2. CryptoPR
CryptoPR is a standout amongst other digital marketing agencies in the crypto industry. With a team of over 100 experts, they specialize in providing effective and result-oriented services to their clients. Their track record speaks for itself with successful campaigns and close partnerships with various reputable websites.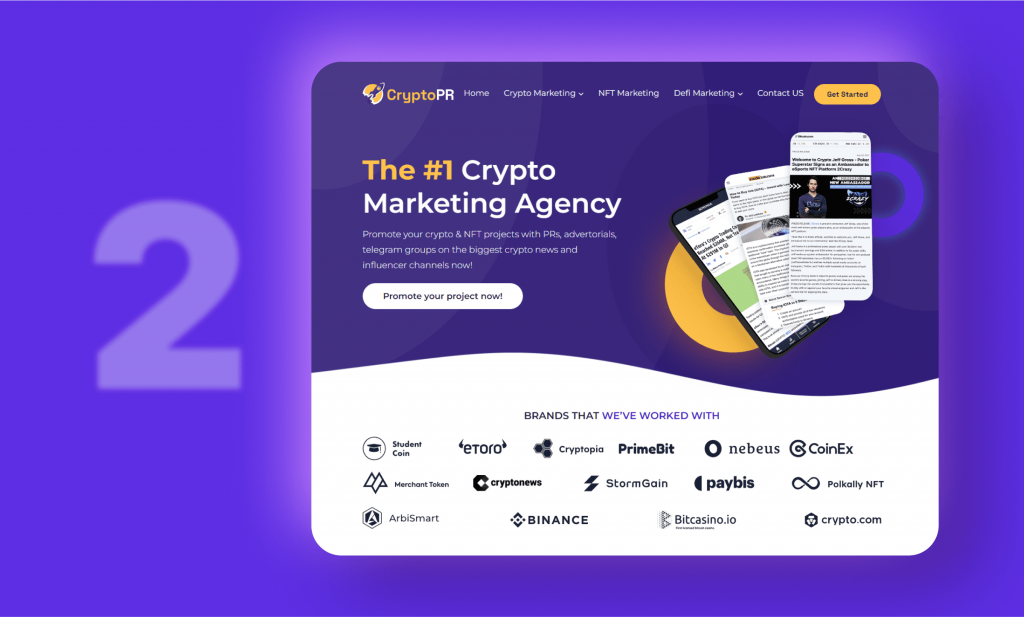 They understand the unique needs of crypto and NFT projects and tailor their services to meet those specific requirements. From influencer marketing to public relations, SEO to branding, they offer a complete package that cater to all aspects of promoting a crypto project or brand.
An area where CryptoPR excels is its ability to secure placements on major news portals and media networks. This level of exposure can be instrumental in gaining credibility and recognition for a crypto project. With the team's expertise in translation services, they also offer global promotion by providing write-ups and PR distribution in multiple languages.
CryptoPR's impressive portfolio includes over 400 articles placed in top global crypto news sites, generating 1.4 million web traffic and facilitating 40,000+ presale transactions for their clients. In addition to their proven track record, CryptoPR's past clients speak volumes about the quality of their services. Some notable names include StormGain, eToro, Crypto.com, and CoinEx, among others.
3. NinjaPromo
NinjaPromo is one of the leading marketing crypto and NFT marketing companies. Founded in 2017, they have quickly become a go-to solution for businesses looking to enhance their online presence and reach their target audience effectively.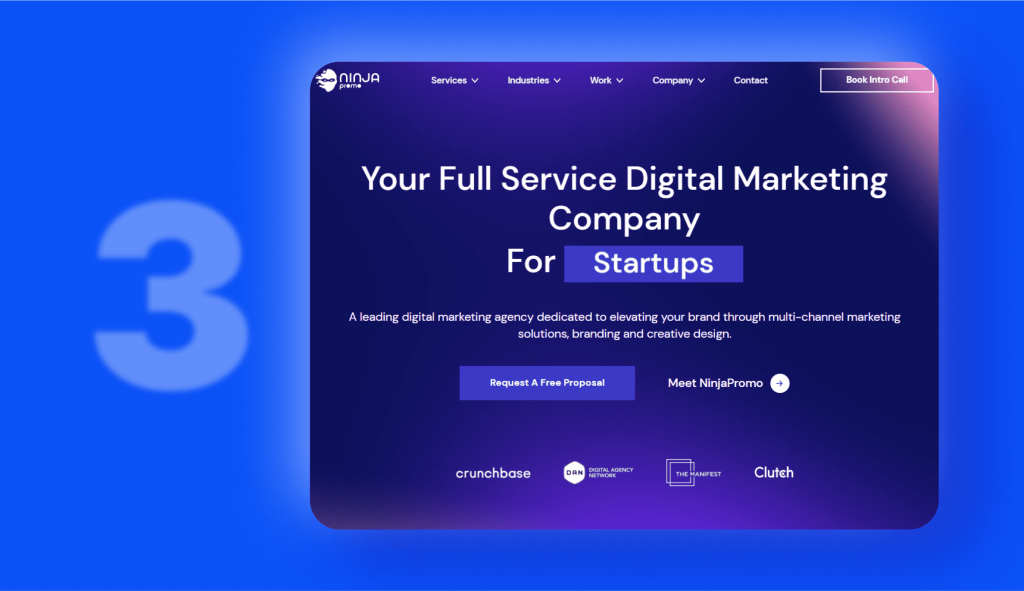 With a focus on digital marketing, social media management, and software development, NinjaPromo offers a comprehensive range of services tailored to cater to various sectors, including esports, e-commerce, B2B, software as a service (SaaS), and crypto.
NinjaPromo's greatest strength is its ability to assist businesses in developing and executing strategic social media campaigns. In addition, NinjaPromo also offers a wide range of other services that are crucial for the success of any business in the crypto and NFT industry. This includes mobile app development, PR and outreach, branding, lead generation, community management, website development, blockchain development, SEO, and video marketing.
One of the main achievements of NinjaPromo is its impressive portfolio of past clients. Some of the biggest names in the industry, including Polkadot, Huobi, Fantom, and Bull Perks, have all trusted NinjaPromo to help them reach their marketing goals.
4. Coinbound
Coinbound is a marketing and advertising agency that focuses exclusively on cryptocurrency and blockchain-related projects. The company has been in operation since 2018, helping businesses establish their brand presence, reach their target audience, and drive user acquisition.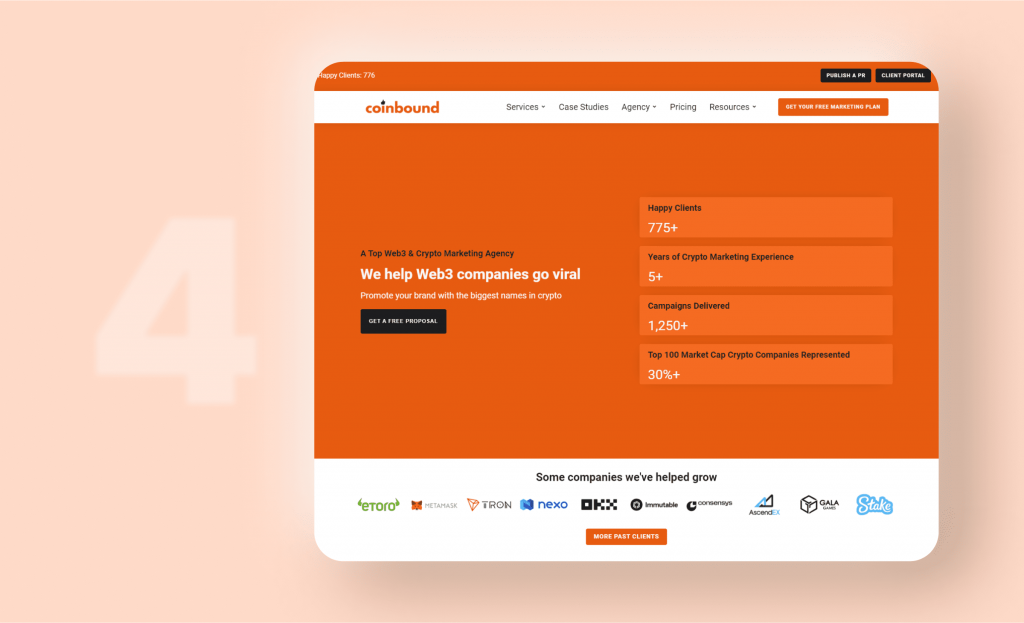 Coinbound has years of experience in crypto and blockchain. The team at Coinbound has a deep understanding of the market dynamics, trends, and customer behavior within this niche. This level of knowledge allows them to create tailored strategies for each client that produce lasting results.
Coinbound's impressive track record speaks for itself. With over 1,250 campaigns delivered to date, they have helped 775+ clients achieve success in the highly competitive crypto landscape. Notably, Coinbound has represented over 30% of the top 100 market cap crypto companies, including well-known names such as Metamask, TRON, Consensys, and eToro.
5. Markchain
Markchain is one of the leading crypto marketing agencies that has made a significant impact in the web3 space. With a team of professionals from various backgrounds, Markchain offers bespoke services to its clients.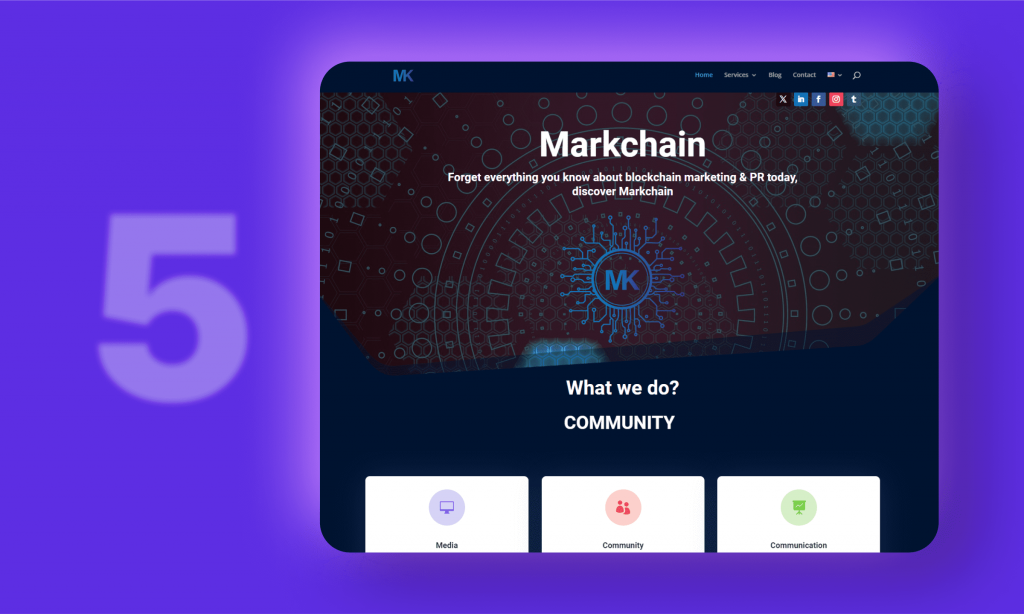 Markchain offers a range of services, including media outreach. With years of experience and a strong network of contacts in the media industry, they help their clients generate positive coverage in top-tier publications such as Forbes, CoinTelegraph, and MarketWatch.
Other areas of expertise for Markchain are community building, e-reputation and social media growth. They understand the importance of having a strong community for any crypto project to succeed.
Markchain's achievements in the crypto marketing space are impressive. They have successfully helped numerous projects launch successful token sales, gain traction on social media platforms, and establish a strong online presence. Some of their past clients include well-known names such as ByBit, OKX, Dao Maker, and KuCoin.
6. Twin Peaks Digital
Twin Peaks Digital is just one of the many crypto marketing agencies in the industry, but it has established a reputation as one of the best. The agency offers a wide range of services that cater specifically to the needs of new crypto projects. Their expertise lies in ICO management, which involves strategic planning and execution to ensure a successful launch.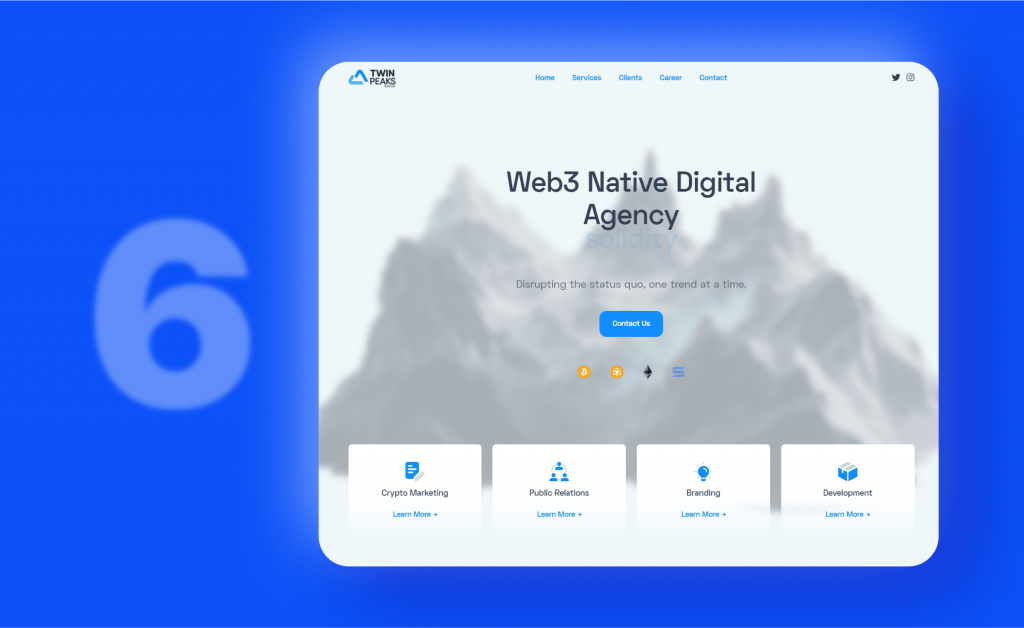 Twin Peaks Digital's extensive network of media publishers and partners gives them an edge over their competitors. This gives their clients an added advantage in terms of exposure and resources, as they have access to a diverse range of marketing specialists, copywriters, and developers.
In addition, Twin Peaks Digital is known for its visually stunning designs and fully functional decentralized apps. Branding and user experience are essential factors in the success of a crypto venture. With their expertise in web3 applications, they can provide clients with cutting-edge technology to enhance their blockchain projects.
7. Blockchain PR
Blockchain PR is a digital agency that plans all types of crypto, blockchain, and NFT marketing strategies. With over 50 marketing services, they focus on providing comprehensive PR and marketing solutions tailored specifically to blockchain technologies. They have been active in the blockchain and web3 marketing industry since 2019 and have assisted clients in various fields.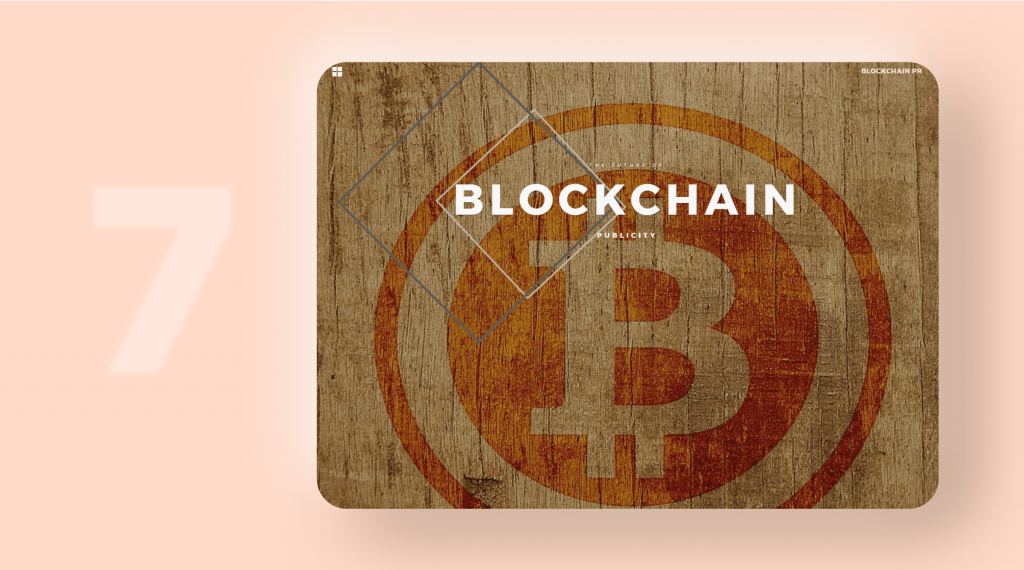 Blockchain PR offers a wide range of services, such as PR, social media engagement, community building, design, outreach, and strategizing. They have worked with notable clients like WCEF (World Crypto Economic Forum), trade.io, Bitfinance, and Crypto Funding Summit. The agency was recognized as one of the top NFT marketing agencies in 2021.
8. Crowdcreate
Crowdcreate is one of the leading marketing agencies not only in the crypto and blockchain industry but also in the overall digital marketing landscape.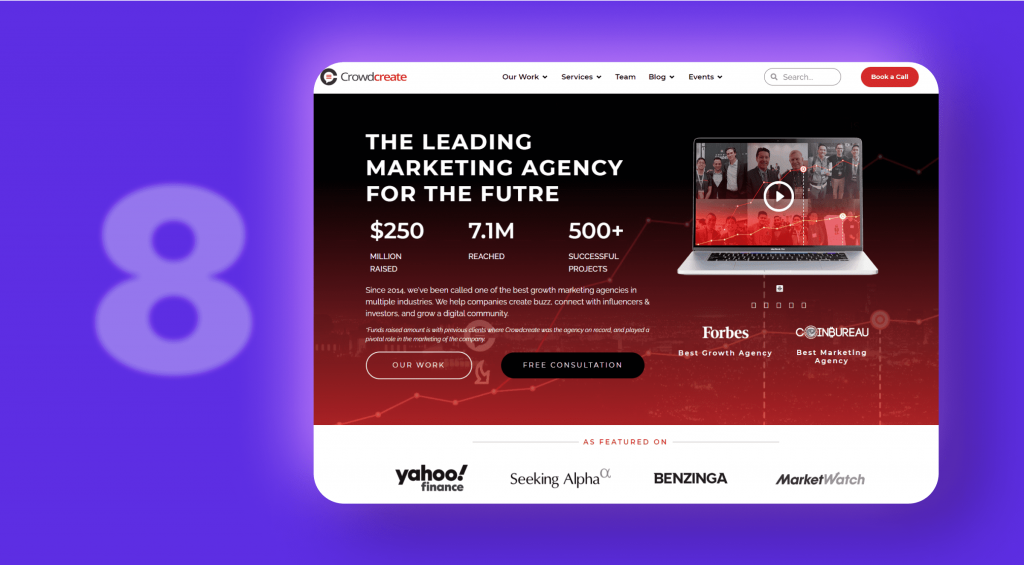 From consulting to social media management, influencer marketing to PR, crowdfunding to video marketing, and email marketing, Crowdcreate offers a comprehensive approach to help businesses reach their goals. Each service is tailored to the specific needs of their clients, ensuring effective and efficient delivery.
Since 2014, they have helped over 500 businesses raise $250 million, reaching a staggering $7.1 million people through their campaigns. This remarkable success has earned them recognition from Forbes as the "Best Growth Agency" in the crypto and blockchain industry.
Their past clients include big names such as The Sandbox, MetaVersus, and Star Atlas, showcasing their ability to work with high-profile projects and deliver exceptional results.
9. Coinpresso
Coinpresso is a leading crypto digital marketing agency that has been at the forefront of promoting digital businesses for over two decades. Today, it has fully adapted its model for the crypto market, offering its rich experience to teams in the crypto and DeFi sector.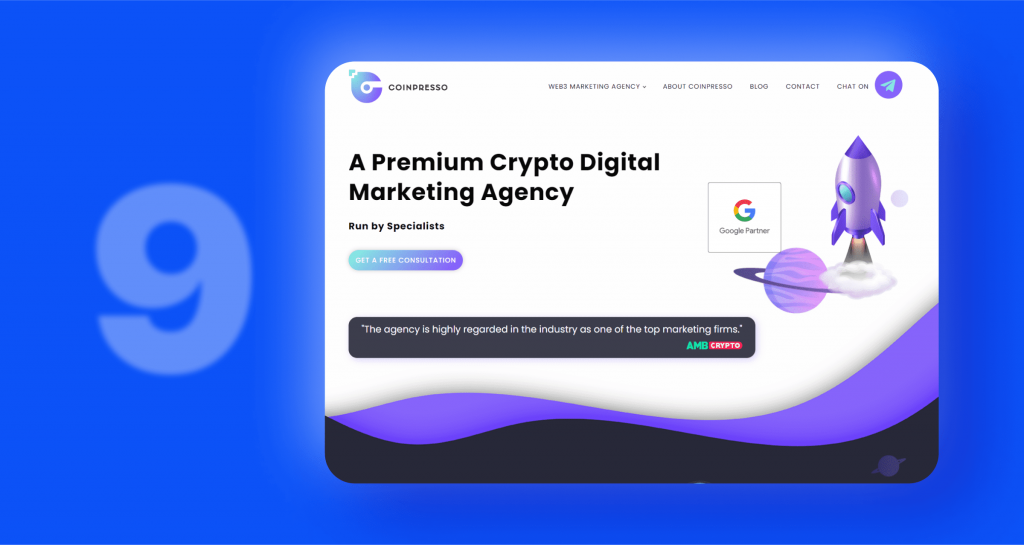 Coinpresso stands out from other marketing agencies because of its affordable pricing model. They offer a range of services, including SEO, PR, app search optimization, content creation, copywriting, Google Ads, and social media marketing at competitive rates based on the client's annual marketing budget.
Coinpresso has a proven track record of success, having worked with notable clients such as Bitcoin Magazine, BitCard, Integral, and CryptoNewsLine.
10. Omni Agency
Omni Agency is a top-tier digital marketing agency that has earned its reputation by providing exceptional services to businesses in the blockchain and NFT industry.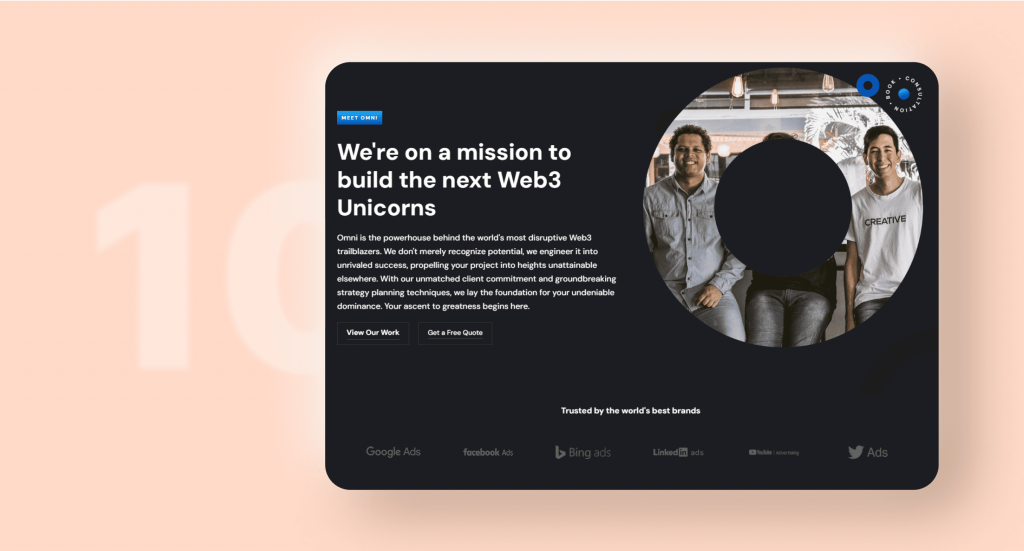 Omni Agency has a strong reputation for managing blockchain communities. With an in-depth understanding of the crypto community, they have been able to successfully launch and promote numerous projects, garnering positive attention and engagement from potential investors and users.
Additionally, their team is well-versed in the latest digital marketing strategies for the crypto industry. This includes SEO tactics specifically tailored for blockchain projects, effective email marketing campaigns that resonate with the target audience, and social media management that captures the attention of crypto enthusiasts.
Moreover, Omni Agency has a proven track record of helping businesses achieve their goals. Their portfolio includes successful collaborations with well-known projects such as OptyFi, Raiinmaker, Flipsies, and Depressed Citizens.
11. Blockwiz
Blockwiz is a full-stack marketing agency established in 2019. They pride themselves on their data-driven market solutions and provide comprehensive marketing services along with web design.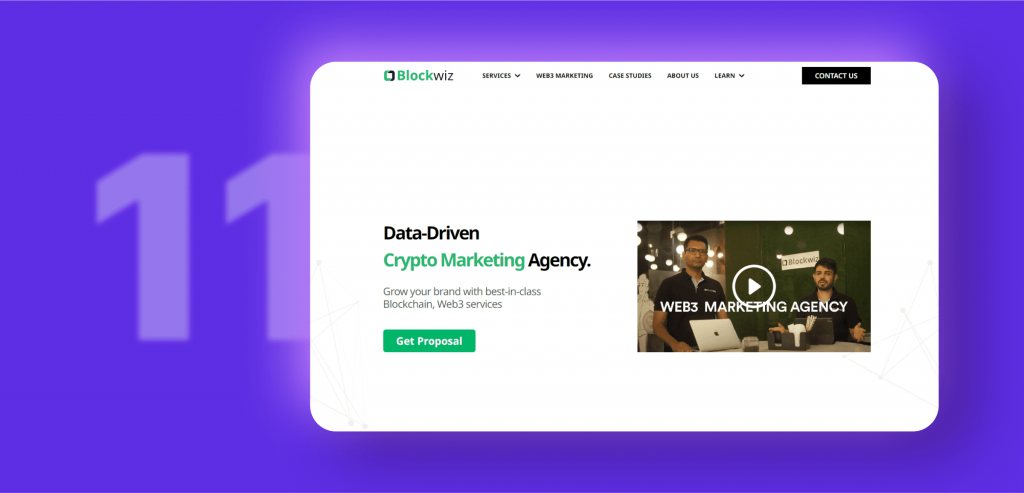 DeFi, NFTs, and gaming are some of Blockwiz's key market segments. With the help of the agency, clients operating in these industries reach their target audience and stand out from the competition.
When it comes to marketing, data is crucial. That's why Blockwiz uses a data-driven approach to develop effective strategies and campaigns for their clients. From SEO and social media to NFT influencer marketing and collaborations and pay-per-click campaigns, Blockwiz offers a wide range of services designed to boost its clients' online presence and drive conversions.
Since its establishment in 2019, Blockwiz has helped over 400 clients achieve their marketing goals. Their impressive track record includes working with top companies such as KuCoin, The Assembly, TRON, and numerous successful NFT projects. One hundred million influencer views, 15 million community impressions, and 2500 growth campaigns are just some of the achievements that showcase Blockwiz's effectiveness as a marketing agency.
12. Lunar Strategy
Lunar Strategy is a crypto marketing agency specializing in community growth and providing a full range of services to help businesses thrive in the rapidly expanding Web3 and NFT industries.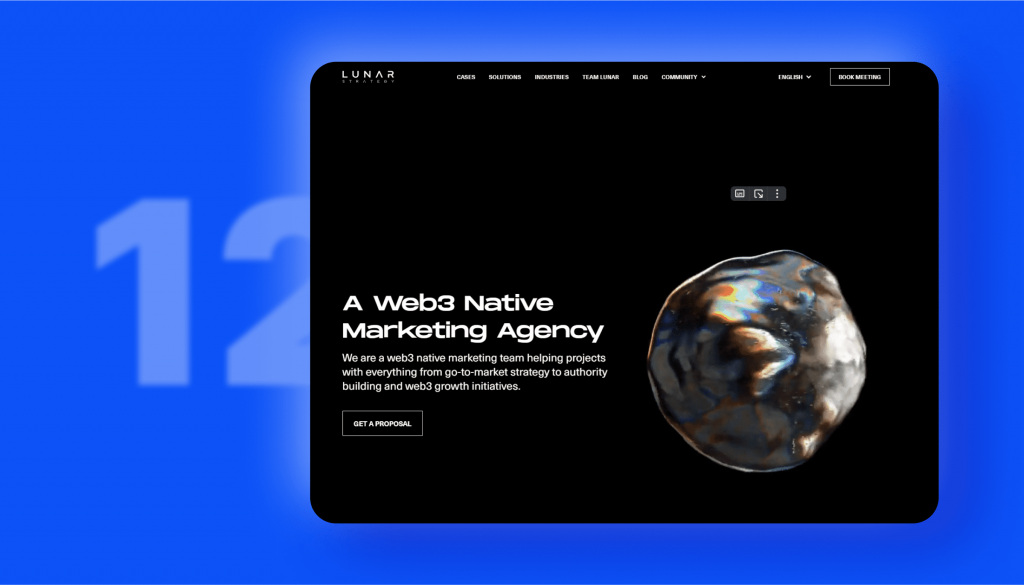 As an agency with a team of 15 experts, Lunar Strategy offers a comprehensive 360 marketing solution that covers all aspects of traditional and Web3 marketing. This includes search engine optimization (SEO), Google Ads, social media management, influencer marketing, paid advertising campaigns, blog and content creation, social media management, and PR.
Since its inception, Lunar Strategy has successfully served over 150 clients in the Web3 space and generated more than 1 million followers for their clients. Some notable past clients include PixelPix, Nobility Token, superhow.ART, Dark Frontiers, and JPEGvault.
13. Blockchain App Factory
Blockchain App Factory is an NFT services provider that has been at the forefront of the digital asset revolution since its inception in 2018. With a team of over 500 employees, Blockchain App Factory's team comprises experienced blockchain developers, designers, and marketing specialists who are dedicated to delivering top-notch results for their clients.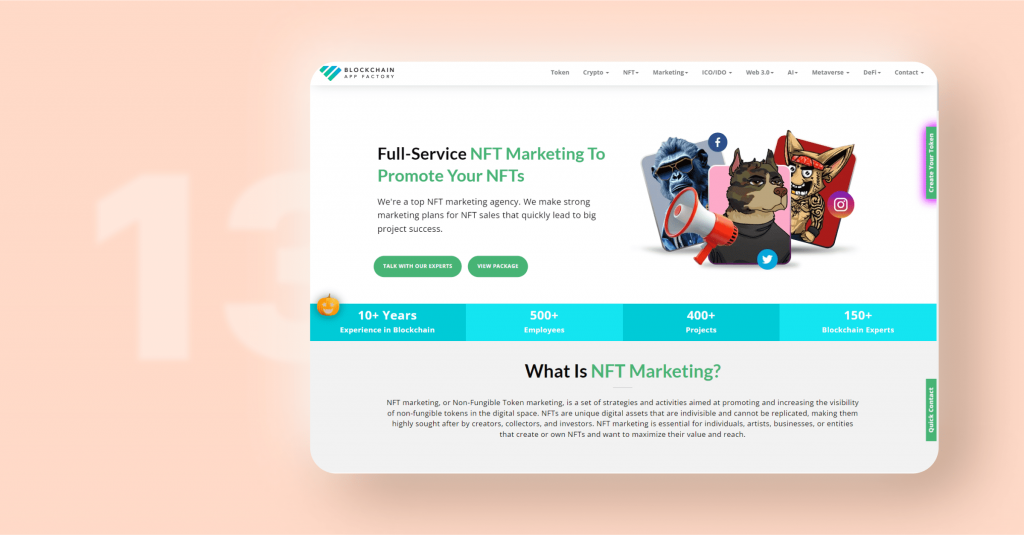 With a deep understanding of the crypto space, they are able to target niche audiences on popular platforms such as Facebook, Instagram, and TikTok. This ensures maximum reach and engagement for their clients' projects. In addition, Blockchain App Factory also offers full-service solutions from development to marketing, making it easier for businesses to navigate the complex world of NFTs and cryptocurrencies.
Having successfully completed over 400 blockchain projects, Blockchain App Factory has a proven track record of delivering high-quality and innovative solutions to its clients. Some of their past clients include notable names in the industry, such as TON, CoinSwitch, the Sandbox, and Sui.
14. AppDupe
AppDupe is an NFT marketing agency that provides a wide range of services to help businesses promote and brand their non-fungible tokens. With a team of over 300 crypto developers, marketers, and designers, AppDupe has successfully delivered more than 250 projects and completed over 60 crypto marketing campaigns.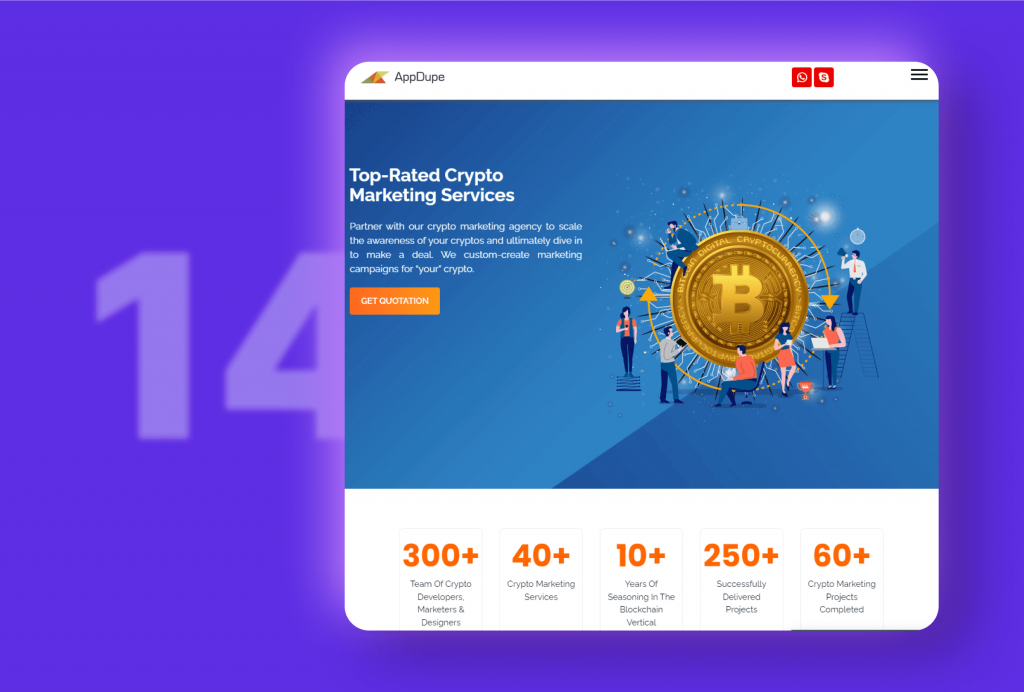 AppDupe's customized marketing techniques have proven to be successful in increasing the value and exposure of their clients' NFTs. AppDupe offers NFT promotion and branding, which involves creating a unique identity for each NFT that resonates with its target audience.
This includes designing visually appealing NFTs, crafting compelling descriptions, and developing effective and innovative marketing strategies to reach the right audience. Additionally, their social media marketing tactics help create buzz around the NFTs and attract a larger audience.
AppDupe's achievements speak for themselves, with a proven track record of past clients such as EOS, Polygon, and Wazirx.
15. Bitmedia
Bitmedia is a top-rated crypto ad network that has been providing advertising solutions for advertisers and publishers since 2015. Bitmedia has helped numerous clients promote their crypto projects and monetize their web traffic effectively.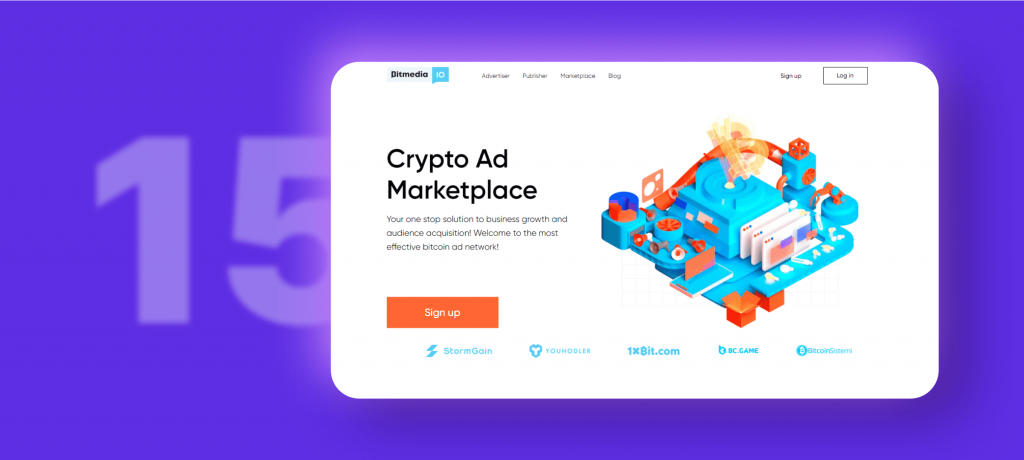 One of the key services offered by Bitmedia is its range of banner ad formats, including text ads, image ads, HTML5 ads, and sticky ads. This allows advertisers to target specific audiences and publishers to choose the most suitable format for their websites. Another notable service provided by Bitmedia is its flexible pricing model for publishers. With this model, publishers can set their own desired earnings from displaying ads on their websites.
Aside from providing advertising solutions, Bitmedia has also assisted clients with other marketing efforts such as PR and sponsored articles, content writing and translation, influencer marketing, and content distribution.
Notable clients of Bitmedia include Binance, CEX.io, Cloudbet, and Fairspin. With over 30 thousand campaigns served, and a monthly global unique audience reach of over 20 million, Bitmedia has proven to be a reliable and effective partner for crypto marketing.
How to Choose the Best Crypto Marketing Agency?
Consider these factors when picking a crypto marketing agency:
1. Reputation
When choosing an agency, the reputation should be your top priority. Seek out agencies with a solid track record of success and positive client testimonials. Take the time to research their previous projects and case studies to assess their level of expertise and the results they've delivered for clients. A reputable agency will have a robust online presence and a portfolio of successful campaigns.
2. Range of Services
Look for agencies that specialize in crypto and NFT marketing services and provide a comprehensive suite of tailored solutions. This may include influencer promotion, online community management, content marketing, PR, and SEO.
3. Networks and Connections within the Industry
Consider the agency's industry connections and networks. Seek out agencies that have established relationships with influencers, media outlets, and other relevant stakeholders within the crypto community. These connections can offer valuable prospects for collaboration, exposure, and strategic partnerships, ultimately boosting the effectiveness of your marketing campaigns.
4. Innovation and Creativity
Evaluate the marketing and promotion approach of the agency. Seek out agencies that demonstrate innovation and creativity in their strategies and campaigns. Given the dynamic nature of the sector, firms need to work with agencies that can swiftly adapt to emerging trends and technologies.
5. Budget and ROI
When considering your budget and the expected return on investment (ROI) for your marketing efforts, it's crucial to find an agency that not only fits your financial capabilities but also delivers the desired value for their services. Different agencies have varying pricing structures, so transparency in their results and verifiable metrics of campaign progress are key factors to look for.
6. Teamwork and Communication
A successful marketing campaign hinges on effective communication. When seeking out an agency, prioritize those who demonstrate responsiveness, proactivity, and transparency in their communication. They should genuinely listen to your goals and objectives, consistently provide progress updates on your campaigns, and work closely with you to ensure your needs are met.
7. Industry Knowledge and Expertise
Look for agencies that consistently stay informed about the latest trends, regulations, and developments in the crypto industry. A deep understanding of the crypto and NFT space is crucial. This knowledge allows company to craft effective and customized marketing strategies that will truly resonate with your potential customers.
8. Compatibility and Cultural Fit
Before making a final decision, it is crucial to evaluate the compatibility and cultural alignment between your business and the agency. Look for agencies that share your brand values, mission, and vision. A strong partnership thrives on trust, open communication, and a shared understanding of your business goals. Take the time to personally speak with potential agency representatives, ask thought-provoking questions, and assess their grasp of your business and its distinct requirements.
FAQ
What is the cost of a crypto marketing agency services?
The cost of a crypto marketing agency's services can vary depending on several factors. These factors include the scope of services, the reputation and experience of the agency, and the specific needs and goals of your cryptocurrency business.
On average, most crypto marketing agencies offer their services at a monthly rate ranging from $1,200 to $2,000 or even more. This might seem like a significant expense, but it is much less compared to hiring a full-time marketing manager for your cryptocurrency business.
How to open a crypto marketing agency?
Opening a crypto marketing agency requires a thorough understanding of the crypto industry and the latest marketing trends. Moreover, you need to have a clear understanding of the target audience before starting the agency. Additionally, an experienced team of professionals with a background in DeFi and Web3, marketing, advertising, and social media should be assembled. As well it is important to obtain the necessary licenses and permits to operate a business. Once this is done, the agency can start to develop marketing strategies, build a portfolio, and acquire clients.
What is the best marketing for a crypto project?
The most effective marketing strategy for a crypto project is one that is customized to its target audience. This may involve leveraging social media platforms like Twitter and Facebook to connect with potential customers and promote the project. Engaging blog posts, captivating videos, and insightful podcasts are also great for educating prospective customers about your startup. Furthermore, offline marketing activities, such as attending crypto events and conferences, could also be beneficial for your brand.