This, together with the fact that the majority of cryptocurrencies are still trading in their resistance ranges, makes Trader Capo of Crypto think that fresh market lows might be on the horizon. He also adds that this can also be a symptom of an impending economic catastrophe.
Capo stresses the significance of cautiously being alert to any market manipulation and approaching cryptocurrency investment. Even when things are uncertain, it's wise to have a plan and follow it.
Analysis of the Bitcoin Market Price
Bitcoin briefly dipped negative as it reached the $26,588 support level. But the bulls immediately took control, using strong purchasing pressure to drive the price up.
As of this writing, Bitcoin (BTC) is trading at $28,011.22 and has had a 3.30% price gain over the past 24 hours with a $52,142,363,473 trade volume.
Bitcoin has had positive price movement over the previous week, rising by almost a noteworthy 26.80%.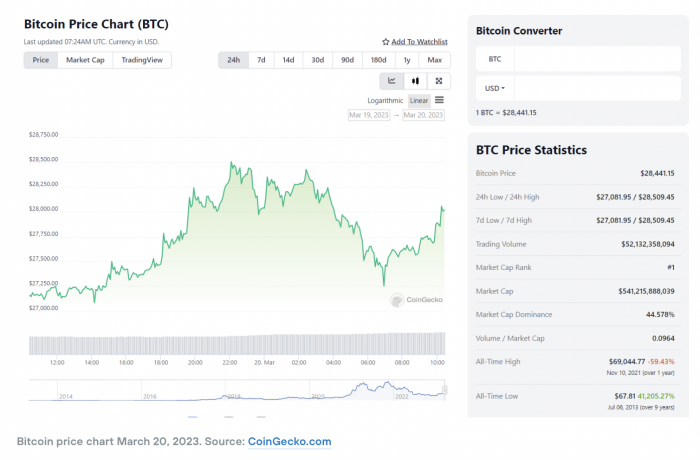 With 19 million coins in circulation, the market value of Bitcoin is currently $541,215,888,039.
These numbers show that Bitcoin has performed well over the long and short terms, suggesting that the largest cryptocurrency in the world may be on the verge of a good growth trend.
Following the previous decline, BTC is now beginning to rebound, and the purchasing pressure maintains the upward trend.
The bulls effectively defended the $26,899 support level when Bitcoin reached it, pointing to a likely continuation of the present bullish trend.
The next major hurdle for BTC is $28,044, and if the bulls can sustain their present momentum and clear this barrier, the price may rise much more.