Interest in cryptocurrency is growing daily, making the issue of reliable storage solutions critical. Storing crypto assets on the exchange's trading account does not guarantee 100% of its safety. That is why crypto enthusiasts seek more trustworthy storing tools, like fully decentralized or non-custodial crypto wallets. One such tool is the Trust Wallet crypto wallet, which we will review in this article.
Key Takeaways
Trust Wallet is a decentralized non-custodial wallet application.
The app can be used for storing and managing cryptocurrencies and NFTs.
This application supports more than 70 blockchains and over 9 million crypto assets.
Trust Wallet offers such specific features as swap, staking, NFT, and dApp browser.
Why Do You Need A Crypto Wallet?
Storing all your crypto assets on the exchange trading account might be unsafe since it can be hacked or blocked, or something might happen with the exchange. That is where crypto wallets come to help. A crypto wallet is a software or application explicitly designed to store crypto assets securely. With a crypto wallet, you can manage your assets anytime through a secure connection.
What is a Trust Wallet?
Trust Wallet is Binance's official crypto wallet. It is a multi-currency, decentralized non-custodial wallet application that supports over 70 blockchains and allows users to store and manage over 9 million assets, including NFTs.
Trust Wallet app enables users to make payments in crypto, buy crypto coins, store NFT tokens, and interact with DApps across supported blockchains safely.
Trust Wallet is a hot wallet, meaning it can be accessed via a secure connection as long as there is an Internet connection.
Trust Wallet Interface Overview
Trust Wallet is a free-to-download secure application with a user-friendly interface. It can also be used as a Chrome browser extension, appealing to those preferring desktop devices.
The Trust Wallet was created to be simple and convenient for many users.
Trust Wallet app has four sections:
Wallet – This section lets you view all your assets, buy crypto, and send or receive a transfer.
Discovery – This section contains all the supported tokens with a current rate for each token in USD.
Browser – This section lets you interact with decentralized exchanges in the Trust Wallet app.
Settings – In this section, you can set up your application: turn notifications on and off, switch from the light mode to the dark mode, add contacts for transferring assets from your wallet, and manage security.
The main page of the Trust wallet consists of the following elements:
Balance – This is the total amount of all your assets in USD.
Send and Receive – These buttons allow you to send and receive transactions.
Buy – This button enables you to buy digital assets for fiat money.
Swap – Clicking this button lets you exchange cryptocurrencies inside the wallet without using fiat money.
Tokens – This section displays all coins currently stored in the wallet.
NFTs – This section displays NFT tokens available in the wallet.
The Trust Wallet user interface is straightforward and intuitive, so a few minutes would be enough to figure everything out, even if you have never used crypto wallets.
Key Features
Trust Wallet can be used for different purposes: buying, staking, and exchanging digital assets, as well as storing and managing stablecoins and NFTs.
Buy
With Trust Wallet, you can sell and store your assets and buy over 60 cryptocurrencies using a credit or debit card.
Stake
Trust Wallet users are enabled to stake cryptos and earn revenue for their holdings.
Exchange
Trust Wallet uses a built-in decentralized exchange that can be used, for example, for swapping BEP-2 for BEP-20 tokens.
Trust Wallet Fees
Trust Wallet is free to download and use. The application does not require any subscription as well.
Trust Wallet does not charge fees or commissions for in-app transactions and swaps. However, users have to pay a network fee when executing the transactions.
Trust Wallet only charges a 1% fee for purchasing cryptocurrencies within the app. This fee goes on top of the fees charged by third-party exchanges. Users can avoid this fee if they hold a minimum of 100 Trust Wallet native tokens – TWT.
Using Trust Wallet
Thanks to the user-friendly and intuitive interface, the application is easy and smooth and supports various operations with crypto assets. Let's investigate the most common operations.
How to Download Trust Wallet
You can download the Trust Wallet app from AppStore or Google Play store on Android and iOS devices. You can also find the download links on the Trust Wallet download page.
Trust Wallet is also available as a Chrome, Brave, Opera, and Edge browser extension. To install the extension, go to https://trustwallet.com/browser-extension and click the Get Trust Wallet button.
Both the application for mobile wallet and the browser extension are completely free to download and use.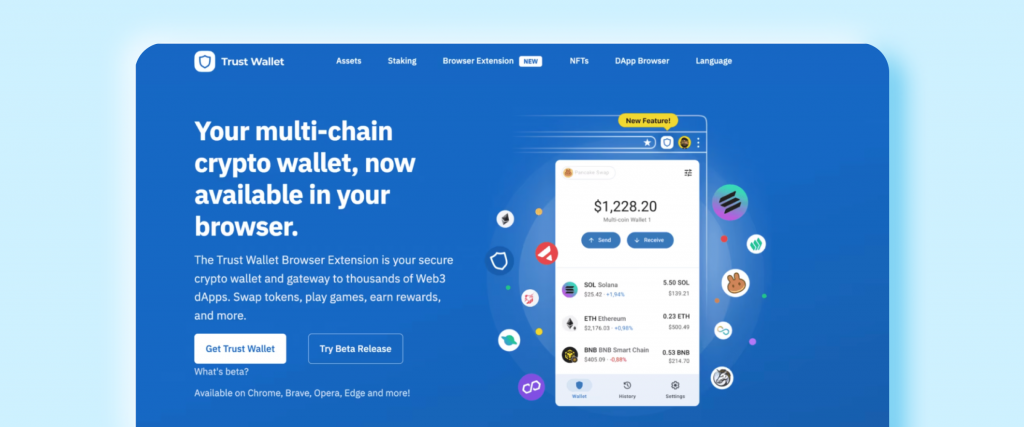 Then follow the instruction of your browser to install the extension. For example, in the Chrome browser, click the Add to Chrome button on the Chrome store.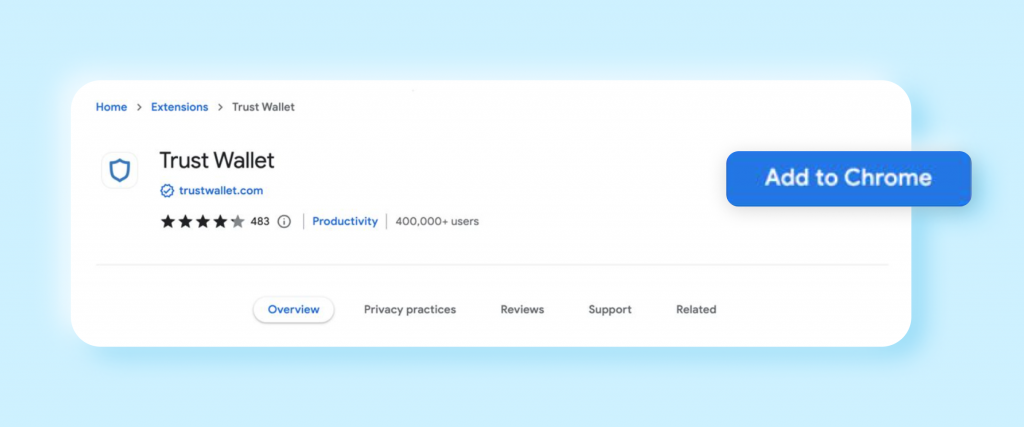 How to Create a Wallet
Creating a wallet starts when you first enter the app. It is an effortless procedure and takes only a couple of minutes.
1. Open the app and click Get Started.
2. Select the I don't have a wallet option.
3. Create your password, confirm it by re-entering it, and finally, scan your fingerprint or face to make access to your wallet secure and convenient.
4. Back up your wallet using an automatically generated seed phrase. This information is unique and cannot be restored if lost, eventually leading to the loss of all your assets in the wallet as well. Therefore, it is vital to store private keys securely.
5. Your wallet in the app is created.
You can create an unlimited number of wallets. To add more wallets to your account, go to Settings -> Wallets and repeat the described procedure.
How to Buy Crypto with Trust Wallet
Buying crypto with Trust Wallet is quick and easy. To buy a crypto token, proceed as follows:
1. From the list of available tokens, select the one you want to buy.
2. Click Buy.
3. Enter the amount of fiat currency you want to spend. Trust Wallet automatically calculates the amount of crypto coins you can get for the specified amount of fiat money. It's important to note that Trust Wallet does not sell crypto; all crypto purchases are made via third-party providers. Trust Wallet searches for the provider that offers the best rate for your purchase.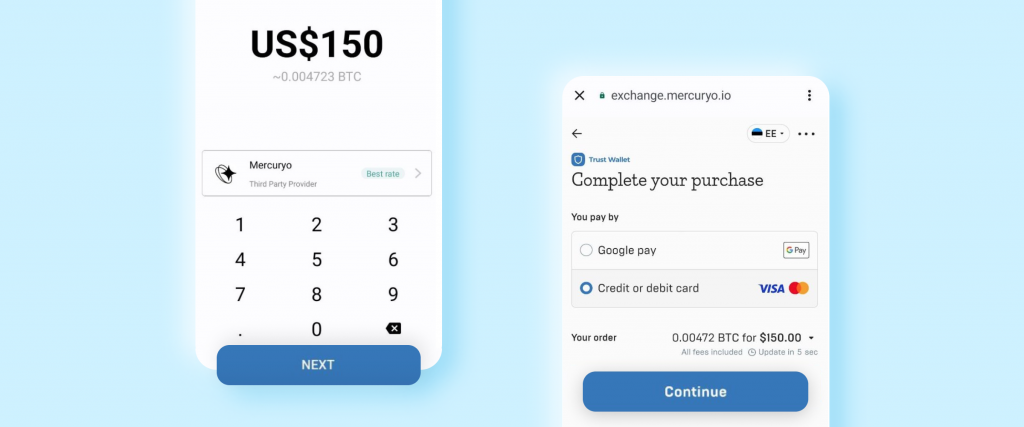 4. Click Next and select the payment method to finish the purchase of the crypto coin.
How to Receive Cryptocurrency with Trust Wallet
Receiving crypto assets from another person to your Trust wallet is as easy as buying them.
1. Select the coin you want to receive from the token list and click Receive.
2. Show the generated QR code to the person who wants to send you crypto, or copy your wallet address and send it to the person. You can deposit funds to your Trust Wallet directly from the exchange using the app. To do this, click Deposit from the exchange and follow the instructions.
How to Send Crypto with Trust Wallet
1. Find the coin you want to send in the list of available tokens.
2. Enter the address and the number of coins in the corresponding fields.
3. Click Continue.
How to Withdraw From Trust Wallet
The process of withdrawing cryptocurrencies from Trust Wallet is similar to buying.
*Note that you can not directly withdraw your money from Trust Wallet to a bank account; instead, you must first send your tokens to a trusted exchange, like Binance.
1. In the list of available tokens, find a token you want to withdraw from Trust Wallet.
2. Click the Swap button.
3. Withdraw from Trust Wallet to an exchange.
4. Sell your crypto for FIAT.
5. Withdraw from exchange to your bank account.
Unique Features of Trust Wallet
Along with the basic wallet features, such as buying, selling, and receiving crypto assets, Trust Wallet offers specific features such as swap, staking, NFT, and dApp.
Swap
Swap is a non-custodial currency exchange. This feature lets you exchange coins directly in the wallet without using fiat money. Trust Wallet supports token swaps in the ERC20 and BEP2 networks.
To use the swap option in Trust Wallet, click Swap in the main menu and specify the tokens you want to exchange, then click Preview Swap.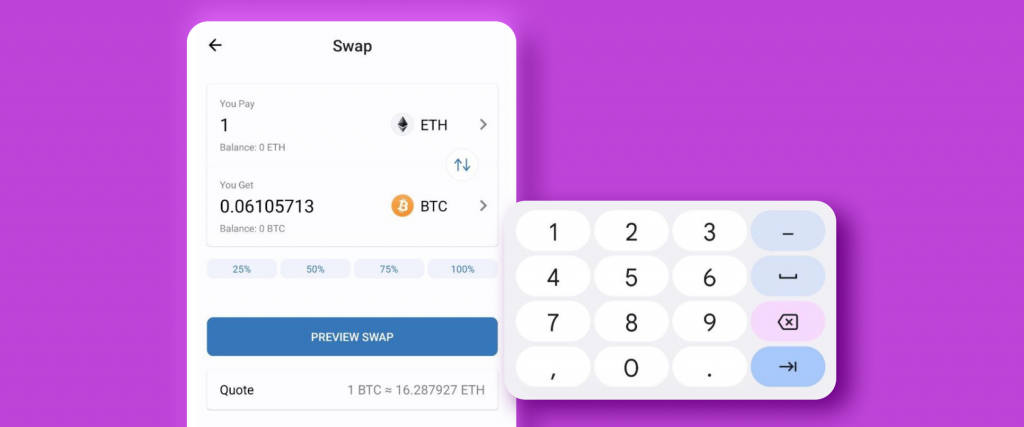 However, before swapping your coins in the Trust Wallet, you must confirm them. This allows the smart contract of the DEX exchanger to use a certain amount of the token. This step is also a security measure for token holders since the confirmation limits the number of tokens a smart contract can spend on behalf of a user. You can swap your tokens immediately after the confirmation.
Staking
Trust Wallet can be used for cryptocurrency staking. The following coins are available for staking: EVMOS, DOT, SOL, OSMO, ATOM, KAVA, LUNC, XTZ, TRX, and BNB.
To stake a coin, select it from the list and click Stake.
On the staking page, you can see the available balance and the number of coins already staked, APR (Annual Percentage Profit), and the lock-up period. Each coin has its lock-up period. And some coins support flexible staking, meaning you can withdraw money anytime.
After you click Stake, you will be asked to enter the stake amount and select a validator.
As the staking ends, a percentage of the profit will be automatically credited to the Trust Wallet balance.
dApp
The Trust Wallet has a built-in Web3 browser for interacting with decentralized applications (dApps).
Via this browser, you can open applications created on blockchain technology, including decentralized exchanges and NFT marketplaces.
To use this feature, go to the Browser section to find the most popular decentralized applications, such as DeFi, Smart Chain, Yield Farming, Games, Exchanges, and others.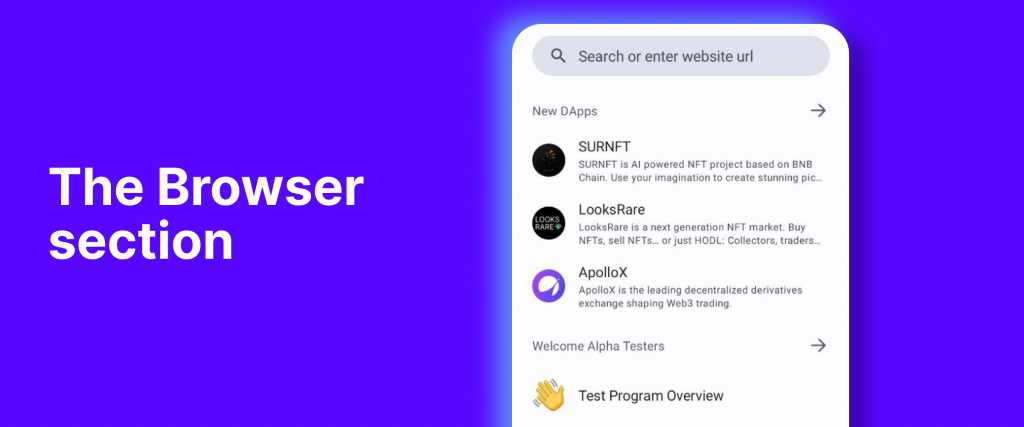 Using this browser, you can perform different crypto-related operations: trade on exchanges, use loans, buy NFTs, etc. Unlike most dApps, this one works quite quickly and smoothly.
It is essential to mention that the dApp browser is only available for Android devices.
NFT
Trust Wallet allows storing of NFT tokens. It supports tokens on the Ethereum, Solana, Polygon, Gnosis Chain, Ronin, BSC, Optimism Ethereum, Avalanche C-Chain, and Arbitrum networks.
You can send and receive NFT tokens as you send and receive cryptocurrencies. The only difference is that you must manage NFTs in the corresponding NFT tab.
Trust Wallet Token
Trust Wallet token, TWT, appeared on Binance Smart Chain in 2020. It is a BEP-20-based token that gives a lot of benefits to Trust Wallet users.
TWT token holders receive discounts on cryptocurrency purchases in Trust Wallet and when using DEX services. Also, TWT holders can participate in managing the Trust Wallet through the DAO and vote on proposals to upgrade the wallet.
The maximum volume of TWT is set at 1 billion, with about 25% of this amount being in use. The token is traded on some crypto exchanges; however, you can only buy it directly in the Trust Wallet.
Pros & Cons of Trust Wallet
Trust Wallet is a multifunctional and user-friendly decentralized crypto wallet. The wallet enables its users to store their assets for the long term and, at the same time, enjoy all the benefits of a standard cryptocurrency exchange.
Among the many advantages of Trust Wallet, the following should be mentioned:
Multi-cryptocurrency support – As mentioned before, Trust Wallet supports multiple cryptocurrencies and blockchains. You can store all your tokens in one crypto wallet instead of having separate wallets for each blockchain. This dramatically simplifies interaction with the Web 3.0 ecosystem and allows you to respond quickly to all market changes.
Flexibility -Trust Wallet allows users to buy cryptocurrencies from third-party platforms such as Wyre, MoonPay, and Simplex.
Compatibility – Trust Wallet is compatible with most dApps, which allows its clients to use the advantages of various crypto platforms simultaneously.
Individual access key – A unique seed-phrase technology (a random combination of code words) guarantees the security of client funds in the wallet and related services. Users can store their private keys on their devices. Also, Trust Wallet has a backup function for easy data recovery.
Staking and rewards – When staking, you can receive a fixed income in interest debited to the wallet.
Fiat currencies support – Trust Wallet supports purchasing of cryptocurrency by debit or credit card. The feature is available for any of the 16 supported fiat currencies.
NFT support – Besides standard cryptocurrencies, Trust Wallet supports various NFT assets created on the Ethereum or BNB Chain blockchains. In addition, you can link your crypto wallet to almost any decentralized NFT marketplace to purchase the tokens using the wallet connect function. This makes Trust Wallet one of the most convenient wallets in the NFT ecosystem.
Easy inter-wallet transfers – Users can quickly transfer cryptocurrencies from other wallets to Trust Wallet using a secret recovery phrase, private key, or Keystore file.
Flexible fees – Trust Wallet doesn't charge fees for swaps or transactions in-app. However, users must pay the corresponding network fee, which may vary depending on network congestion.
Though Trust Wallet seems an excellent crypto wallet for almost any operation with multiple digital assets, it has some drawbacks:
No cold storage – The wallet does not support hardware wallets for offline cold storage of digital assets, though a cold wallet is considered more reliable and secure.
Poor customer support – Trust Wallet's users can contact the support team via email, but direct client support is relatively poor.
No iOS dApp browser – dApp browser is available only for Android users since Trust Wallet had to remove this feature on its iOS application to comply with the regulations of the Apple store.
No desktop version – Though Trust Wallet can be used via the browser extension, such as Trust Wallet Chrome extension, there is no Trust Wallet for PC.
Conclusion
Thanks to its simple UI and support for multiple blockchain networks and digital assets, Trust Wallet gained popularity and became one of the most widely used software wallets. This decentralized crypto storage lets users store and trade digital assets and interact with DEXs and NFT marketplaces using a single application. Trust Wallet also encourages its users to gain additional earnings by staking tokens. Besides, the wallet is non-custodial, thereby preserving the privacy and anonymity of its users. These features make Trust Wallet an all-in-one solution for all crypto-related needs.