Blockchain Twitter.
Social media giant Twitter has caused a stir by mysteriously switching out its well-known bird logo for the infamous image of a Shiba Inu, synonymous with the cryptocurrency Dogecoin. This unexpected move sent DOGE's value skyrocketing, leaving many speculating about Twitter's motive behind the change.
While no official statement has been made by the company, some have speculated that the support of high-profile DOGE enthusiast Elon Musk could be playing a role. After all, the tech billionaire has been known to publicly endorse the meme-inspired token, even going so far as to offer to buy a happy meal from McDonald's with DOGE if the fast-food chain would accept it as payment.
Just Bark.
Elon Musk may be known for his work with SpaceX and Tesla, but he's also become a major player in the world of cryptocurrency. And when it comes to Dogecoin, Musk has been particularly vocal.
A Shiba Inu dog online meme served as the inspiration for the creation of Dogecoin, which debuted in 2013 as a joke. Nonetheless, despite its humble beginnings, it has amassed a loyal following and a fervent fan base.
Musk declared Dogecoin to be his favorite cryptocurrency in his first tweet about it in 2019, and he has since gushed about it on blockchain Twitter. In fact, the coin's value has been significantly impacted by his tweets, causing prices to rise every time he mentions it.
Earlier this year, Musk tweeted simply "Doge" – a tweet that resulted in a huge increase in the coin's value. He's also stated his belief that Dogecoin is the "people's crypto." It's clear that when Elon Musk talks about Dogecoin, people in blockchain Twitter listen.
Musk's tweets have also sparked debate, with some accusing him of market manipulation. Today, the coin appears to have risen by at least 25% as a result of Twitter's action, with it trading above $0.10 at the time of writing.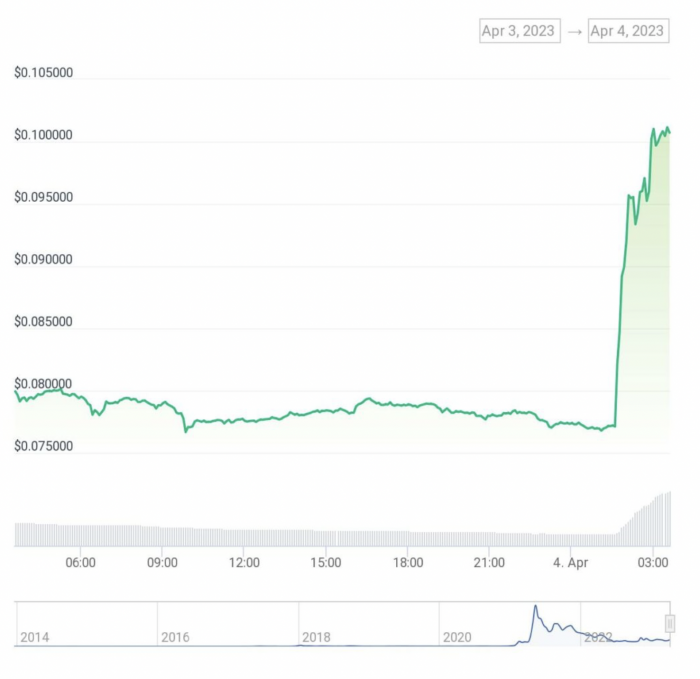 He tweeted in May 2021 that Tesla will no longer take Bitcoin as payment for its vehicles owing to worries about the environmental effects of Bitcoin mining, which caused the price of Bitcoin and other cryptocurrencies, such as Dogecoin, to fall precipitously. Despite the uproar, Musk is still well-liked in the cryptocurrency community, and today he could have contributed to DOGE's double-digit gain.