Crypto price prediction cannot be that positive this time. Bitcoin and other cryptocurrencies fell on Tuesday, behind the stock market and on the verge of breaking through key price levels as the euphoria behind cryptos evaporated.
Bitcoin's price has dropped approximately 1% in the last 24 hours to just above $30,000 after falling below that psychologically key threshold in earlier trade and falling below $29,700 at times. The largest cryptocurrency remains at the bottom of a band of $30,000 to $31,000 that has reigned for most of the past month.
According to Alex Kuptsikevich, an analyst at broker FxPro, the first cryptocurrency fell below $30,000 on Monday, in contrast to the good performance of stock indexes, which reached multi-month highs making this crypto price prediction not that favorable.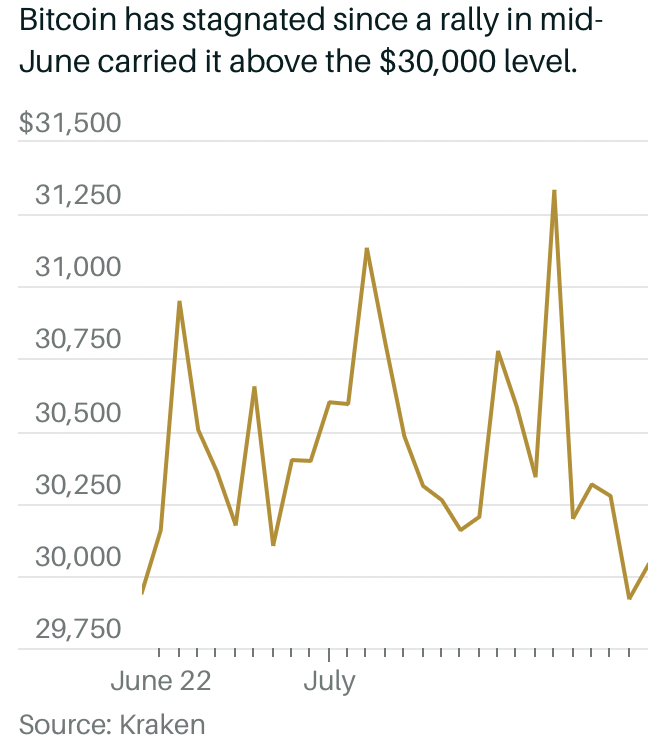 Indeed, although the stock market has risen in recent days, with the Dow Jones Industrial Average, S&P 500, and Nasdaq Composite all gaining ground, cryptos have lagged, losing steam from recent bullish events.
Bitcoin reclaimed the $30,000 mark in June, buoyed by fresh applications for spot Bitcoin exchange-traded funds and a partial victory in a landmark court dispute between token maker Ripple and the Securities and Exchange Commission last week.
Nonetheless, the momentum, as does the technical market picture, looks to be waning. Prices may drop even further before finding support.
According to Katie Stockton, managing partner at technical analysis firm Fairlead Strategies, Bitcoin is still in a tight consolidation period below long-term resistance in crypto price prediction. A retreat appears to be on the horizon, with initial support at the rising 50-day moving average around $28,700 and long-term secondary support around old resistance near $25,200.
Beyond Bitcoin, Ether, the second-largest cryptocurrency, fell by more than 1% to $1,900. Smaller tokens or altcoins performed worse, with Cardano and Polygon losing 3%. Memecoins had similar behavior, with both Dogecoin and Shiba Inu losing 2%.