Cryptocurrencies' ETFs remain a hot topic in the trading space, and amid waiting on the SEC to approve the Bitcoin spot ETF applications, top investment firms have adopted Ethereum ETF trading.
Bitwise company is an asset management firm that deals with crypto ETFs, NFT and Web 3 investment opportunities and has announced its adoption of exchange-traded funds tied with the Ethereum futures contracts. 
This move happened along with other big financial firms that added Ether futures ETFs to their offerings, which can majorly affect the price of the native currency of the Ethereum blockchain.
ETF futures contracts refer to a collection of approved assets and securities that are traded at an agreed future price. According to the latest Bitwise news, starting October 2nd, investors have already started speculating on securities' future prices denoted in ETH on the Chicago Mercantile Exchange.
Why Is Ethereum Future ETFs News Important?
Ethereum and Bitcoin are the top two cryptocurrencies, driving much influence on the crypto market and adopting Web 3 developments on their blockchains.
Some crypto enthusiasts prefer Ethereum over Bitcoin due to its lucrative ecosystem, where many Web 3.0 and DeFi projects are held, and many Web 3 developers create, share, and monetise their digital assets on the Ethereum chain.
Therefore, this move may boost confidence in Ethereum, considering part of regulated trading securities offered by major investment firms like Bitwise, VanEck and ProShares.
The decision of the SEC to approve this step came hurriedly before the U.S. government shutdown on Oct 1st due to funding legislation requirements. Some predict this move to motivate policymakers to tentatively approve the spot Bitcoin ETF that has been debatable for years, while others think it is unlikely to affect the SEC's position.
How Does This News Affect ETH Price?
This announcement means that crypto investors are more likely to show confidence in ETH and purchase more of the native token. Additionally, the corporate and marketplace pressures to trade ETH ETF will drive prices higher as ETH's demand increases.
We analyse the Ethereum price chart to track the changes and effects of this announcement. With the chart, we apply the exponential moving averages in three different periods to identify trend changes as below.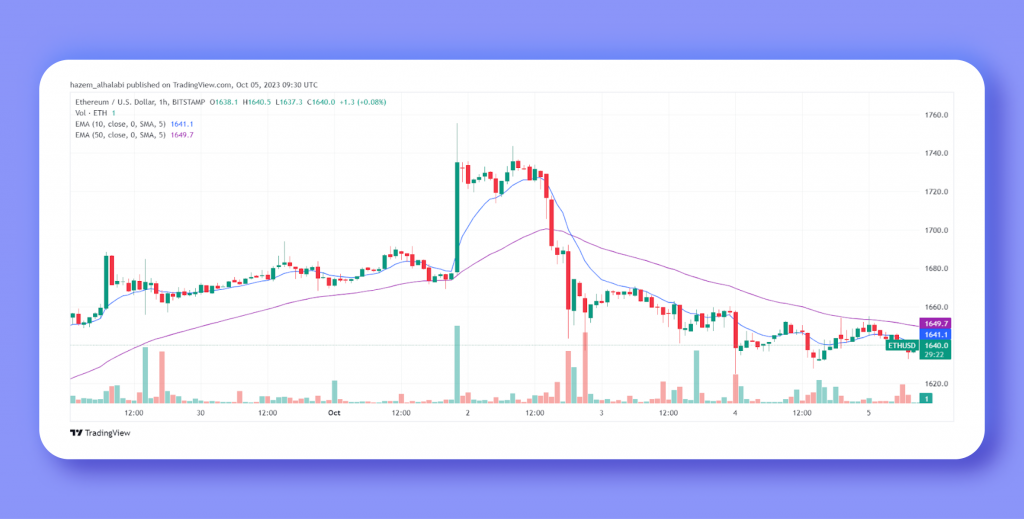 We use 10-day and 50-day EMA indicators to track trend changes. We see that prior to the announcement, the 10-day line was moving over the 50-day line, indicating an upward trend. However, the news even witnessed a sharp increase far from the 50-day EMA line.
This refers to the price jump between the night of 1-Oct and 2-Oct from $1,675 to $1,730, an increase of over 3% in 12 hours. However, in the coming 12 hours, the price settled down and returned to previous levels or even lower, fluctuating around $1,650 from 3-Oct onwards.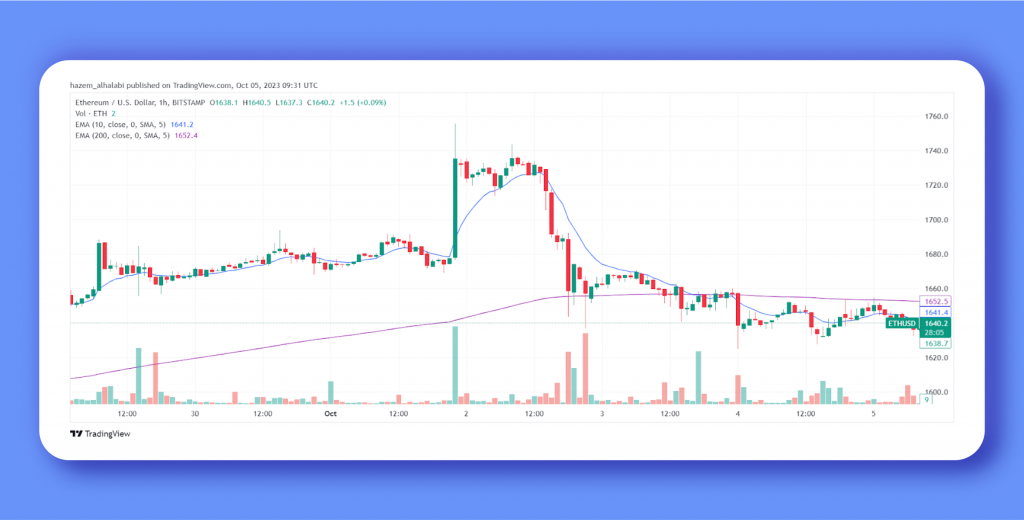 To track future price expectations, compare the 10-day EMA indicator to the 200-day line, and we see that towards the end of 3-Oct, the 10-day line crossed below the 200-day line and continues moving under it as it fluctuates close and away from the 200-day EMA line.
This price instability is anticipated because not every trade will respond the same to the news, especially since crypto enthusiasts have always been against the SEC regulation of cryptocurrencies, which may inhibit the currencies' free flow, which is the notion of decentralisation.
Vitalik Buterin's Enshrinement Proposal
Ethereum's co-founder Vitalik Buterin, who has been leading most of the platform's updates, mentioned in his last blog about enshrining the blockchain protocols, suggesting Minimal Viable Enshrinement for its ecosystem.
This means simplifying the structure of the Ethereum mainnet and migrating robust applications and complex development efforts to layer-2 networks and coordinating chains.
Buterin commented that this could lead to easier blockchain interaction and lower gas fees, taking congestion off the mainnet. Eventually, this leads to less centralised risks of total reliance on the complex Ethereum mainnet chain.
Should this suggestion be implemented, it will definitely reshape how DeFi and Web3 projects currently operate on the blockchain, causing mass changes to the ecosystem. However, it shall be done at the right time to avoid further clogging on the network and aggravated service blockage.