Solana, a high-performance blockchain network, is well known for its fast transaction speed and low fees. Moreover, it is a major player in the world of non-fungible tokens (NFTs), providing an efficient and scalable platform for artists, collectors, and creators to showcase and trade their digital assets. According to NFTGO, Solana holds second place in market share for NFT transactions after Ethereum.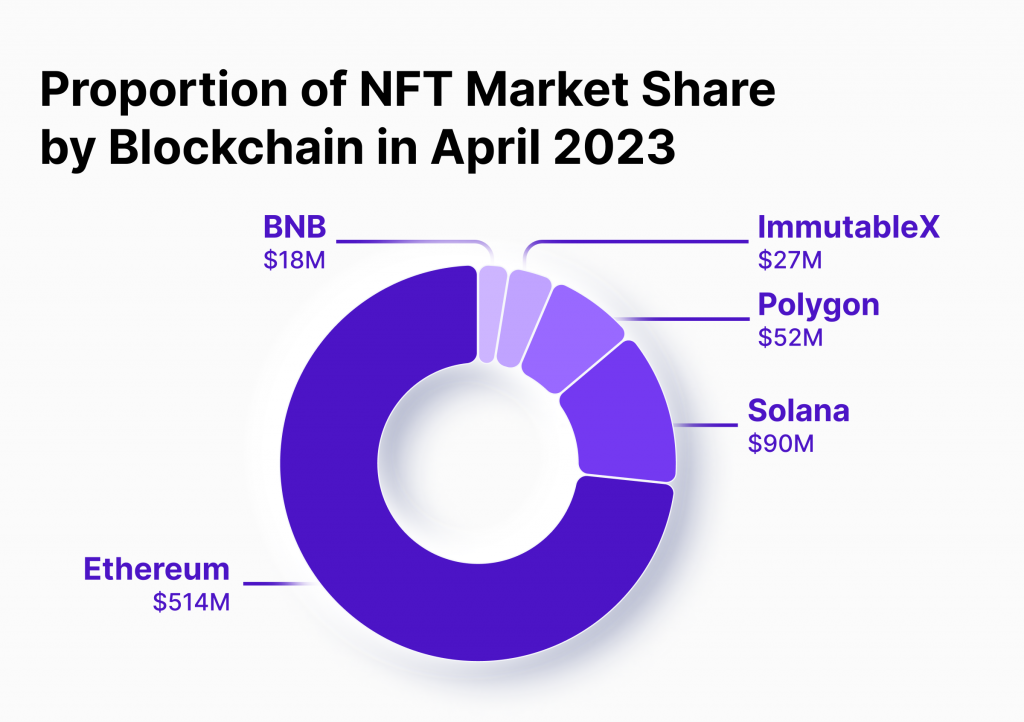 Magic Eden, built on the Solana blockchain, has emerged as a prominent NFT marketplace. This decentralized platform has gained popularity because of its user-friendly interface, low fees, and unique features. In this guide, we will explore what Magic Eden offers, its features, and how it compares to other platforms.
Key Takeaways:
Magic Eden is a popular platform for NFT trading that supports several blockchains, including Solana, Polygon, Bitcoin and Ethereum.
The platform has several unique features, including user-friendly UI, useful filters, analytics, secondary market sales royalties, and more.
Many different NFT trading platforms are available besides ME, so it is important to compare features and costs to find the right platform for you.
What is Magic Eden?
Magic Eden is one of the largest NFT marketplaces today. It began as a Solana-based NFT trading platform but has since expanded to support Ethereum, Polygon, and Bitcoin blockchain networks.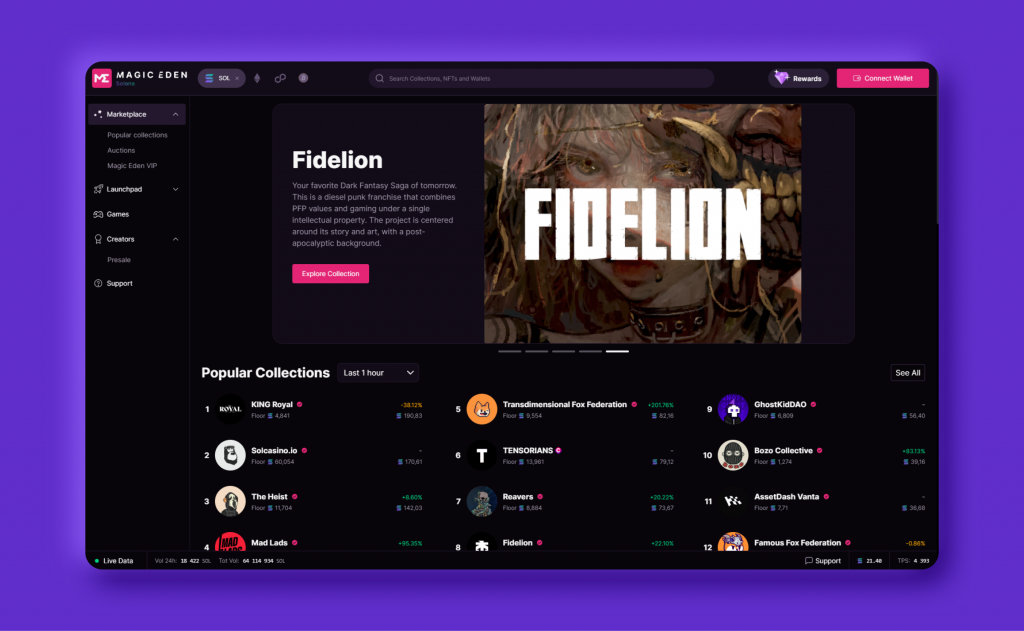 Launched in September 2021, the platform quickly gained traction in the NFT ecosystem. While most NFT marketplaces operate on the Ethereum blockchain, Magic Eden's decision to build on Solana has proven to be beneficial in the long term. Solana's scalability and low transaction fees have made the platform an attractive option for traders and creators alike.
Previously, Magic Eden led in terms of Solana NFT daily trading volumes. However, Tensor, another prominent platform for trading SOL NFTs, surpassed Magic Eden in April of 2023 and is currently ranked first as of October 2023 with a share of 56% for daily SOL NFT transactions, while the Magic Eden marketplace has just 38%.
Fast Fact
Solana blockchain can process up to 65,000 transactions per second, which is considerably faster than Ethereum's 30 TPS.
Unique Features of Magic Eden
The platform has a range of user-friendly and valuable features that set it apart from other marketplaces. Let's take a closer look at them.
Launchpad: Minting and Vetting Platform
Magic Eden's Launchpad serves as both a minting platform and a vetting system. Creators can easily mint their NFTs on the platform with a seamless process that requires minimal technical knowledge.
However, not all projects are accepted. The Magic Eden NFT marketplace employs a rigorous selection process, accepting only 3% of applicants. This commitment to quality ensures that the marketplace maintains a high standard of excellence, enhancing the potential for secondary trading and providing dedicated development support.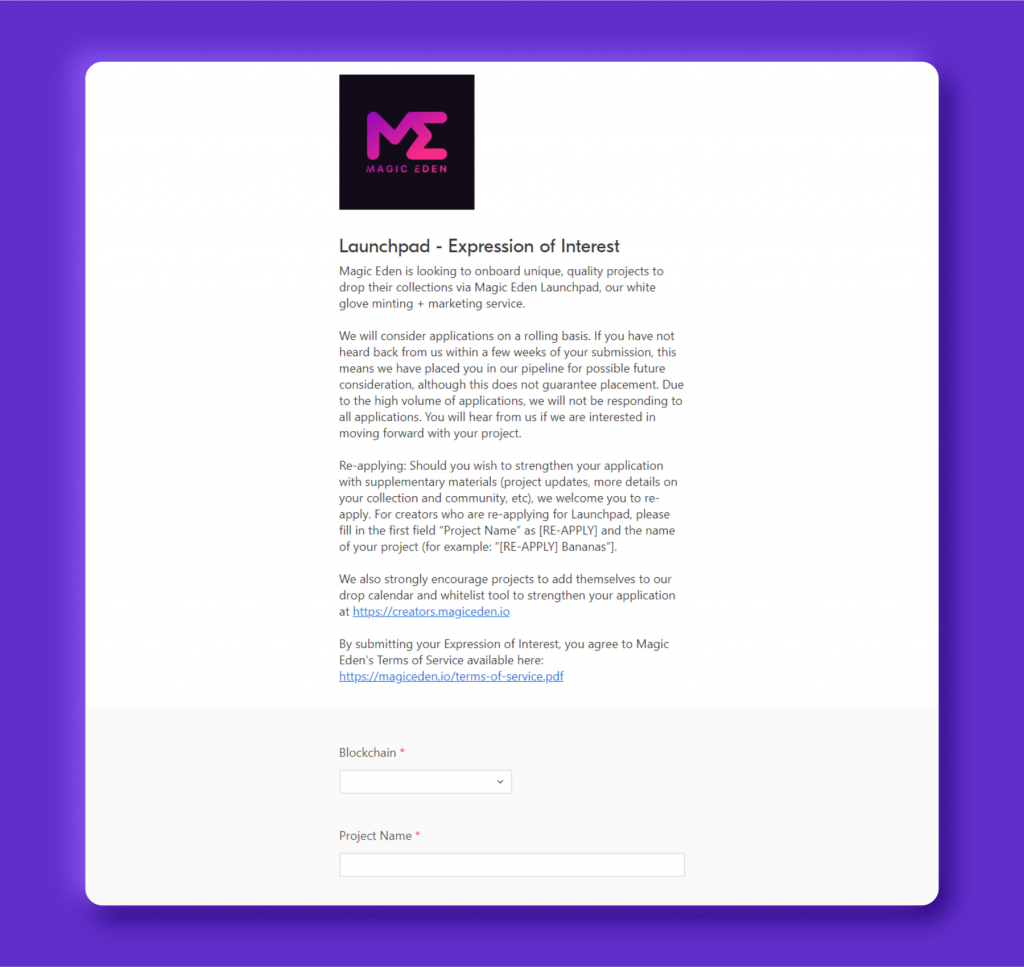 If you want to add your NFT collection to ME, simply complete the online form and wait for a Magic Eden team representative to get in touch with you. Within two days, you should receive notification of acceptance or rejection. The site will let you sell your tokens once the listing has been approved.
New Releases and Popular Collections
Magic Eden keeps traders informed about upcoming launches and highlights popular collections. The "Live & Upcoming" section provides valuable insights into new releases, allowing investors to stay ahead of the curve.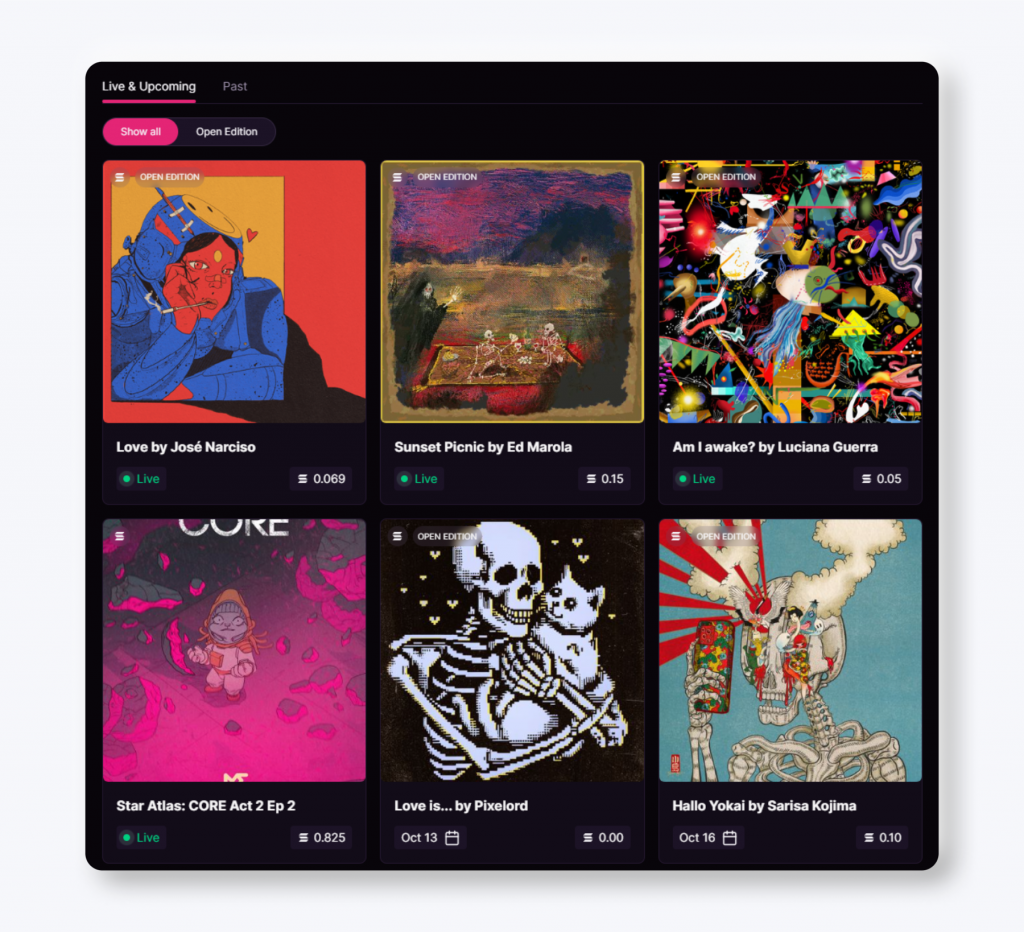 Similarly, the "Popular Collections" page showcases the projects that have been garnering attention in the NFT space. These trends allow traders to make informed decisions and capitalize on popular NFTs.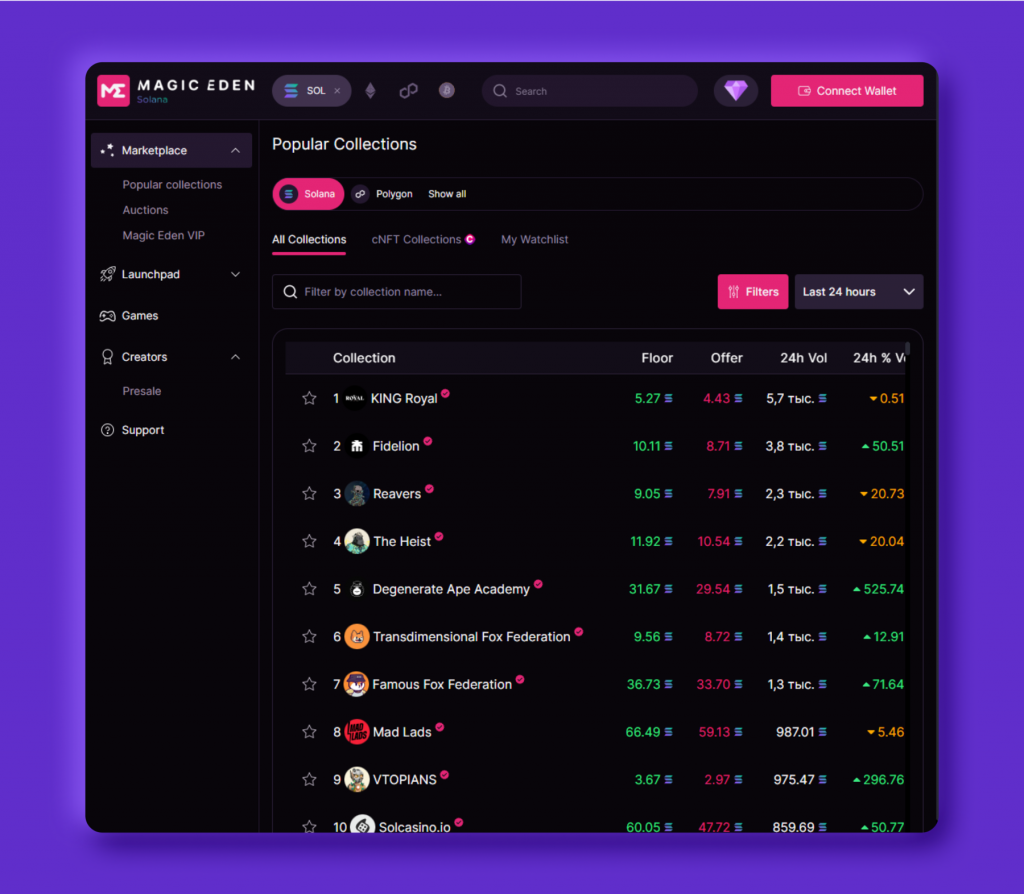 Traits Filter
Magic Eden includes a "Traits Filter" feature that allows users to narrow down their search based on specific traits, such as background, clothing, and eye design. This feature streamlines the process of finding NFTs that align with the user's individual preferences.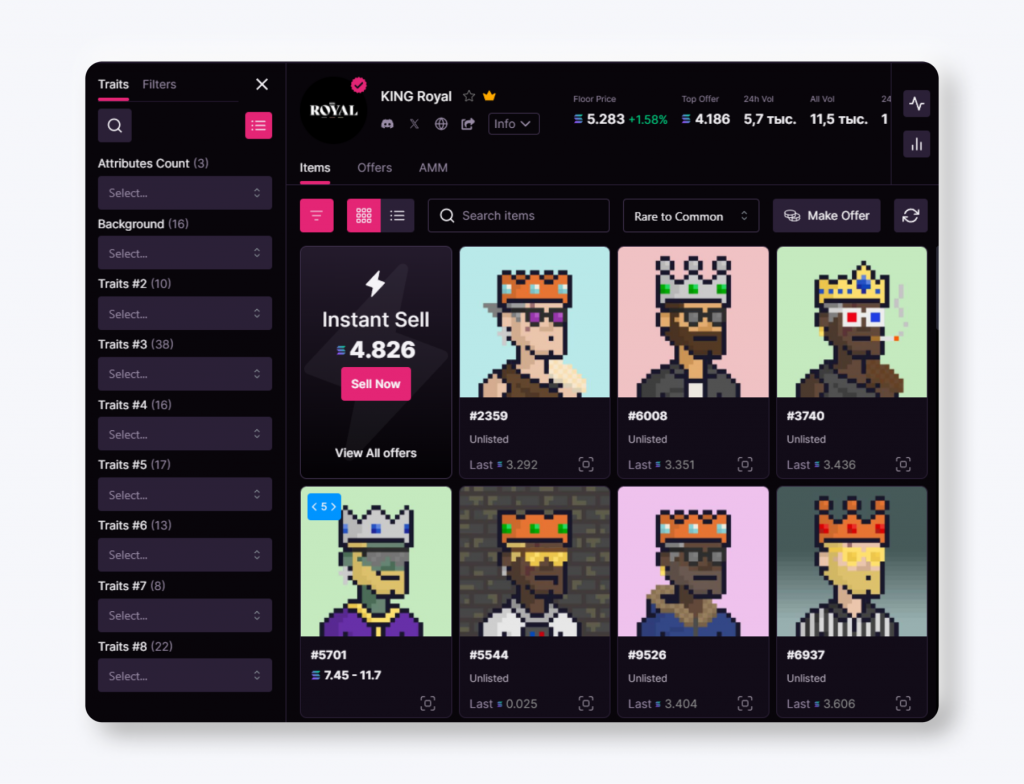 Analytics and Statistics
Additionally, the platform provides valuable information and analytics about the popularity and value of different NFTs, helping traders make informed investment decisions.
For example, you can analyze the price fluctuations of certain pieces and collections, top offers, trading volumes, general information about collections and their artists, and more. You can also view lists of top buyers and most active traders. This data can help traders identify potential opportunities in the Magic Eden NFT market.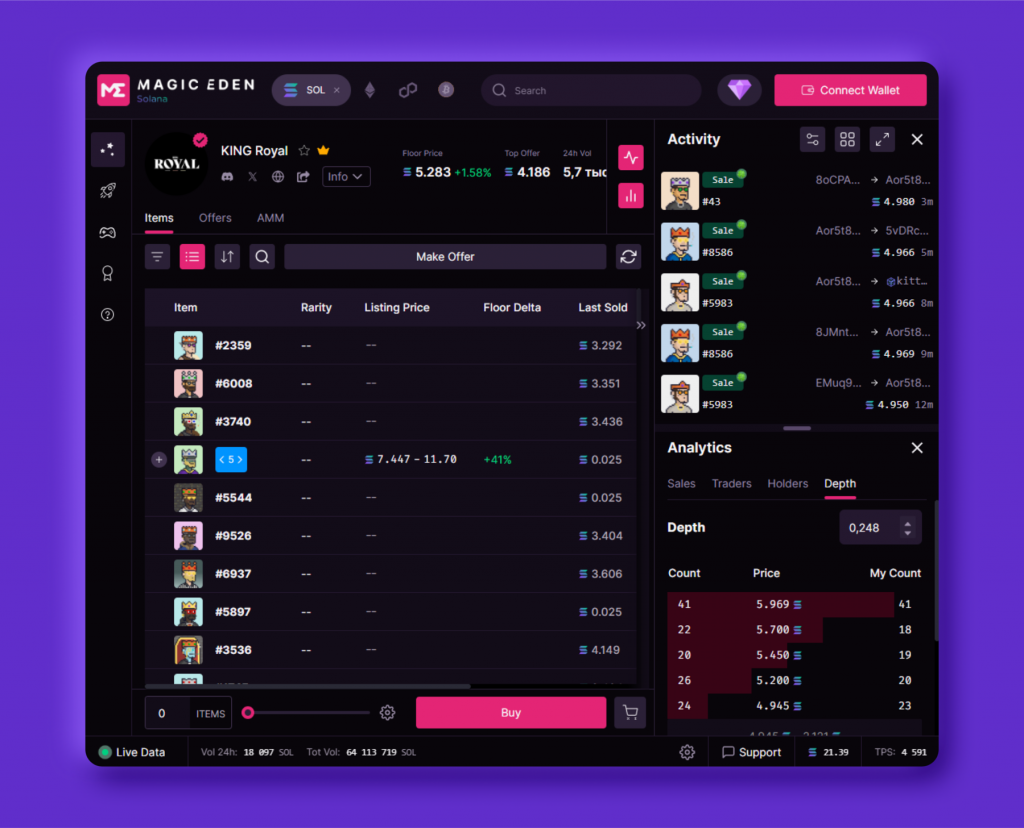 Community-Oriented Approach
Magic Eden places a strong emphasis on community engagement and decentralization. Users have the opportunity to provide feedback and connect with like-minded individuals through the official Discord channel.
Furthermore, Magic Eden distinguishes itself by focusing on both the primary and secondary markets. Unlike many other NFT marketplaces, Magic Eden allows authors to receive royalties from secondary Solana NFT sales. This unique feature contributes to a thriving NFT ecosystem and benefits both creators and traders.
Support of Other Blockchains
Magic Eden goes beyond its Solana roots by extending support to other blockchains as well. In addition to Solana, Magic Eden today supports Polygon, Ethereum, and Bitcoin. Thus, when using Magic Eden, traders have access to the leading blockchain for NFTs (ETH) and Magic Eden ordinals, special non-fungible tokens based on the Bitcoin blockchain.

Fees for Using Magic Eden
One of the standout advantages of Magic Eden is its low fee structure. The marketplace charges no fees for listing NFTs, making it an attractive option for artists seeking a cost-effective platform to showcase their work. Additionally, transaction fees are set at just 2%, providing a competitive edge compared to other marketplaces. Magic Eden's transparent fee structure ensures that both creators and traders can maximize their earnings.
To participate in activities on the Magic Eden platform, users require a Solana-compatible wallet. The recommended option is the Phantom wallet, which is easily downloadable as a mobile app or a desktop browser extension.
Magic Eden vs. Other NFT Marketplaces
Besides Magic Eden, there are many big platforms on the NFT market offering NFT trading services. Let's take a look at some prominent marketplaces and compare them with Magic Eden.
Magic Eden vs. OpenSea
When comparing Magic Eden to OpenSea, one of the most prominent NFT marketplaces, several key differences emerge. While OpenSea operates on the Ethereum blockchain, Magic Eden was originally built on Solana (though it supports the ETH network as well). This distinction has significant implications for transaction fees and scalability. Magic Eden's 2% transaction fee, coupled with Solana's low fees, offers an attractive alternative to the higher fees associated with Ethereum-based platforms.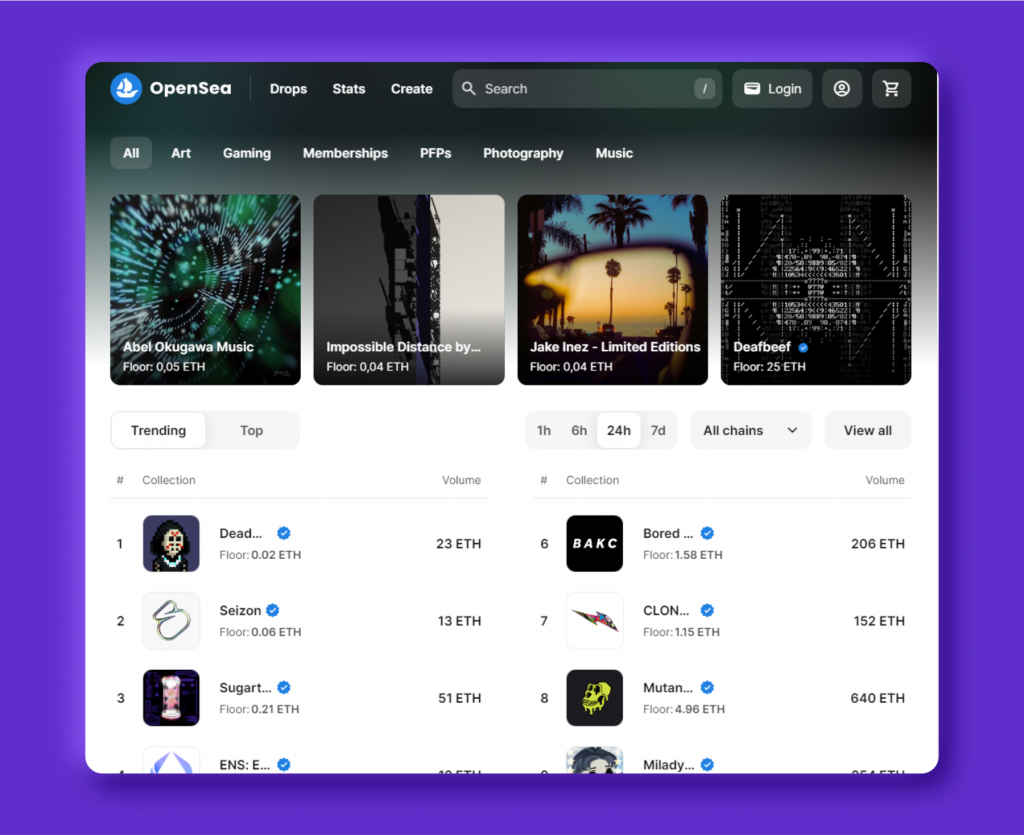 Additionally, Magic Eden's focus on quality control and its unique features, such as the Launchpad and community engagement, set it apart from OpenSea.
Magic Eden vs. TensorTrade
When comparing Magic Eden and Tensor, two prominent NFT marketplaces on the Solana blockchain, it becomes evident that their approaches differ significantly. While Tensor is gaining traction by adopting the strategy of targeting professional traders and providing loyalty rewards, Magic Eden took a different path.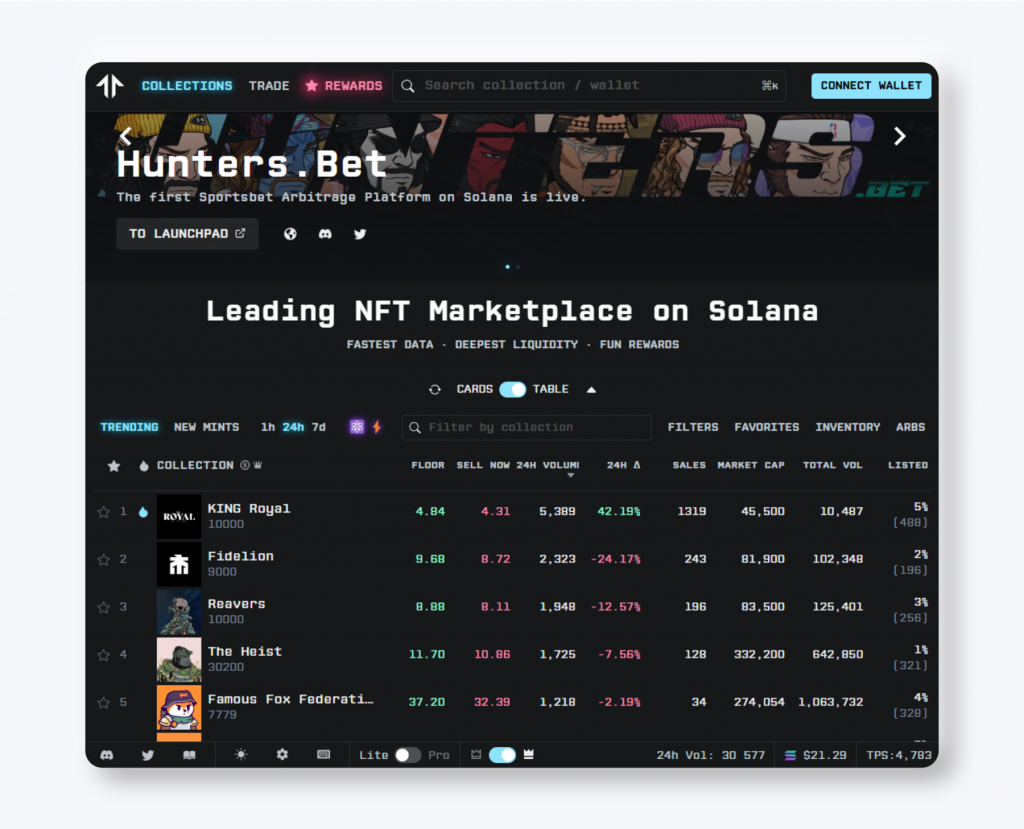 Furthermore, Magic Eden initially established itself on Solana and quickly emerged as a dominant player in the market. However, instead of solely focusing on one blockchain, the platform expanded its reach to other networks such as Ethereum, Polygon, and Bitcoin. This expansion may have led to the team becoming overly focused on their own priorities and internal processes, potentially neglecting the needs and preferences of their core user base on Solana.
As a result, Tensor has capitalized on this opportunity, effectively increasing its market share and surpassing Magic Eden in SOL NFT trading volumes, becoming the first marketplace for Solana NFTs.
Tiffany Huang, the head of marketing and content at Magic Eden, commented on the situation and talked about the company's present and future plans on X social media: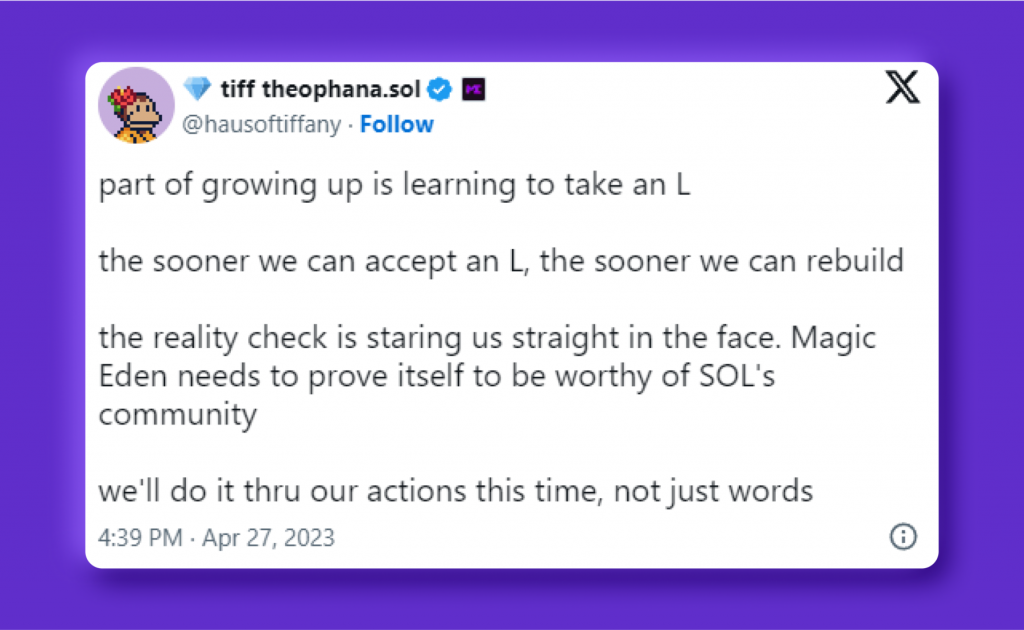 Magic Eden vs. Solanart
Magic Eden distinguishes itself with its lower fees, charging 2% transaction fees compared to Solanart's 3%. Additionally, Magic Eden offers a wider selection of NFTs and has gained greater popularity among traders. While Solanart remains a viable NFT marketplace on Solana, Magic Eden holds a strong position on the Solana blockchain due to its unique features and growing user base.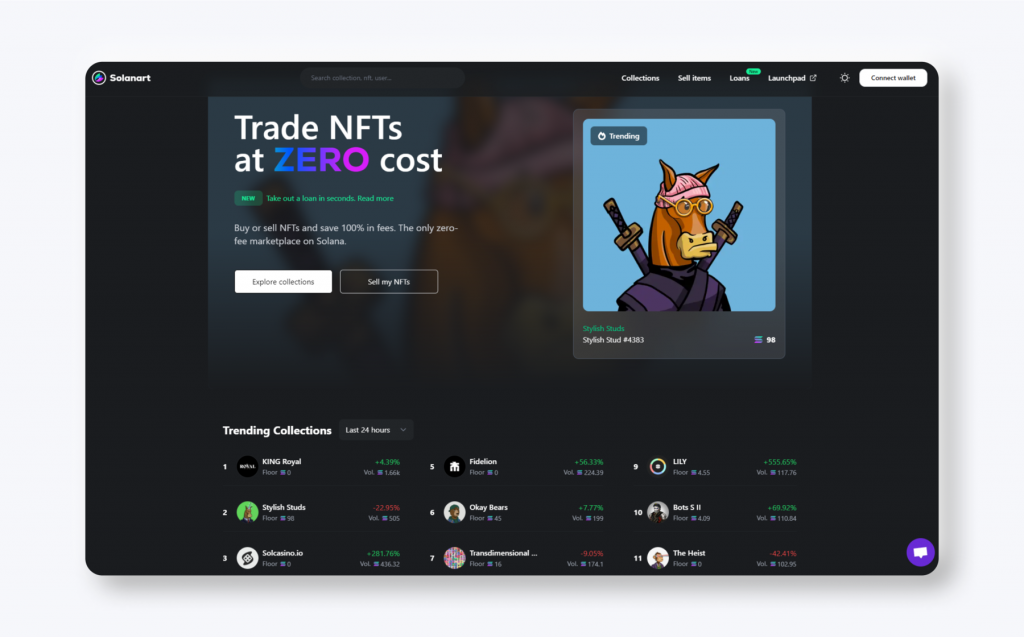 Fast Fact
Early 2023 has seen Solana's performance suffer due to the problems encountered in 2022, including irregular transactions and the collapse of FTX, plus intense competition from Ethereum, Polygon and Aptos. Because of this, Solana's trading dynamics are steadily declining.
How to Buy NFTs on Magic Eden
Purchasing NFTs on Magic Eden is a relatively straightforward process. However, if you're new to NFT trading, it might take some time to familiarize yourself with the platform.
Get a Crypto Wallet
To start buying NFTs on Magic Eden, you will need a Solana-compatible wallet, such as the Phantom Wallet. This wallet will be used to store the SOL tokens, which are required to make purchases on the platform.
Connect Your Wallet to Magic Eden
Once the wallet is set up, you can connect it to Magic Eden by clicking on the big pink button at the top-right corner of the website and then following the instructions provided. This step is crucial as it allows users to access their funds and interact with the marketplace.
The service offers users a wide selection of wallets to connect. Users can choose the one that best meets their needs, such as a hardware wallet, a software wallet, or a mobile wallet. Do not forget about security practices, and make sure to store your private key safely.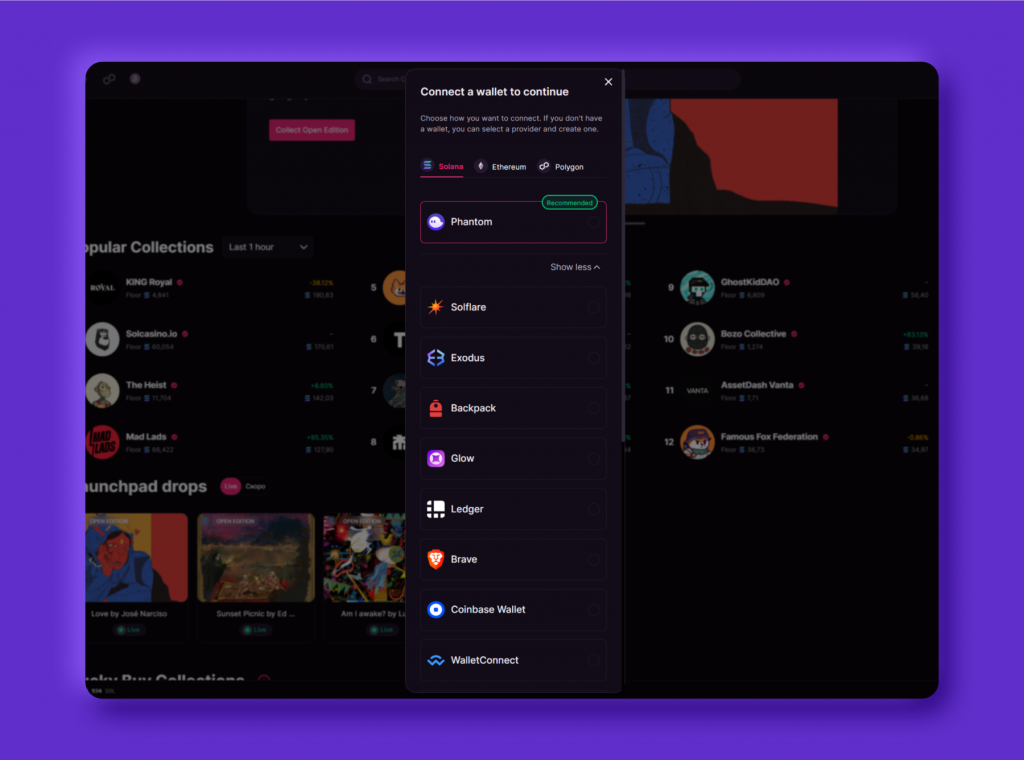 Buy SOL Tokens
Before trading, you need to purchase SOL tokens in order to use the platform. This can be done using a variety of methods, including buying them with credit cards and cryptocurrencies, by using decentralized or centralized exchanges.
Find the Right NFT Collection
After connecting the wallet, you can explore the various NFT collections available on Magic Eden. These collections feature a wide range of digital art, music, and other unique digital assets.
Before making a purchase, it is essential to research the NFTs thoroughly. Each NFT comes with its own set of attributes and characteristics, which can significantly impact its value and desirability. Each project has different details, including prices, data on trades, total trading volumes, and more.
Buy the Token
Once you have identified the NFTs you want to purchase, you can proceed with the buying process. Magic Eden offers two options for purchasing NFTs: the "Buy Now" option and making an offer to the seller. The "Buy Now" option allows users to instantly purchase an NFT at the listed price. On the other hand, "Make an Offer" gives users the opportunity to negotiate with the seller and potentially secure a better deal.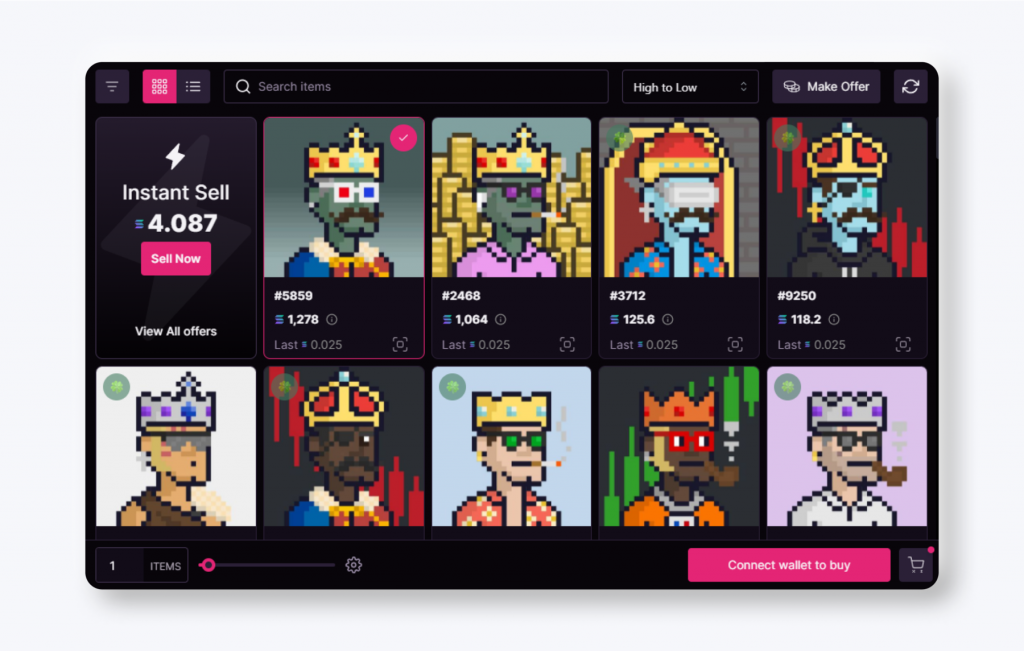 Become an NFT Owner
After completing the purchase, the NFTs will be transferred to your wallet, where they can be stored or traded on other platforms. It is important to note that each transaction on the Solana-based NFT marketplace requires SOL tokens to cover gas fees and facilitate the transfer of ownership.
Conclusion
With its user-friendly interface, low fees, and unique features, Magic Eden has attracted a significant user base and has simplified the process of buying, selling, and minting NFTs. Magic Eden's commitment to quality control, community engagement, and the secondary market sets it apart from other NFT marketplaces.
FAQs
What is the "Buy Now" option?
The "Buy Now" option is a quick and easy way to purchase an NFT from Magic Eden. This option allows users to instantly purchase an NFT at the listed price without the need for negotiations with the seller.
Once the "Buy Now" option is selected, the NFT is transferred to the user's wallet, and the purchase is completed. It is important to note that each transaction on Magic Eden requires SOL tokens to cover gas fees and facilitate the transfer of ownership.
How can I purchase SOL tokens?
If you are interested in buying SOL tokens, you will need to open an account with a cryptocurrency exchange. There are several leading exchanges that allow users to buy and sell SOL tokens.
Among the options are Coinbase, Binance, ByBit, Kraken, and others. Kraken, for example, offers a wide range of features and services related to Solana, including staking, earning rewards, trading for NFTs and futures, and swapping for other assets. It's important to note that the price of Solana can fluctuate based on market conditions, so it's recommended to do your own research before making a purchase.
What are the benefits of using Magic Eden?
Magic Eden offers several benefits for users. It has a user-friendly interface that makes it easy for users to find and purchase the NFTs they desire. The platform also has low fees, making it a cost-effective option for buying, selling, and minting NFTs.
Furthermore, Magic Eden has a commitment to quality control, which helps ensure the safety and reliability of the platform. Lastly, Magic Eden's secondary market allows users to buy and sell NFTs on the platform, providing users with additional options for trading NFTs.