Solana is now known as one of the most promising blockchain ecosystems, attracting investors and developers alike. As of September 2023, there are more than 9 million Solana (SOL) token holders all over the world, according to Coin Carp's data.
As the Solana ecosystem continues to grow, it's crucial to have a reliable and secure Solana wallet to manage your assets. In this article, we will explore the best Solana wallets in 2023 and help you choose the best one for your needs.
Key Takeaways:
Solana is a decentralised blockchain that is powered by the Solana token, SOL.
Solana wallets differ with respect to features, DeFi participation, hardware compatibility, and user-friendliness.
The best wallet options for SOL include Phantom Wallet, Atomic Wallet, Exodus, Coinbase Wallet, Solflare, and Ledger Nano S Plus.
Phantom Wallet – Outstanding Solana Wallet for Staking
Phantom Wallet is our top pick for Solana staking. With over 3 million users, Phantom Wallet has gained immense popularity within the Solana community. This non-custodial wallet is available on Android and iOS and as a browser extension for Chrome, Brave, Firefox, and Edge.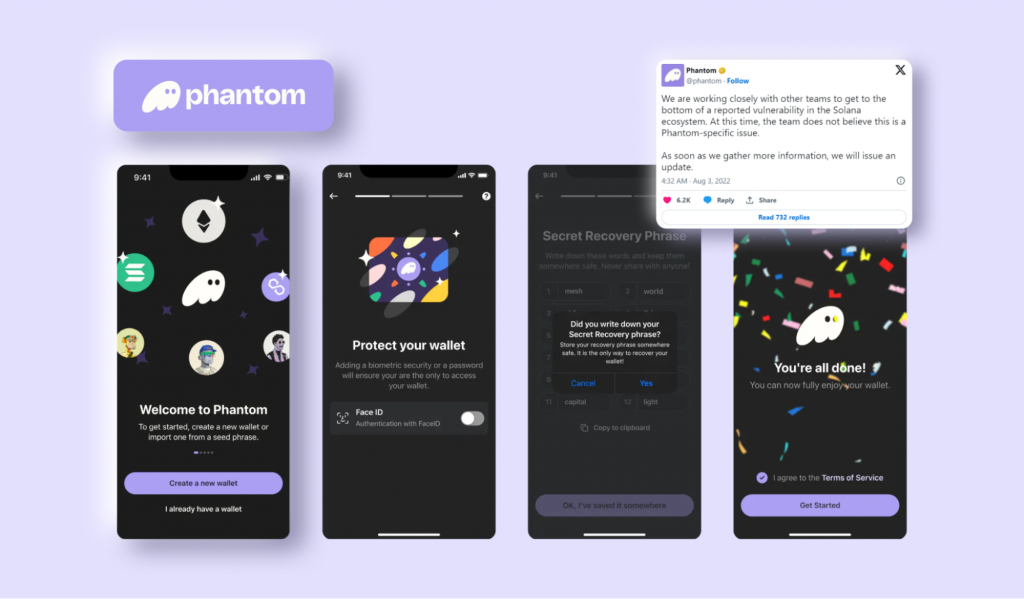 Phantom Wallet offers a seamless user experience and a wide range of features that make it a standout choice for Solana staking. Users can stake SOL tokens with ease by choosing the validator and tokens they want to stake.
In addition to staking, Phantom Wallet is one of the best Solana wallet for NFTs, allowing users to manage and trade their NFT collections directly from the wallet. The wallet also features token-swapping capabilities, with integration with popular decentralised exchanges like Raydium. Users can swap tokens with just a few clicks, making it convenient for trading activities. Furthermore, Phantom Wallet supports SPL tokens, enabling users to gain access to various DeFi investment possibilities within the Solana ecosystem.
Phantom Wallet does have some drawbacks that may not be suitable for everyone. One of the main concerns is the lack of fee customisation, which experienced users often use.
Phantom's security measures are another concern. In 2022, the massive hack wiped out many Phantom users' Solana holdings. It is estimated that more than 8,000 addresses were compromised with damage of at least $5 million.
Key Features:
Supports Solana, Ethereum and Polygon blockchains
Supports NFT Trading: Solana-based NFTs and collectables can be managed and traded in a dedicated section.
Staking Capabilities: Select a validator and stake your tokens with maximum convenience.
Hardware Wallet Integration: Protect your crypto assets with Ledger cold wallet integration.
Solflare – Perfect for Cross-Platform Usage
Solflare, developed by Solana Labs, is a well-established and widely used Solana wallet, the first SOL wallet ever created. Solflare is an extension available on Chrome, iOS, and Android that provides comprehensive support for a range of Solana investments, particularly in the DeFi sector.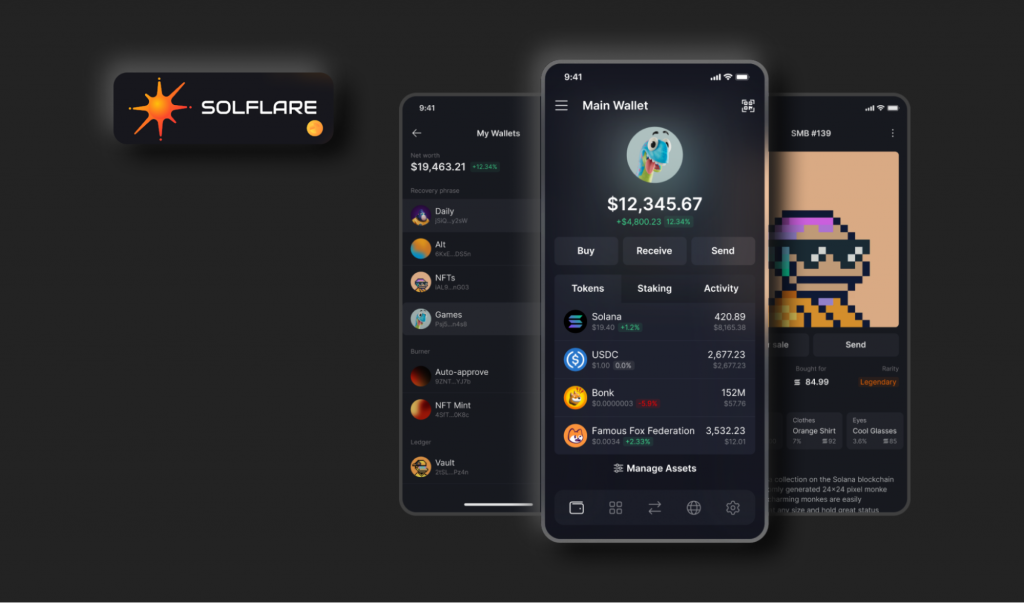 One of the key features of Solflare is its support for SPL tokens and Solana DeFi protocols. Users can explore a wide array of DeFi investment opportunities and engage with decentralised finance activities seamlessly. Additionally, Solflare offers Solana staking capabilities, allowing users to stake Solana tokens and earn rewards.
This Solana wallet app provides support for hardware wallets, such as the Ledger, as well as phishing protection that warns users about malicious sites and other decentralised applications. Aside from that, it offers live support 24 hours a day and offers extensive educational materials through Solflare Academy.
The major drawback of this wallet is that it only supports the Solana blockchain. Users will not be able to store other cryptocurrencies, such as Ethereum, Bitcoin, or Litecoin, using Solflare.
Key Features:
Multi-Platform Asset Management: Solflare is available on both desktop and mobile, offering users the convenience of managing their assets on the go.
Resources for Education: Solflare Academy provides a comprehensive library of educational materials to help users understand the basics of cryptocurrency and blockchain technology.
Live Customer Support: Solflare offers live customer support, allowing users to receive assistance with any questions or issues they may have.
Exodus – Provides the Best Hardware Support
Exodus wallet is a crypto wallet that offers more than 290 crypto assets. Exodus stands out as the best option for Solana investors who use Trezor hardware devices, providing compatibility with Trezor Model One and Trezor Model T and offering investors enhanced security.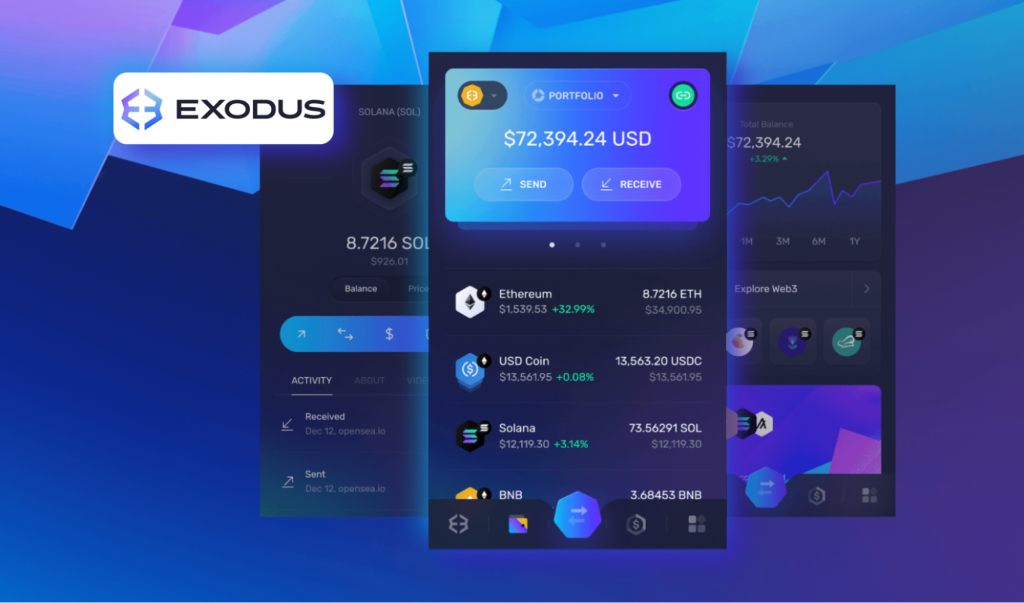 Exodus also offers a wide range of functionalities comparable to Solana-software wallets. Users can swap tokens using Exodus, as well as trade Solana NFTs with ease.
In addition, Exodus enables users to stake SOL tokens directly from the wallet. By selecting the "Earn Rewards" option. The wallet also provides access to various DeFi protocols both on the Solana network and in other blockchain environments.
Key Features:
Intuitive UI: Even if you are a complete novice, Exodus has an intuitive interface that makes it easy to use.
Solana DeFi: Enjoy access to a wide array of DeFi protocols and exchange platforms within the Solana ecosystem and across other blockchains.
Token Swapping: Support for using major decentralised exchanges to exchange tokens seamlessly.
Atomic Wallet – Best for Multiple Chains
Atomic Wallet is an excellent choice for investors looking to manage multiple blockchains, including Solana, with a single wallet. Supporting more than 500 tokens, Atomic Wallet offers a large selection of exchange options.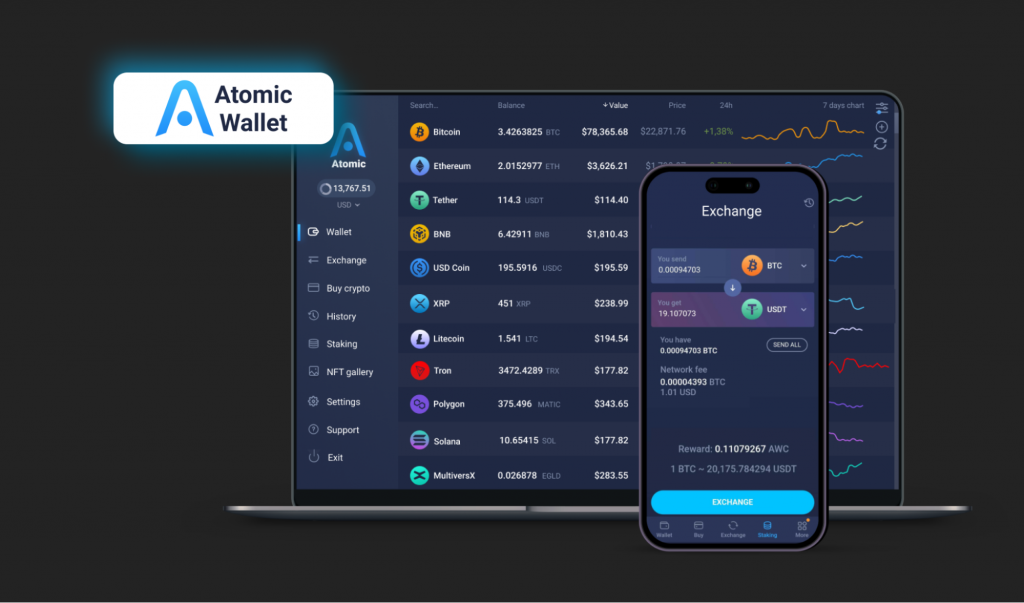 For Solana investors, Atomic Wallet provides seamless token-swapping capabilities. Users can connect their wallets directly to Atomic Wallet or utilise WalletConnect for a broader range of trading options. The wallet also supports NFTs on the Solana network, enabling users to send and receive NFTs on various blockchains.
Furthermore, Atomic Wallet allows users to stake SOL tokens and earn rewards. With a user-friendly mobile app, Atomic Wallet is accessible from any smartphone, making it convenient for on-the-go investors. While the wallet is not compatible with hardware wallets, it remains an effective way to manage Solana investments and interact with several blockchain networks.
Key Features:
Supports a Multitude of Tokens: Atomic Wallet supports over 500 crypto assets, including Bitcoin, Ethereum, and Solana.
Provides Live Support: Users can receive live customer service assistance if they have any questions or concerns.
Offers High Level of Anonymity and Security: Users are not required to complete KYC verification to use Atomic Wallet.
Coinbase Wallet – The Best One for Novices
For beginners entering the cryptocurrency market, Coinbase Wallet is an excellent option for managing Solana and other digital assets. Coinbase Wallet supports all the major blockchains and provides a user-friendly interface that facilitates interactions with decentralised finance (DeFi) activities.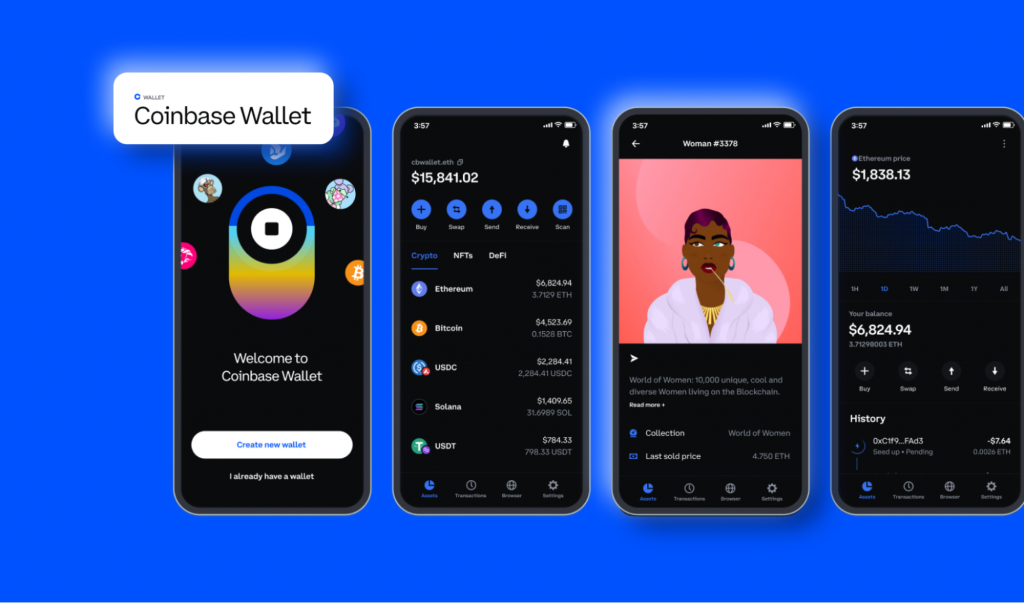 With Coinbase Wallet, users can securely store, send, and receive SOL tokens. The wallet provides a seamless connection to the Coinbase exchange, allowing users to buy and sell Solana and other cryptocurrencies easily. Coinbase Wallet also supports Solana NFTs, enabling users to manage their NFT collections directly within the wallet.
Additionally, Coinbase Wallet offers a range of security features, including biometric authentication and hardware wallet integration. The wallet is available on both iOS and Android, providing accessibility for all types of users. With its intuitive interface and beginner-friendly features, Coinbase Wallet is an ideal choice for those new to Solana and cryptocurrencies.
Key Features:
User-Friendly UI: Trading on exchanges is quick and easy thanks to the wallet's interactive interface.
Wide Selection of Cryptocurrencies: There are more than 10,000 cryptocurrencies to choose from.
Offers Passive Income Through 100+ Tokens: Invest in different cryptocurrencies and earn interest.
Supports NFT Trading: Coinbase has an in-exchange marketplace where anyone with an account can create, trade, or simply collect digital tokens.
Bonus: Ledger Nano S Plus – Best Solana Hardware Wallet
For users looking for enhanced security, the Ledger Nano S Plus is the best Solana hardware wallet in 2023. This compact device provides secure storage for various cryptocurrencies, including SOL.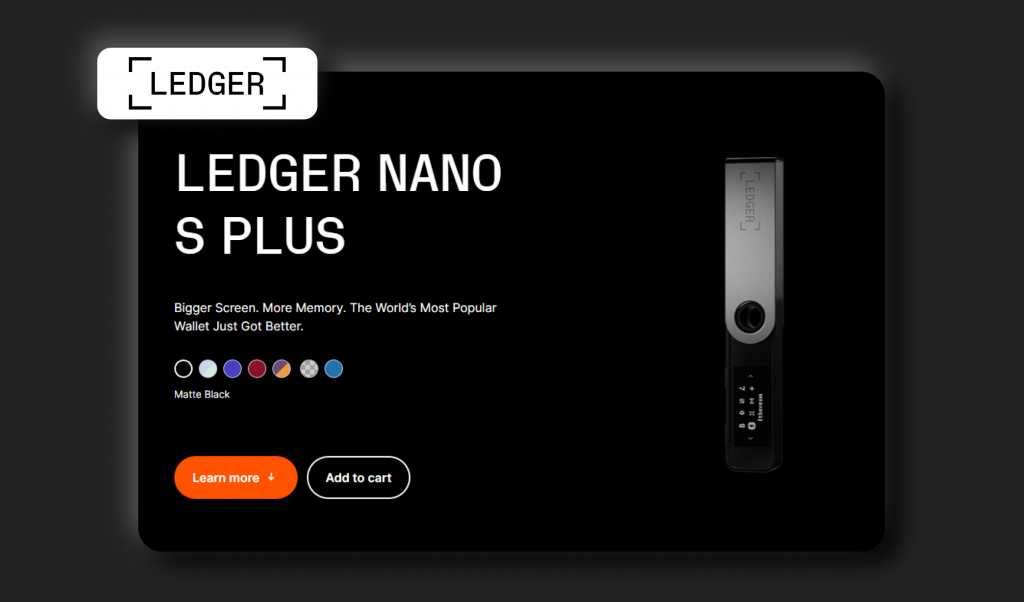 By connecting the Ledger Nano S Plus to your computer or smartphone, you can manage your digital assets offline, protecting them from potential security threats. However, the Ledger Nano S Plus might be more suitable for users with larger asset portfolios or those who prioritise maximum security over convenience.
What Is Solana?
Solana is a decentralised, blockchain-based ecosystem that is designed to provide scalability, security, and speed for decentralised applications (dApps). It is powered by the Solana token, SOL, which is used as the platform's native currency.
Distinctive Features of Solana
One of the main ideas of Solana is to enable developers to create apps that can scale to meet the demands of the global economy and to offer a solution more sophisticated to Ethereum. For example, Solana can process up to 65,000 transactions per second, whereas Ethereum can only handle approximately 30 transactions per second.
Solana is also designed to be environmentally friendly, using less energy than other leading blockchain networks. This is because Solana uses a combination of proof-of-history and delegated proof-of-stake consensus mechanisms for validating transactions in the blockchain.
In contrast to proof of work, in which miners define the next block in the chain, or proof of stake, an approach that uses staked tokens to determine the next block, Solana's proof of history uses timestamps as its method of defining blocks.
SOL Token
Today, SOL tokens rank among the top cryptocurrencies, ranking as the 9th biggest token by total market capitalisation. SOL tokens are used to pay for fees on the Solana network and are also used as a governance token. Holders of the SOL token have the ability to vote on proposed changes to the network.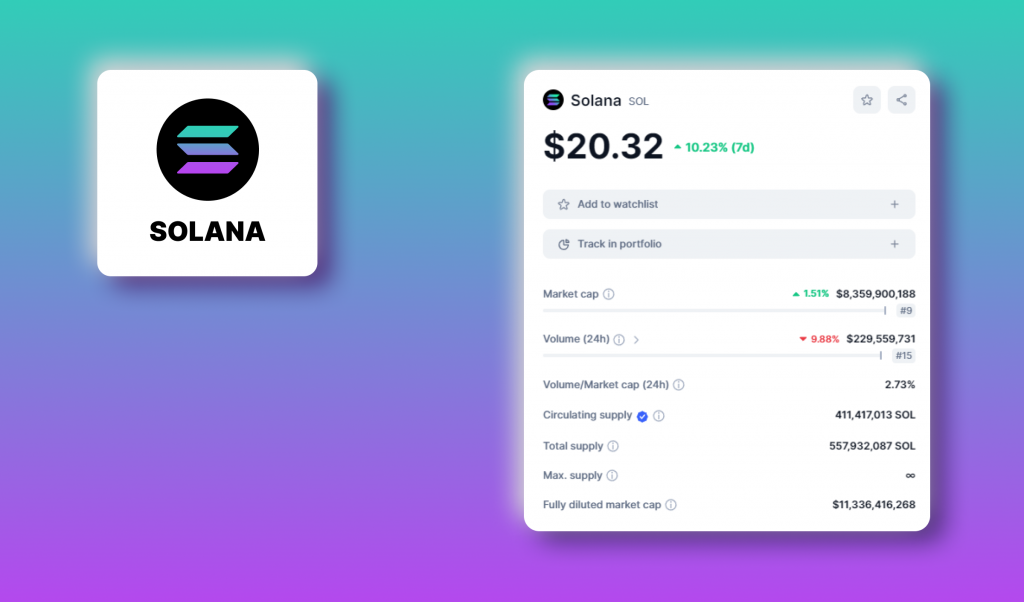 SOL holders can earn rewards by staking their tokens on many major platforms. The average reward for staking SOL tokens is 4.35%.
Things to Keep in Mind
Although most major crypto wallets offer high levels of security for storing crypto assets, users can lose all their funds if they fail to follow proper security measures.
First of all, always make sure to keep your private keys secure and never share them with anyone. A private key is a secret code that allows a person to authenticate and authorise transactions on a blockchain. It is only known to the user and is essential to the security of your funds. If someone gains access to your private key, he will be able to steal all of your savings.
Furthermore, use 2-factor authentication, always double-check the spelling of the recipient's wallet address and make sure it is correct, be careful not to click on suspicious links to avoid phishing attacks, and be knowledgeable of different scams that are extremely common in the crypto industry.
Fast Fact:
According to a 2021 study by Crypto Asset Recovery, as much as 20% of the entire supply of Bitcoin might be lost owing to lost private keys, which is a common crypto problem.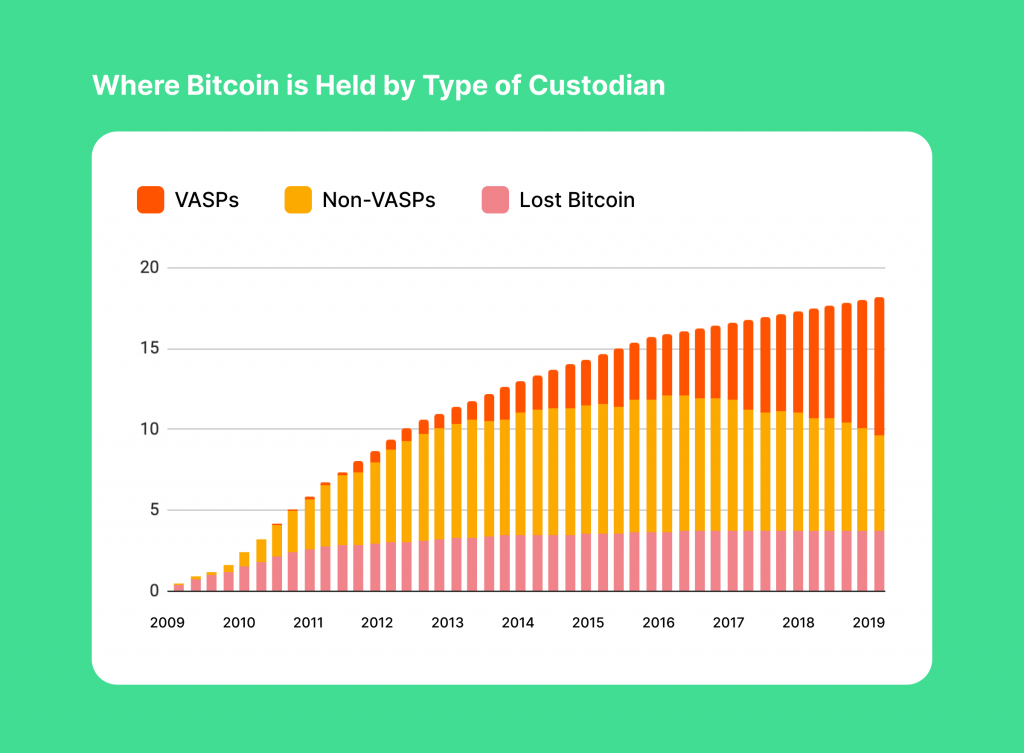 Also, if you hold your crypto long-term, consider using cold storage options like hardware wallets. These cold storage options help to secure your funds from hacking and theft, as the private keys are only stored on the physical device. Lastly, make sure to backup your wallet regularly and use a secure connection when accessing your wallet.
What Is the Best Solana Wallet?
Choosing an appropriate Solana wallet is a matter of personal preference and priorities. However, Phantom Wallet stands out as a good solution for Solana staking and offers a seamless user experience. Solflare, Exodus, Atomic Wallet, and Coinbase Wallet also provide excellent features and functionalities, catering to various requirements such as DeFi participation, hardware compatibility, and user-friendliness.
As well, Ledger Nano S Plus Ledger Nano X is a popular hardware wallet for Solana that offers maximum security. In addition to a broad range of cryptocurrencies, it is simple to use and provides a variety of benefits. The final choice ultimately depends on your needs and preferences.
FAQs
How to set up a crypto wallet?
Setting up a cryptocurrency wallet is relatively easy and straightforward. All you need is a computer or device with an internet connection and an internet browser. From there, you just need to follow the instructions provided by the wallet provider. Usually, you will need to download the wallet software, create a recovery phrase, and back up your private keys.
How to choose a crypto wallet?
Make sure to do your research on the wallet provider before downloading and using it. Look for reviews and security ratings. It is important to choose a wallet that is secure and offers a high level of protection. You should also ensure that the wallet is compatible with the cryptocurrency you are storing.
Which types of crypto wallets are available?
There are two major types of crypto wallets: online and hardware. Online wallets are the easiest to use, but they are not the most secure as they are constantly connected to the Internet. Hardware wallets offer the highest level of security as they store your keys offline. However, they tend to be quite expensive and less user-friendly.