Blockchain is a dynamic industry – every day brings something new. Fresh and innovative digital assets appear, offering you chances to engage and even make some money. However, a secure location for these assets is necessary, and that's where digital wallets come in: they help us store, convert, and transfer our digital assets securely.
WAX wallets have become increasingly popular among the many choices, particularly in the cryptocurrency, NFT, and Web3 gaming communities. In this article, we'll walk you through the five best WAX wallets of 2023, each offering a different set of tools for managing and securing your digital assets.
Key Takeaways:
WAX is one of the most recognizable web3 ecosystems to provide everything a brand needs to launch a successful NFT collection.
The WAX Cloud Wallet is the native wallet of the WAX blockchain. Other top WAX-compliant wallets include Ledger Nano X, TREZOR Model T, Scatter, and Anchor.
With features like staking, DeFi tools, and NFT inventory management, WAX wallets offer a comprehensive solution for managing your digital assets.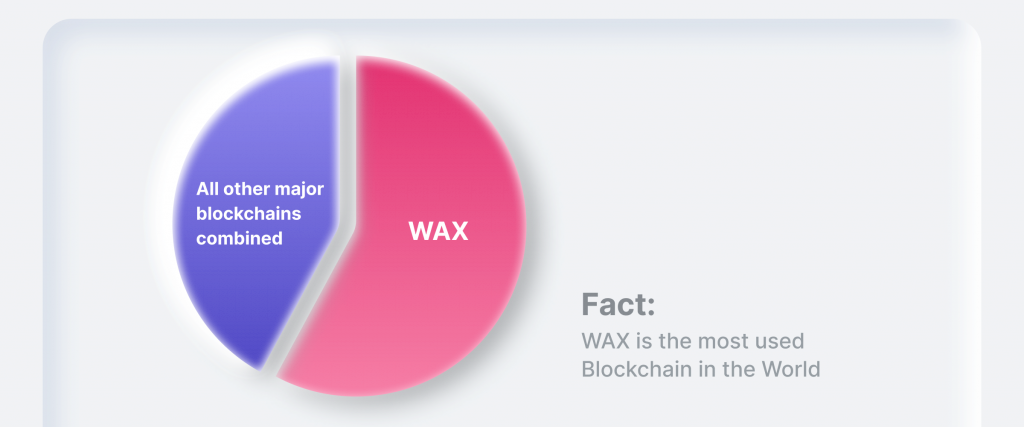 What Is WAX?
WAX, short for Worldwide Asset eXchange, is a unique blockchain platform designed for e-commerce transactions, with a particular focus on digital assets trading. This eco-friendly platform has made a name for itself in video games and virtual collectibles, becoming a key player in the bustling web3 environment.
For the note, WAX isn't just any blockchain platform; WAX is at the forefront, helping brands launch successful NFT collections. When it comes to NFTs, DApps, and video games, WAX stands out as one of the most frequently used and transacted blockchain ecosystems.
WAX's effectiveness is largely due to its technical setup. It uses a delegated proof of stake (DPoS) system compatible with EOSIO, a powerful blockchain platform. This combo allows WAX to reach high speeds and scalability, making it perfect for e-commerce needs.
OPSkins, its parent company and a former heavyweight in the global digital items marketplace supports WAX's growth and reputation. Since OPSkins publicly launched WAX in November 2017, the platform has grown incredibly fast. Nowadays, it supports over 30,000 DApps and marketplaces, mainly catering to the gaming and NFT sectors.
So to buy, sell, or store WAX tokens, you need a wallet that can handle WAX. These wallets are crucial for anyone wanting to tap into the wide variety of WAX blockchain services, making them a must-have tool for diving into this exciting digital universe.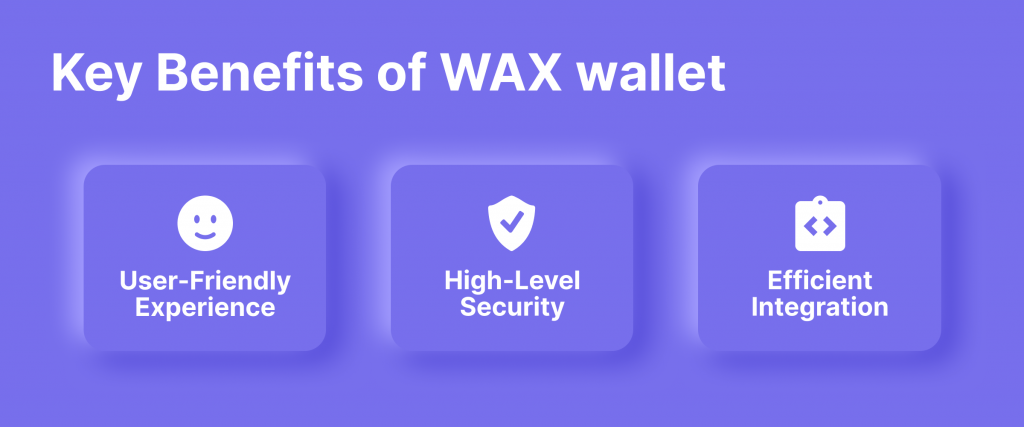 What Is A WAX Wallet, And Why Do You Need It?
As you already understand, the WAX wallet serves as your personal portal into the expansive WAX blockchain ecosystem. If you're looking to store, send, or receive funds or manage your NFT collections, a WAX wallet is your essential tool.
Not only does it help you oversee your digital assets, but it also allows you to access DApps, interact with the ETH Bridge, and ultimately stake and earn through the WAX platform.
But why should you consider getting a WAX wallet? Here are the key advantages:
WAX wallets are designed with user convenience in mind. There's no need to stress over managing private keys unless you choose to do so. The WAX wallet takes care of protecting your credentials and digital assets. In case you misplace your credentials, there's a straightforward process to recover your account and reset your password.
Your transactions and account information are well-guarded within a WAX wallet. With robust security encryptions and protocols in place, you can rest assured that your data is protected against unauthorized access. Your transactions remain confidential and viewable only by you, offering peace of mind and control over your digital assets.
One of the standout features of a WAX wallet is its ease of integration. Developers can swiftly incorporate the wallet into any dApps or websites within minutes using the code provided on the WAX Developer Portal. This ease of integration makes it a versatile tool for those looking to expand their interactions within the digital asset space.
Services You Get With A WAX Wallet
And here are the essential services you can get from WAX wallets:
Management of NFT Collections
With WAX wallet, managing your NFTs has never been easier. You can view, sort, and transact all your NFT collections directly from your dashboard, providing a centralized location for all your digital collectibles.
The WAX wallet features a dApps menu that lets you connect your account to various WAX dApps on the blockchain. This includes everything from digital asset marketplaces to blockchain-based games. Simply click on an icon, and you're redirected to the main page of the dApp.
The wallet also provides staking services, allowing you to stake your holdings directly in the WAX blockchain. You can vote for WAX Guilds through your dashboard and stake your assets for potential rewards.
This feature is designed to facilitate seamless transactions between Ethereum and WAX blockchains. You'll need to link your MetaMask account to the WAX Cloud Wallet to use this service.
WAX Wallet's DeFi service provides all the tools to explore DeFi opportunities on the WAX blockchain. Swap, stake, unstake tokens, or vote on proposals, all from the comfort of your wallet.
In essence, the WAX wallet serves as your all-in-one platform to navigate and maximize the potential of the WAX blockchain. Whether you're a casual user or a blockchain enthusiast, there's something for everyone.
Top 5 WAX Wallets To Check Out In 2023
Here are five top-notch wallet options, each with its unique strengths, offering you the peace of mind and flexibility you need while transacting in this rapidly expanding ecosystem.
1. Ledger Nano X Wallet
Leading our list is the Ledger Nano X, a globally recognized hardware wallet offering top-notch security for your WAX and other digital assets. Since its inception in 2014, the Ledger company has carved out a niche as a pioneering provider of hardware wallet solutions.
The Ledger Nano X, their flagship product, shines with its expanded storage capability and Bluetooth connectivity, ensuring a safe and user-friendly experience in managing cryptocurrencies.
Boasting a straightforward interface, this wallet simplifies checking and approving transactions. It also works seamlessly with a wide array of WAX apps and tools. Furthermore, the Ledger Live app lets you handle your assets on the go from your mobile device. This makes the Ledger Nano X an ideal choice for those who value security and ease of use.
*Note, that despite all these amazing features, Relatively expensive WAX assets cannot be directly purchased through Ledger Nano X.
2. TREZOR Model T Wallet
The Trezor Model T stands today as the pinnacle of cryptocurrency hardware wallets. It provides an easy and safe way to store and protect your Bitcoin, tokens, passwords, and keys.
Rewinding back to 2012, Trezor introduced the Model One, the very first hardware wallet, which revolutionized the industry. It offered a simple, user-friendly solution for securely creating and storing private keys offline. With the Model One, even those without a technical background could safely hold bitcoin for the long haul, thanks to its robust cryptographic principles and design centered around the user.
Fast forward to 2018, the TREZOR Model T came onto the scene. This model enhanced the security features and introduced a touchscreen interface, eliminating the need for physical buttons and thus, elevating the user experience. The Model T, with its spacious screen and two-factor authentication (2FA) that verifies users' identity via touchscreen input and PIN protection, provides a secure, engaging, and easy-to-use platform for managing your WAX and other digital assets.
3. Scatter Wallet
The next is Scatter wallet, a non-custodial hot wallet for those wishing to keep their WAX and other digital currencies decentralized. Essentially, Scatter is a solution installed locally that gives you decentralized authentication, the ability to handle private data, and to sign transactions.
Scatter wallet is designed to be user-friendly and works well with many WAX tools and applications. Plus, whether you're using Windows, Mac, Linux, or a mobile device (iOS or Android), Scatter has you covered, making it a flexible choice for managing your WAX assets.
4. Anchor Wallet
The Anchor Wallet, a product of the Canadian company Greymass, provides a dedicated and safe space for storing WAX NFTs. You can access Anchor on both your mobile device and computer, similar to other wallets. But what sets it apart is its impressive transaction speed, which outperforms many competitors.
As a non-custodial wallet, Anchor brings together the benefits of hardware wallets' security and the handy nature of mobile and desktop apps. It's an excellent choice for those who prioritize quick and efficient transactions.
5. WAX Cloud Wallet
As the original and one of the best WAX wallets, the WAX Cloud Wallet (WCW) is the main gateway to the ecosystem. Although it's a custodial wallet, which might raise concerns regarding private key security, it offers a simple, user-friendly interface perfect for beginners.
The WCW is accessible on both desktop and mobile devices and boasts impressive functionality. It's also an excellent choice for those looking to store WAX NFTs, providing a versatile solution for managing various digital assets.
These wallets bring something unique to the table, from top-tier security to user-friendly interfaces and innovative features. Choosing the one that best fits your needs and comfort level is essential as you explore the exciting world of WAX digital assets.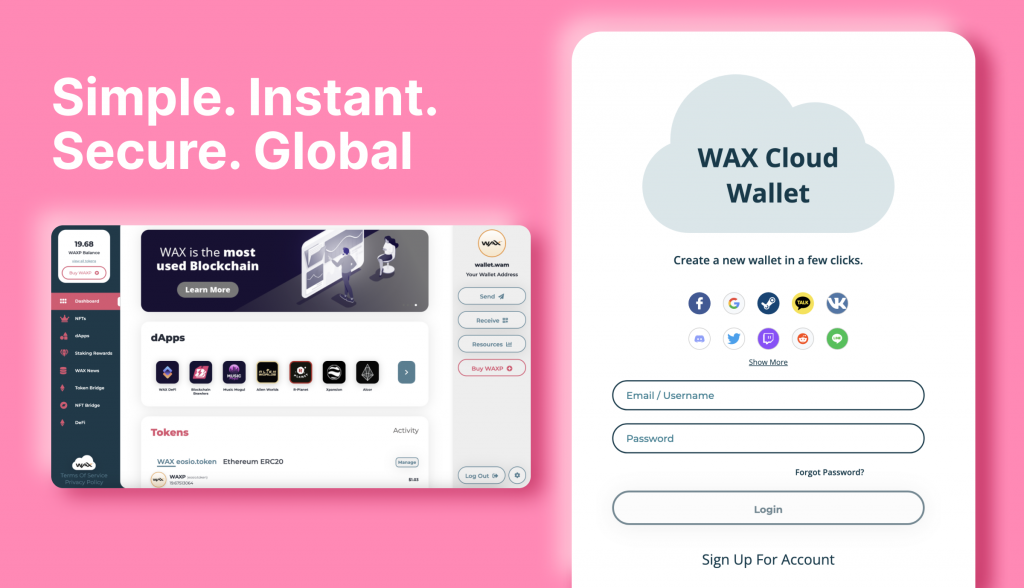 How Do You Open A WAX Wallet?
Setting up a WAX Cloud Wallet is a straightforward process that requires only a few simple steps. You can even use your existing social media account to make things even easier. Here's a step-by-step guide on how to create your own WAX Cloud Wallet:
Step 1: Begin by navigating to the WAX wallet website at mycloudwallet.com. Here you'll find various login options, including popular social media platforms like Facebook, Twitter, Google, and Line.
Step 2: Select the login option that suits you best, or connect your existing wax account. If you're already logged into the chosen platform on your device, you'll be asked to enter your account password for verification. If not, you'll be prompted to sign in to your chosen social media account.
Step 3: After successfully logging in, you'll need to agree to the WAX Terms of Service. You can do this by clicking on the respective checkboxes. Once you've accepted the terms, your WAX cloud wallet is officially created!
Before you start using your newly created WAX Cloud Wallet, remember that it needs to be funded. WAX tokens can be purchased through a variety of methods to fund your account.
Whether you choose to buy them directly from a cryptocurrency exchange or earn them through blockchain gaming, ensure that your WAX Cloud Wallet has sufficient funds to perform the transactions you need.
FAQs
Which WAX wallet is best to use?
If it is your first time using digital wallets, then the native WAX Cloud Wallet can be the best choice. It is easy to use and offers direct integration with the WAX network, including various DApps and NFTs.
Can I transfer my WAX tokens to Coinbase?
No, unfortunately, Coinbase doesn't support WAX tokens. To store your WAX tokens, consider using wallets specifically designed for WAX.
Can I use a WAX wallet for free?
Indeed, you can set up your WAX Wallet for free of charge, allowing you to start collecting and trading NFTs without any initial costs.
Are WAX wallets safe?
Safety is a top priority for all the WAX wallets. For example, Ledger Nano X and Trezor Model T are hardware storage options providing optimal security, while Scatter and Anchor are non-custodial, giving you complete control over your private keys. WAX Cloud Wallet, while being a custodial wallet, takes major safety measures to ensure the security of your assets.
Final Takeaway
In the DeFi and crypto industries, WAX blockchain and its wallets really stand out. Despite being just a few years old, it's already made a big name for itself, drawing in plenty of NFT fans and some major names in the gaming industry.
What makes WAX exciting is its vision for the future. It's not just dreaming big – it's making those dreams a reality. With a solid foundation, a fantastic team behind it, and a clear roadmap, WAX is showing everyone how it's done. Plus, it's leading the way with carbon-neutral NFTs, which is a big deal in today's environmentally conscious world.
So, if you're looking to invest in a cryptocurrency already established but still has plenty of room to grow or simply seek convenient and safe wallet options, WAX could be just what you're looking for.