The world's largest cryptocurrency, Bitcoin (BTC), has been exhibiting minimal price fluctuations over the past week, trading in a narrow range between $28,000 and USD 30,000. As a result, the cryptocurrency's volatility has reached a new low, with on-chain data indicating that such levels have not been observed since July 2022.
Historical trends in the cryptocurrency market have shown that a significant surge often follows periods of subdued volatility like this one in Bitcoin's price. Notably, in 8 out of 9 instances of similarly low volatility, the market experienced notable expansion to the upside. The only exception was a period of six months of consolidation that followed the 2017 parabolic blow-off top.
Considering these historical precedents, many experts and crypto analysts are closely watching for signs of an imminent parabolic rally in Bitcoin's price. The current low volatility may be seen as an indicator of potential future price movements, attracting attention from investors and traders alike.
Bitcoin is currently trading at $28,900, reflecting a 1.13% decrease.
Historical data suggests that periods of price consolidation like this one often lead to substantial Bitcoin price rallies.
The Bitcoin ecosystem continues to attract new participants, with 5 million wallets created over the past year, indicating sustained interest and potential for further market expansion.
Is the Bitcoin Price Set to Fall?
The DeFi platform Curve Finance's major exploit has triggered negative sentiment and selling pressure across the broader cryptocurrency market. Bitcoin (BTC) and altcoins have experienced pressure of sales, leading to 2-5% corrections in the last 24 hours.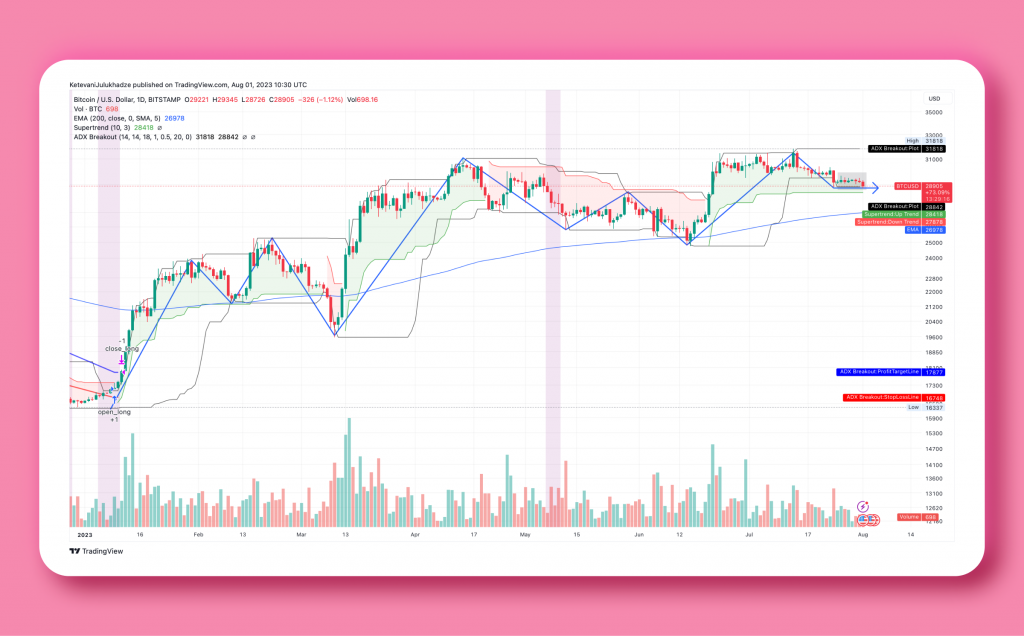 Meanwhile, Bitcoin's price has slipped below $29,000, indicating evident selling pressure that could push the cryptocurrency to its next support level at $27,500. CrediBuLL Crypto explains that although the recent events related to $CRV seem to be stabilising, some uncertainties still need to be addressed within the next 48-72 hours before the market's focus can solely return to the price charts. From a technical perspective, the drop in Bitcoin's price is not yet concluded.