The XRP price is currently undergoing a correction phase, finding support at the $0.675 level. Over the past three weeks, the price has consistently bounced back from this level, suggesting buyers strongly defend this support. The question is whether this stable ground can restore the bullish momentum and push the price towards a recovery.
XRP Price Daily Chart Analysis:
The XRP coin price is currently confined within a tight range, oscillating between $0.74 and $0.675. Notably, the $0.675 level is proving to be a robust support zone, attracting significant buying activity.
The intraday trading volume for XRP has surged to $1.297 billion, marking an impressive gain of 22.12%. This heightened trading activity suggests increased investor interest and potential price movement.
XRP appears to be consolidating within the given price range, with buyers showing strong commitment around the $0.675 mark. Traders and investors should closely monitor price movements for potential breakout opportunities.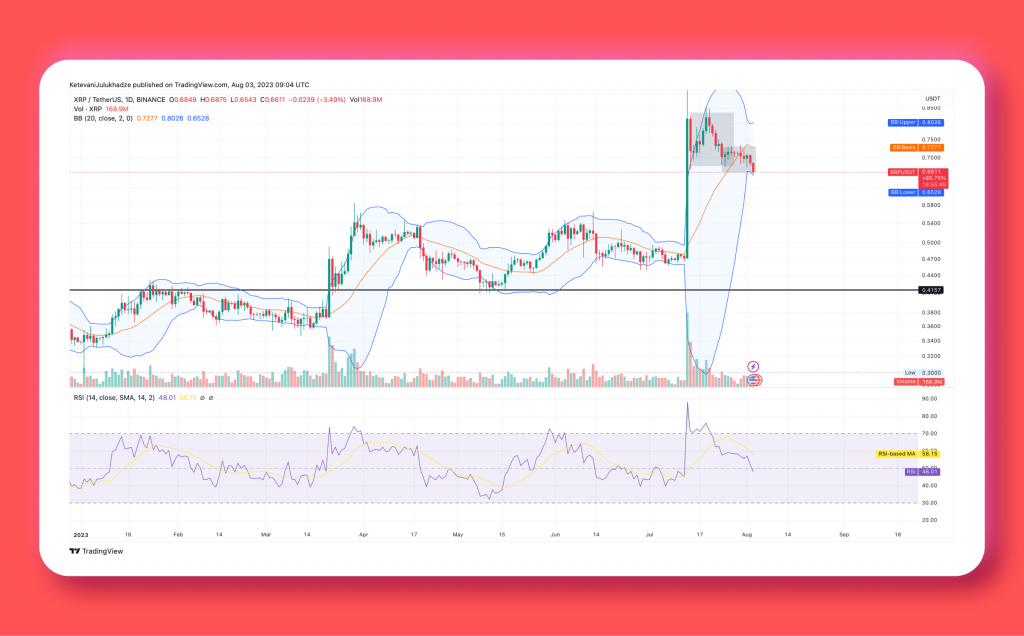 The XRP price has encountered a significant obstacle at the $0.675 support level, leading to a prolonged period of consolidation above this mark but struggling to achieve a sustainable recovery. This consolidation has resulted in a narrow trading range between $0.742 and $0.675, creating a no-trading zone.
Currently trading at $0.66 with a 2.87% intraday loss, the fifth-largest cryptocurrency faces sustained selling pressure, which may lead to a potential breakdown towards the bottom support, extending the downward trend. In the event of a post-breakdown fall, the altcoin price could decline by an additional 8.5% and reach the $0.62 support level. Traders and investors should closely monitor the price movements for potential developments.
Is XRP Capable of Reaching $0.85 Again? 
In the wake of an improving overall crypto market, the XRP price has found crucial support at $0.645, likely bolstering buyers for a potential upside breakout. For the ongoing recovery to sustain, buyers must overcome the resistance at $0.74 with a daily candle closing above this level. A successful breakout could pave the way for a bullish upswing of approximately 14%, aiming to reach $0.85 and potentially extending further towards the $0.935 mark.
Bollinger Bands indicate high volatility in XRP price, suggesting the potential for significant price movements in the near term.
The declining slope of the Relative Strength Index (RSI) reflects the aggressive stance of sellers, possibly prolonging the current correction phase.
Investors and traders should closely monitor price movements and watch for a decisive break above $0.74 for confirmation of a potential bullish trend reversal.
Please note that the information in this article is for reference only and does not constitute financial advice. Investors should conduct their own research and analysis before making any investment decisions.