Cryptocurrency market activity has grown remarkably in recent years, with peer-to-peer (P2P) crypto trading gaining prominence in the industry. According to Binance, its P2P platform processes more than 7.5 million P2P transactions annually.
In this article, we will delve into the top 10 P2P crypto exchanges of 2023 and discuss why they are the go-to choice for traders looking for a hassle-free and secure trading experience.
Key Takeaways:
Peer-to-peer trading allows traders to buy or sell crypto coins with one another directly.
Most major cryptocurrency trading platforms, like Binance, KuCoin and ByBit, have a P2P section.
When deciding on the P2P platform, consider fees, security, available payment methods and supported currencies.
1. Binance P2P
When it comes to cryptocurrency trading, many users turn to centralized exchanges (CEX) like Binance. However, not many know that aside from spot trading, Binance also offers a P2P platform for those who prefer direct transactions with other users.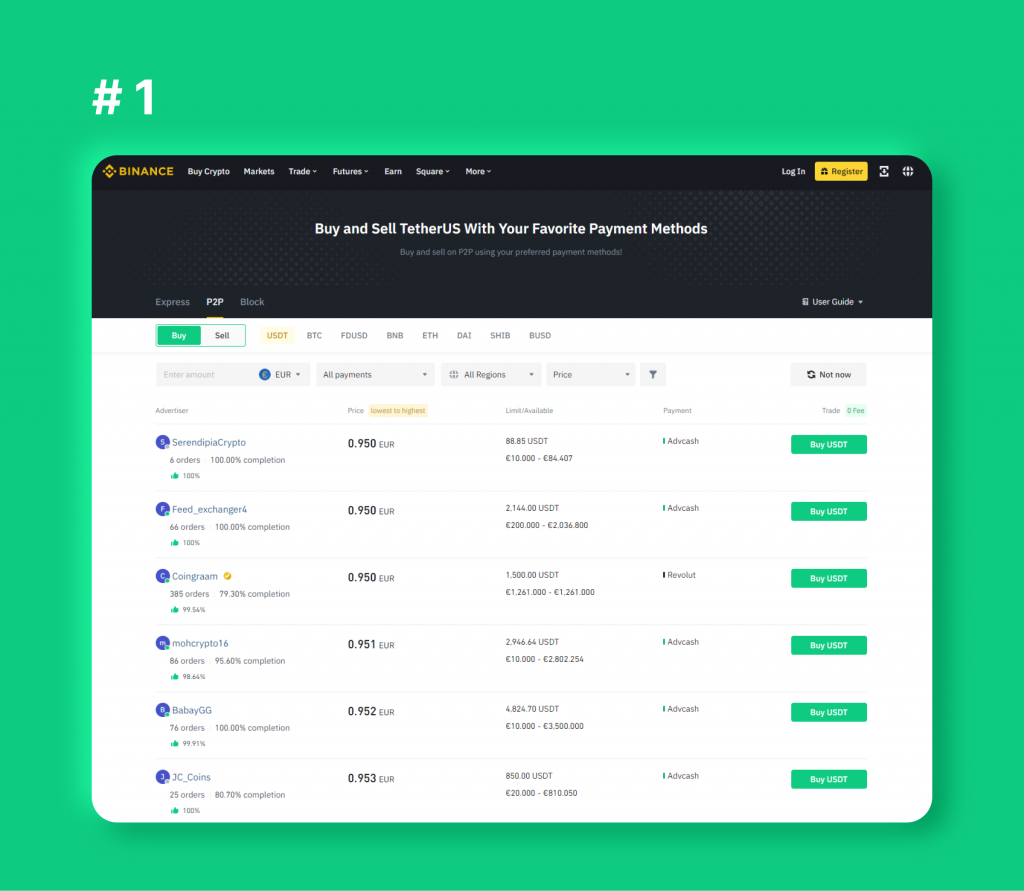 Binance P2P supports a range of popular cryptocurrencies, including BTC and ETH, as well as up-and-coming coins like Shiba Inu. What makes Binance's P2P platform stand out is its hundreds of payment methods available to users. As a result, buying and selling coins is convenient and flexible.
The platform also offers a user-friendly interface, making it easy for buyers and sellers to navigate and find suitable deals. Buyers can search for specific currencies or payment methods, while sellers can list their offers based on current market rates.
One of the standout features of Binance P2P is its secure escrow wallet system. This provides an added layer of protection for both buyers and sellers, ensuring that transactions are completed successfully before releasing the cryptocurrency. Furthermore, regular P2P trades on Binance do not incur any fees. Only those who choose to advertise their own prices will be charged a small fee of up to 0.35%.
Key Features:
High liquidity levels
Solid escrow system
Educational guides on P2P best practices
2. ByBit P2P
ByBit has gained popularity among frequent traders for its advanced margin trading feature, allowing users to access leverage up to 100x. However, the platform also offers a robust P2P section, with one of the best P2P functionality in the market.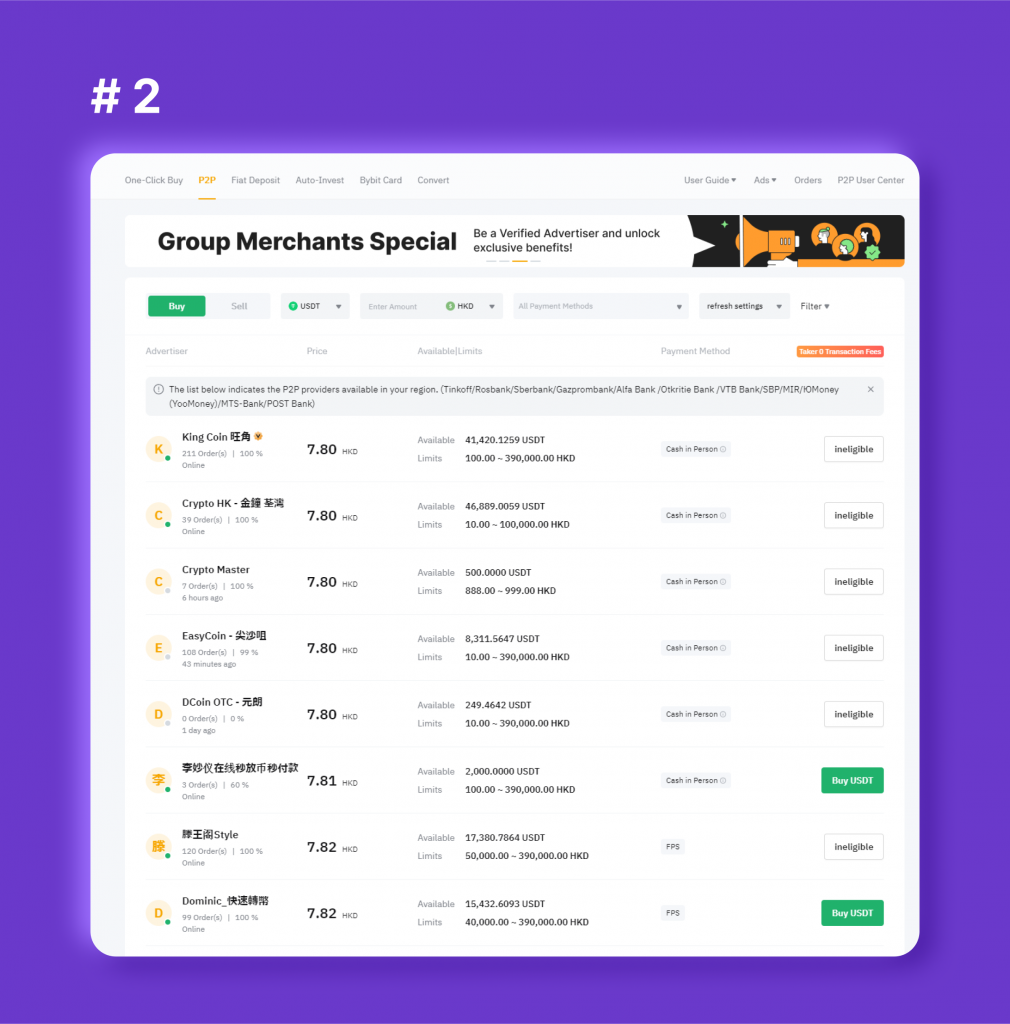 In the P2P section, ByBit offers trading in four major cryptocurrencies, including BTC and ETH. One of its standout features is the wide range of fiat currencies it supports, making it convenient for users from different countries. Additionally, ByBit also provides multiple payment options, such as Wise, PayPal, and Skrill.
Although ByBit's P2P platform supports only four cryptocurrencies, it makes up for it by offering competitive rates compared to other P2P exchanges. Another advantage is that ByBit's P2P platform is entirely fee-free, making it an attractive option for traders looking to avoid high transaction fees.
Key Features:
Competitive rates offered by sellers
Fee-free P2P trading
3. KuCoin P2P
When it comes to P2P crypto exchanges, KuCoin has established itself as a top player in the market. What sets it apart is its focus on serving traders in emerging markets where regulations and restrictions often pose challenges for cryptocurrency trading.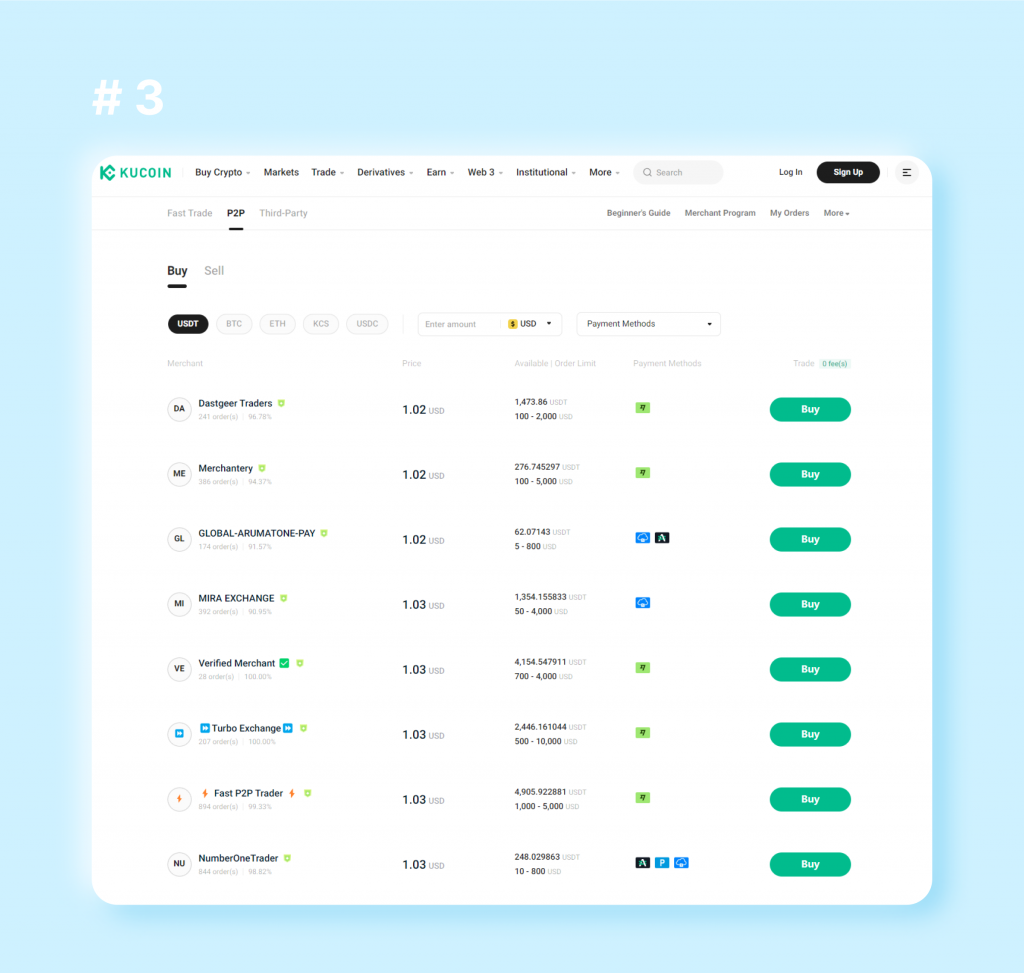 As an example, traders from countries like Vietnam and India have the convenience of using popular e-wallets and payment methods such as Momo, PhonePe, UPI, IMPS, and bank transfers to transact in cryptocurrencies.
Moreover, KuCoin's P2P platform offers a diverse selection of cryptocurrencies to choose from, including USDT, BTC, ETH, USD Coin and the KuCoin token.
However, the platform does have limitations in terms of filtering options and available crypto assets. Despite this, KuCoin's P2P platform remains a strong contender among the best P2P crypto exchanges.
Key Features:
Accepts local payment methods in emerging markets
Zero fees for P2P trades
4. OKX P2P
OKX is definitely one of the most reliable exchanges with P2P trading out there. It offers six popular cryptocurrencies like BTC and ETH, and it supports over 100 fiat currencies from around the world. This makes it accessible to a wide range of users, no matter where they are located. Additionally, OKX boasts an impressive selection of over 900 payment methods, making it convenient for buyers and sellers to transact in their preferred way.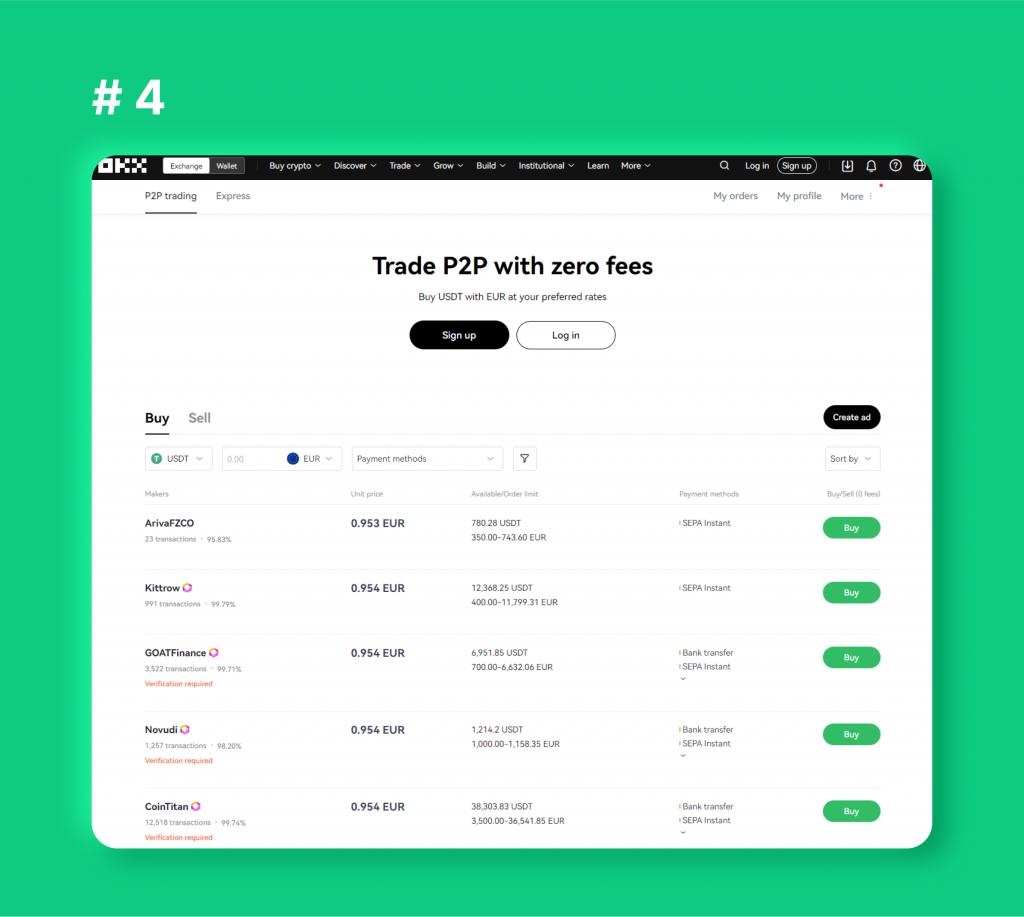 But what sets OKX apart from other P2P exchanges is its unique process. The platform allows buyers to easily search for sellers based on various filters, such as the type of cryptocurrency they want to purchase, the desired payment method, or the amount they wish to buy. This makes it easier for buyers to find the best deals available. On the other hand, sellers can set their own prices and choose their preferred payment method.
Another noteworthy feature of OKX is its feedback system. It allows users to see and give feedback on their experiences with different buyers and sellers, creating a more transparent and trustworthy trading environment. Additionally, buyers can even set their own price and wait for a seller to agree.
OKX also has its downsides. One main drawback is the limited range of coins available for trading. However, considering all the pros and features that OKX offers, it still remains one of the top contenders in the best P2P crypto exchange market.
Key Features:
Zero fees for P2P trades
Users can see and give feedback
A rich selection of payment methods and fiat currencies
5. Huobi P2P
If you are looking for a reliable and user-friendly P2P crypto exchange, Huobi's P2P exchange should be on your list. This popular platform caters to traders in emerging markets, particularly in Asian countries like Vietnam, Malaysia, Taiwan, Indonesia, and the Philippines. It has a simple interface, and it supports well-known payment methods such as Skrill and Neteller, Huobi.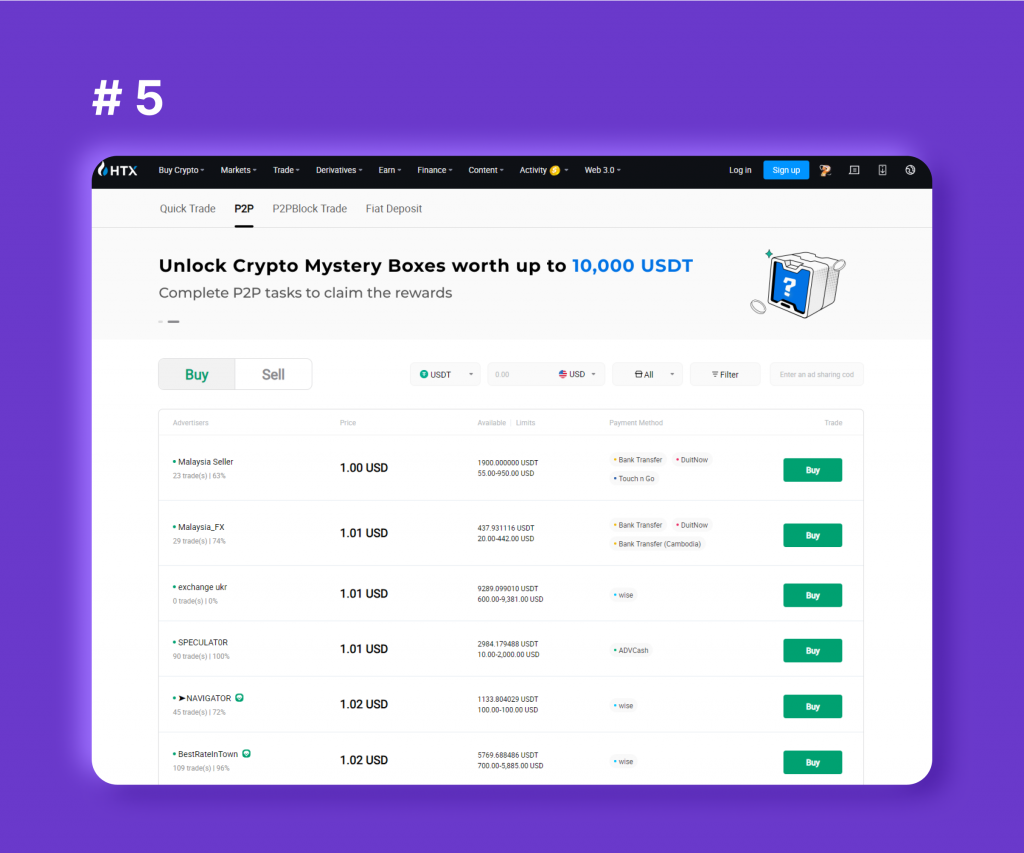 But what sets Huobi apart from its competitors? For one, it offers six popular cryptos including USDT, BTC, USDD, Huobi token, TRON, and ETH. But the real standout feature is that Huobi does not charge any fees for trades made on its platform.
In addition, Huobi takes security seriously. They have implemented an anti-fraud system to detect and prevent dubious P2P listings. And for added protection, they also offer a bounty program to incentivize users to report any suspicious activities or vulnerabilities on the site.
However, it's worth noting that Huobi primarily focuses on Asian markets and offers fewer payment methods compared to its competitors.
Key Features:
Zero fees for P2P trades
Anti-fraud practitioner to identify dubious P2P listings
6. BingX P2P
BingX P2P crypto exchange offers a unique and advantageous trading experience for crypto enthusiasts. What sets it apart is its low fees and advanced security measures.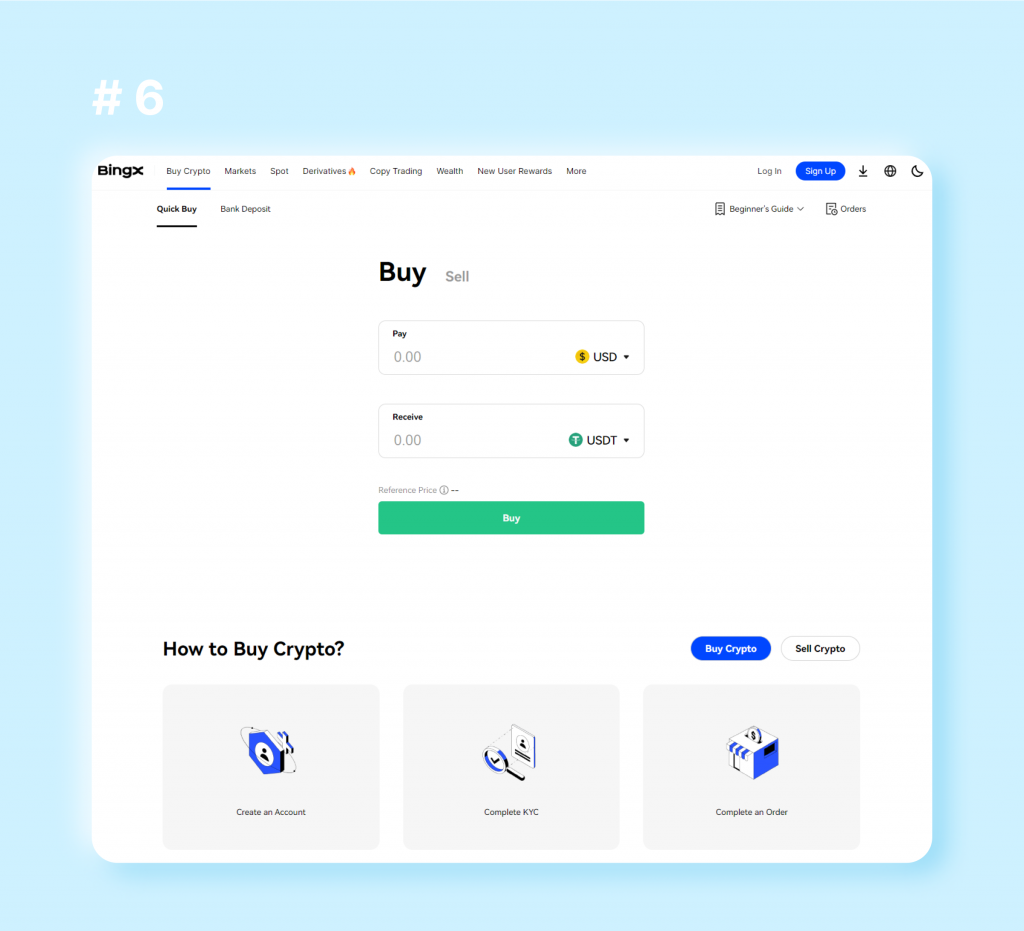 The exchange has implemented strict safety protocols to ensure the protection of user transactions. Funds are held in neutral accounts until both parties fulfill their commitments, minimizing the risk of fraud and disputes.
The platform offers competitive pricing for sellers and over 400 payment methods, with a support for more than 40 fiat currencies. This provides buyers with a diverse selection of attractive deals while giving sellers the flexibility to set their own prices.
However, one downside of Bitget P2P is its slow transaction time. But given all the other advantages it offers, this might not be a major concern for most users.
Key Features:
A high number of sellers
Over 400 payment methods supported
No fees for buying and selling
7. Bitget P2P
Bitget's P2P platform offers a unique combination of features and benefits that sets it apart as one of the best P2P crypto exchanges in the market. Its Zero Fee Program allows users to save on transaction costs, while its user-friendly interface prioritizes security and convenience for traders.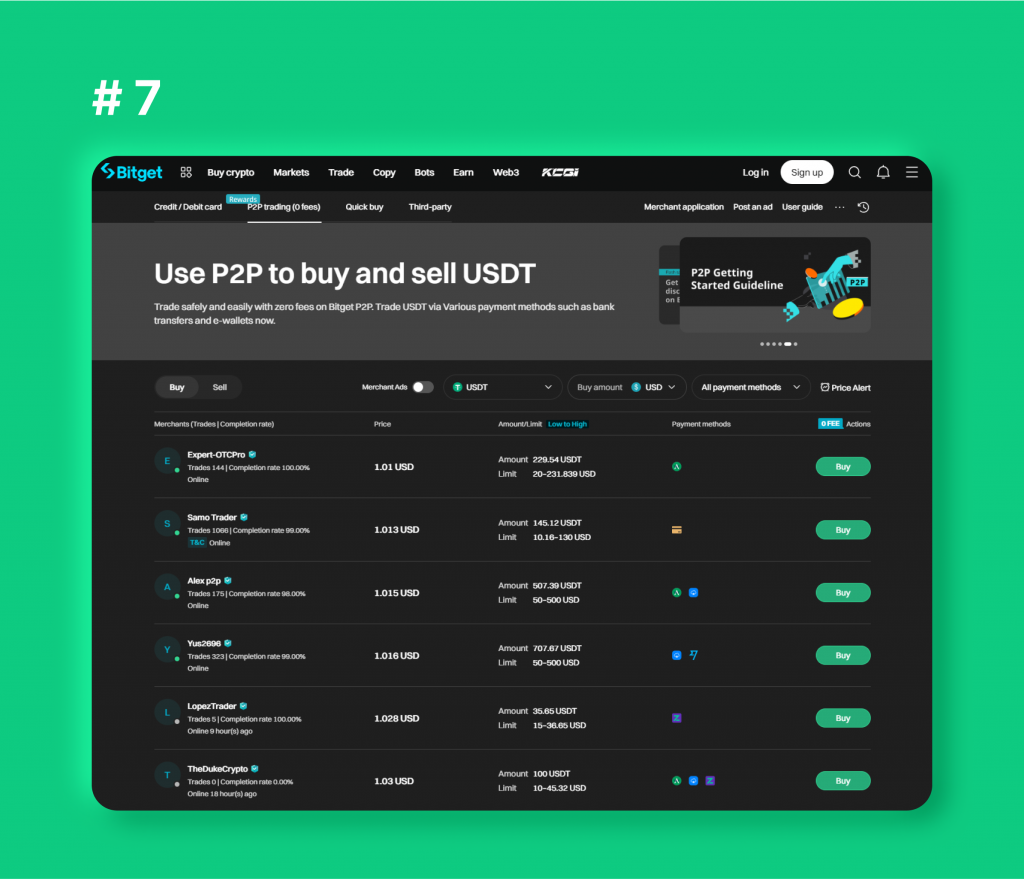 One of the standout features of Bitget is its escrow system, which ensures that both buyers and sellers are protected during transactions. In case of any disputes, their dedicated customer support team steps in to resolve the issue and maintain the integrity of the trade.
While Bitget offers a limited range of cryptocurrencies, their extensive payment method options, such as bank transfers, PayPal, WebMoney, global e-wallets, and more, provide convenient ways for users to purchase and sell cryptocurrency.
Key Features:
High liquidity
Zero fees for P2P trading
Wide range of payment method options
8. OpenPeer
OpenPeer is undoubtedly the top choice when it comes to P2P transactions. Not only does it offer a decentralized platform (DEX) for direct transactions between users, but it also prioritizes security and privacy.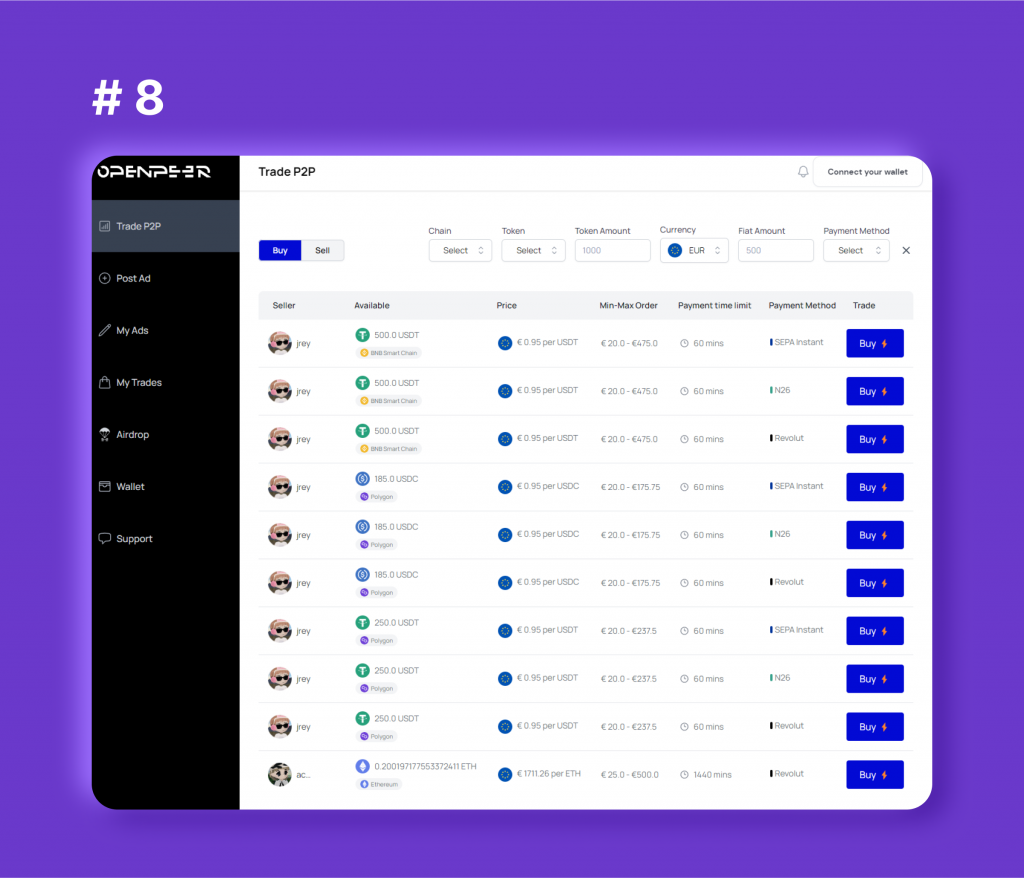 As a self-custodial protocol, OpenPeer ensures that all funds and personal data remain safe and under the control of its users. This means no more worrying about potential hacks or third-party interference. Plus, with optional KYC using decentralized identity-proof solutions, users can choose their level of privacy without compromising the trading process.
But that's not all – OpenPeer goes beyond just being an Ethereum-based protocol. It also operates on other chains like Polygon, Binance Smart Chain, and Arbitrum to provide more options for users and take advantage of lower gas fees.
And speaking of fees, OpenPeer only charges a 0.3% seller's fee with no minimum transaction size or buyer's fees. This makes it accessible and affordable for all traders, regardless of their budget.
Key Features:
Wide range of fiat payment methods
Does not collect customer's personal data
Non-custodial, direct trading from wallets like Metamask
P2P crypto exchange no KYC
9. MEXC P2P
MEXC P2P offers zero fees for P2P trading and a straightforward UI that makes trading easy and accessible for all levels of traders.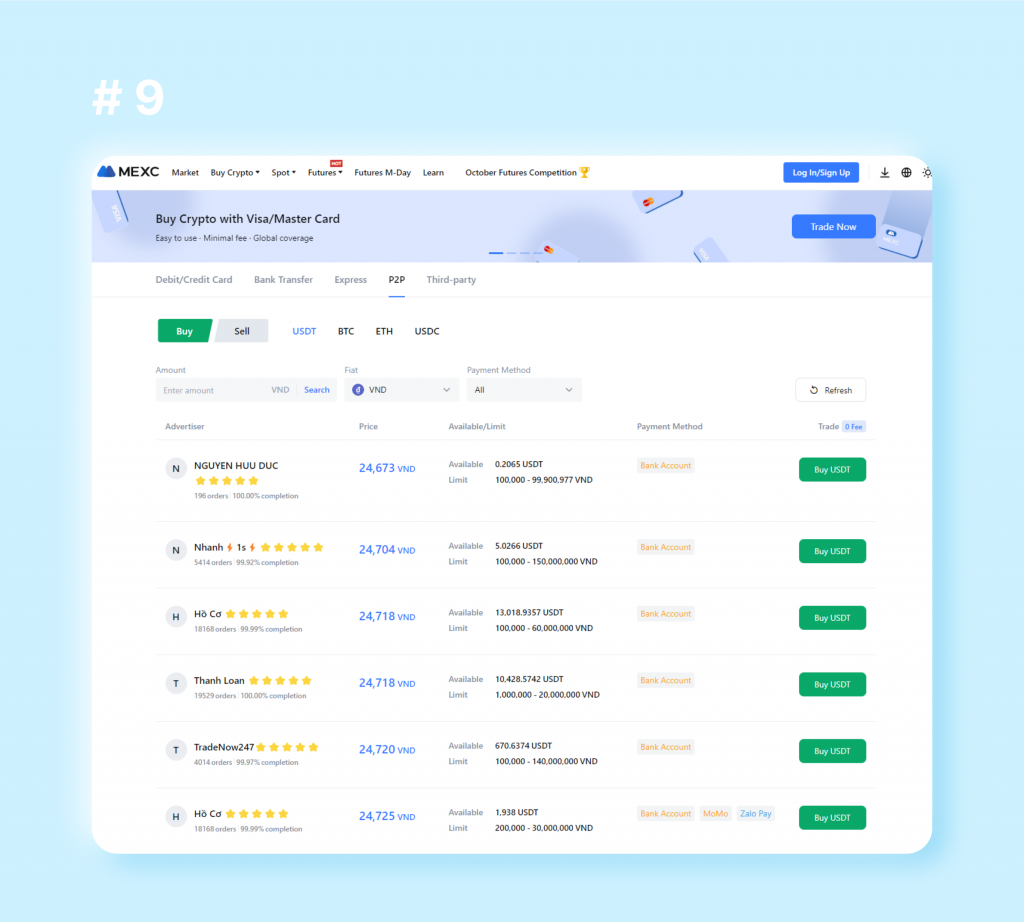 The platform boasts a 24/7 help center for round-the-clock support, ensuring that users can get assistance whenever they need it. The platform also offers educational tutorials to guide users through the P2P marketplace and enhance their trading knowledge.
Although the platform supports multiple languages, it currently has a limited range of fiat currencies supported. However, with its global reach and continuous growth, there will likely be more options added in the future.
Key Features:
Zero fees for P2P trading
Help center for user support
Robust security protocols
10. Gate.IO P2P
Gate.io offers a straightforward P2P trading experience for verified users. The platform's user-friendly interface makes it easy to navigate and perform transactions. Plus, with its strict KYC process, Gate.io ensures that all traders are legitimate and helps prevent fraudulent activities.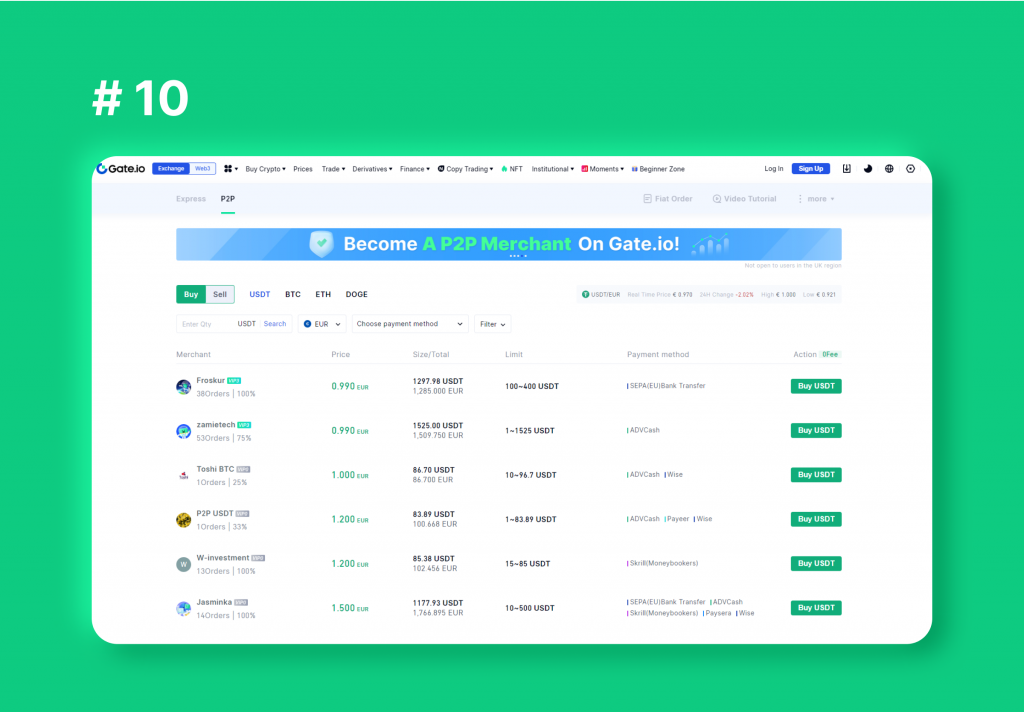 One of the most attractive features of Gate.io is its merchant program. By becoming a verified merchant, users can personalize their profiles, earn credibility badges, and even participate in the Global Merchant Trading Competition for a chance to win monthly rewards.
Gate.io offers zero trading fees for its P2P platform. This means users can enjoy even more savings when buying or selling popular cryptocurrencies such as USDT, BTC, ETH, and DOGE. However, it is worth noting that Gate.io currently supports only these four crypto assets on its P2P platform. This could limit the options for traders looking to trade other coins or tokens.
Also, the platform is not licensed to operate in the United States, which could be a drawback for US-based traders. Additionally, phishing scams have been reported on Gate.io's P2P platform.
Key Features:
Zero fees for P2P trading
Simple KYC process
Merchant program with additional benefits
FAQs
What is a P2P exchange?
P2P exchanges serve as platforms that facilitate these direct transactions, providing a safe trading space for sellers and buyers. These exchanges typically employ an escrow system, where the cryptocurrency is held in a locked account until the buyer's payment is confirmed.
What are the advantages of peer-to-peer exchanges vs CEXs?
Firstly, P2P exchanges provide users better control over their money and deals, as users are able to exchange funds directly without going through a middleman. Also, P2P exchanges often offer lower fees than CEXs.
What are the risks of P2P trading?
One of the main risks associated with P2P trading is the possibility of fraudulent activity. Additionally, P2P trading platforms may be susceptible to phishing scams. It is crucial for users to exercise caution, verify the credibility of sellers, and never share personal or financial information outside of the platform. Furthermore, peer-to-peer exchanges may be less liquid compared to traditional exchanges, which can affect the speed and availability of trades.
What to consider when deciding which P2P platform to use?
When searching for the best P2P crypto exchange, there are a few key factors to consider. First and foremost, safety should be your top priority. Look for exchanges that have strong security measures in place, such as 2F and escrow services. These features can help protect against potential scams and fraudulent activity.
Next, consider the fees. Some platforms may charge higher transaction fees or have hidden costs, so it's important to compare and choose one that aligns with your budget. Additionally, check for accepted payment options and make sure they are convenient for you. Some exchanges may only accept specific payment methods, which could limit your options.
Another important factor is the variety of fiat and crypto currencies supported by the exchange. The more options available, the easier it will be to diversify your portfolio or make trades with different currencies. It's also worth checking if the platform offers competitive exchange rates.
Finally, do your research on the reputation of the P2P exchange. Look for reviews from other users to get a better understanding of their experiences and any potential red flags.